Ok so we all know I am a Coach fan, Vera Bradley has always been one of my iffy brands. Most of the bags I had seen were in awkward patterns and in color schemes that I did not personally like, until my Vera Bradley review kit arrived and I opened it. I do have a sister who loves their designs, I liked the quality and ability my sister had to throw it in the washer and it come out looking brand new. Anywho when mine arrived I opened it and LOVED the design.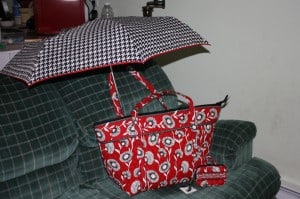 I was sent items from the Deco Daisy Collection. This pattern is not what I think of when I think of Vera Bradley at all, but I absolutely love it and I am so glad that I now know that they have patterns like this one!
The Miller Bag is HUGE and Perfect, with 3 kids going places like when we went to see Imagination Movers having a big bag is needed. Extra clothes, snacks, drinks, diapers, wipes along with all of my stuff I do not need any other bag. It fits everything that I need to carry with me and there is still room for extra things that we may pick up along the way if we are at an amusement park.Another thing I love is the pockets inside, no spilling sippy cups and all important things like event and amusement park tickets won't get lost!
Along with the Miller bag they sent me the Tech Case, it is perfect for putting Debit cards, Ids and the cell phone in and tossing it into the Miller Bag!
Now don't laugh when I say this, but with the exception of the Kidorable umbrella we got a few months ago for the kiddos we have not had an umbrella, yes seriously not ever in the 6 years hubby and I have been together have we had one. We were the ones with the hoods on the hoodies up running to the car, Well when Vera Bradley send us an umbrella to review I can't tell you how exciting it was! The umbrella that Vera Bradley sent us is Awesome, it does not just swing open when I open it (you know the ones that open so fast it wacks you in the face) and closing it is easy with no fighting to make sure it closes.
If you are looking for bag that you can fit everything in and not have to worry that it gets dirty, the Miller bag by Vera Bradley is a great way to go!
Disclaimer:I was not compensated for this review, I was provided product free of charge to facilitate my review. All opinions are my own.
This post may contain affiliate links. Please read my disclosure policy here