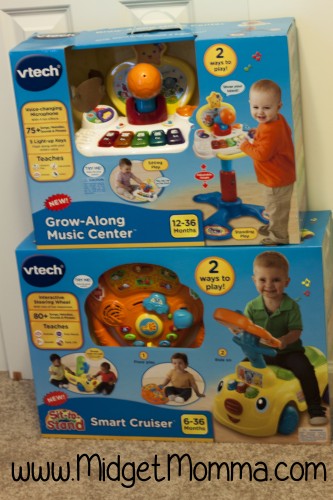 Vtech has sent me some great toy for baby E to play with. Since he is just a little to young to try them out himself my two year old and her friends decided they wanted to help me out. As soon as I brought them out they were so excited I didn't even have them out of the boxes yet and they were playing with them! I love the fact the toys are meant to grow with baby E as he grows. Most toys are only mean for a few month when babies are small. Vtech has come up with a way to branch the age groups so a toy will get more use out of it.
The Sit-to-Stand Smart Cruiser starts off with the interactive steering wheel that the baby is able to just sit in front of and play. Than you are able to attach it to the front of the cruiser to make a fun ride-on toy .
The Grow-Along Music Center is a toy to help you baby learn stand. It starts off with a piano that removes to play on the ground. Than you are able to place it on the stand. On the stand you are able to place it on two height settings. The first setting is so your baby a sitting position at a high height than it goes even higher to give your child motivation to stand and play. My two year old loved the music chooses it had. She thought it was so much fun to sing right into the microphone and her friend was right next to here dancing along!
I am in love with the fact vtech has a line of toys to grow with your child, instead of having to keep buying new toys and throw away money.
Disclaimer: We received products to facilitate our review. No compensation was received and all opinions are 100% my own.