UPDATE: My order has shipped, when calling them be patient.
Wayfair $50 off $50 purchase deal, Honoring ALL Orders!
Ok so I just got off the phone with Wayfair and spoke with them and they are HONORING ALL ORDERS from the $50 off $50 purchase coupon code that were put through, however you will need to call them and speak to them about your order. You will need to call them at 877-929-3247 and have your order number ready from your original order.
When I called I told them I had used the $50 off $50 purchase coupon code and that my order was cancelled but a friend of mine had her order redone so she would still get her order and they said yes they are honoring them all as long as people call 🙂
When you call (which be prepared I was on hold for 40 minutes) they will ask you for your original order number. They will then manually place your order with the coupon code discount. If your order was not fully cancelled yet then the hold will still be on your credit card account for your original purchase but will drop off in a few days and you will see a new charge for the new order on your card.
The representative I spoke with told me they are aware of this and that it was a human error with in the company and the coupon code was not supposed to be released to the public but because it was they are honoring all orders!
They will give you the confirmation code for your new order as well.
She did also tell me that some orders may have processed through already (even if you got a cancellation notice) so it is possible that you will get your original order and your new order. And if you do end up with both orders coming you can keep them both or send one of them back for a refund.
But the good news is that they are admitting the mistake and are taking responsibility for it and are making it right by fulfilling all orders that were done using the coupon code as long as you call them.
My email conformation from them just arrived in my email 🙂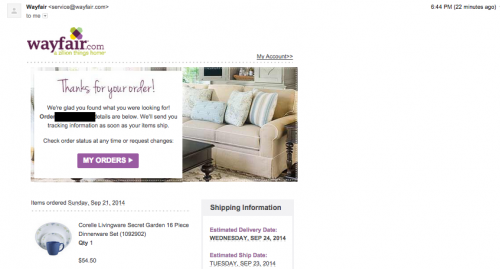 This post may contain affiliate links. Please read my disclosure policy here