The last few weeks were crazy here with me 3 different times thinking I was in labor, twice I went to the hospital to get checked and twice I was sent home with Tom telling me I was insane. Come to find out I was not completely insane because on Monday September 5th when I went in for my nonstress test (and was in labor) we found out that she was sunnyside up and that was why labor never continued to progress once it started. However it may have been for the best with everything going on with my dad.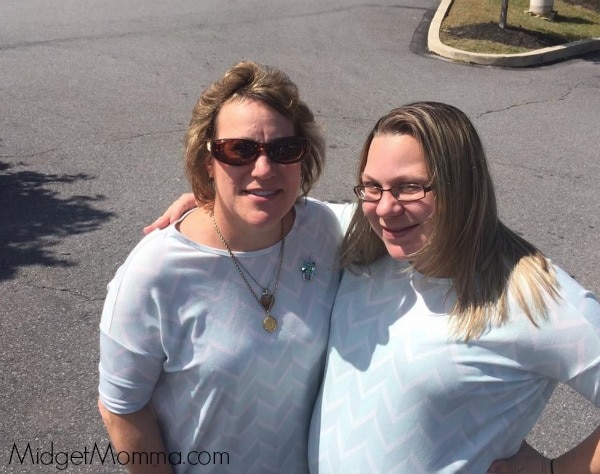 On Monday morning Tom, the kids and I met my mom and sister at my Dad's rehab to have cupcakes and celebrate my Mom's birthday. Then Tom and I headed to drop the kids off with a friend of mine because I had a nonstress test at 1pm and my midwife and I had discussed getting things started by breaking my water at my nonstress test if I was not in labor yet. I had some contractions but nothing to painful or crazy. We got to my nonstress test at 1:30, and I told them I needed to be checked because I felt pressure, It was quite the shocker to get to my nonstress test and have her check me to find out that I was at 6 cm and my water broke while she was doing the check. 2:02 is when my water broke.
We had a fun adventure of trying to get an iv in my arm/hand. 2 tries in each hand resulted in my body pushing the iv out and/or the vein "popping", one try in my right arm and we had the same thing, finally we got one to stay in my left wrist vein. That was a fun 30 minute adventure I would rather not do again LOL.
I relaxed a bit laying down and sending out the texts to everyone who I needed to let know that I was in labor and that our baby girl would be here soon.
Around 4 or so I walked the labor and delivery hallway with my mom and Tom and "George" (the name the hospital nurses give the IV stand) for about 30 minutes, until the nurses said they needed to have me back on the monitors to keep an eye on baby girl. While walking I had a few contractions that made me have to stop but nothing that was overly painful.
4:53 I was at 7/8 cm when they checked me, then at 5:05 I told them I felt like it was time to push. At that time they realized that Hannah was sunny side up. My midwife warned me that it was going to be painful because they were going to have to manually turn her to the right position. I will spare you the exact details of what that entails, but I will say if your doctor or midwife says that and offers you pain meds you might want to take them. I however didn't and the next hour and 22 minutes were the most painful thing I have ever experienced. I did use laughing gas, or I should say I tried to because I would breathe it in and once I heard the machine turn on I would take the mask off… apparently you have to wait for the machine to kick on and breathe that in for it to work 😉
At one point I asked for IV meds, and they said it was to late but I could get the epidural. I personally hate needles and ivs so I said no to the epidural (might not have been the smartest thing to say no to once the pain got worse, I was starting to wish I had.). Tom said his favorite line of the pushing and active labor part was when I asked for the IV meds and when they said no my response was "well shit". I am going to suggest to anyone who is told that their baby is sunnyside up and that they are going to have to turn them to take the pain meds! I had ice on my neck, a cold cloth on my forehead and attempted laughing gas use but the pain was enough to almost put me to tears. Yes I know that sounds absolutely crazy that THAT was what I call painful, but my other 3 I delivered with no pain meds and they were in the right position and the pain was never what it was this time around.
Thankfully I had Tom, my mom, my favorite nurses, and my favorite midwife to talk me thru it because at one point I wanted to give up and take a nap and then BOOM, contractions hit like crazy and they said it was go go go time and to push push push and then at 6:27pm our little girl was born! It is kinda crazy how much relief there is so fast from the pain once they are out, I felt like a totally different person!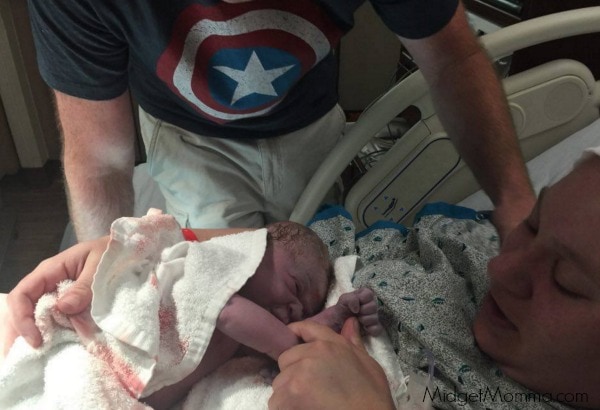 As soon as she was out the put her on my chest for skin to skin contact and we were able to delay the cord clamping a bit, but then the placenta wanted to make its arrival faster then expected so that was shorter than planned, but hey we got some extra time so I am good with that!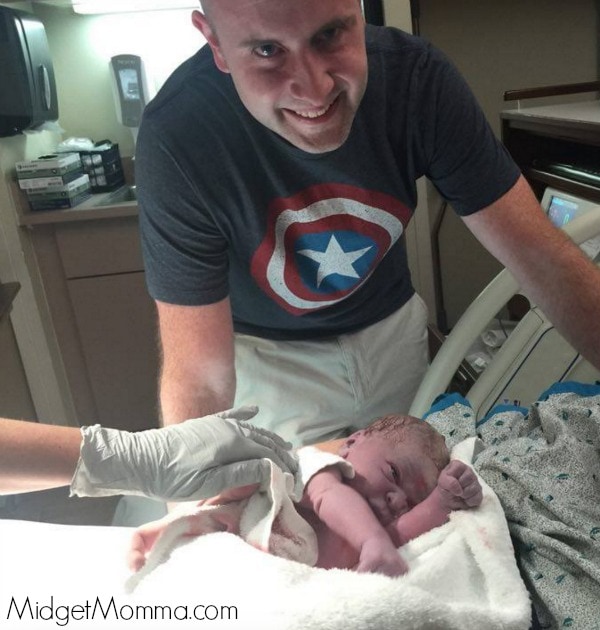 Tom got to cut the cord, and then my mom and Tom got to hold her and then Hannah had her first nursing session with in 10 minutes of being born and was a rockstar at it from the get go! The nurses and midwife did their thing of cleaning up (which I didn't really pay much attention to lol, I was to busy looking at her adorable face 😉 )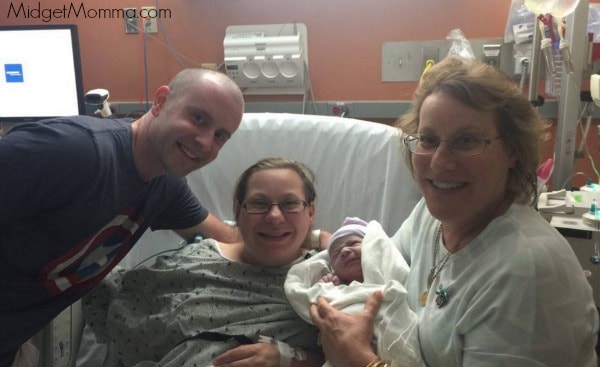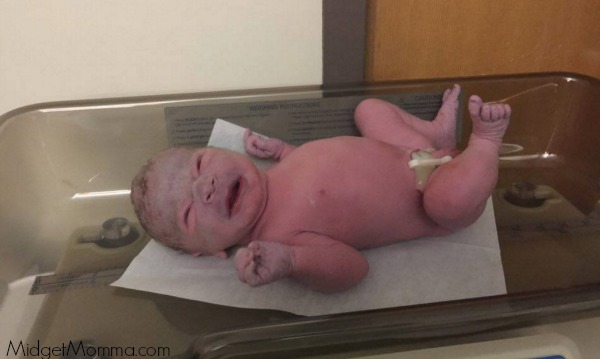 Hannah Charlotte weighed 6 pounds 15 ounces and 19 inches long!
The bruising on her face is from having to be manually turned and was thankfully gone by the next day!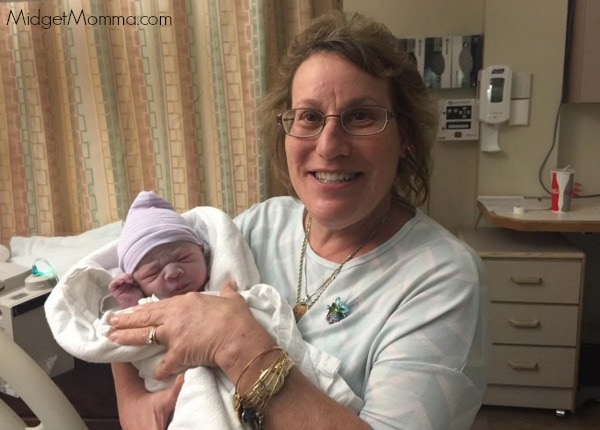 Tom went to get the kids so they could meet their new baby sister, so during that time I got cleaned up, dressed and my Mom got Grandma snuggles.
Then the kids came back with Tom and they all got a chance to hold her and meet her <3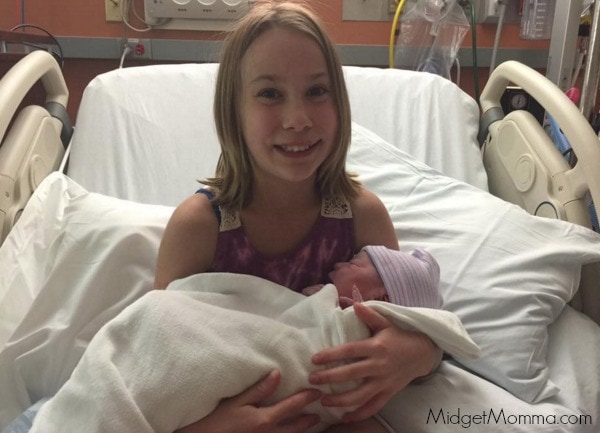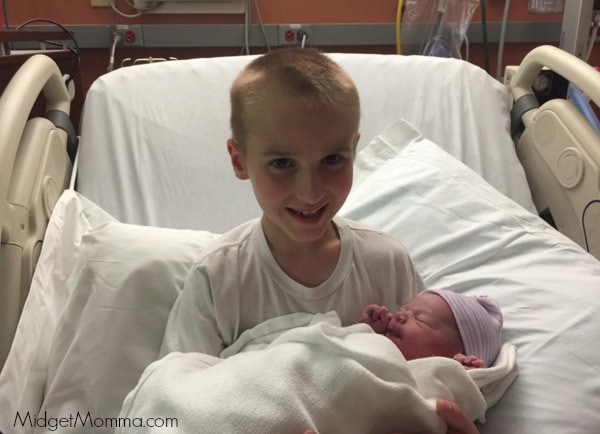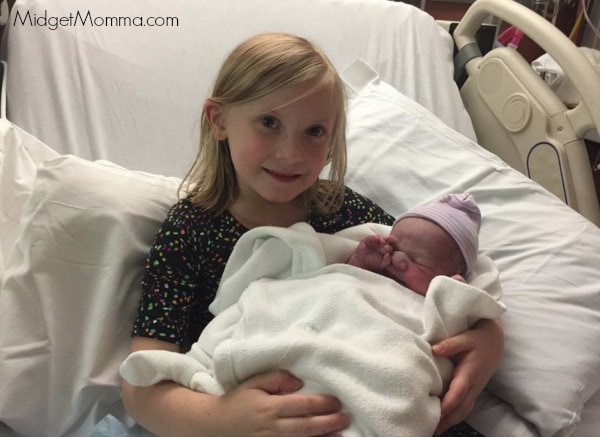 Then the awesome nurses took our first family photo of our new family of 6!