So you have purchased your starter kit from Young Living and now you are looking at everything and wondering "what the heck am I supposed to buy next" or "what do they have that will be useful to me" just as I did, in fact I wondered the site for what seemed like forever before figuring out what to purchase my second month. If you have not purchased a Young Living Starter kit head on over here and find out how you can get yours for FREE which is over a $300 Value! Make sure you also check out my how to save money on essential oils post.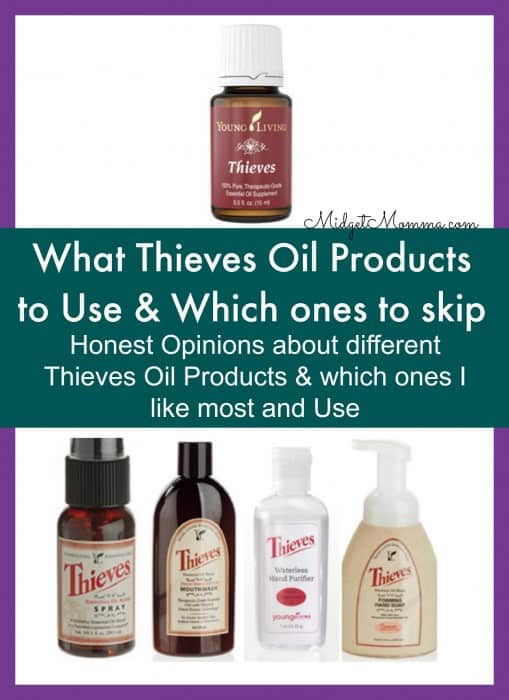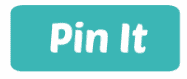 After looking I settled on the Thieves Kit, it all things that I wanted to try out and things that were on my list for changing in my household and looking at what worked with my budget and using Essential oils to save money. Keep an eye out for more posts on the products from Young Living that I am trying and using.
The Thieves kit is not always in stock, so if you are wanting to order and it is not in stock you can order the items that come in it separately.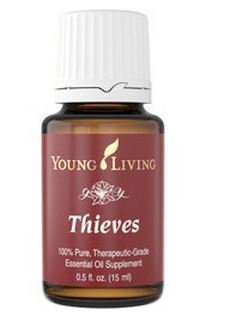 What Thieves Oil Products to buy and What Thieves Oil Products to skip
First let me tell you what Thieves oil is this way you are not lost in the dark trying to figure it out 🙂
Thieves® was created based on research about four thieves in France who covered themselves with cloves, rosemary, and other aromatics while robbing plague victims. This proprietary essential oil blend was university tested for its cleansing abilities. It is highly effective in supporting the immune system and good health.

It has Clove, lemon, cinnamon, Eucalyptus radiata and rosemary.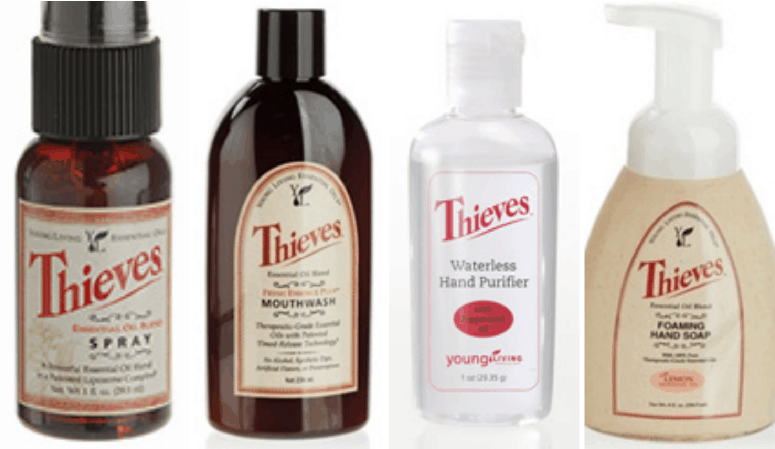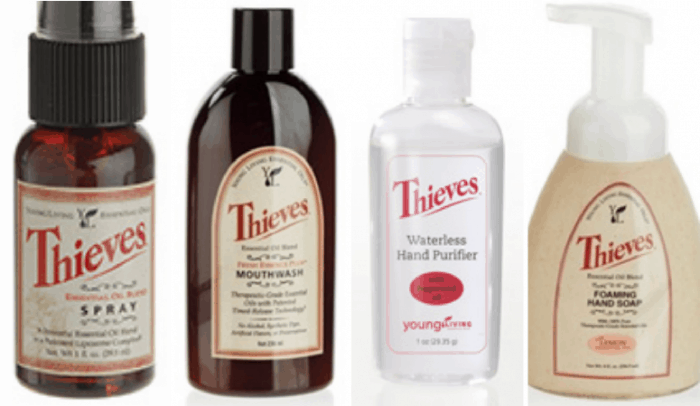 Thieves Household Cleaner  – This was a MUST try for me as I LOVE the smell of bleach after I have been cleaning, however Tom doesn't and for years he has been asking me to stop using bleach so this cleaner was on my list to try out from Young Living. I am sooo glad that I tried this, I love the smell of thieves (maybe more so then bleach 😉 ) and when mopping my floors I only needed a tiny bit in my bucket of water to get my floors clean! A win win for us, cleans the house, helps my cleaning supplies budget AND Tom likes the smell too! (This one is on my buy list)
Thieves Dentarome Ultra Toothpaste For me I get toothpaste free when using coupons, so paying for toothpaste is not something I typically do however since I am sharing my experience along the way with all of you I gave it a shot. It has a good flavor, and when I cut my gums with my new electric toothbrush (after using a manual one for the past 9 months) it did not burn when I brushed my teeth like my normal toothpaste, however aside from that I like my free toothpaste. Its better on my budget and I like the flavor better. But if you have a cut on your gums, or tender gums or if you are someone who has to buy the expensive toothpaste because of sensitivity using this one might be the best option for you instead of the one you buy at the grocery store. I am keeping mine on hand for times when I will need it, but daily I am sticking with my free toothpaste. (This one is on my skip list)
Thieves Fresh Essence Mouthwash Of course I normally coupon for my mouthwash and get it dirt cheap but again with this one like the toothpaste I wanted to be able to let you know my thoughts about it. I actually like this one better then my normal mouthwash. I tried it with when I had a cut in my gum and when I didn't and it didn't sting either time and the flavor did not burn like sometimes happens when you are swishing it around in your mouth. I have not gotten rid of my mouthwash stockpile, but I also have not gotten rid of this one. The flavors mixing with the regular toothpaste and the Thieves is kinda funky but when I use the Thieves toothpaste I use this too 🙂 This one is on my skip list
Thieves Foaming Hand Soap Yes after coupons handsoap is on the do not pay full price for list however after using the Thieves handsoap I am putting thought into ditching our normal handsoap. For one when using it my hands did not dry out, with it being winter time when trying it out my hands get really dry and normally just get dryer feeling anytime I was my hands. When using thieves hand soap, I did not have the drying out issue with my hands and the smell I love. I have not totally converted to it but the thought is there 🙂 This one is on my buy list
Thieves Waterless Hand Purifier After using this I have switched from the normal hand sanitizer to this for a few different reasons. First because if I had a hang nail or a small cut on my hand using this didn't not give that burning sensation that hand sanitizer normally does second, the smell is sooo much better then the normal hand sanitizer I was using and third. This one is on my buy list
Thieves Spray This stuff is AMAZING! I know many times when we go to the store we are touching a cart that we do not know who touched it before we did and if they were sick or if they used the bathroom and didn't wash their hands and all we can think about is the GERMS! Well this one is now in my purse where ever I go, I spray it all over everything that I need to in public because you can use on door handles, toilet seats, or any surface that needs protection from germs. This one is on my buy list
Thieves Hard Lozenges These are for helping with a sore throat however I am not a fan of sucking on them, the flavor when sucking on them for the time it takes to work, I much rather drink a quick cup of Thieves Tea to get rid of my sore throat. 
Make sure you also check out my post on how I am using Essential Oils to help me sleep, I have a long history of sleep issues that were even there when I was a child and I have not had any luck getting better sleep until I started using Lavender Essential Oils to help with sleep.
Disclaimer: These statements have not been evaluated by the Food and Drug Administration. The information on this site is not intended or implied to be a substitute for professional medical advice, diagnosis or treatment. Please confirm any information obtained from or through this web site with other sources, and review all information regarding any medical condition or treatment with your physician. Never disregard professional medical advice or delay seeking medical treatment because of something you have read on this website. This information is not intended to diagnose, treat, or cure any disease.