Ok so most of us would NEVER imagine that our precious coupon binders (or other coupon carriers) would end up covered in Laundry detergent…..sadly mine did 🙁 I got to my friends house the other day to discover that Hubby left the bottle of laundry soap in the van from his last trip to the Laundromat and it fell on its side and leaked….getting laundry detergent all over my binder and the car. I was more worried about my binder, which thankfully i was able to save all but the last 3 pages of coupons and my empty coupon plastics which is where i keep the coupons for items we will never use but if they are free after coupon I will buy them and donate them. The outside was covered but that was an easy fix.
Well rinsing them in the sink was not working they were slimy and gross and just made more of a mess, but the best place to wash them off was…….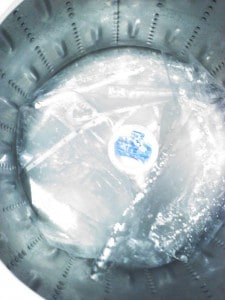 The Washing Machine! Thankfully my friend had one and we through them in! 2 Rinse cycles later on cold my binder plastics were good as new!
Have you had any issues with your coupon carriers that made you freak out a bit?
This post may contain affiliate links. Please read my disclosure policy here