What you Need to Crochet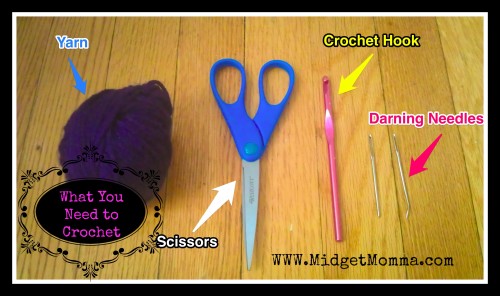 So i'm actually quite annoyed. I was planning on shooting a crochet tutorial for you all but I had some technical difficulties. Hopefully, I'll be able to have something up next week. So I figured we'd have a post on the absolute bare basics of crochet.
Crochet is a "fiber art" using yarn to create something. You use one hook that can come in many different sizes that goes with different sized yarn.
You will find many different types of yarn out there. Acrylic, wool, alpaca, cotton, and tons more. If you don't use anything for yarn you probably don't notice when it's in stores. You can get it at any craft store (Michael's, A.C. Moore, Joann's, Hobby Lobby) and little yarn shops that are amazing but also much more expensive. If you're knitting you can get away with a lot less yarn but in crochet you will use a lot of it.
Next thing. Choosing the right yarn, of course! This is tricky. I like to go with the cheaper ones at craft stores personally because they do have a large variety of color and a lot more for your money. The cheapest ones are 100% Acrylic. Red Heart Super Saver is found in every craft store for $2.99 and is REALLY rough and scratchy.Red Heart With Love is a little bit more like $3.99 and $4.99 and I've heard is much better but have never used it myself.
Now, the only yarn I use is I Love This Yarn by Hobby Lobby. It is 100% Acrylic and sooooo soft and it comes in so many colors. You WILL fall in love with it! Only problem is is Hobby Lobbys aren't on every corner. Mine is 60 miles away. They're website is great though. It looks like you just pay a flat rate standard shipping of like 2 or 3 bucks for up to like 10 skeins(balls) of yarn. If you don't live near a Hobby Lobby, just order some online. I guarantee you will not be disappointed.
Last but not least you will need some sharp scissors and a darning needle(big fat dull needle), some come with a bent tip so it's easier to pick up the yarn, for sewing in loose ends.
I would recommend getting a set of crochet hooks in different sizes so you can use them for tons of projects.
Something like this – You can also pick these up in any craft store and even walmart!
Make sure you come back next week, we will start with learning how to chain, single crochet, and turn your work!
Author Bio: Michelle lives in Philadelphia Pa with her husband and 18 month old daughter.