Veteran's Day is November 11, 2015 and as a Thank you to our service members, both past and present there are many places that Veterans, Retired Military Members, Active Duty Military Members and National Guard Members can go to get free meals. I think it is awesome and Tom and I are both Veterans so it makes for a budget friendly date day for us. Make sure you pass on this information to anyone you know who is a Veteran or Active Duty so they can snag a free meal too! Plus don't forget that there are FREE Haircuts for Veterans! 
Where Veterans can eat for FREE on Veteran's Day 2015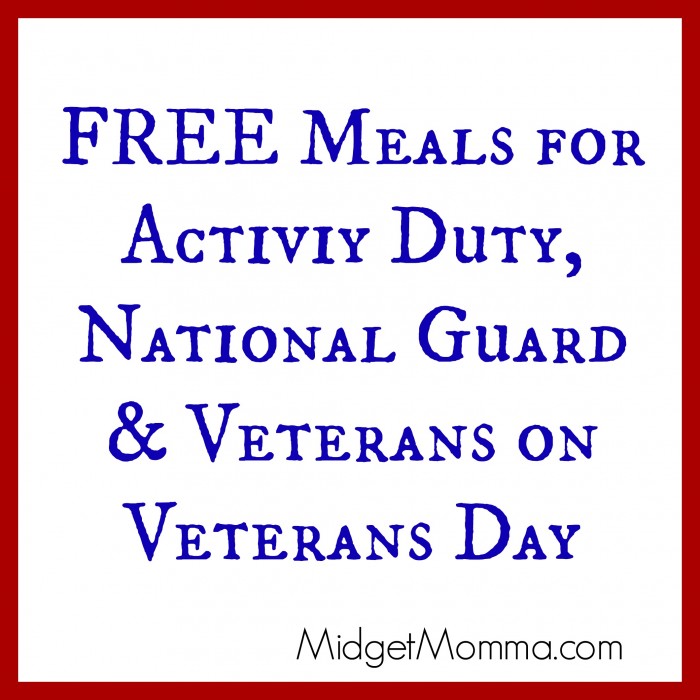 Most of the Places are having free meals are doing so on November 11 however there are some that are on different days.
All places require proof of military service, proof of service includes Military ID, Discharge Papers, DD214 and being in uniform. What proof of service required depends on the restaurant.
Where Veterans can eat for FREE
Spaghetti Warehouse: Invite a Veteran or Soldier to Lunch or Dinner", Choose One Original Spaghetti Entree or 15-Layer Lasagne, Get 2nd Entree Free. THREE DAY Buy One Get One Free Veteran's Day Event, November 9 through 11th. Print coupon here
McCormick & Schmick's : Complimentary lunch or dinner entrée on Sunday, November 8 in recognition of Veteran's Day.
Red Lobster: From Monday, Nov. 9th through Thursday, Nov. 12th,Red Lobster is thanking active-duty military, actively serving, reserve and military veterans for their service with a no purchase necessary free appetizer or dessert offer. Guests may choose from a special menu that includes the following selections:
Appetizers
Sweet Chili Shrimp
Parrot Isle Jumbo Coconut Shrimp
Lobster-Artichoke-and-Seafood Dip
Lobster-Crab-and-Seafood-Stuffed Mushrooms
Lobster Pizza
Signature Shrimp Cocktail
Crispy Calamari and Vegetables
Mozzarella Cheesesticks
Crispy Shrimp Lettuce Wraps
White-Wine-and-Roasted-Garlic-Mussels
Shrimp Nachos
 Desserts
Warm Chocolate Chip Lava Cookie
NY Style Cheesecake with Strawberries
Carrot Cake
Warm Apple Crostada
Chocolate Wave
Bar Louie: From open to close Tuesday, November 10th and Wednesday, November 11th Bar Louie locations across the country will offer veterans and active military personnel a free meal up to a $12 value
Where Veterans can eat for FREE on Veteran's Day 2015
Bob Evans: Veterans and active duty military personnel have the choice of the following menu items to eat for free on Veterans Day:
    Stack of Hotcakes (Buttermilk or Multigrain) – A stack of four fluffy hotcakes served with warm syrup
    Fresh Baked Brioche French Toast – Two griddled slices of rich, house-baked Brioche bread, dipped in real egg batter made with natural vanilla and cinnamon, then griddled to golden-brown
    Sunrise Breakfast – Two eggs cooked-to-order, served with choice of hash browns, home fries or grits, and freshly baked bread
    Country Biscuit Breakfast – A fresh baked buttermilk biscuit topped with one egg cooked-to-order, fresh never frozen sausage, creamy country gravy and shredded cheddar cheese. The dish is served with a choice of hash browns, home fries or grits
    Mini Sampler Breakfast – One egg cooked-to-order with a choice of hash browns, home fries or grits. It's served with two fresh never frozen sausage links or thick bacon strips and freshly baked bread
Applebee's: Pick from one of 7 meals as a Thank you to service members. Available from open to close. Dine in only.
Oriental Chicken Salad
Fiesta Lime Chicken
Three Cheese Chicken Penne
Double Crunch Shrimp
The American Standard
7oz sirloin
Chicken Tender Platter
Golden Corral: Military and Veterans can dine for FREE From 5pm-1opm.
Outback Steakhouse: FREE Bloomin' Onion® & Beverage at your local Outback Steakhouse on Wednesday, November 11, with valid military ID. And for the rest of the year, they are giving 15% off to military personnel—plus their families. Come in November 12 through December 31 to enjoy your discount, with valid military ID. If you are currently deployed you can still get yours, go here and fill out the form and they will give you a Veterans Day Rain Check for a FREE Bloomin' Onion®. It'll be waiting for you, at any Outback Steakhouse in the U.S., when you come home.
Denny's: Get a free Build Your Own Grand Slam breakfast on Nov. 11 from 5 a.m.- noon.
White Castle: Get a free Breakfast Slider and a small coffee or a small soft drink.
Krystal: From 6 AM to 11 AM, on Wednesday, November 11, 2015, all active and retired military can receive a free chicken or free sausage biscuit. Additionally, from 11 am to close, everyone can take advantage of $.50 Pups and Corn Pups.
Ihop: FREE stack of Red, White & Blue pancakes  (buttermilk pancakes crowned with glazed strawberries, blueberry compote and whipped topping), from 7 a.m.-7 p.m. 
On the Boarder: receive a "Choose 2" or "Choose 3" selection from OTB's "Create Your Own Combo" menu (up to$10.79 in value), which features the following:
SOUP/SALAD
Chicken Tortilla Soup
House Salad
TACOS (Soft or Crispy)
Seasoned Ground Beef
Chicken Tinga
Dos XX® Fish Taco
TOSTADAS
Seasoned Ground Beef
Chicken Tinga
Guacamole
ENCHILADAS
Seasoned Ground Beef with chile con carne
Chicken Tinga with sour cream sauce
Cheese & Onion with chile con carne
Spinach & Mushroom with sour cream sauce
Hatch Chile Chicken with green chile sauce
CLASSICS
Beef Empanadas
Chicken Empanadas
Chicken Flauta
Pork Tamale
Cheese Chile Relleno
Orange Leaf Frozen Yogurt: free cup of froyo, up to 11 ounces. You will have a wide selection of flavors and toppings to choose from, including the limited time only froyo flavors, Pumpkin Spice Latte and the new Salted Caramel Latte.
Shoney's: Is offering a FREE ALL-AMERICAN BURGER™ to all active-duty and veterans of the military on Veterans Day. Go here and get your coupon and then bring it in with you.
Texas Roadhouse: Pick one of the following meals for free, plus get a free drink.
6 oz sirloin with 2 sides
country fried chicken with 2 sides
country fried sirloin with 2 sides
pulled pork dinner with 2 sides
grilled pork chop with 2 sides
All-American cheeseburger with fries
BBQ Chicken Sandwich  with fries
Pulled pork sandwich with fries
Grilled chicken salad
Chicken Critter Salad
Chili's : Is offering all military veterans past and present their choice of one of 7 meals during the dinner hour, or any lunch combo during lunch. Offer only available at participating Chili's in the U.S. only. Dine-in from limited menu only.
Red Robin: FREE* Red's Tavern Double™ burger with Bottomless Steak Fries
Friendly's: FREE breakfast, lunch or dinner.
Breakfast Option includes: Big-Two-Do meal, which includes a coffee and the choice between two slices of French toast, two buttermilk pancakes, or two slices of regular toast. Breakfast also comes with bacon or sausage links, and two farm fresh eggs.
Lunch or dinner includes: an All-American Burger served with fries and a beverage (soda, ice tea, or hot beverage).
Olive Garden: Military members and Veterans get a FREE Meal, their family members get 10% off their meals. Start with unlimited soup or salad and breadsticks. choose from one of the entrées:
cheese ravioli
spaghetti with meat sauce
lasagna
chicken parmigiana
garlic rosemary chicken
Hooters: All active-duty and retired military nationwide to enjoy a free meal as a "thank you" for their service. On Wednesday, Nov. 11, all veterans and active-duty military personnel can enjoy an entrée on the house, served up with warm Hooters Girl hospitality, by presenting a military ID or proof of service at any Hooters location across the country
Little Caesars® Pizza: Receive their free $5 Lunch Combo, which features four slices of Little Caesars popular Detroit-style DEEP!DEEP!™ Dish pizza, paired with a 20-ounce Pepsi product
Bonanza Steakhouse: From 4pm-close get a FREE Buffet meal.
Ponderosa Steakhouse: From 4pm-close get a FREE Buffet meal.
Rock & Brews: complimentary pulled pork sandwich with a side choice of natural fries, house potato salad, pasta salad or coleslaw throughout the day at all of its restaurants in the United States.
Join the newsletter
Subscribe to get our latest content by email.