My walls in my basement are lined with shelves filled with food, my washer and dryer closet is filled with laundry soap. While some may walk into my house and think I have lost my mind having a mini grocery store I can tell you one thing – The stockpile has saved us many times. People often look at my stockpile and wonder why you should stockpile.
I started couponing and stockpiling in 2009 out of need. Tom was working in the Air Force and I was working at Wendy's and getting ahead was not happening, the grocery bill was crazy high (for just us 2 and a 4 year old and an 2 year old ) and there were times where at the end of the paying bills and all our needs there was no money left for anything else. That was with us both working full time and so we knew we had to change something, bringing in more money was not possible so it was time to make the money stretch as far as we could which lead to heavy use of coupons. I had always used them, a few here and there but then I started using them and tracking the sales and the budget increased a TON because I was saving so much money.
The stockpile saved us during my husbands 2 years of unemployment when I was busy working on the blog and building it and money was super tight. We had built it up enough that for almost a full year we needed to buy nothing more then meat, produce and dairy products along with the things that were free and cheap after coupons.
While things are financially better now and I have relaxed some on how often I go to the store and how much couponing I do, one thing still remains – keeping the stockpile and getting the things we use and need when they are cheap and free with coupons. Having our stockpile and getting things when they are at their lowest prices has allowed us to do things and buy things we wouldn't otherwise be doing.Even when things get better financially the reasons why you should stockpile don't change. It is a way to keep yourself ahead of the game financially. Of course when you are in financial troubles it makes everything worse but Tough financially times doesn't mean it is over and you should always keep going and keep your eyes on the light at the end of the tunnel.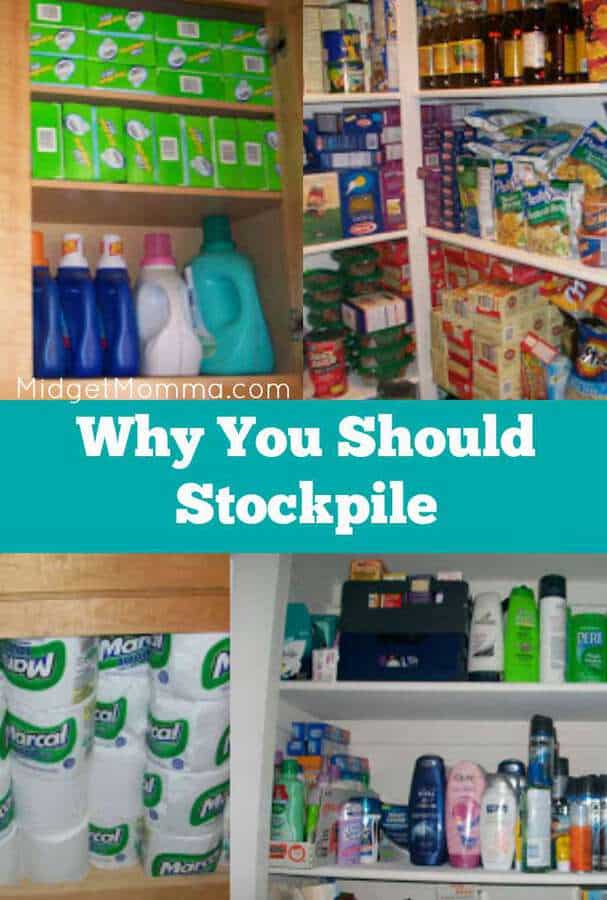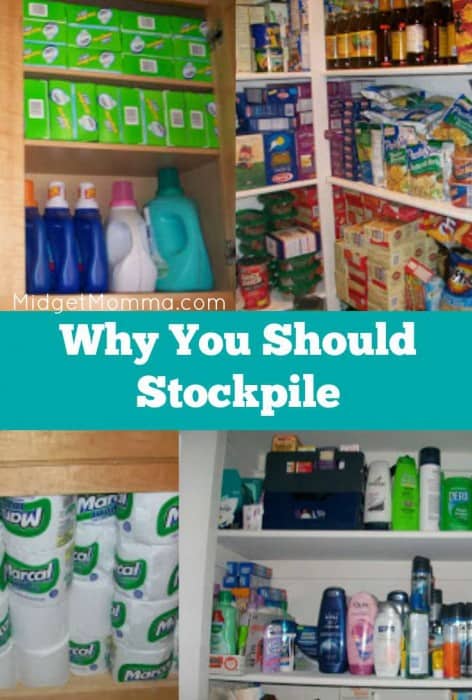 Why Should You stockpile
You won't run out of the things that you need and use often
You will save money because you are buying them at the lowest price
You can have things like your favorite meats that are more expensive like steak because there is room in the budget since you are saving on other things.
You can help out those in need with things you don't need that you get free and cheap and donate them
You can use the savings from your coupons and put it to things you want and need – like car repairs, family vacations
Make sure you check out my Tips for Stockpiling Post that will help you with growing and maintaining yours.
I don't limit my stockpile to just food and household needs, I also stockpile my kids clothing and buy them at the end of the season when they are their cheapest and save them for the next year. While it means I have boxes of clothing it also means I am paying about 1/4 of the price I normally would and with my daughter loving Justice and my love for Gymboree I can afford to have my kids have those things because I am buying them at such a low price. (You can read my How To Save Money and Stockpile Kids Clothing post to get tips and see how I do it)
If you have kids in diapers then you will want to read this post on how to save money and stockpile diapers.
Everyday for the month of October we are sharing a different way to save money. Each of these ways can help you save over $100 each per year! See the rest of the 31 Ways to Save $100 or More Per Year posts here. Using these ways to, you can save $100 in 31 different ways and you have a savings of $3100.00 in a year (if not more!)!