As the weeks go on my kids are getting really good at the Wii, they were just starting to really get into it when our first one stopped working (we had it since it came out) and when we got the one to review the kids were excited as was I.  We are finding that each of them has the games they like and the ones that the do not like, and types of games that they are better at. It happens that the games they like are the ones that they are really good at. My son is not into playing the Disney Princess: Enchanted Journey
and my daughter is not into playing theMonster 4×4 Stunt Racer game that we have.
We recently recieved the Wii Play Motion with Black Wii Remote Plus
to review. It has 12 mini games on it, with the variety of games it has both of my children were able to find games that they were good at and enjoyed playing. We even found one that the both enjoyed playing together, Cone Zone. It is simple and complicated at the same time and they love it, the goal is to balance as many ice cream scoops as you can with out having your cone fall over!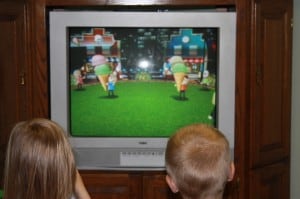 There is definitely a game for everyone with this game! The 12 Mini Games that come one the game are:
Wind Runner- Riding the wind, with an umbrella race game.
Grappling Ghosts– A hunt for "invisible" ghosts that get out of your TV and you wrestle them to get them back in and into a cage
Veggie Guardin'-(my kids LOVE this one) Guard you garden against pests!
Teeter Targets-Reminds me of being on a teeter totter, and you use a ball to break a target.
Trigger Twist– A fun way to fight off dinosaurs and UFO's!
Skip Skimmer– (my daughter LOVES this one) Skipping rocks just like you would on a lake!
Star Shuttle– Getting the shuttle parts to the space station
Flutter Fly-Balloon race in an obstacle course in the sky.
Treasure Twirl– Under the sea diving looking for treasures while dodging sharks and Jelly fish
Pose Mii Plus- Fly you Mii through space!
Jump Park– Jump around on a huge trampoline.
It is a great way to have family time, there are plenty of games to pick from to play. Up to 4 people can play which means the whole family can get in on the fun! The only thing that we did not like was that in order to play all the games you had to unlock some of them before you could play, but once you had them all unlocked it was all fun!
We had a ton of fun playing this game, the kids got frustrated the first round or two when they first played each game but it did not take them long to figure it out and love playing!
Disclaimer:I was not compensated for this review, I did receive product to facilitate this review. All opinions are my own.
This post may contain affiliate links. Please read my disclosure policy here