As you may know, kids can get bored very easily. One minute they are playing with their favorite toy or watching their favorite show and then the next minute they have a new favorite toy and show. Then maybe days later they are back to their original favorite toy or show. So it is always nice to see new things come down the pike for the little ones.
I had the awesome opportunity to review the Wishenpoof Amazon Preschool Series. This is an Amazon Original Series for kids that will be available for Prime members premiering August 14, 2015 on Amazon Prime. You may be asking what is this new kids series about. Well let's find out!!!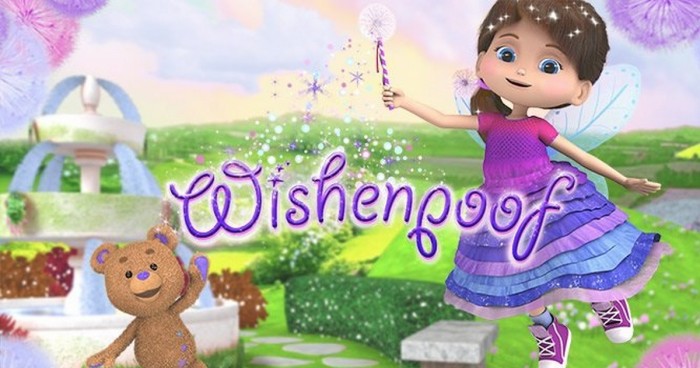 Wishenpoof Amazon Preschool Series
The Wishenpoof Amazon Preschool Series follows a young girl named Bianca (voiced by Addison Holley, Annedroids, Daniel Tiger's Neighborhood). She is tasked with solving life problems, sometimes with magic, sometimes without. The message here is that with or without magic, we all have the power to make good choices. Now that is an awesome message for kids, wouldn't you say? Well I definitely would!! Bianca is not alone. She has a family as well. She has her mom, her dad (voiced by Jason Priestley of Beverly Hills, 90210) and her 3 year old brother Ben (voiced by Kaelyn Breitkopf from Puppets). Now the thing about her family is, is that only Bianca and her mom can use magic. Bianca's dad and Ben know that they can, and Ben really wants to but (at least currently) can not. Now I don't want to spoil to much for you so let me just give you a quick overview of the very first episode. In the episode we are introduced to Bianca, her family and their stuffed bear friend Bob. To show us she can use magic and make wishes come true she wishes that we all are underwater and mermaids. This is a fun time until her mom comes in and let's Bianca know it's time for school. The school is located in the regular world (which is our world). To do this they need to use a wish world (which is the world Bianca and her family live in) door. They do and they make it to the regular world. Once there Ben and Bianca head off to school. Today is Talent show day at school. Bianca's friends all have talents they want to show off but are having a little trouble doing them. So Bianca, with the power of magic and without, helps them solve their problems so they can preform in the talent show!! It shows that to solve these set of problems that you never give up and give it your best shot. A great episode and a great lesson for kids. What more could you ask for?
There are 13 episodes total in the first season. They are all fun and each one presents a new problem and different ways to solve them. There are songs that will make your kids (and maybe even you) want to get up and dance and sing along.I give Wishenpoof a 10 out of 10!! The Wishenpoof Amazon Preschool Series is a just the kind of show your kids will instantly fall in love with. Maybe you will too (I sure did)!!! So don't forget-
The Wishenpoof Amazon Preschool Series premieres August 14th 2015 on Amazon Prime. If you are not a prime member yet, what are you waiting for? Sign up here
MIDGETMOMMA.COM SCORE- 10 OUT OF 10
Disclaimer: This post is sponsored by Amazon and KidzVuz. All opinions are 100% my own.