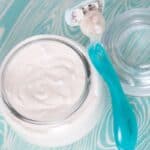 Print
Homemade Shaving Cream
Homemade shaving cream is easy to make with just 2 ingredients. You can whip up a batch of homemade shaving cream in 5 minutes and not only does it save you money but it makes shaving so much better! 
If you do not have a stand mixer then you can use a hand mixer, I however personally love my kitchen aid mixer! You will want to use bowls that do not slip when you are mixing, These with the rubber bottoms are my favorite bowls.

In a large mixing bowl or the mixing bowl of your stand mixer, whip the coconut oil on high for 5 minutes. Add the vanilla extract or the essential oils to the coconut and whip until well combined.

Place the mixture into a airtight container.