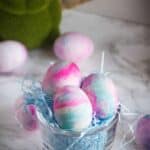 Print
How to Dye Easter Eggs with Shaving Cream
If you are looking for a SUPER easy and fun way to dye the easter eggs this year then you are going to love this How to Dye Easter Eggs with Shaving Cream step by step tutorial.
Spray the can of shaving cream or tub of cool whip into a 9x13 inch pan.

Add drops of the food coloring around the shaving cream, making sure to use different colors so the eggs will be tye dyed.

Use your skewers to swirl the colors into the shaving cream.

Roll the eggs into the shaving cream and set them aside for 10 minutes with the shaving cream on them.

Rinse the eggs off with running water.

Keep your eggs in your fridge until you would like to display them.