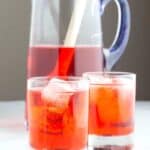 Print
Raspberry Homemade Pedialyte Recipe
This Raspberry Homemade Pedialyte Recipe is perfect for keeping the kids hydrated when they are sick. With just a few ingredients and about 5 minutes of time you can make pedialyte at home that the kids will actually like the flavor of.
In a large pitcher mix salt, sugar and Jello powder.

Then add in the hot Water and stir until the sugar is dissolved.

Pour in the 3 1/2 cups of water and serve right away or store in the fridge.