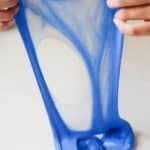 Print
Stretchy Slime
This easy stretchy slime recipe is one that my kids love. This easy slime recipe is perfect for those who want to do lots of slime stretching and slime bubble making! No Borax or chemicals in this kid friendly slime recipe!
Grab a large bowl and add in your glue. Then add in your shaving cream, lotion, foam soap, hand soap, baking soda and mix well.

Then add your saline solution, add a little bit at a time until you get to your desired slime consistency.

Use your paint and add a small amount of paint to your slime to get the color you want. Start out with about a teaspoon of paint and then add more until you get the color you want. Mix well with your hands.