As a new thing each Monday I am going to share my yardsale finds from the weekend, not each week because as we all know yardsale shopping does not always mean you will find something but when I do I will be sharing it with you and you can all get involved to by sending me pictures of your yardsale finds! Yardsales are a great way to save money and you can find some AMAZING deals,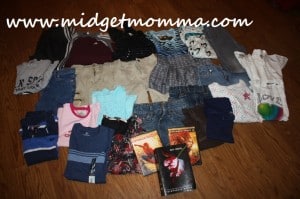 Here is our haul from this weeks yardsale shopping- Total cost- $14.25
What we got:
14 shirts
2 skirts
3 pairs of pants
1 zip up hoodie
4 pairs of shorts
Spiderman DVD
Spiderman 2 DVD
Twilight New Mook Book
The clothes were all .50 a piece and they are all name brands like Justice and Adidas, the DVDs were only $1 each and the book was my best score this weekend i got it for only .25!!
This post may contain affiliate links. Please read my disclosure policy here