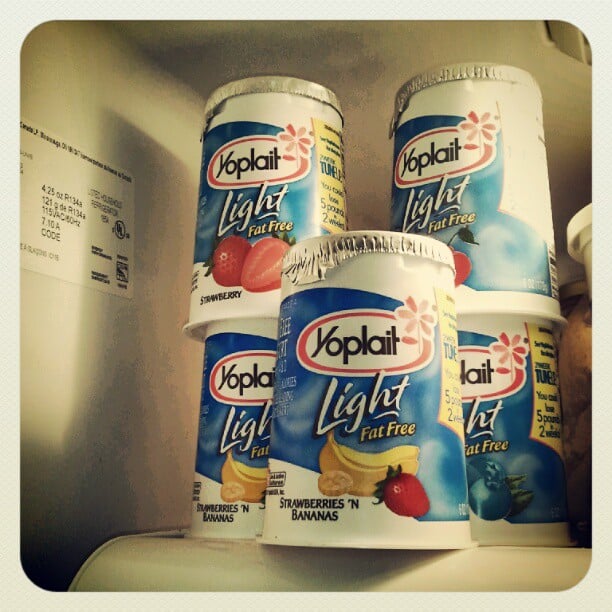 We all have one of "those foods" that put a smile on our faces when we open up the fridge door, you know the one where you don't know what you want and when you open up the fridge its there or that one thing that you will make room in the fridge for no matter how packed the fridge is? Some people's fridge food is soda, some like string cheese and me it is yogurt. I has not always been yogurt, but since I have been watching what I have been eating lately, determined to lose some weight and get the "me" back my newest favorite snack is  yogurt ( I sad good bye to my old favorite the coffee creamer for the time). There are so many different flavors that when i open the fridge and I have a ton of options to pick from I get a smile on my face. I am a HUGE sweets lover, they are my biggest weakness but thankfully I can have my "cake" and not feel bad about it, but please no one tell my kids that they make cake flavored yogurt or there will never be any in the fridge left for me 😉 ).  A few months ago I would not have cared if there was yogurt in the fridge or not, but now when I see that we are down to about 3 it is time for me to head to the store to get some more 🙂
I just found out about the coolest refrigerator that LG has come out with and it would be perfect for my house, the new LG SUPER-CAPACITY 3 DOOR FRENCH DOOR REFRIGERATOR WITH DOOR-IN-DOOR™ (Model #: LFX31945ST). Not only would it be awesome for me to be able to get my yogurt easier when I want it with out opening up the whole fridge, but my kids could have their juice cups and snacks in there too! I know my kids love standing in front of the fridge with the door wide open trying to figure out what they want, and it drives me crazy with the cold air that they are letting out, this problem would be solved with the new Door-In-Door feature LG has!
Do you have a favorite fridge food? There is a fun online contest right now, Food Fight! It is a battle among all the most common fridge foods to see which one will earn the coveted spot in LG's door-in-door section! Head on over here or to the LG Facebook page  and vote for your favorite food!
For those quick trips to the fridge, the Door-in-Door is a magnetically sealed section of the refrigerator that allows you to access the door bin without opening the entire refrigerator. Due to the Door-In-Door feature, less cool air escapes when the easy access compartment is opened, keeping cold air in the rest of the fridge, where it matters most. Whether it's a refreshing drink, condiments or a healthy snack, the Door-in-Door is the ideal space for quick access to your family's go-to foods such as canned or bottled drinks, salad dressings and condiments. Learn More Here
Disclosure: Compensation was provided by LG via Glam Media. The opinions expressed herein are those of the author and are not indicative of the opinions or positions of LG.
This post may contain affiliate links. Please read my disclosure policy here