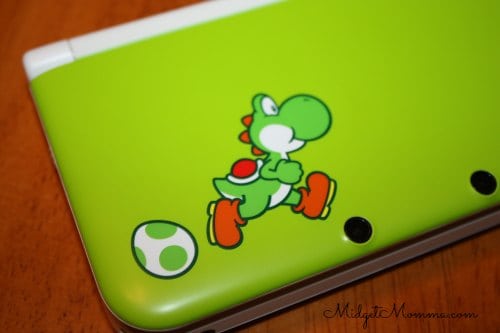 Yoshi Limited Edition Nintendo 3DS XL
I have been a long time fan of Yoshi, seriously he is my favorite Nintendo character and when I saw that they had a Yoshi Limited Edition Nintendo 3DS XL  I added it to my wishlist (which for me you all know I am not a huge gamer so when something spikes my attention it has to be awesome) so when Nintendo contacted me about testing out the new device I have to admit I was dancing around my house 🙂 Yoshi being my favorite character means that I also have to say that the Yoshi 3DS XL is the coolest DS there is and here are my 10 reasons why the Yoshi Limited Edition Nintendo 3DS LX is the coolest DS:
10. It has Yoshi on the front of it and it is green and white. Again what more should I say other then it has my favorite character on it!
9. it is the 3DS XL, which means it has a big screen on it. This big screen means that for me using it to play games is easier. I wear glasses and the smaller screen is hard on my eyes. It also will be easier for kids with tiny fingers to be able to play it.
8. Backwards Compatibility which means you can play ALL DS games on it, so even the games the kids have been collecting and still love will not be put to waste because you can play them too!
7. It has the 3D slider, which means you can opt out of playing in 3D mode, and can use it in 2D which is much better for my eyes, especially when we are traveling as using the 3D part gives me a headache when Tom is driving and I am playing it.
6. 3D Camera, which makes it more fun to take photos since you can take them in 3D!!!
5. 4 GB Memory card which gives enough space for taking pictures, saving and downloading games and doesn't slow the system down.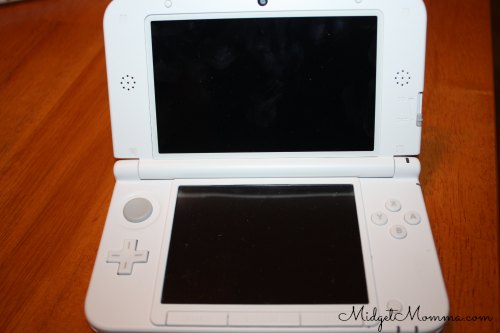 4. There are 2 screens, a widescreen at the top that shows 800×240 pixel resolution and allocates 400 pixels for each eye to create the 3D effect, plus the bottom screen is touch screen and operates with a resolution of 320×240 and both screens are able to display 16.77 million colors! That means no matter what color the game needs the 3DS XL can handle it
3. There are Yoshi eggs on the back of it!! You know adding to the awesomeness of Yoshi on the front and the awesome green and white colors 😉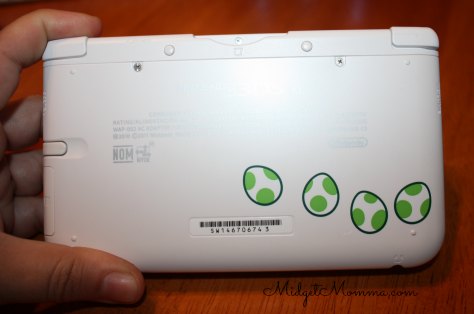 2. Motion Sensor & Gyro Sensor makes the game control allows for some awesome game play. There is a built-in motion sensor and a gyro sensor that reacts to the motion and the tilt of the 3DS and when you are playing and twisting the system from side to side or moving it up and down the 3DS games are able to respond instantly.
1. And the number 1 reason the   Yoshi Limited Edition Nintendo 3DS XL  is the BEST 3DS ever is because it brings back memories of being a kid and playing games with Yoshi on other game systems.
If you are a Yoshi fan then make sure you also grab the Yoshi's New Island – Nintendo 3DS
 game too. Nothing is cooler and more fun then playing a Yoshi game on the Yoshi 3DS XL!
Disclaimer: Nintendo sent me this product to facilitate my review. No compensation was received and all opinions are 100% my own.
Join the newsletter
Subscribe to get our latest content by email.