Many of you have asked about using Young Living Essential Oils. I personally have been using them for 2 years and I love them. I do not talk about them often (yes I know I probably should LOL) but after talking in the facebook group with everyone I decided that it was time to talk about them some more and get a deal going for you guys. I love my oils and even more so I love the other products from Young Living. I can NOT live with out the Theives floor cleaner. It is a HUGE bottle and you only need a little bit to get the floors clean! It totally saves me a lot of money on top of getting my floors clean!
Getting a monthly order will automatically save you 24% off the normal price. PLUS I highly suggest signing up for Essential Rewards, You get a % of what you spend each month back in rewards points and then get FREE Young Living Products. I personally am a hoarder of my Essential Rewards points and then spend them all at once and place a BIG order of the things I need. It is FREE to join Essential Rewards and get the points for spending but you need to put in a $50 order each month to stay in the rewards program.
When getting started with Young Living I suggest the Starter Kit – it has all the oils that are used the most.
Your Premium Starter Kit Includes:
Dewdrop Diffuser
Premium Essential Oils Collection (5-ml each) Lavender, Copaiba Vitality™, Peppermint Vitality™, Lemon Vitality™, Frankincense, Thieves® Vitality™, Purification®, RC™, DiGize™ Vitality™, PanAway®
Stress Away™ 5-ml
AromaGlide™ Roller Fitment
10 Sample Packets
10 Love it? Share it! Sample Business Cards
10 Love it? Share it! Sample Oil Bottles
2 NingXia Red® 2-oz. samples
Product Guide and Product Price List
Essential Oil Magazine
Essential Edge
Member Resources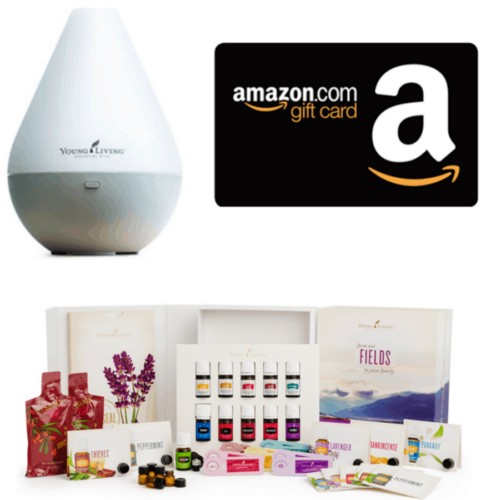 Get $300 Worth the Essential Oils products for $160! + FREE $25 Amazon Gift Card!!
The starter kit for Young Living is $160 and it comes with $300 worth the products. Plus just for you guys you will get a FREE $25 Amazon Gift Card too!! This deal will run thru July 31st!
How to get in on the Young Living Deal! 
Step 1: Go HERE and click on Become a Member. Make sure the "sponsor ID" and "enroller id" say 2077827 – This way you can get your Amazon Gift Card 🙂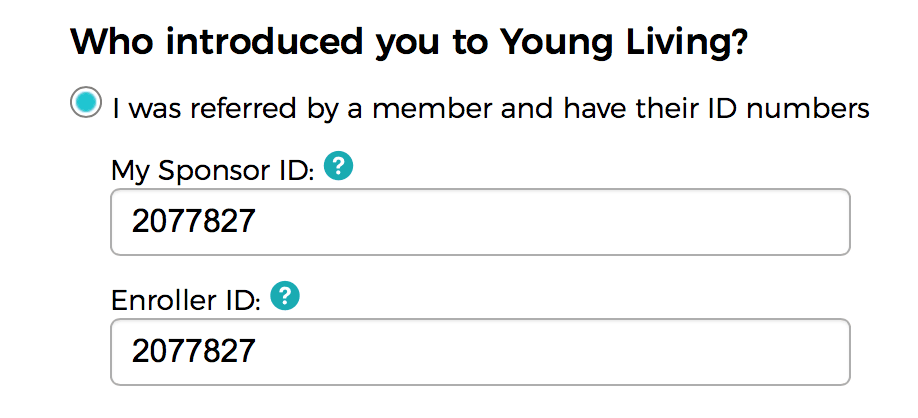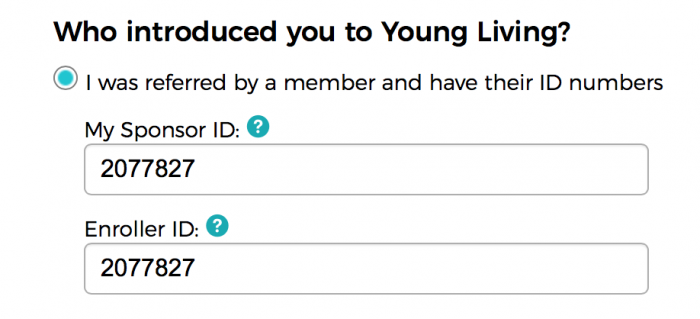 Step 2: Select your kit – I suggest the starter kit that I listed above.
Step 3: Set up Essential Rewards: If you want to get started with Essential Rewards go and add a few items to be set up as auto ship. You can change these at anytime, but this way you earn points from the get go! And save even more money 🙂 If you are looking for what other products to get started with ones that I use all the time are the thieves dish soap, thieves floor cleaner, Citronella (which has been great for making homemade bug spray), the kids shampoo and body wash are just a few but there are TONS to pick from! However if you are not totally ready to jump in head first (trust me I wasn't I let my oils sit in the box on the counter for like 2 weeks before I even opened them once I got my starter kit LOL), you can totally just say No Thanks for Step 3 about Essential Rewards!! You can go back in later on and sign up for the rewards program if you want to 🙂
Step 4: Fill out your information and pay. Follow the process all the way through to the end, where you will receive a confirmation email! Let me know if you don't get that order confirmation email for any reason. You can use your credit card or paypal when checking out 🙂
Step 5: Fill out this google Doc with your E-mail address, name and Young Living Number so I can send you your $25 Amazon gift card!
Head on over here to get started. Plus join my Essential oils facebook group I started so that we can hang out, talk all things oils and have fun 🙂
Disclaimer: These statements have not been evaluated by the Food and Drug Administration. The information on this site is not intended or implied to be a substitute for professional medical advice, diagnosis or treatment. Please confirm any information obtained from or through this web site with other sources, and review all information regarding any medical condition or treatment with your physician. Never disregard professional medical advice or delay seeking medical treatment because of something you have read on this website. This information is not intended to diagnose, treat, or cure any disease.