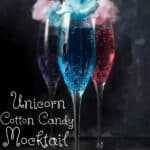 Print
Unicorn Cotton Candy Mocktail
This Unicorn drink is so easy to make and the kids (and adults) love it! When we are doing something special like New Years or a Birthday my kids always ask me to make the Cotton Candy Drink!
Dived the cotton candy into thirds. Place each bunch of cotton candy into a champagne glass removing a pinch of cotton candy from each glass and setting aside.

Fill each glass with the seltzer in front of your guest.

Top with the reserved cotton candy.