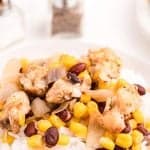 Print
Slow Cooker Mexican Stir Fry
A twist on your traditional stir fry, this Slow Cooker Mexican Chicken and Rice features chunks of chicken, beans, corn, and your favorite Tex-Mex seasonings all served over a bed of rice. Slow Cooker Mexican Chicken is a quick and easy recipe that's perfect for busy nights!
Get your slow cooker ready, spray it with nonstick cooking spray.

Then combine your chicken, corn, black beans, cumin, garlic, lime juice, and onion to your crockpot.

Cook on low for 8 hours or high for 4 hours.

During the last 30 minutes of cook time cook 2 cups of rice according to cooking direction on rice package. You can also make baked rice if you want to.

Put rice on to your plate, then top with the slow cooker Mexican stir fry, and squeeze a little bit of lime juice on top if you want to add more to your meal.