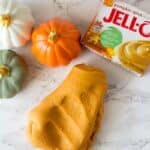 Print
Pudding Slime
Your kids are going to LOVE this Pumpkin Spice Pudding Slime. If you are a Pumpkin Spice fan then you are going to love this Pumpkin Spice Pudding Slime too! My kids love making this Pudding Slime!
1/2

cup

pumpkin pudding mix - or your favorite pudding mix

1

cup

cornstarch

Use less if you want to have slimier slime

1/3

cup

warm water
Place your pudding mix, cornstarch, and water together in a medium bowl.

Use your hands to stir the mixture until it is all combined.

Remove the dough from the mixing bowl and knead it for 2 to 3 minutes until the dough is well combined.

If your mixture is too firm you can add more warm water just make sure you do this over the bowl. If the mixture is too soupy you can add extra cornstarch until it starts to form a ball.