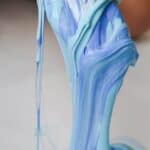 Print
Ocean Slime
This Ocean Slime recipe is a Saline Slime Recipe. It is one of the easiest slime recipes to make that is kid friendly. This easy slime recipes is perfect for the kids to make and have fun with.
Grab a large bowl and add in your glue. Then add in your water and baking soda and mix well.

Then add your saline solution, add a little bit at a time until you get to your desired slime consistency.

Split your slime into 3 equal piles.

Use your paint and add a small amount of paint to each pile of slime to get the color you want. Mix well with your hands

Split each color of slime into different sections and alternating colors

Gently combine all the slimes so the colors oooze together without fully mixing.