This Baby's Hospital Hat Ornament is the easiest baby memory ornament that you can make! Instead of having that adorable hospital hat sit in a box some where, make this easy Baby's Hospital Hat Ornament instead!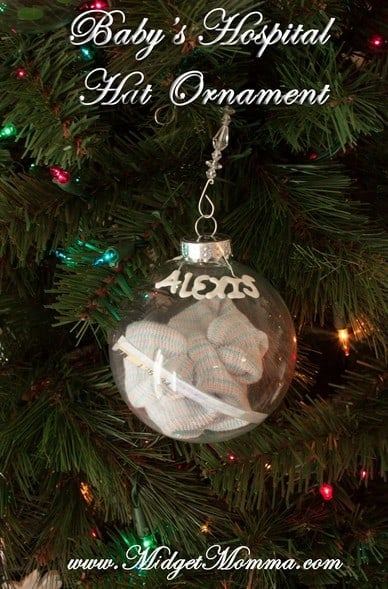 Baby's Hospital Hat Ornament
I love the little hat the hospital gave us when my daughter was born. It was so cute with its little bow on it. I wanted a way that I can show it off and to keep it safe so I have it for years to come. Since it's Christmas I figured putting it in an ornament would be a great way to have a special momentum to remind me of when my daughter was born.
Depending on the style hat you want to put an ornament you either need standard side ornament or a large size they have the bow on it. I found bubble paint works the best for writing on the glass. You can write whatever you like on the ornament I decided to write my daughters name on the front and the year she was born on the back of that.
Baby's Hospital Hat Ornament Supplies
Infant hat
Hospital ID bracelet
Medium or large glass ornament
Ornament hook or ribbon
Stick to push the hat through like a knitting needle
Bubble paint
Baby's Hospital Hat Ornament Directions
Remove the top from the ornament.
Roll the hat into a cylinder to make small enough to fit through the hole. Using the stick push the hop through the opening carefully.
Once the hat is in use the stick to open it up again. Carefully place ID bracelet inside ornament and replace the lid.
Using the bubble paint write you're saying on the top of the ornament not blocking the view of the hat.
Let it dry for at least an hour before hanging.
Join the newsletter
Subscribe to get our latest recipes right in your inbox every time we post a new one!