Homemade spaghetti sauce is so easy to make. Seriously you will never buy the jarred sauce again after making homemade spaghetti sauce. I know it sounds hard at first to make homemade spaghetti sauce recipe and it might be a little intimidating, but I promise you that it is super easy to make!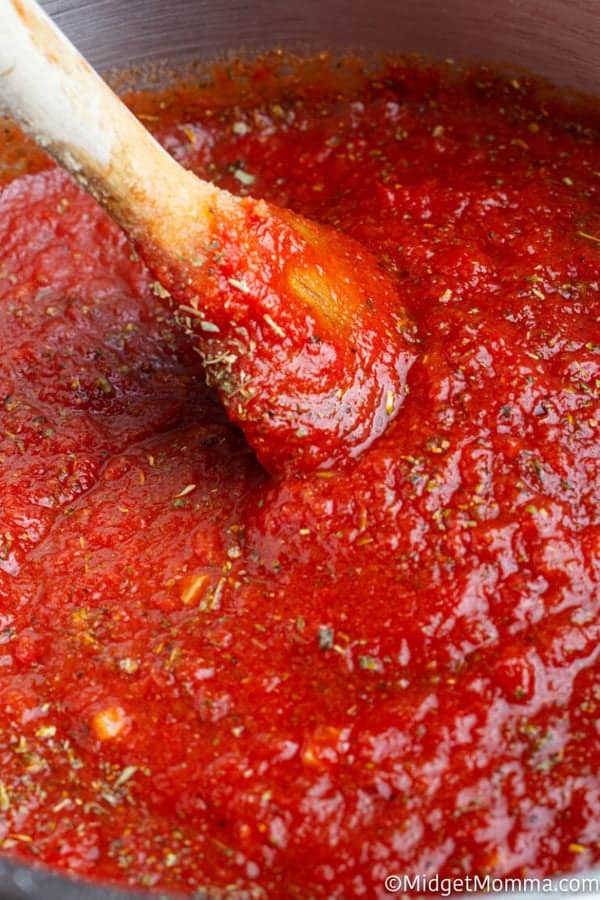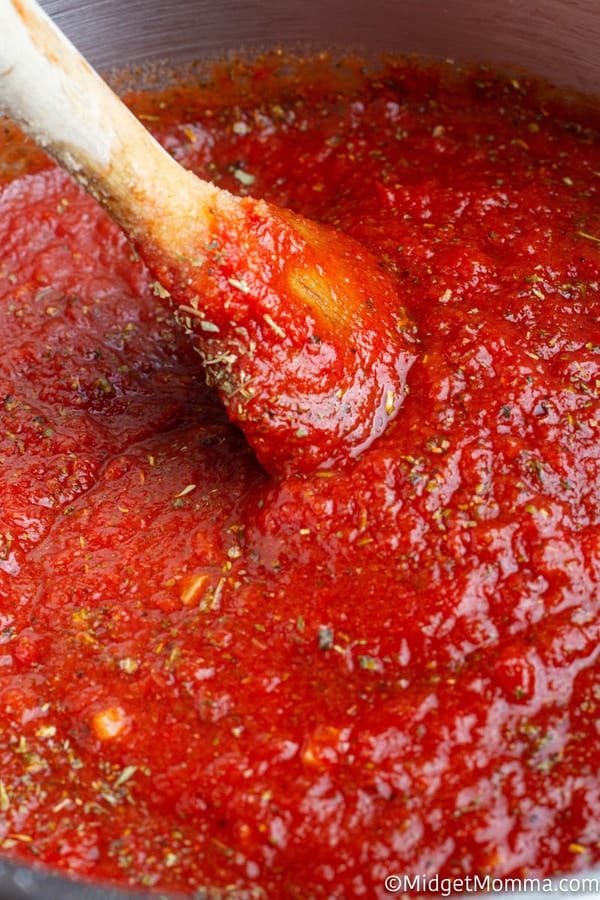 Homemade Spaghetti Sauce Recipe
This homemade spaghetti sauce recipe is made with ingredients that you most likely already have in your pantry and will become a dinner staple! Everyone will love this easy homemade spaghetti sauce recipe!
Growing up I never had a jarred spaghetti sauce, my dad would make sauce every other Sunday. He would always make double the amount we needed and freeze the extra. I never knew why people buy jarred spaghetti sauce when it is so easy to make Homemade Spaghetti Sauce.
Looking for more homemade pasta sauce recipes? Check these out!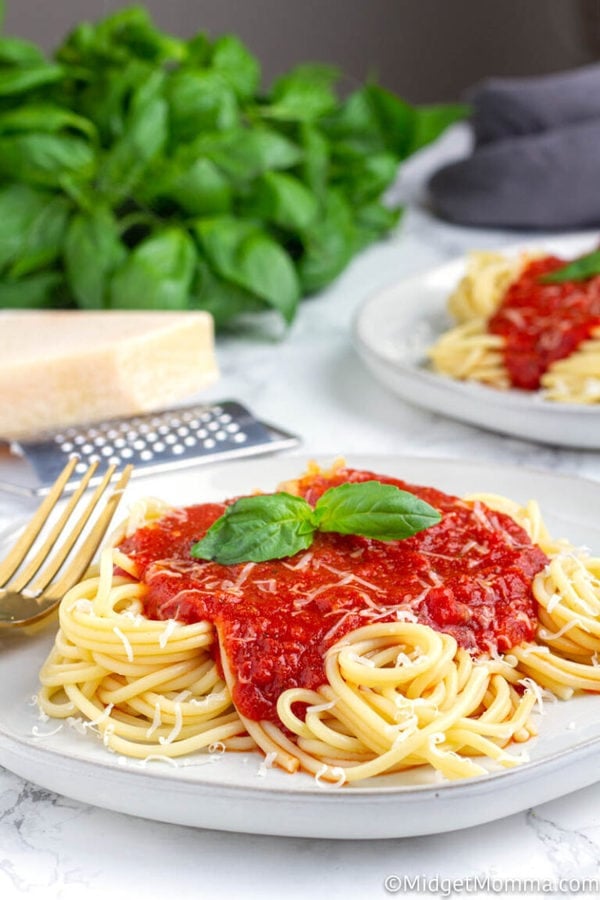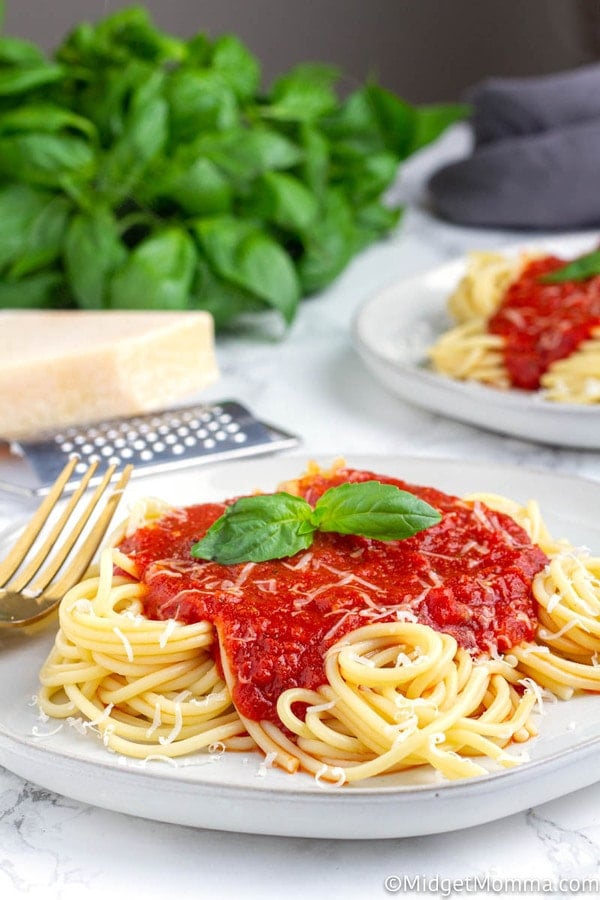 When I have a busy night one of the last things I want to do is cook dinner. I know I have to cook dinner but the want to cook is not always there. When that happens I go to the easiest thing I can think of.
Pasta with sauce or Zoodles with sauce are my top go to recipes. This homemade sauce recipe is done in under 30 minutes!
While the sauce is cooking, I put the pasta on the stoves, grab a bag of salad from the fridge, pop a bag of steamer veggies in the microwave and dinner is done easy peasy! Plus everyone is happy, because everyone in my house loves pasta with sauce.
Homemade Sauce with Meat
You can make this sauce as a meatless spaghetti sauce or you can add meat to it. If you are wanting to make spaghetti sauce with ground beef, or any other ground meat that is easy to do. While your sauce is simmering on the stove, cook the meat in a separate pan and then add the meat to the sauce when it is done cooking.
What Meat goes in Spaghetti Sauce?
If you are wanting to make a meat spaghetti sauce then you have a lot of options for the meat that you put into it. Ground beef, ground turkey, ground pork and ground chicken are my top choices.
You can also add Italian sausage and homemade meatballs. I have used the meatballs that I use in my meatball grinders and also rosemary chicken meatballs in this sauce recipe and they were both delish!
Variations of this recipe
While you can easily add meat to homemade sauce you can also add more veggies if you want to. Red peppers, green bell peppers and onions are fantastic addictions to this homemade spaghetti sauce.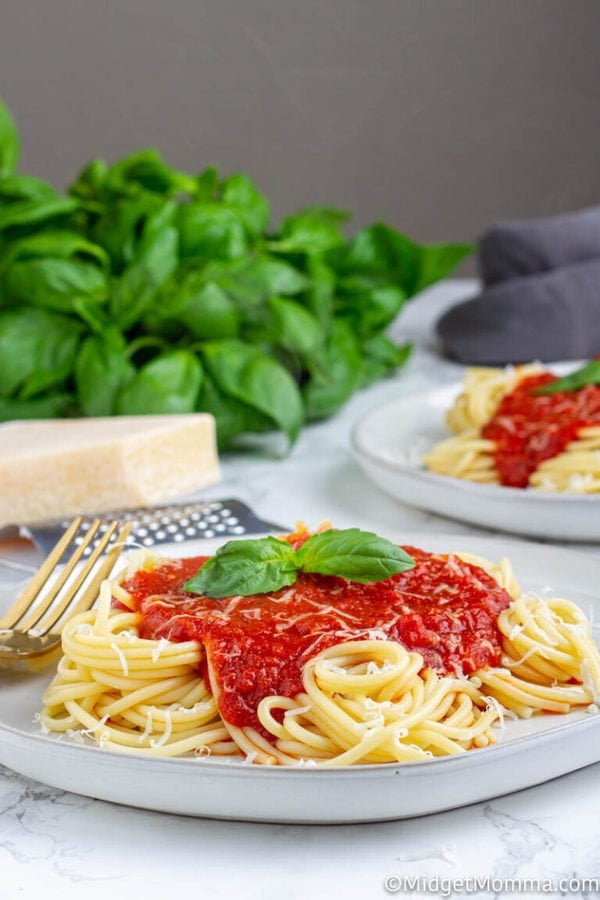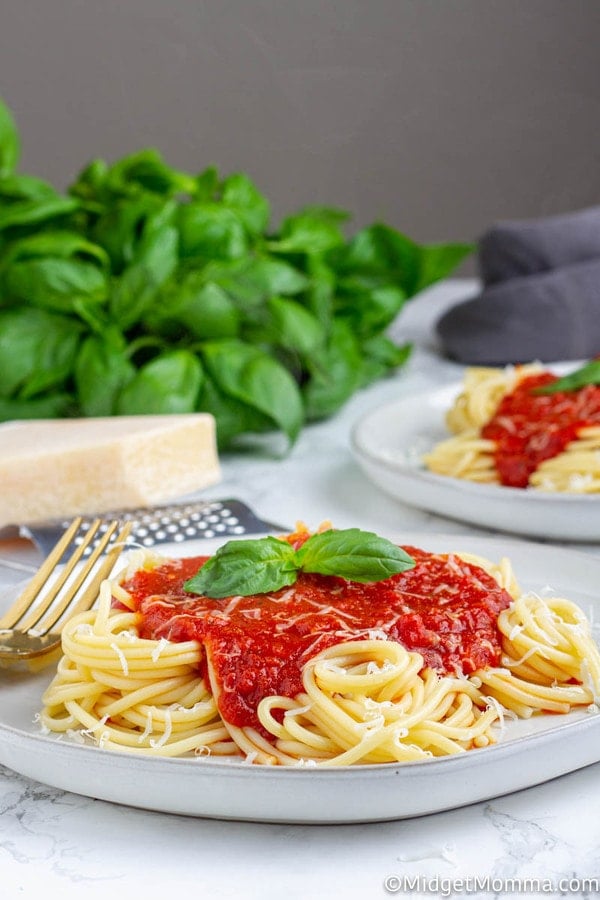 What to serve with Homemade Spaghetti Sauce
When making this easy spaghetti sauce recipe you can serve it over your favorite boxed pasta or you can make homemade pasta.
Homemade pasta is going to take a while, so if you are wanting to do that you are going to need to plan in advanced. However using boxed pasta with this homemade sauce works just as well and makes getting dinner on the table super easy.
What to Serve with Spaghetti
There are so many easy side dishes to serve with spaghetti with homemade spaghetti sauce. I like to stick with a salad and bread most of the time because it is quick and easy. But even on nights when I want to get fancier we always have a bread and a veggie with it. Check out some of the great sides that make spaghetti a whole meal.
How to Store Spaghetti Sauce
Allow the sauce to cool completely and store in an airtight container or a zip closure bag. This sauce will keep in the fridge in an airtight container for up to 4 days.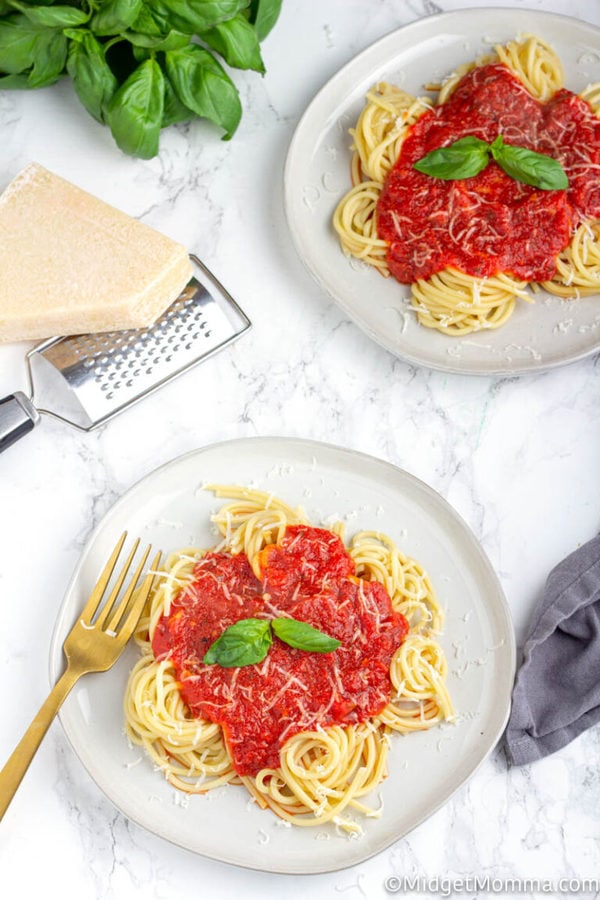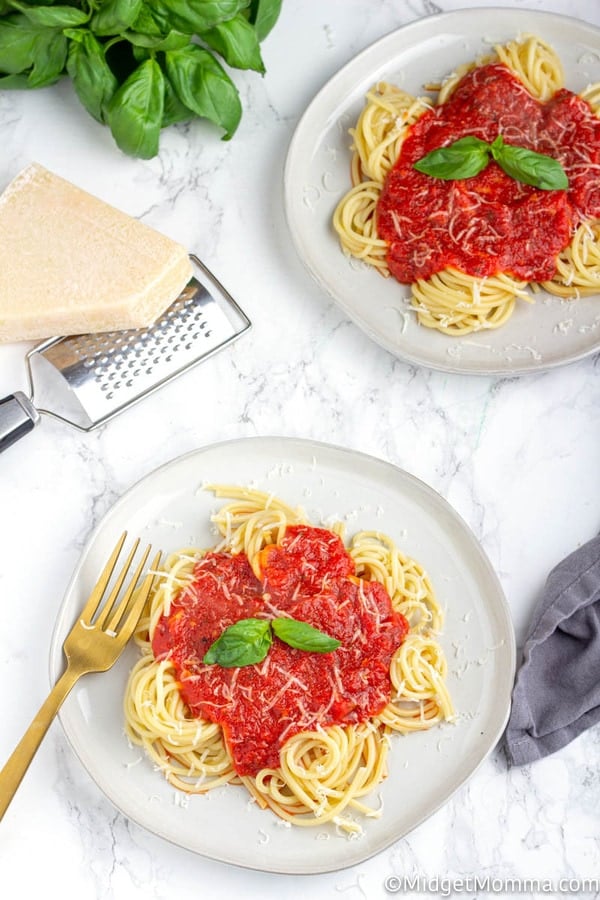 How to Freeze Homemade Spaghetti Sauce
Taking on my dads ways I now make my own sauce but instead of making it every other week I make it once a month. I just take the recipe below and make three times the amount of sauce and then I freeze it and pull it out and defrost it when I need it. It makes for really easy dinners since it takes just a few minutes to defrost in warm water and then I can heat it up in the microwave.
Making your own spaghetti Sauce is super easy and you can make it in advance and freeze it to use later or keep it in the fridge for a few days to use it if you are running short on time on dinner nights.
This spaghetti Sauce recipe is sure to be a staple in your kitchen! When I make this recipe I always triple it because it stores very well in the freezer. Then on a really really busy night I can pull it out, defrost it while making pasta and have an amazing dinner quickly and easily.
To store homemade spaghetti sauce, let the sauce cool completely. Once cooled pour the sauce into gallon sized freezer bags and zip close, squeeze the air out while closing the bag.
Lay the freezer bag filled with sauce flat in the freezer. Sauce will keep in the freezer for upto 6 months.
You can freeze homemade tomato sauce in freezer bags or in glass jars. It all depends on your preference.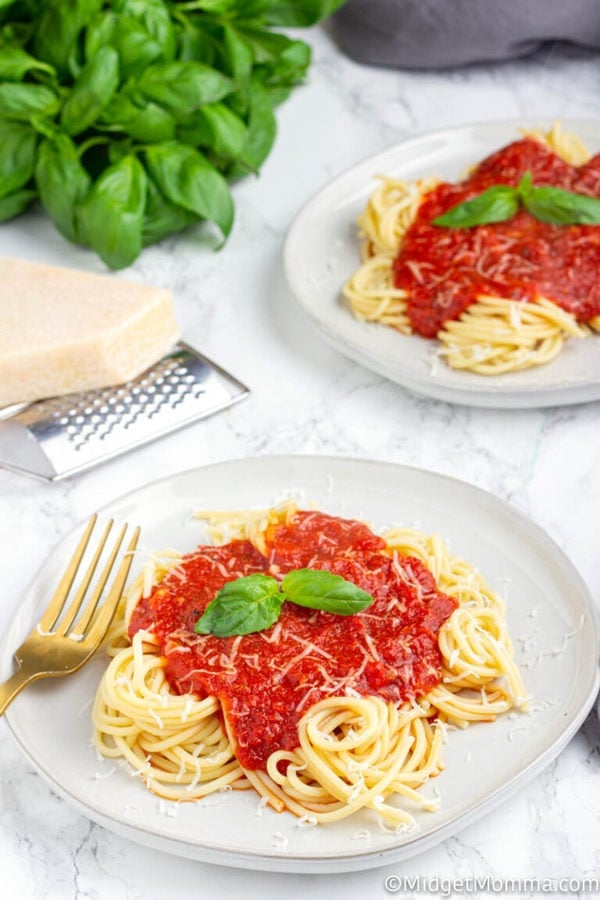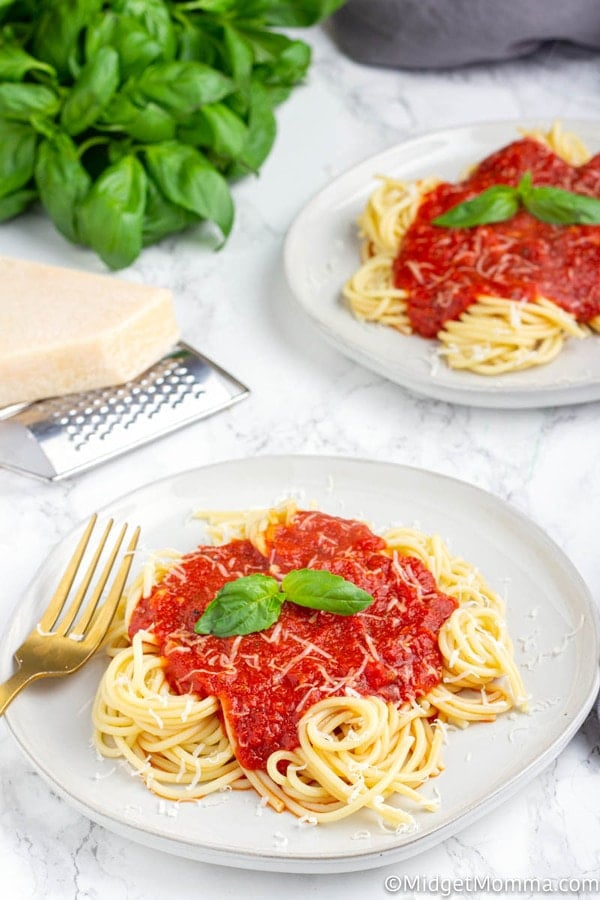 Homemade Spaghetti Sauce Recipe Ingredients
olive oil
garlic
red pepper flakes
canned crushed tomatoes
kosher salt
onion powder
Italian seasoning
lemon juice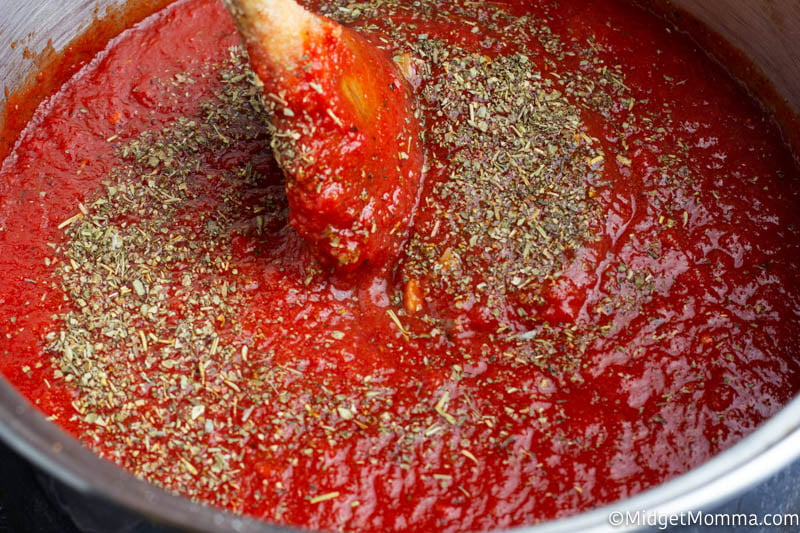 How to Make Homemade Spaghetti Sauce
Over medium heat on the stove, in a medium stock pan heat the oil, garlic and pepper flakes until the garlic is golden brown.
Add the cans of crushed tomatoes, salt, onion powder, and Italian seasoning to the pot. Stir all the ingredients until everything is well combined.
Reduce heat on the stove down to low and let the sauce simmer over low heat for 20 minutes. You can simmer the sauce longer if wanted, the longer you simmer the sauce the thicker it will be.
Remove from heat and add the lemon juice.
Looking for more easy dinner recipes? Check these out!
Pasta Making Supplies
Homemade pasta is so much easier than you think! Here are some of our favorite supplies, whether we are doing homemade or dried pasta from the store!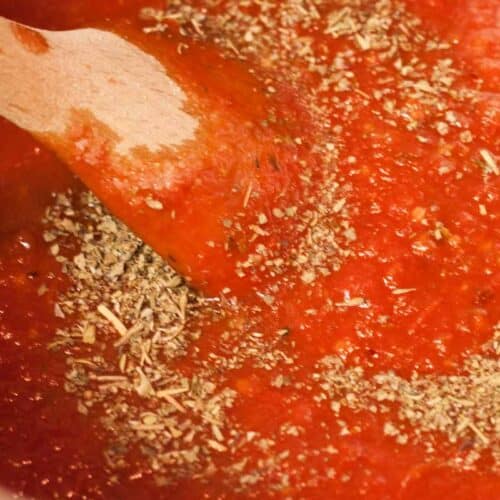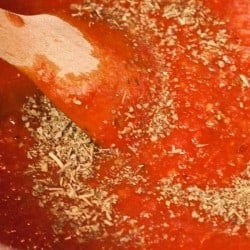 Homemade Spaghetti Sauce
Servings
Homemade Spaghetti Sauce is easy to make, once you learn how you will never go back to buying sauce. With fresh ingredients and a few minutes this homemade spaghetti sauce is done.
Instructions
In a medium stock pan heat the oil, garlic and pepper flakes over medium heat until the garlic is golden.

Add the tomatoes, salt, onion powder, and Italian seasoning to the pot.

Stir until combined.

Let it simmer over low heat for 20 minutes.

Remove from heat and add the lemon juice.
Calories: 53kcal | Carbohydrates: 2g | Protein: 1g | Fat: 5g | Saturated Fat: 1g | Sodium: 587mg | Potassium: 15mg | Fiber: 1g | Sugar: 1g | Vitamin A: 75IU | Vitamin C: 0.9mg | Calcium: 10mg | Iron: 0.2mg
Homemade Spaghetti Sauce
Dinner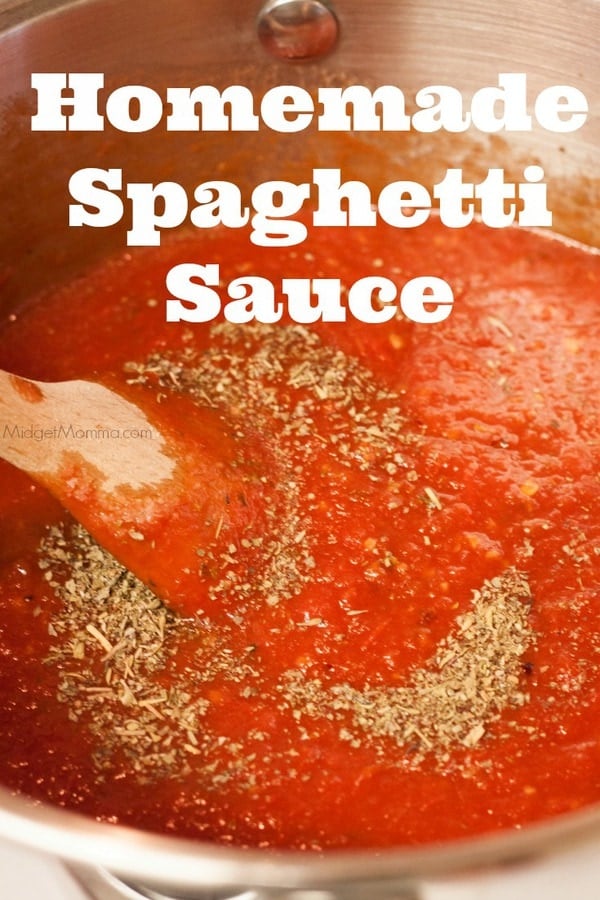 Join the newsletter
Subscribe to get our latest recipes right in your inbox every time we post a new one!