This
Parmesan Asparagus
is so easy to make! It makes the perfect asparagus side dish for just about any meal and is done in under 20 minutes, with just 5 minutes of prep! This easy asparagus recipe is one of my go to recipes when we are making a holiday dinner or a quick weekday meal. The prep is super easy, and the flavor is amazing!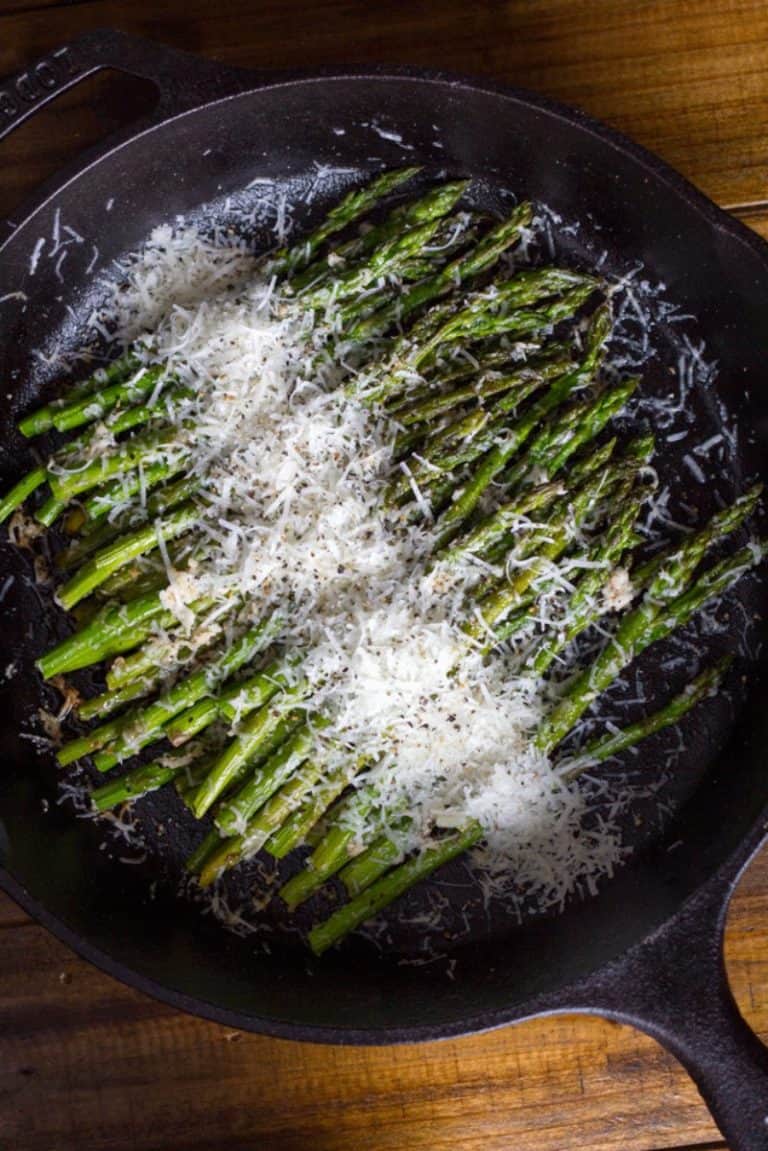 Parmesan Asparagus
If you are looking for an amazing baked asparagus recipe, that everyone will love this is it! But I have to warn you, they are soooo good they never make it to being left overs! It is one of my favorite side dishes to make and the whole house loves it! I am always looking for quick tasty way to make veggies and change them up a bit. I like fancy but I don't like "takes a TON of time fancy" meals. I need quick and easy, there is to much going on for me to spend a ton of time making something tasty, with this asparagus recipe I only need 5 minutes to prep it and then I just toss it in the oven to cook it!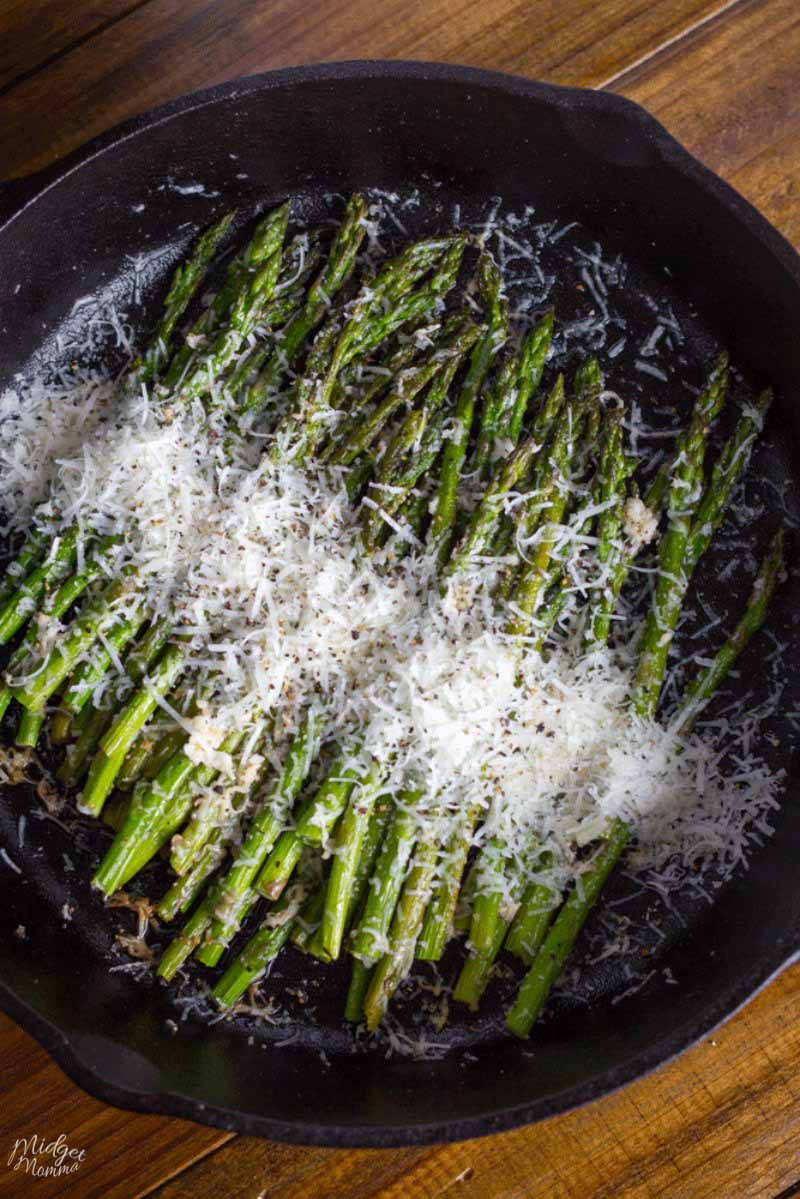 This
oven
roasted parmesan asparagus
is a great side to any great meal. Seriously it goes so well with so many different main dishes! From beef, to chicken, seafood, pasta and more! While it goes perfect with the following recipe it really goes perfect with literally anything! So if you are stuck on a quick and easy side dish for any meal, this is perfect!
Main dish Recipes I love making with baked asparagus:
How to Bake Asparagus
You can make this oven roasted asparagus on an aluminum foil lined baking sheet, however I much prefer cooking it in my cast iron skillet. If you do not have one in your kitchen, I totally recommend getting one. They are seriously the best thing ever in the kitchen!
How to Trim Asparagus
Rinse the asparagus under cool water. Bend one of the asparagus pieces until the bottom snaps off. This is how you figure out what is the woody and that needs to be cut off. You can break off each end of each spear or you can lay the piece down on top of the rest of the bunch of asparagus and chop off about that same amount. Toss the asparagus ends and cook the spears.
Parmesan Asparagus Ingredients
Asparagus
olive oil or coconut oil
kosher salt
pepper
parmesan cheese, freshly grated
How to Make Parmesan Asparagus
Preheat oven to 400 degrees and line a baking sheet with tin foil. If you are using a cast iron skillet to cook them, you do not need to line it with foil. Wash the asparagus and trim off the bottom edges. Place the asparagus in a single layer on the baking sheet. Drizzle olive oil on top of asparagus, then sprinkle with salt and pepper. Place baking sheet in the oven and cook for 10 minutes. Remove the asparagus from the oven, sprinkle the parmesan cheese on top of the asparagus and bake for an additional 5 minutes.
If you love asparagus then make sure you also check out these amazing recipe with asparagus.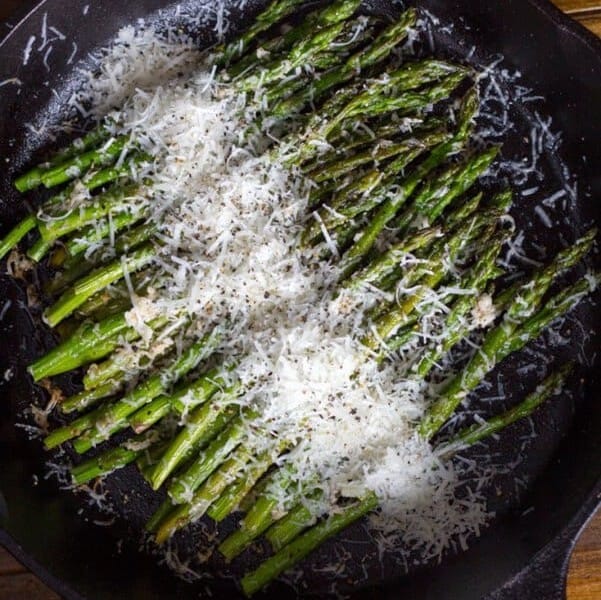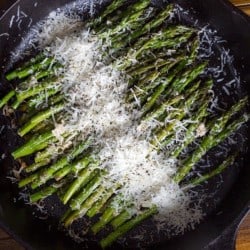 Oven Roasted Parmesan Asparagus
Servings
This Oven Roasted Parmesan Asparagus is super easy to make and bursting with flavor!
Instructions
Preheat the oven to 400 degrees.

Trim the tough ends off the asparagus. Place asparagus on a baking sheet lined with foil.

Drizzle the asparagus with the olive oil. Sprinkle the asparagus with salt and pepper to taste.

Place in the oven for 10 minutes.

Sprinkle with the cheese and place back in the oven for 5 minute or until they are tender.
Calories: 55kcal | Carbohydrates: 4g | Protein: 5g | Fat: 2g | Saturated Fat: 1g | Cholesterol: 5mg | Sodium: 135mg | Potassium: 229mg | Fiber: 2g | Sugar: 2g | Vitamin A: 920IU | Vitamin C: 6.4mg | Calcium: 126mg | Iron: 2.5mg
Baked Parmesan Asparagus, Oven Roasted Parmesan Asparagus, Parmesan Asparagus
Dinner
Following Weight Watchers? Parmesan Asparagus is 1 point per serving.