This Shrimp Alfredo is a family favorite in our house! I use the best homemade Alfredo sauce ever, add in the easiest ever to make garlic shrimp and we have our favorite dinner.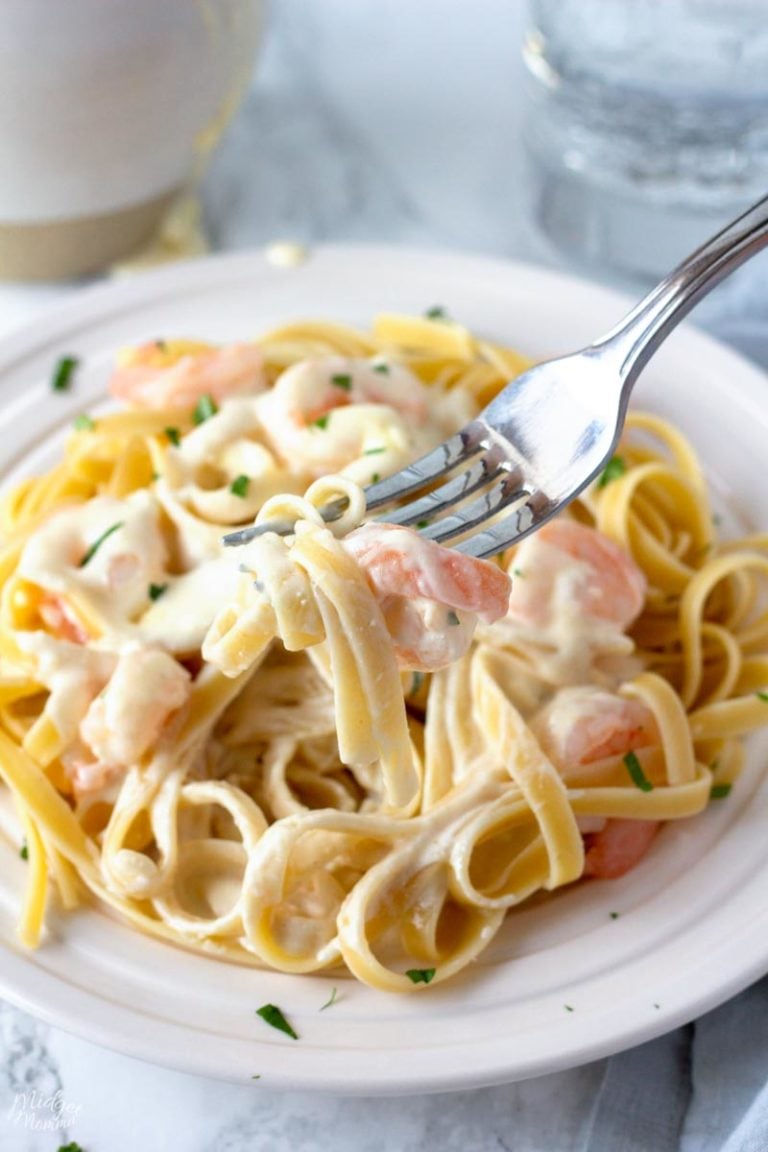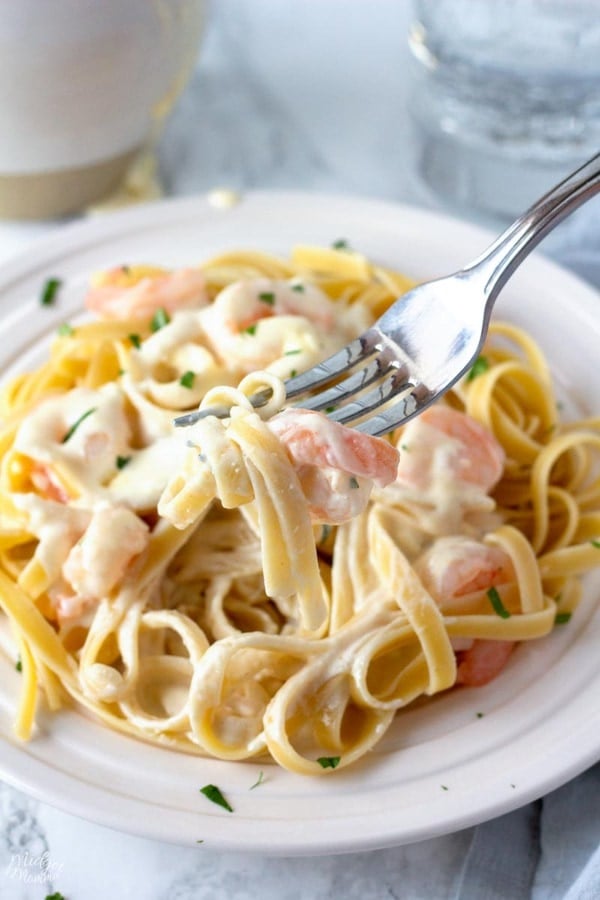 Shrimp Alfredo recipe
Seriously the kids ask me to make this Shrimp Alfredo Pasta for dinner just about every week. They never get sick of it!
This Shrimp Alfredo recipe with homemade Alfredo sauce is always my go to meal when I need a meal that will make everyone happy. You will never make shrimp alfredo with jar sauce again after you have made this homemade alfredo with shrimp pasta recipe.
I do feel like I need to warn you about one thing that will happen when you make this shrimp alfredo pasta recipe…. you are going to have to make it again and again and again because your family is going to ask for it often because it is THAT good!
Easy Pasta Sauce Recipes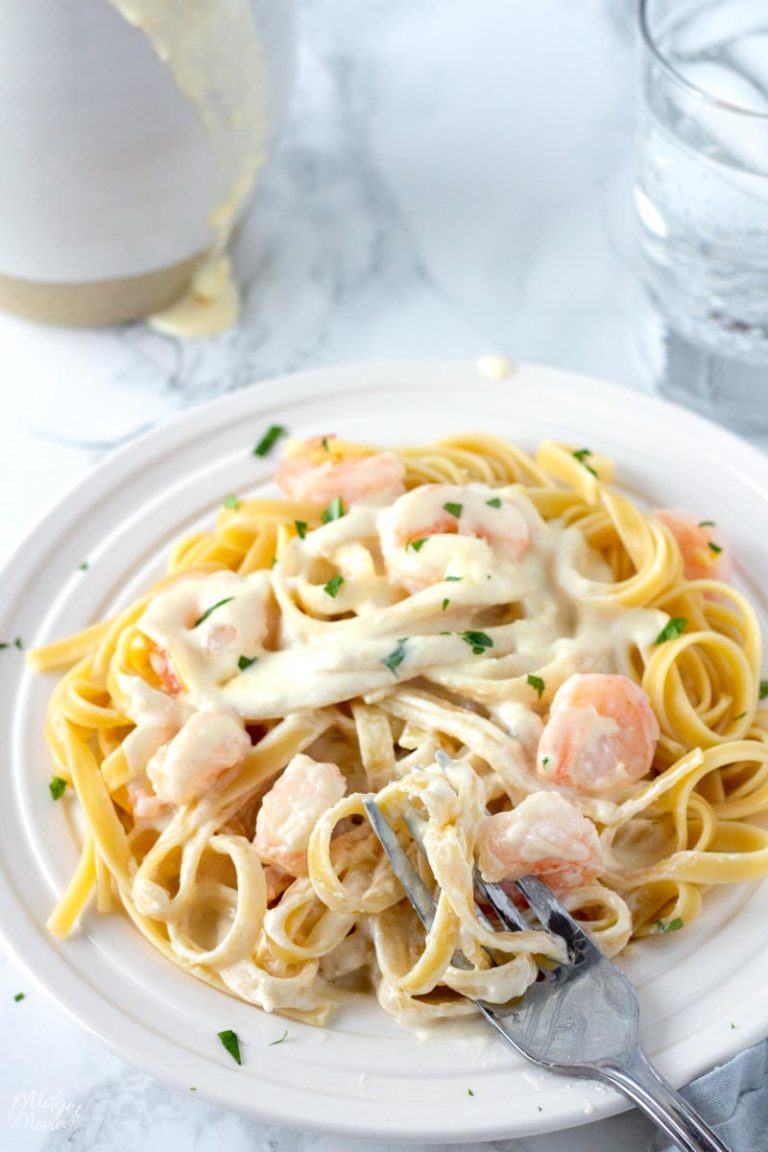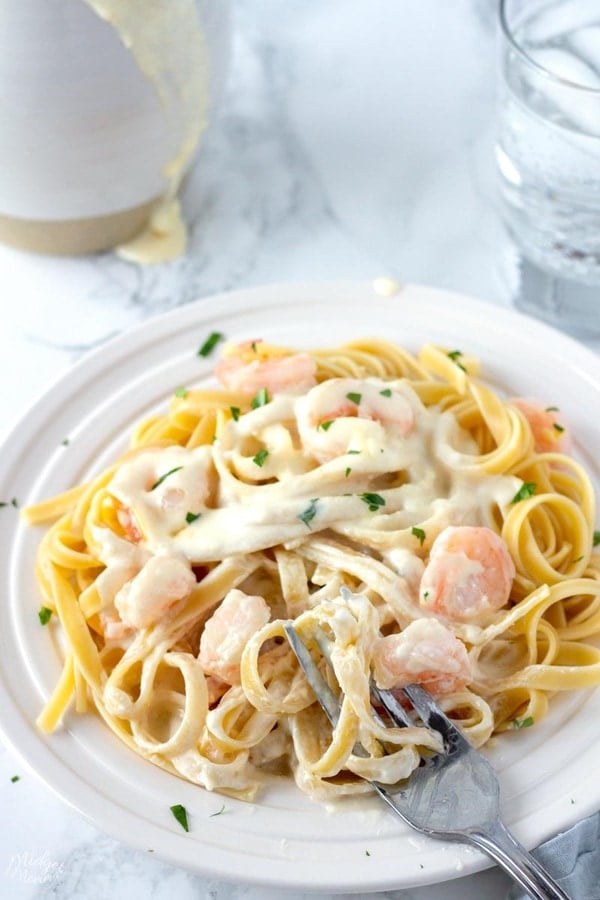 What to serve with Shrimp Alfredo
There are lots of different side dishes that go well with this amazing homemade Alfredo. It is known in our house that we are always going to have garlic bread and salad. They just fit perfectly with the meal. However I also like to make more veggies for the meal as well.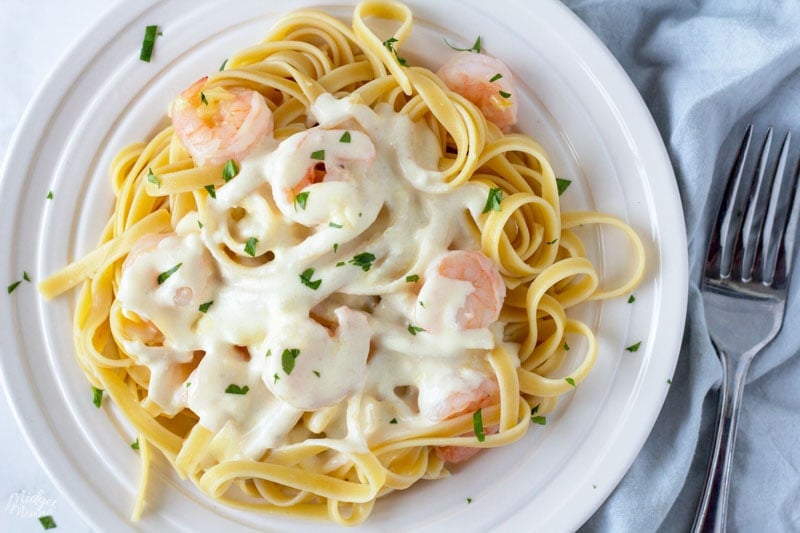 Does any pasta go good with Alfredo sauce?
This shrimp alfredo pasta can be made with any of your favorite pastas. I use whatever I have on hand including the spiral noodles, fettuccini noodles, and penne pasta and they all work well.
Change things up, make it fun and have fettuccini alfredo with shrimp, Penne alfredo with shrimp, and well you get the point. The pasta fun is endless and amazingly tasty every time you eat it!
If you are wanting to keep things low carb then be sure to try this sauce with Zoodles. If you are looking for an amazing low carb Alfredo dish, make Spaghetti Squash Alfredo with shrimp and Zoodles with Alfredo Sauce. They are both amazing dishes, but are low carb and perfect if you are wanting to cut back on your carbs.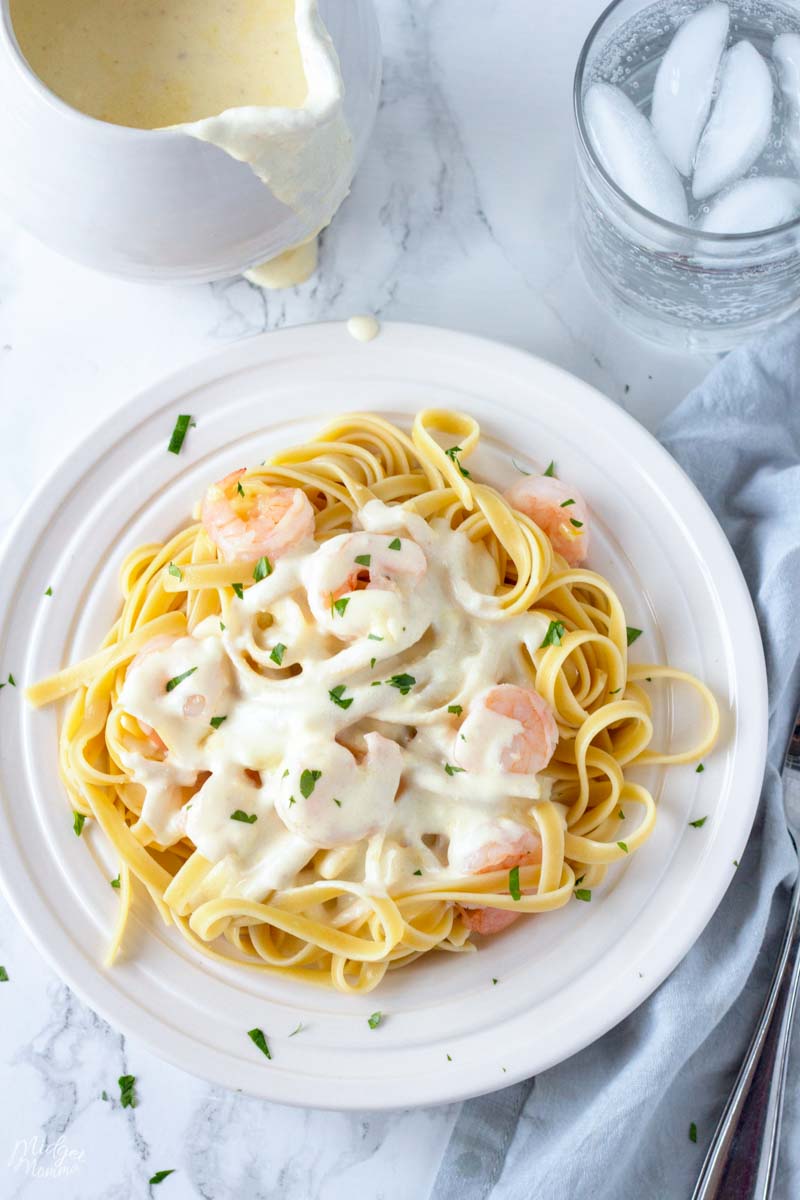 What Veggies Can I add to Shrimp Alfredo Pasta?
You can also change up this alfredo recipe by adding veggies to it and I have added different veggies lots of time to change it up and it is even more amazing! My two favorite veggies to add are steamed broccoli and steamed spinach. Just steam them and then add them in to the sauce once you are done cooking it.
Easy Alfredo Recipes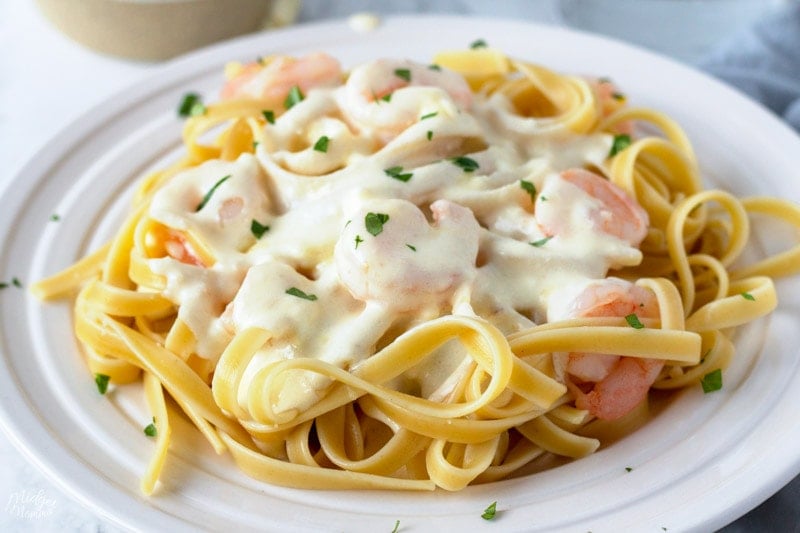 Shrimp Alfredo Recipe with Homemade Pasta
You can make this homemade alfredo pasta dish even more awesome by making homemade pasta to go with it. Boxed pasta works just fine, and it is what I use most of the time. But sometimes it is fun to go all out and make everything from scratch.
Olive Garden Copy Cat recipe
The sauce in this recipe totally reminds me of going to Olive Garden. Although my personal opinion is that it tastes even better then theirs!
If you really want to ramp up the copy cat game you can grab some Olive Garden Salad dressing here and then put it on your salad. Plus they make Olive Garden Croutons too!! You can really have the WHOLE shabang right at home!!
Why does my Alfredo sauce gets lumpy? How do I fix it?
If your sauce is lumpy when you get done cooking it it is not to hard to fix. Turn the heat to medium heat and then add a little heavy cream and whisk vigorously. Only add a little bit of the heavy cream at a time and every time you add more cream whisk vigorously. Keep doing this until your sauce is the proper consistency.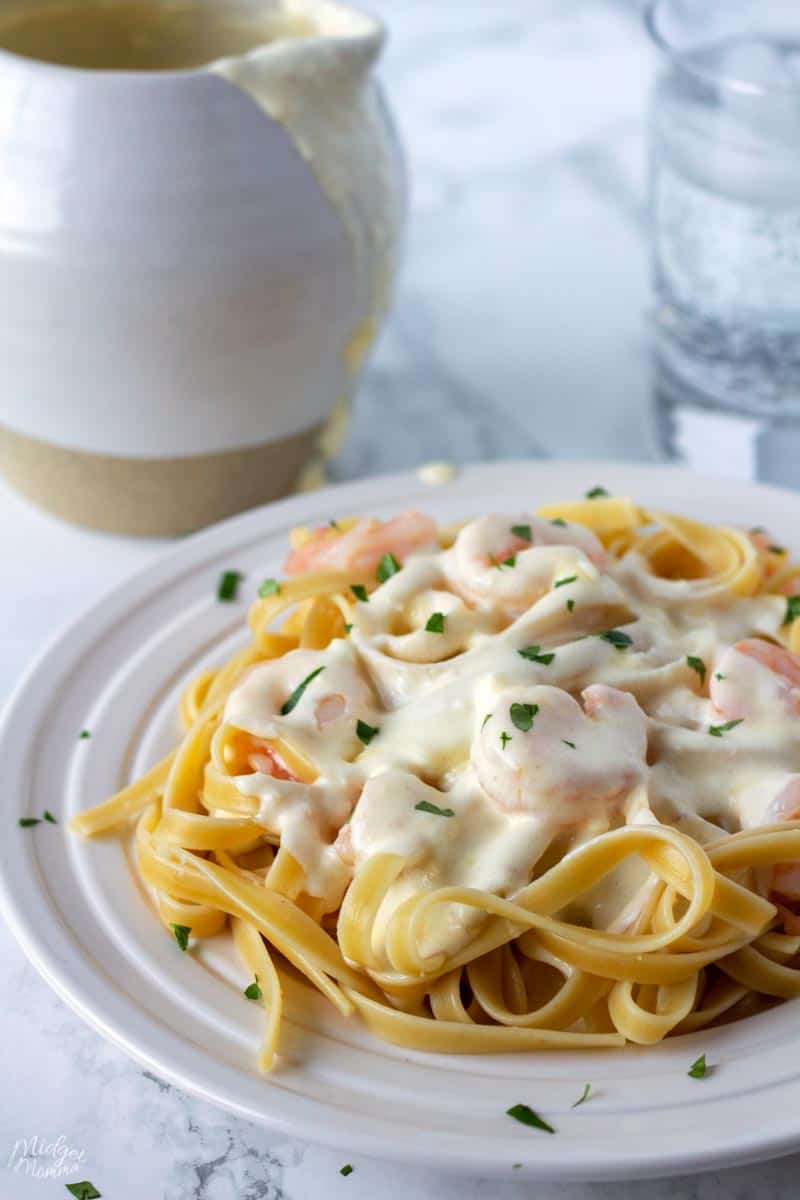 How Do I thicken my Alfredo Sauce?
If you find when you are done cooking your sauce that it is to runny, all you have to do is add grated parmesan cheese and whisk vigorously until it is all incorporated. You only want to add a little cheese at a time so you don't end up making it to thick.
How do I thin out Alfredo Sauce?
If you find your alfredo sauce to be to thick it is easy to thin out. All you have to do is add a little heavy cream and whisk vigorously. Only add a little bit of the heavy cream at a time and every time you add more cream whisk vigorously. Keep doing this until your sauce is the proper consistency.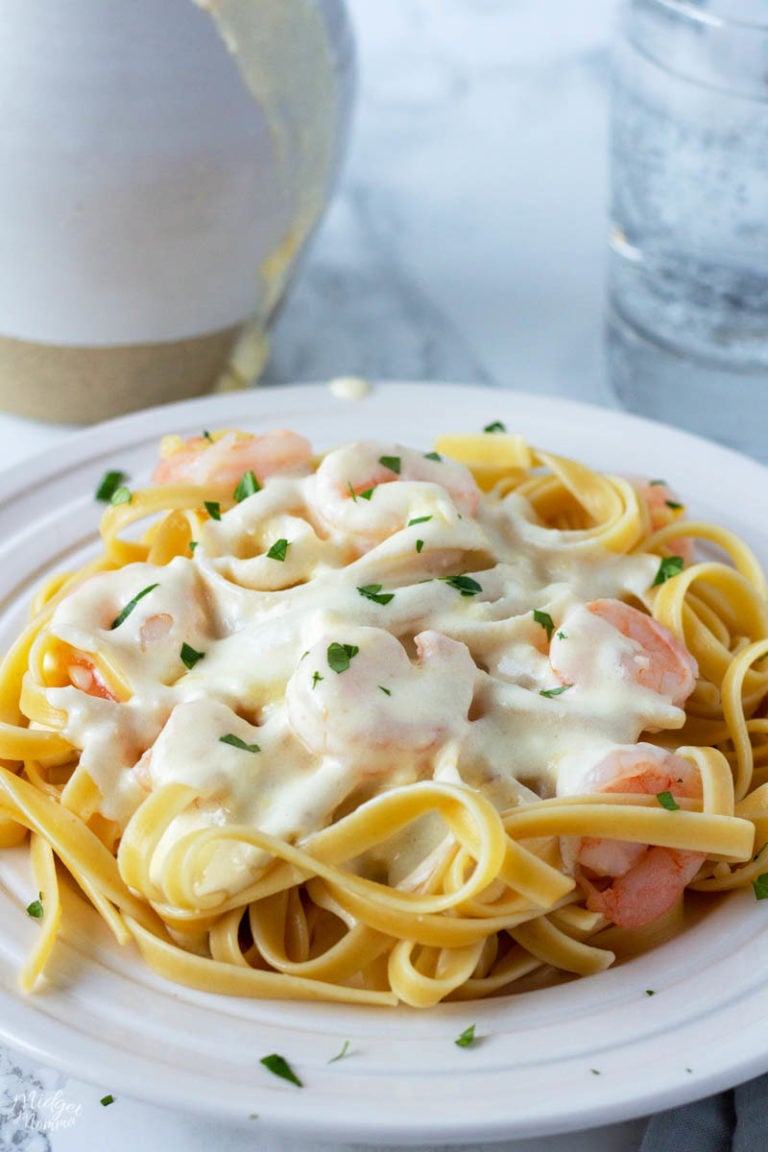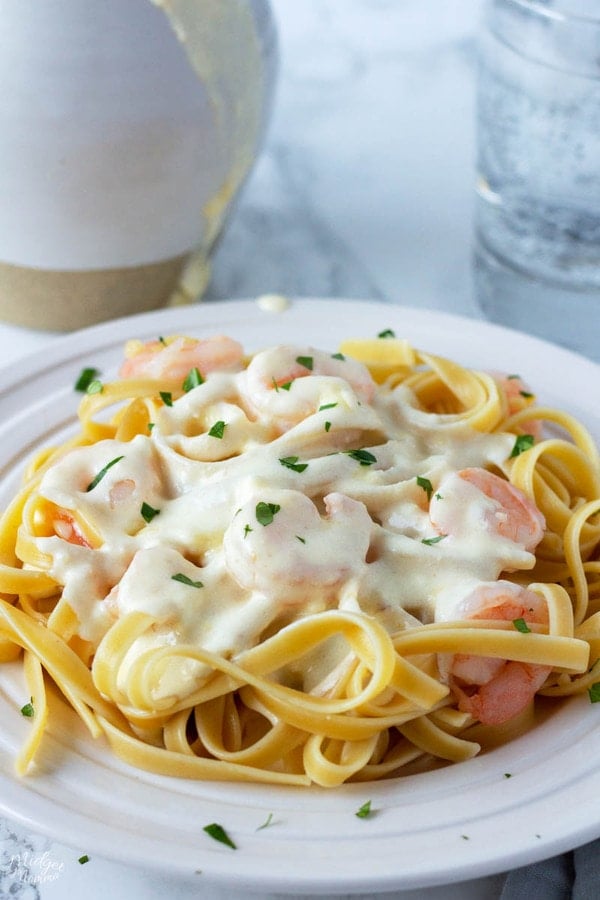 Shrimp Alfredo Ingredients
Heavy cream
Parmesan cheese
shrimp
pasta
butter
garlic
garlic powder
cream cheese
How to Make Shrimp Alfredo
This easy shrimp alfredo makes enough for using with a 1 pound box of pasta and feeds our family of 5 with leftovers. You can easily double and triple the recipe if needed.
Start with boiling your water for your pasta.
Then sauté the shrimp with 2 tablespoons of butter and the minced garlic and set aside in a bowl off the stove.
In the same pan add the cream cheese and the stick of butter. Cook them over medium heat until the butter is melted and the cream cheese is chunky looking. Continuing stirring while they are melting. I find it best to use a whisk.
Once the butter and cream cheese form a chunky buttery mixture add in the heavy cream. Mix everything together and then turn the heat up to high.
Once the sauce is boiling with bubbles on the side of the pot, add in the garlic powder and Parmesan cheese. Mix everything together well.
Turn the heat off and as the sauce cools a little it will thicken up.
Then add the shrimp, and any veggies you are adding to the sauce and mix well.
Spoon sauce over pasta and enjoy!
Pasta Dinner Recipes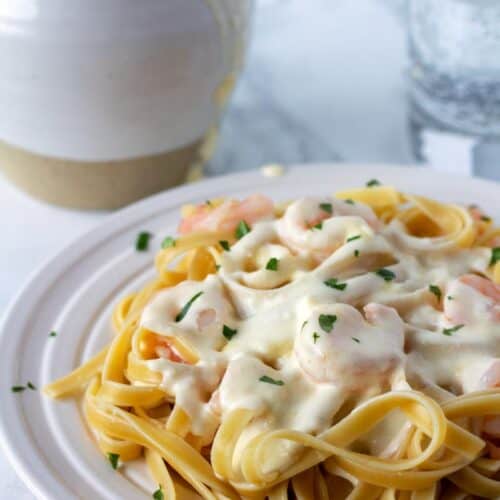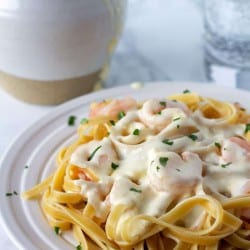 Shrimp Alfredo
Servings
This shrimp alfredo is a perfect dinner recipe. Creamy rich alfredo sauce with shrimp over pasta and super easy to make.
Instructions
Clean and shell the shrimp, and cut into bite sized pieces. Saute with 2 tablespoons butter and garlic on medium low heat until the shrimp are pink and set to the side.

Start cooking your pasta according to the package.

While pasta is cooking it is time to start making your sauce.

Melt butter and cream cheese in a sauce pan over medium heat. The cream cheese might look a bit strange, but stir it till you have it as smooth as you can get it.

Pour in the whipping cream and turn the heat to medium-high.

Whisk together until butter and cream have combined and until the sauce bubbles slightly.

Add Parmesan cheese and garlic powder and stir until everything is mixed well. Turn off the heat, sauce will thicken as it cools a little.

Drain your pasta and add in cooked shrimp and alfredo sauce and mix well.
Calories: 450kcal | Carbohydrates: 4g | Protein: 22g | Fat: 38g | Saturated Fat: 23g | Cholesterol: 269mg | Sodium: 899mg | Potassium: 162mg | Vitamin A: 1410IU | Vitamin C: 3mg | Calcium: 397mg | Iron: 1.6mg
homemade alfredo, Shrimp Alfredo, shrimp alfredo pasta
Dinner
Notes
Nutrition information is for shrimp and Alfredo Sauce.    This alfredo sauce goes great over pasta or zoodles. Add in the nutrition information for the pasta or the zoodles that you are using to find the full nutrition information. 
20 Weight Watchers SmartPoints on the Freestyle program.
More Recipes You will Love!
Cracker Barrel Chicken and Dumplings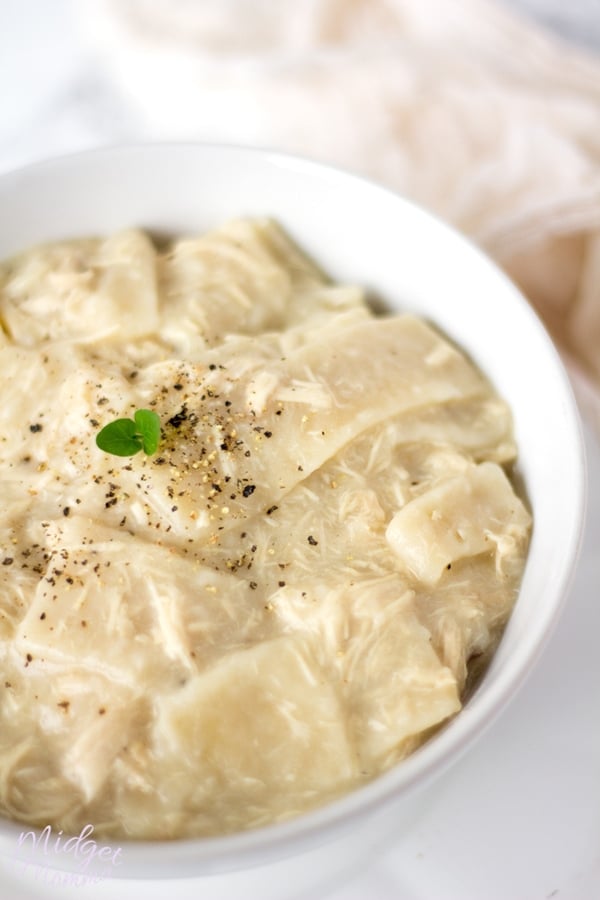 Shrimp Scampi Spaghetti Squash