Do you love the combination of Chicken Bacon Ranch? Then you are going to LOVE this! I made this Cheesy Chicken Bacon Ranch Pasta Casserole a few weeks ago and I had planned on having left overs, well that did not work out very well. Tom and the kids ate what I put on their plates and then they all had seconds and then thirds (well the older 2 kids had thirds and I felt like they just had skipped their lunch, but they assured me that it just tasted really really good) and then it was gone.
I will warn you that this recipe takes a bit longer to make then my others, and you don't want to plan this for a busy night, when you make it it is well worth the time it takes! The kids have been asking me to make the Cheesy Chicken Bacon Ranch Pasta Casserole again since I made this Chicken Bacon Ranch Pasta Casserole the first time.
Chicken Bacon Ranch Pasta Casserole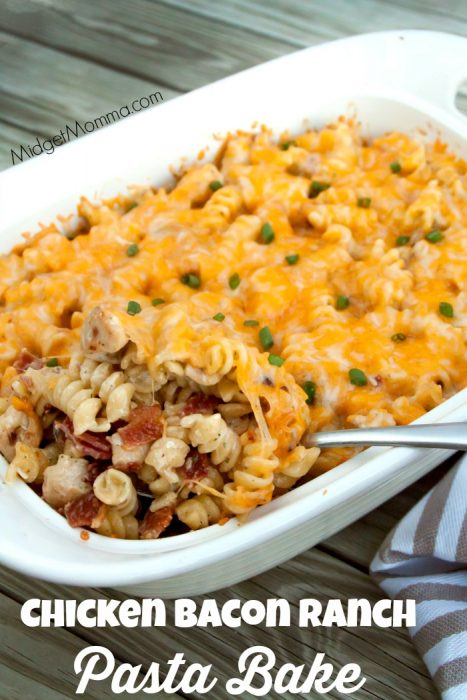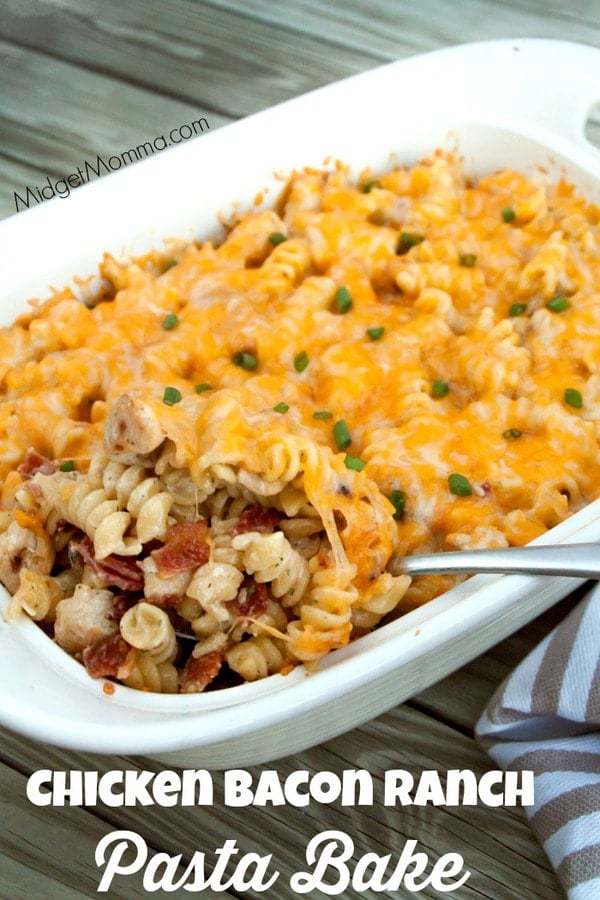 Chicken Bacon Ranch Pasta Casserole Ingredients:
2 pounds chicken
1 box Rotini noodles (you could get away with using elbow noodles if you didn't have rotini)
8 slices of Bacon (if your family loves bacon feel free to add a few more pieces) cooked and chopped up
1 tablespoon minced garlic
1 cup of Ranch Dressing
2 cups of Monterey Jack/cheddar mixed cheese (if you don't have the mixed cheese using cheddar or just Monterey jack will work fine)
1 packet dry ranch dressing mix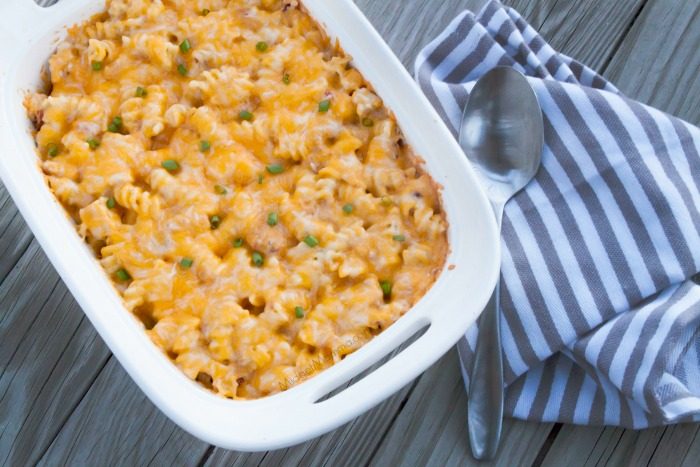 Chicken Bacon Ranch Pasta Casserole Directions
Heat a pan to medium heat on the stove. Drizzle oil on you pan.You can use which ever type of cooking oil you prefer, I used coconut oil.
Dice your chicken into bite sized pieces, then sauté them in a pan on the stove until cooked.
About mid way of cooking the chicken add in the garlic.
While cooking the chicken boil the noodles. When they are done drain them and set aside.
While cooking noodles and chicken also cook your bacon, you can do it in the microwave or you can do it on the stove just make sure it is cooked crispy! I prefer cooking it on the stove.
Once chicken is done add chicken to pasta, then add the bacon.
Then add the ranch dressing and the dry ranch mix. stir well to make sure everything is good and coated.
Get out a big baking dish and spray with non stick spray, pour mixture into your pan top with cheese.
bake at 350 for about 15 minutes (until the cheese is melted)
Thats it and you family will be begging for more Cheesy Chicken Bacon Ranch Pasta Casserole, I promise!
More Great Recipes to try!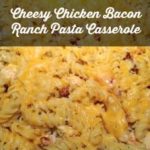 Cheesy Chicken Bacon Ranch Pasta Casserole
Pin Recipe
Print Recipe
Ingredients
2

pounds

chicken

1

box Rotini noodles

8

slices

of Bacon cooked and chopped up

1

tablespoon

minced garlic

1

cup

of Ranch Dressing

2

cups

of Monterey Jack cheese

1

packet dry ranch dressing mix
Instructions
Heat a pan to medium heat on the stove. Drizzle oil on you pan.You can use which ever type of cooking oil you prefer, I used coconut oil.

Dice your chicken into bite sized pieces, then sauté them in a pan on the stove until cooked.

About mid way of cooking the chicken add in the garlic.

While cooking the chicken boil the noodles. When they are done drain them and set aside.

While cooking noodles and chicken also cook your bacon, you can do it in the microwave or you can do it on the stove just make sure it is cooked crispy! I prefer cooking it on the stove.

Once chicken is done add chicken to pasta, then add the bacon.

Then add the ranch dressing and the dry ranch mix. stir well to make sure everything is good and coated.

Get out a big baking dish and spray with non stick spray, pour mixture into your pan top with cheese.

bake at 350 for about 15 minutes (until the cheese is melted)
This post may contain affiliate links. Please read my disclosure policy here