If you are looking for an amazing recipe, that will blow your taste buds away, then you need to try these Chicken Bacon Ranch Fries! Crispy loaded fries topped with the amazing flavors of chicken, bacon and ranch, there is no going wrong there. I promise you are going to love these loaded cheese fries!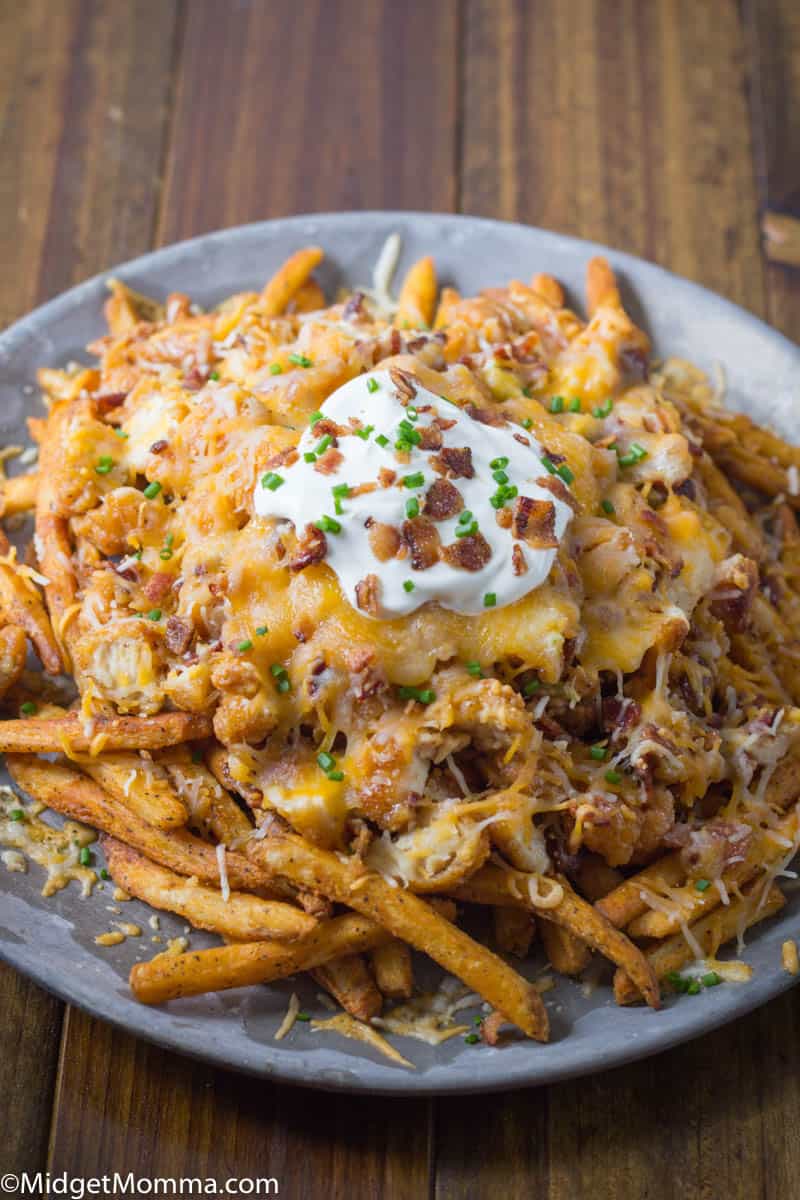 Chicken Bacon Ranch Loaded Cheese Fries
Chicken Bacon Ranch Fries are totally acceptable for dinner, if anyone tells you otherwise ignore them. You don't need people like that, they will just make you sad! No sadness is allowed here when enjoying theses amazing crispy Chicken Bacon Ranch Fries!
The other night I wanted to make Chicken Bacon Ranch Casserole, however the kids were with my parents so it was just Tom and I at home. I didn't feel like making the whole big dish and I wasn't really in the mood for pasta but wanted the amazing flavors. If you have never made chicken bacon ranch pasta, I highly suggest that you do because it is AMAZING! It is one of our favorite dinners!
Anyway, back to making these amazing loaded fries. I opened the freezer to see what was in there that I could use to make something with the chicken bacon ranch flavors, but with less work and quicker. I found a bag of fries and 1/2 a bag of chicken nuggets that was left over Tom bought last week while I was traveling and got the brilliant idea of Chicken Bacon Ranch Cheesy Fries. These loaded fries were AMAZING!!!
Chicken, bacon and ranch is my family's favorite food flavors combination. I know that any time I have a dish with chicken, ranch and bacon that it is going to be devoured. These loaded cheese fries are no exception!
Love Ranch and Bacon? Check out these other amazing recipes!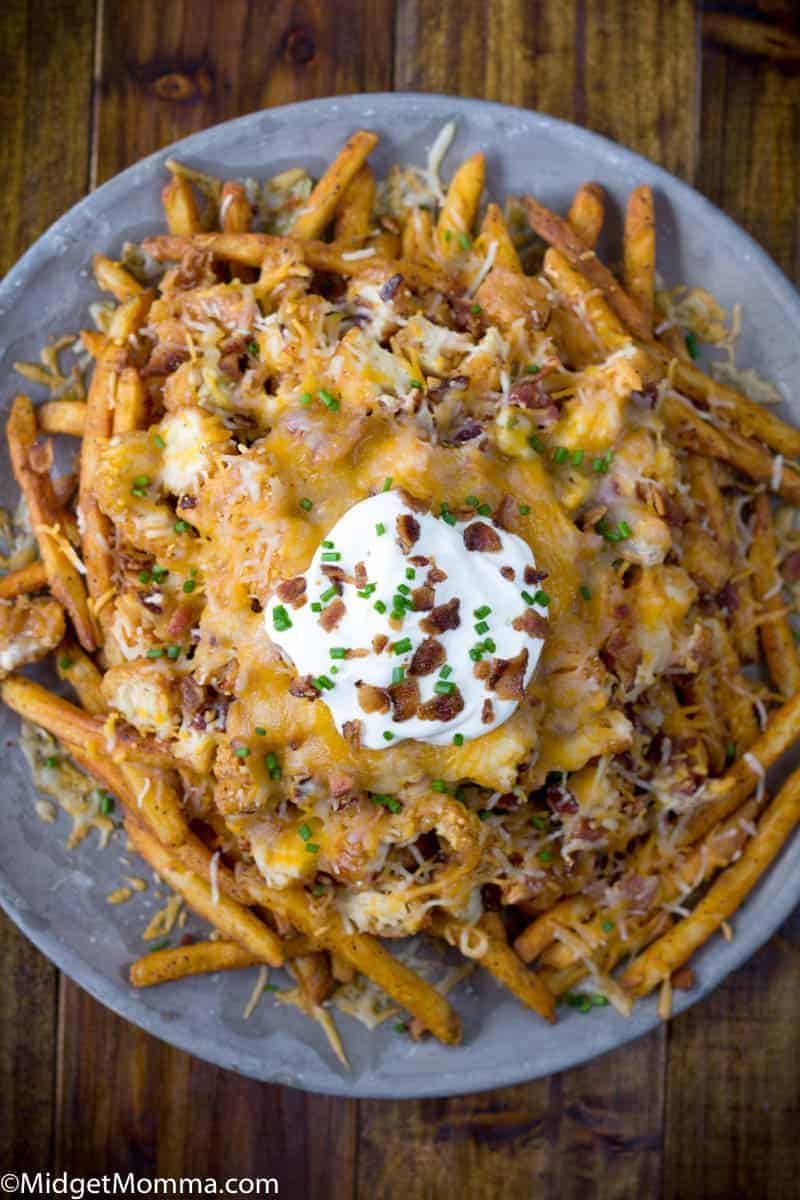 Loaded Cheese Fries Recipe
Yes, I know loaded cheese fries is not really a dinner item, its more like a bar food item but hey it was just Tom and I. The kids didn't have to witness our bad food choices.
The loaded fries idea sounded fantastic in my head but when I put it in my mouth when they were done the flavor was even more amazing then I even dreamed of! Seriously even Tom was shocked at how tasty they were!
So I am totally giving you the go ahead to make these for dinner one night. No judgements here on feeding the family fries as a meal.  Good food is good food!
Bacon Ranch Cheese fries are seriously my favorite loaded cheese fries recipe, and I am pretty sure you are going to be hooked once you take your first bite! They have the best combination of cheddar bacon fries I have had, then add in the chicken and ranch flavors and WOW!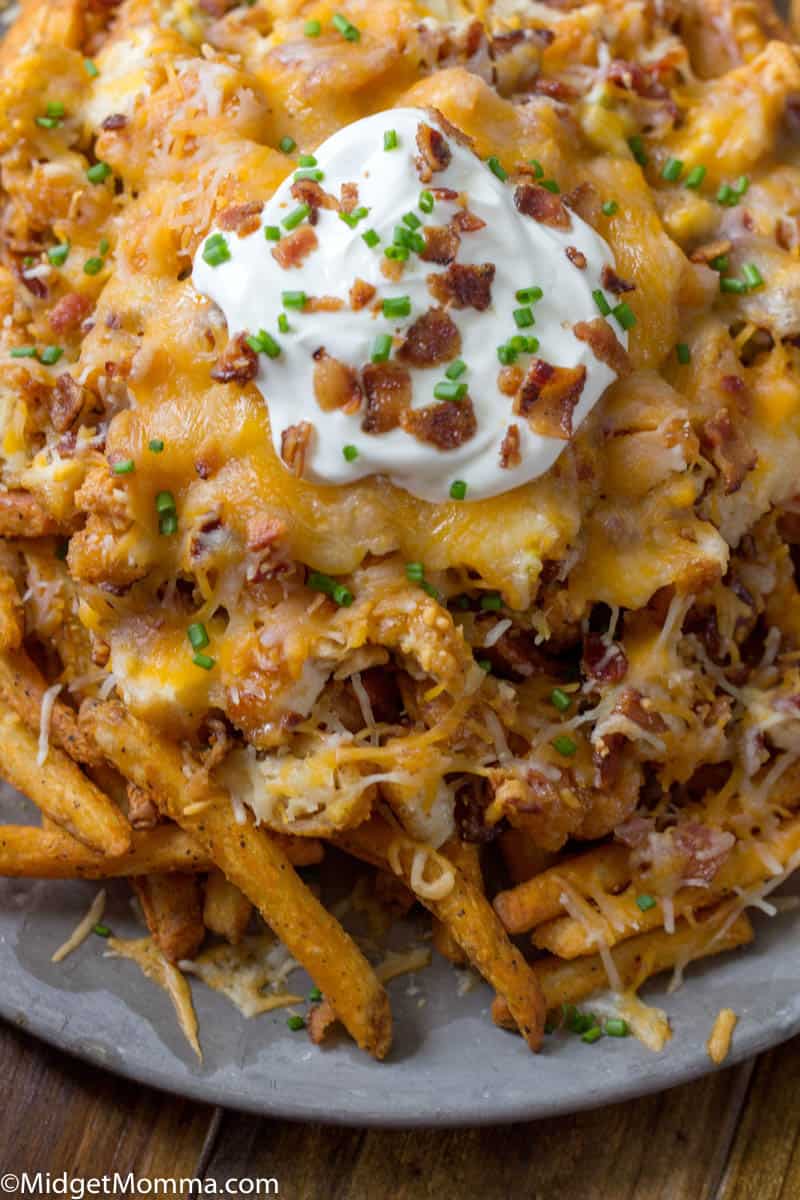 Tips for Making this recipe
I personally like my bacon crispy, but when making these bacon and cheese fries you can cook your bacon to your favorite crispiness. I haven't found much difference in the end result of cooking the bacon on the stove, in the oven or if you want to in the microwave.
When making this amazing chicken bacon ranch recipe I use Hidden Valley Ranch. I personally find it has the best ranch flavor for making these amazing. You can also make a batch of homemade ranch dressing and use that instead.
I also like to top my Chicken Bacon Ranch Fries with sour cream. If you want to get all fancy make a few extra pieces of bacon to sprinkle on top of the easy loaded fries once they are done. There is no such thing as to much bacon, ever and especially not when you are making Chicken Bacon Ranch Fries.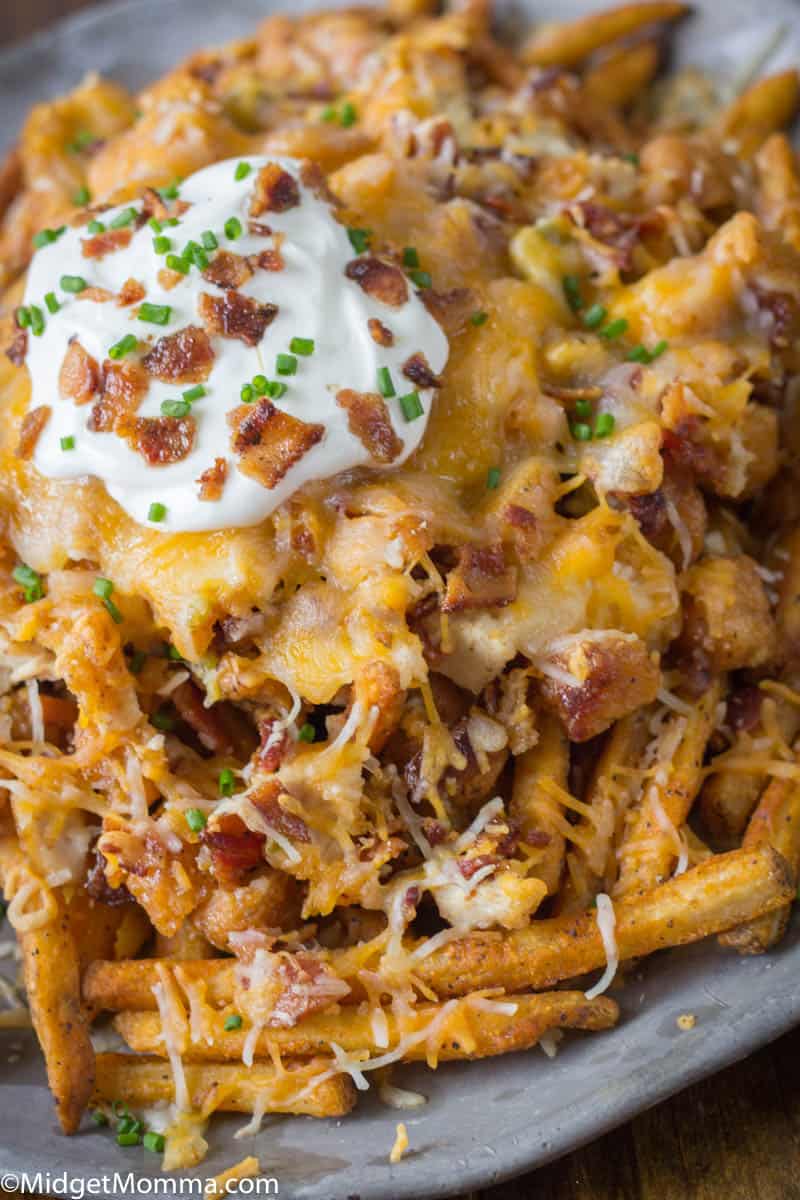 Chicken Bacon Ranch Fries Ingredients
Chicken nuggets
french fries
Mexican mix cheese
green chili peppers
ranch dressing
garlic
bacon
How to Make Chicken Bacon Ranch Fries
Preheat oven to bake fries and chicken nuggets.
Cook bacon with the garlic and then crumble it.
Cut chicken nuggets into pieces.
In a large bowl mix chicken nuggets, bacon, ranch, canned chilis and mix it all together.
Top fries with chicken bacon ranch mixture, top with cheese and bake again until the cheese is melted and bubbly.
Looking for more tasty appetizer recipes? Check these out!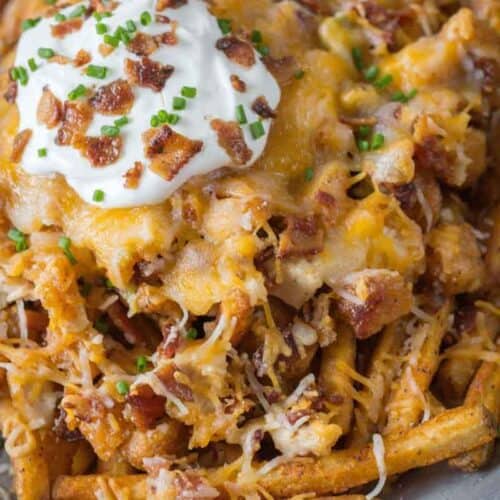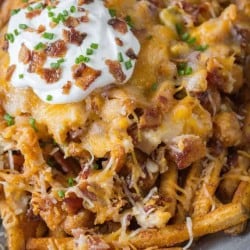 Chicken Bacon Ranch Fries
Servings
These Chicken Bacon Ranch Fries are the perfect loaded fries. Chicken and cheddar cheese with bacon and ranch. Oh they are so amazing, you might not want to share!
Ingredients
10 frozen chicken nuggets
1/2 bag frozen french fries
8 ounce bag Mexican mix cheese
1/2 tablespoon diced green chili peppers i get the canned ones
1/2 cup ranch dressing I used Kraft
1 tablespoon diced garlic I use the jar kind
8 slices bacon cut in half
Instructions
Preheat oven to 450.

On one tray put fries on another put chicken nuggets.

Bake chicken nuggets for 10 minutes, bake fries for 17-20 (until they are cooked and crispy). While chicken nuggets and fries are cooking cook your bacon.

Get a skillet and put 1 tablespoon of diced garlic, add your bacon and cook till crispy. Remove and drain on paper towels. By this step your chicken nuggets will be done.

Get a medium sized mixing bowl and add bacon into the bowl, breaking it into pieces as you put it in. Then cut your chicken nuggets up in to little pieces, add ranch dressing, and chilis and mix it all together.

Get a baking dish that can go in the oven. By this time your fries should be done if not wait till they are done to continue.

Remove fries and put them in baking dish, top with the bacon ranch mixture and then sprinkle cheese on top. You have a full 8 ounce bag don't be afraid to use a lot, you want them cheesy!

Then put the whole thing in the over for 5 minutes to melt the cheese. Remove and enjoy (you could wait till they cool a bit but the smell was so amazing coming from the oven that we couldn't and we dove right in!)
Calories: 1136kcal | Protein: 139g | Fat: 58g | Saturated Fat: 18g | Cholesterol: 435mg | Sodium: 1723mg | Potassium: 2248mg | Sugar: 1g | Vitamin A: 520IU | Vitamin C: 9.1mg | Calcium: 691mg | Iron: 2.5mg
Chicken Bacon Ranch Fries
Appetizer
Notes
You can also use diced chicken breasts (cooked already) in place of the chicken nuggets. Chicken Fries cut up also work well.
Chicken Bacon Ranch Fries serves 4 as an appetizer, 2 as a meal.
7 SmartPoints on Weight Watchers FreeStyle Plan per serving