My family has a slight addiction to the Chicken Bacon Ranch Casserole and so I had the wheels spinning in my head when I was craving it last night but since the kids are at the grandparents I didn't want to make such a big dish for just the 2 of us so I went looking in my freezer and found a bag of fries and 1/2 a bag of chicken nuggets that was left over Tom bought last week while I was traveling and got the brilliant idea of Chicken Bacon Ranch Cheesy Fries. Yea I know it is not really a dinner item, its more like a bar food item but hey it was just Tom and I 🙂 The idea sounded fantastic in my head but when I put it in my mouth when they were done the flavor was even more amazing then I even dreamed of!
If you use a lot of meat in your meal planning, you should totally check out Zaycon Foods. You order online and it is all FRESH meat including chicken, bacon, hamburger and more! The savings is HUGE compared to what the price is in my local grocery store and it is all fresh, from farm to customer.  Normally the savings I find at Zaycon is 25%-50% off the price that I find in my local stores! Head on over here to check it out!
Chicken Bacon Ranch Cheesy Fries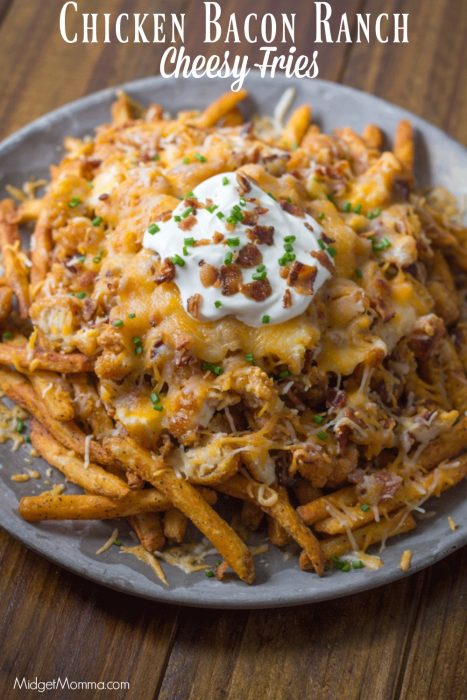 Chicken Bacon Ranch Cheesy Fries Ingredients:
10 frozen chicken nuggets
1/2 bag frozen french fries
8 ounce bag Mexican mix cheese
1/2 tablespoon diced green chili peppers (i get the canned ones)
1/2 cup ranch dressing (I used Hidden Valley Ranch)
1 tablespoon diced garlic (I use the jar kind)
8 slices of bacon cut in half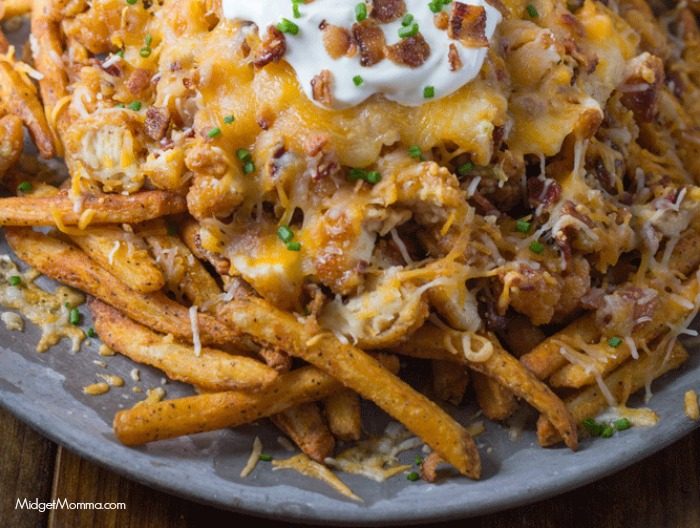 Chicken Bacon Ranch Cheesy Fries Directions
Preheat oven to 450.
On one tray put fries on another put chicken nuggets.
Bake chicken nuggets for 10 minutes, bake fries for 17-20 (until they are cooked and crispy). While chicken nuggets and fries are cooking cook your bacon.
Get a skillet and put 1 tablespoon of diced garlic, add your bacon and cook till crispy. Remove and drain on paper towels. By this step your chicken nuggets will be done.
Get a medium sized mixing bowl and add bacon into the bowl, breaking it into pieces as you put it in. Then cut your chicken nuggets up in to little pieces, add ranch dressing, and chilis and mix it all together.
Get a baking dish that can go in the oven. By this time your fries should be done if not wait till they are done to continue.
Remove fries and put them in baking dish, top with the bacon ranch mixture and then sprinkle cheese on top. You have a full 8 ounce bag don't be afraid to use a lot, you want them cheesy!
Then put the whole thing in the over for 5 minutes to melt the cheese. Remove and enjoy (you could wait till they cool a bit but the smell was so amazing coming from the oven that we couldn't and we dove right in!)

Chicken Bacon Ranch Cheesy Fries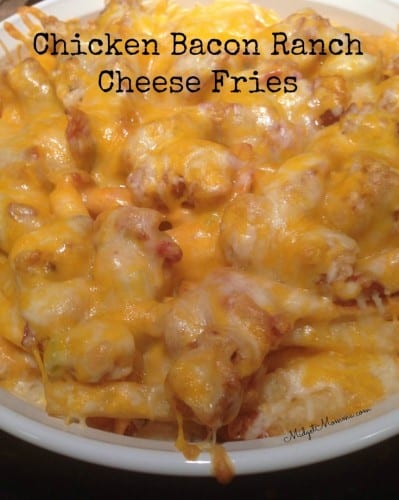 Prep time:
Cook time:
Total time:
Ingredients
10 frozen chicken nuggets
½ bag frozen french fries
8 ounce bag Mexican mix cheese
½ tablespoon diced green chili peppers (i get the canned ones)
½ cup ranch dressing (I used Kraft)
1 tablespoon diced garlic (I use the jar kind)
8 slices of bacon cut in half
Instructions
Preheat oven to 450.
On one tray put fries on another put chicken nuggets.
Bake chicken nuggets for 10 minutes, bake fries for 17-20 (until they are cooked and crispy). While chicken nuggets and fries are cooking cook your bacon.
Get a skillet and put 1 tablespoon of diced garlic, add your bacon and cook till crispy. Remove and drain on paper towels. By this step your chicken nuggets will be done.
Get a medium sized mixing bowl and add bacon into the bowl, breaking it into pieces as you put it in. Then cut your chicken nuggets up in to little pieces, add ranch dressing, and chilis and mix it all together.
Get a baking dish that can go in the oven. By this time your fries should be done if not wait till they are done to continue.
Remove fries and put them in baking dish, top with the bacon ranch mixture and then sprinkle cheese on top. You have a full 8 ounce bag don't be afraid to use a lot, you want them cheesy!
Then put the whole thing in the over for 5 minutes to melt the cheese. Remove and enjoy (you could wait till they cool a bit but the smell was so amazing coming from the oven that we couldn't and we dove right in!)
This post may contain affiliate links. Please read my disclosure policy here