If you are looking for a fun twist on pizza that is easy to make and great for kids lunches, this pizza bread is perfect. This Pizza bread roll-up is made with pizza crust, pizza sauce, cheese and your favorite toppings. All rolled together, baked and then cut into slices.
Pizza Bread
My mother-in-law always makes pepperoni bread. I can not think of a time when it wasn't something she made when she came to visit us. Her pepperoni bread reminds me of pizza, but with no sauce. Yes, it is amazing and we all love it and I dip it in homemade pizza sauce. But, with kids dipping in pizza sauce can lead to a mess.
So I changed things up a bit from her recipe and made it my own. My homemade pizza bread recipe has all of the pizza ingredients we love all wrapped up, sauce included. The first time I made this easy pizza recipe for the kids they loved it. Each time that we have made it since the first time, we have changed up the pizza toppings that we have used.
Easy Pizza Recipes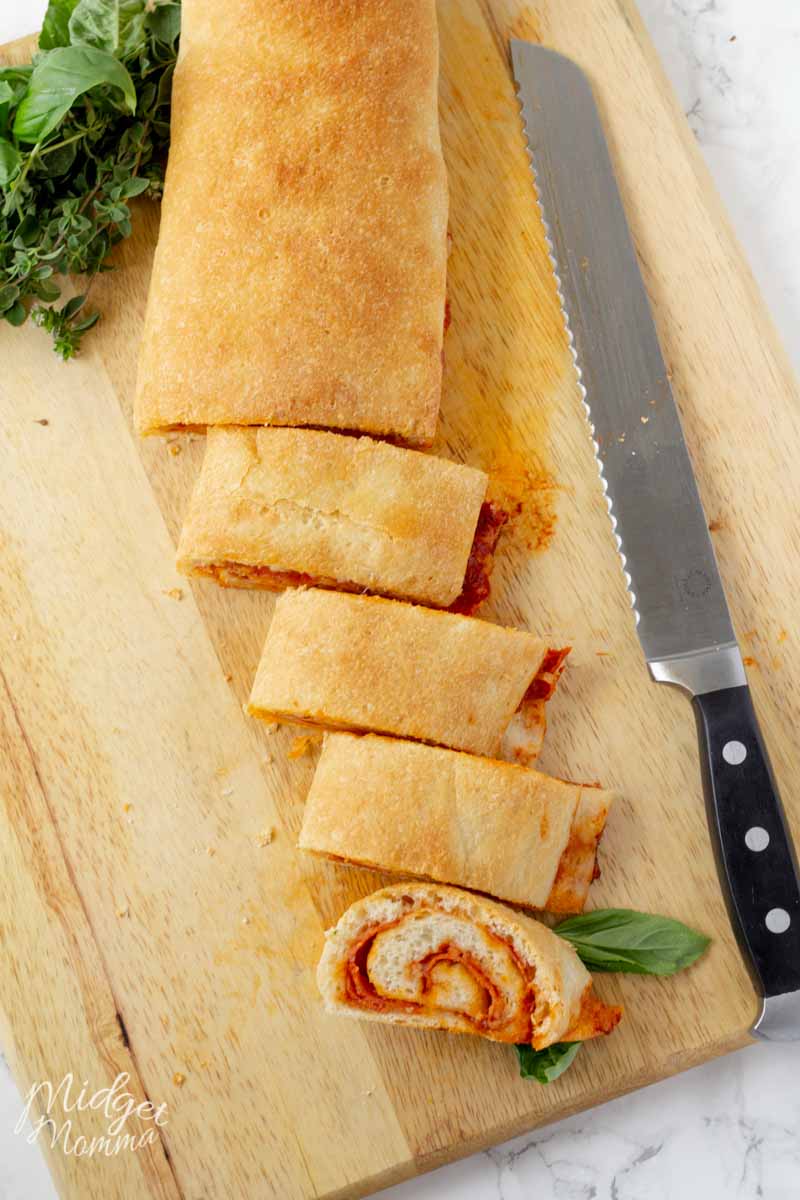 I am working on making easy to pack lunches that my kids can bring to school and have a warm lunch. Pizza Bread is one that I can easily make, reheat and then pack in an insulated container so they have a warm lunch at school.
If you are looking for even more lunch kids, make sure you check out 101 School Lunch Ideas!
Plus don't miss these awesome lunch box recipes we love! 
This pizza bread recipe is great for the younger kids, there is no mess for them to make with having to spread the pizza sauce themselves. Everything, the toppings, cheese and pizza sauce is all wrapped up and baked in with the crust.
Pizza lunchbox ideas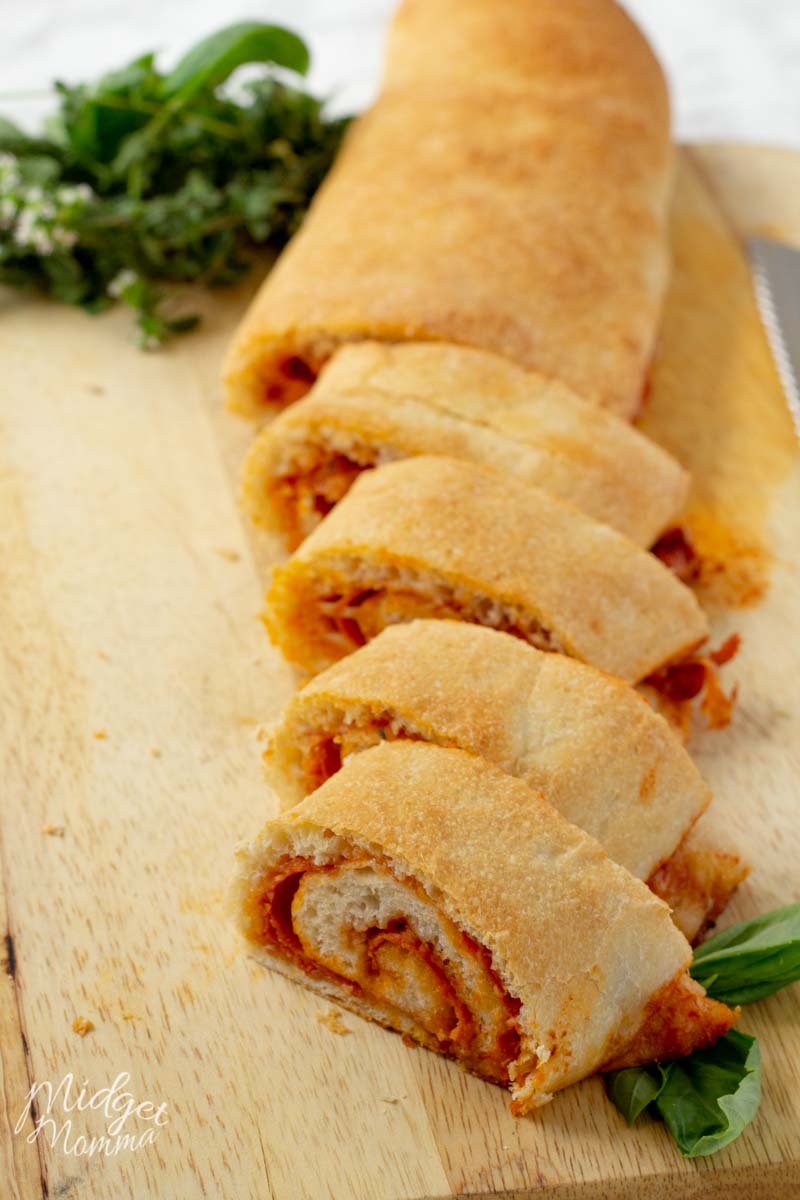 Pizza bread toppings
One of the best things about this pizza bread recipe is that once you know the basics, you can totally customize it to have what ever pizza toppings you want to.
Some of our favorite toppings for Pizza Bread are;
Pepperoni
Black Olives
Green peppers
Ham and pineapple
ground sausage
mushrooms
spinach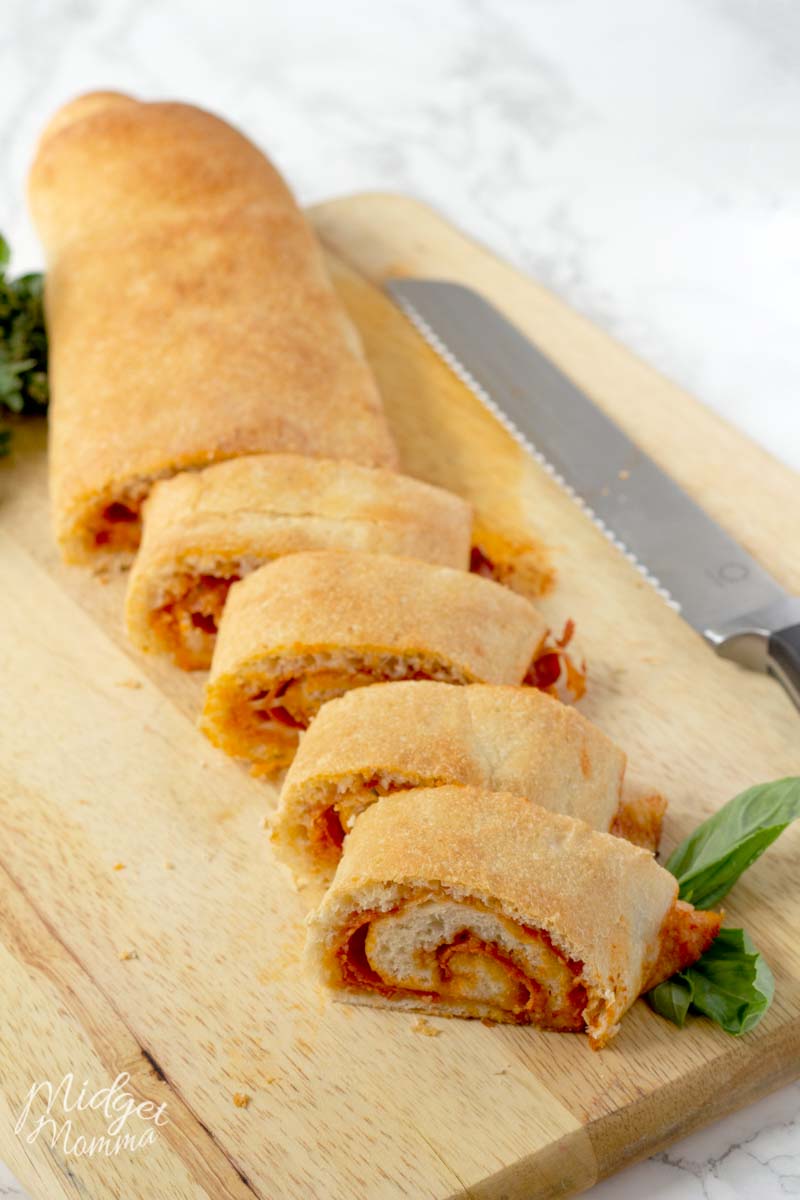 Pizza Bread Ingredients
Pillsbury Pizza crust dough or a batch of homemade pizza crust
pizza sauce
mozzarella cheese
Pepperoni – or pizza toppings of choice
How to Make Pizza Bread
It is super easy to make and if you are looking for a quick and easy dinner on a busy night, then you can totally make this and have some happy kiddos!
Roll out your pizza crust.
Spread the pizza sauce on the unbaked crust.
Sprinkle cheese on top of sauce.
Add pizza toppings.
Roll up the crust.
Bake in the oven.
Slice and serve.
Easy Lunch Recipes for Kids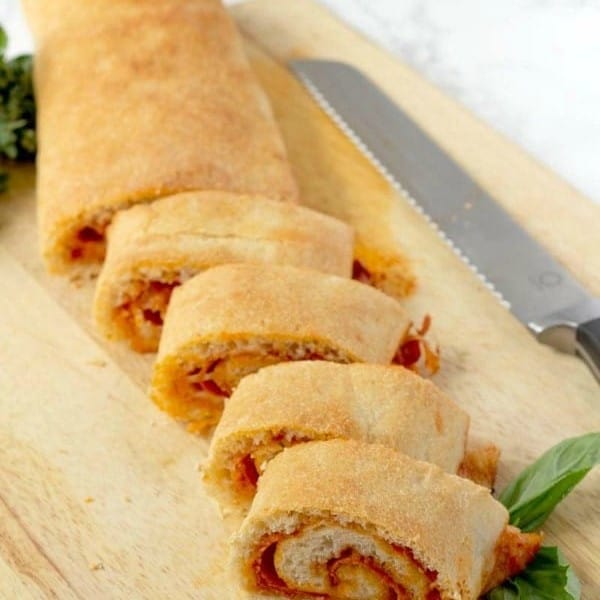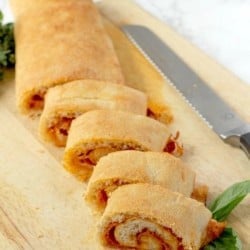 Pizza bread
Servings
Pizza bread is made with pizza crust, pizza sauce, cheese and your favorite toppings. All rolled together, baked and then cut into slices.
Ingredients
1 can Pillsbury pizza dough
3 tablespoons pizza sauce
1 cup mozzarella cheese
40 slices pepperoni or your favorite topping
Instructions
Preheat the oven to 350 degrees.

Unroll the sheet of pizza dough onto a sheet pan lined with parchment paper.

Spread the pizza sauce over the sheet of dough leaving an inch of dough at the bottom long edge.

Sprinkle the cheese over the sauce then top the cheese with pepperoni.

Roll the top long edge down to the bottom edge of the dough so you get a spiraled dough.

Bake for 14-18 minute until the bread is golden brown.

Allow the bread to cool for 5 minutes then slice in 2-inch slices.
Calories: 425kcal | Carbohydrates: 47g | Protein: 18g | Fat: 18g | Saturated Fat: 7g | Cholesterol: 43mg | Sodium: 1293mg | Potassium: 114mg | Fiber: 1g | Sugar: 6g | Vitamin A: 240IU | Vitamin C: 0.8mg | Calcium: 146mg | Iron: 3.2mg
Pizza bread
Lunch
12 Weight Watchers SmartPoints on the Freestyle Program