Cauliflower Pizza Crust. This easy pizza crust is full of flavor along with being kid tested and kid approved! If you are looking for a low carb cauliflower pizza crust recipe that the whole family will enjoy this is the recipe you want!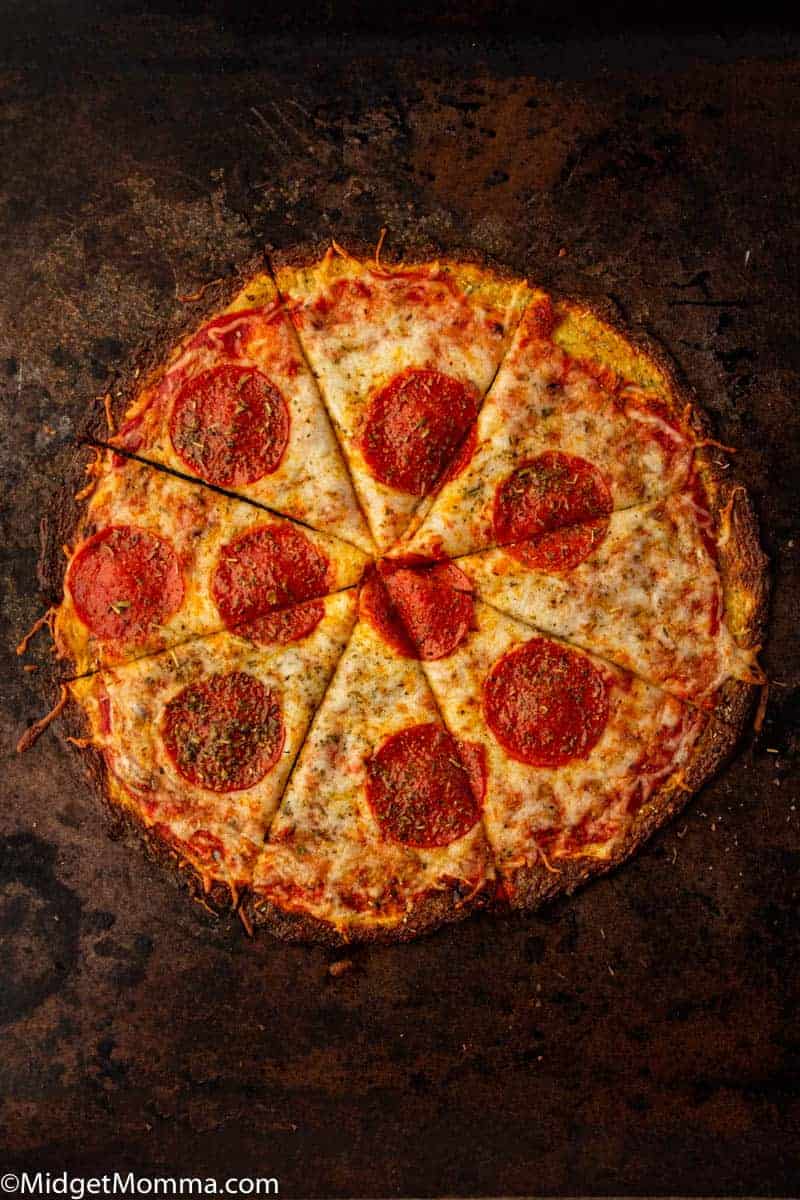 Cauliflower Pizza Crust
This easy low carb cauliflower pizza crust recipe is a recipe I have been using for YEARS! We all love pizza in my house, but sometimes I wanted to get more veggies into our diet. The perfect solution was making pizza with cauliflower crust.
If you are eating low carb or keto, this cauliflower pizza crust recipe is perfect for any of your pizza nights!
Love Pizza? Be sure to check out these other low carb Pizza options!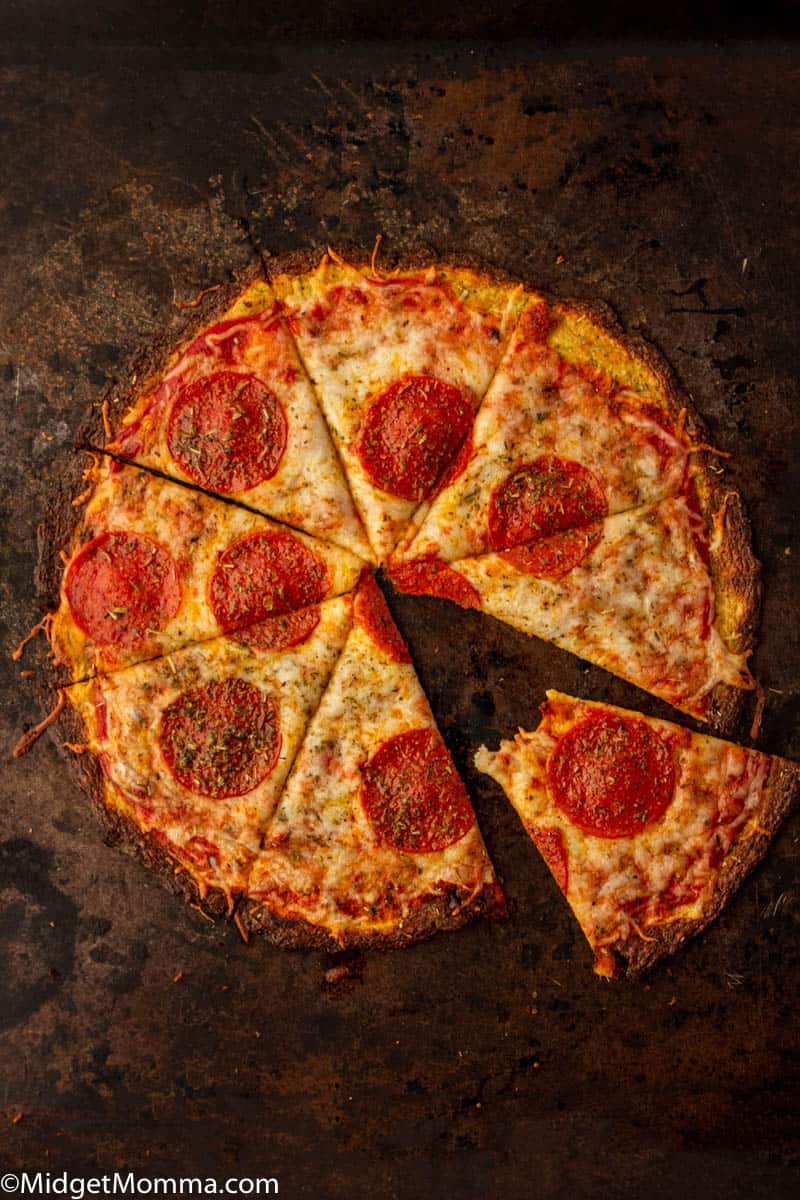 My daughter's favorite comfort food is pizza. When my husband was deployed a few years back, all she kept asking for was pizza. Seriously, it was the ONLY thing that she wanted to eat. However all that bread all the time is not healthy. As much as I love Easy Homemade Pizza Dough and my homemade pepperoni pizza eating that every single night is far to much bread and carbs, and no where near enough veggies.
I wanted a way to give her the comfort she loves when she has one of her favorite meals, but without all bread. It was a huge plus that it also includes LOTS of veggies!
The one funny thing about her loving this veggie pizza crust is that she normally hates cauliflower. Anytime I make it she turns her nose up at it. However when I made her pizza with cauliflower crust she LOVED it and asked for seconds!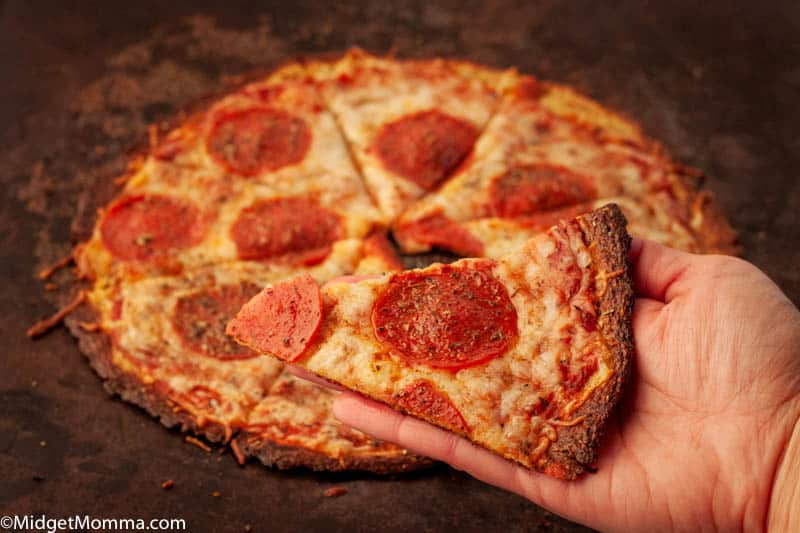 Sauce for Low Carb Pizza
If you are making these as a quick last minute idea for dinner then using Low Carb jarred pizza sauce is going to be the easiest thing. However I like to keep homemade pizza sauce on hand for the times we are going to need it.
If you are eating low carb or keto then you are going to want to make sure you use a low carb sauce to keep the carbs down.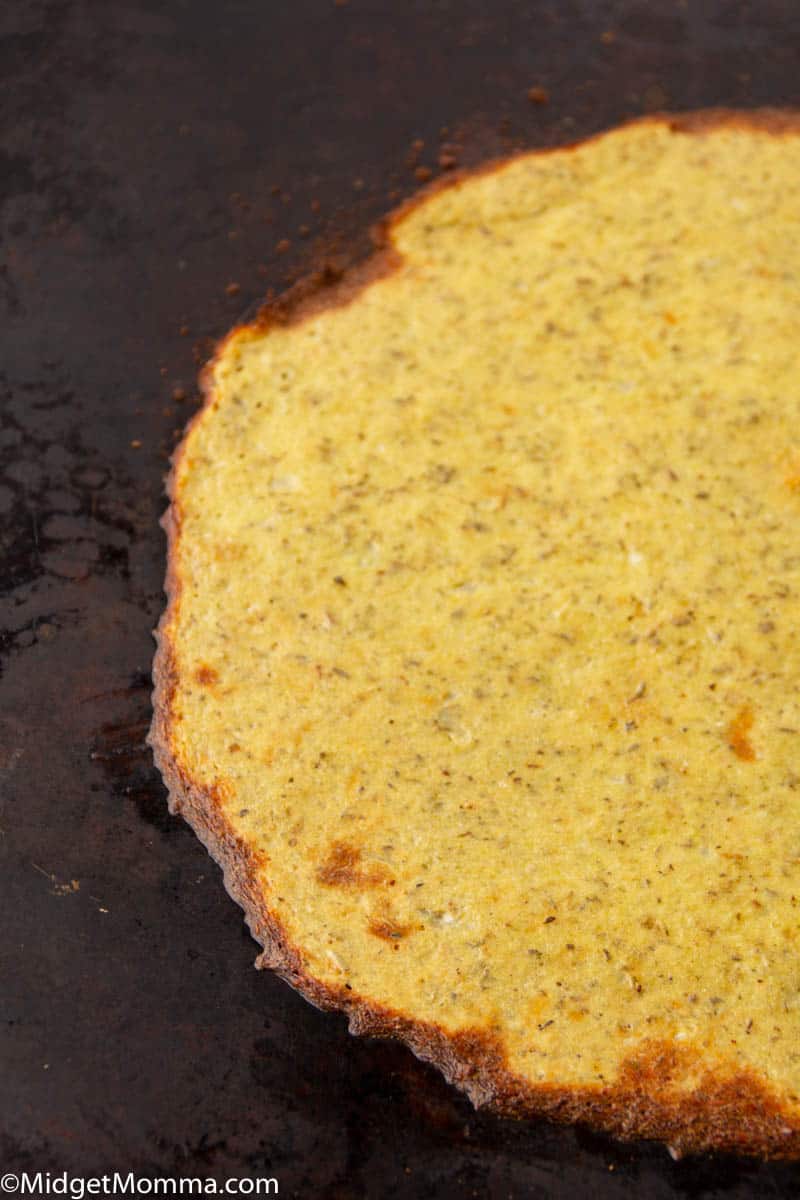 Toppings for Low Carb Pizza
When you are making this low carb pizza the great thing about it is that any of your favorite pizza toppings can be used too! There are LOTS of low carb pizza topping choices to pick from too!
bacon
green peppers
ham
sausage
onions
pepperoni
mushrooms
spinach
Turkey Pepperoni


Cauliflower Pizza Crust Ingredients
cauliflower
parmesan cheese
egg
Italian seasonings
minced garlic
salt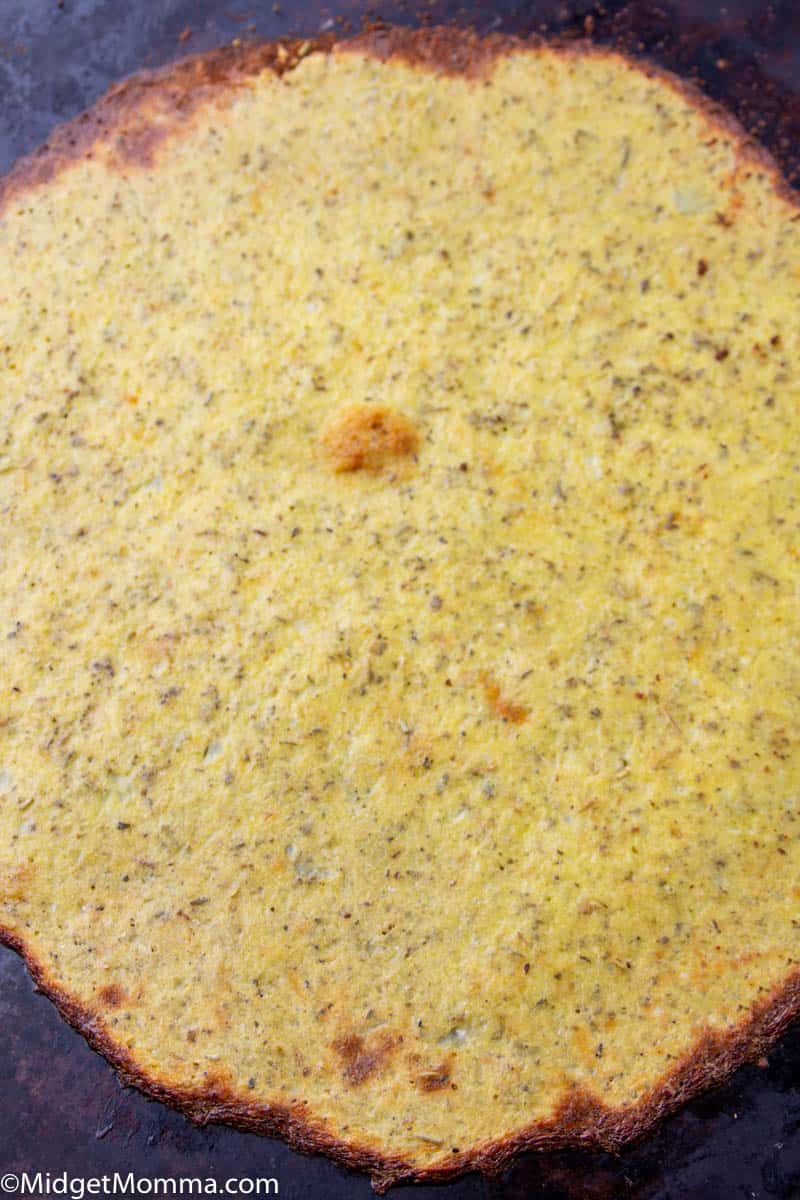 How to Make Cauliflower Pizza Crust
This low carb pizza crust made with cauliflower will make enough low carb pizza "dough" for 2 9 inch round pizza crusts.
Start off by washing your cauliflower. Then using your food processor rice your cauliflower. You want to have 2 cups of riced cauliflower. Which is normally covered by 1 head of cauliflower.
Once your cauliflower has been riced, use a microwave safe bowl and cook it.
Once it is cooked, strain the extra water from the cauliflower.
In a large bowl mix the cauliflower with parmesan cheese, egg, Italian seasoning, garlic and salt. Mix well to form a dough.
Use your hands to form a pizza crust shape with your cauliflower dough on a pizza pan.
Bake in the oven.
Once your crust is done, put the sauce, cheese and toppings you want to on your pizza. Then place it back in the oven to melt the cheese!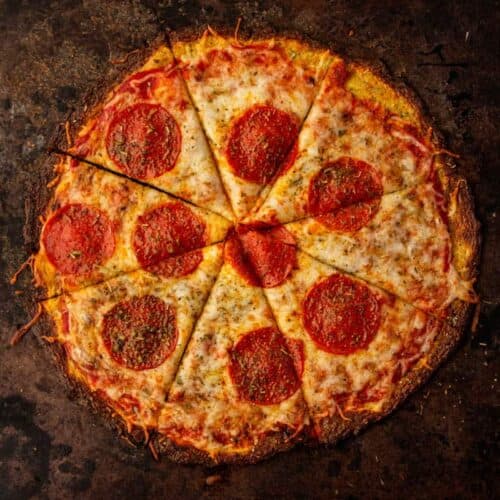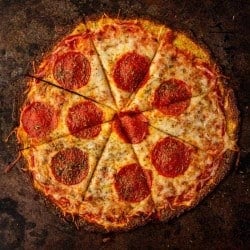 Cauliflower Pizza Crust
Servings Slices
If you are looking for a low carb cauliflower pizza crust recipe that the whole family will enjoy this is the recipe you want!
Instructions
Preheat oven to 450 degrees. Spray two cookie sheets with nonstick cooking spray.

Place your cauliflower florets in a food processor or blender and pulse it until it turns into the texture of rice.

Place the cauliflower into a bowl and microwave it for 6-8 minutes, until cooked.

Transfer riced cauliflower to a clean dish towel and wrap the sides around the cauliflower twist the towel to wring out the excess water.

In a large bowl combine two cups of the cauliflower with the cheese, eggs, Italian seasoning, garlic and salt, mix well.

Divide the dough into two equal parts and place each half on a cookie sheet and pat out two 9" round crust. Make sure you cover up and holes.

Bake your dough at 450 degrees for 15 minutes.
Calories: 81kcal | Carbohydrates: 4g | Protein: 7g | Fat: 4g | Saturated Fat: 2g | Cholesterol: 49mg | Sodium: 524mg | Potassium: 210mg | Fiber: 1g | Sugar: 1g | Vitamin A: 166IU | Vitamin C: 29mg | Calcium: 175mg | Iron: 1mg
cauliflower pizza crust
Dinner
Notes
Nutrition information is for the cauliflower pizza crust. Cutting your pizza crusts into 8 pieces each gives you 16 slices of pizza. Be sure to include any sauce or toppings that you put on your pizza crust when you are figuring out the full nutritional information.
1 Weight Watchers Smart Point per slice of crust, 16 points for the entire crust
More Cauliflower Recipes you will love!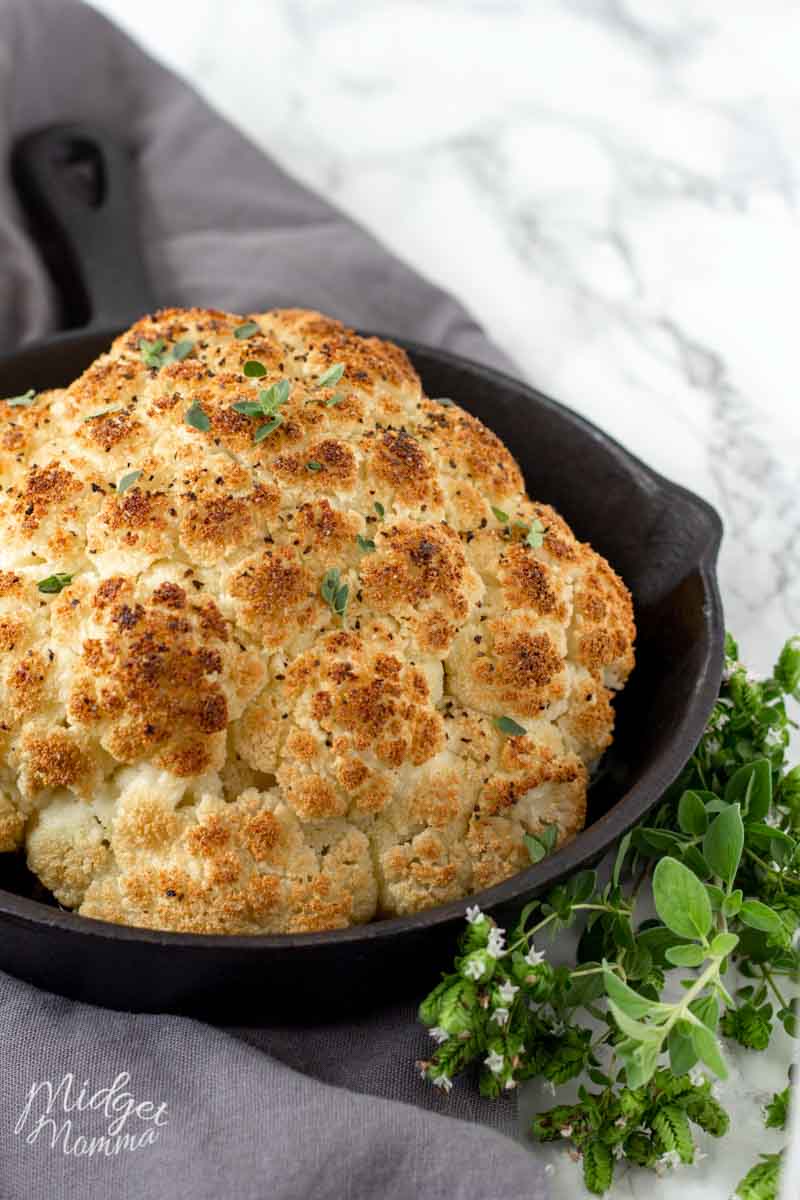 Cauliflower Soup with Bacon and Cheese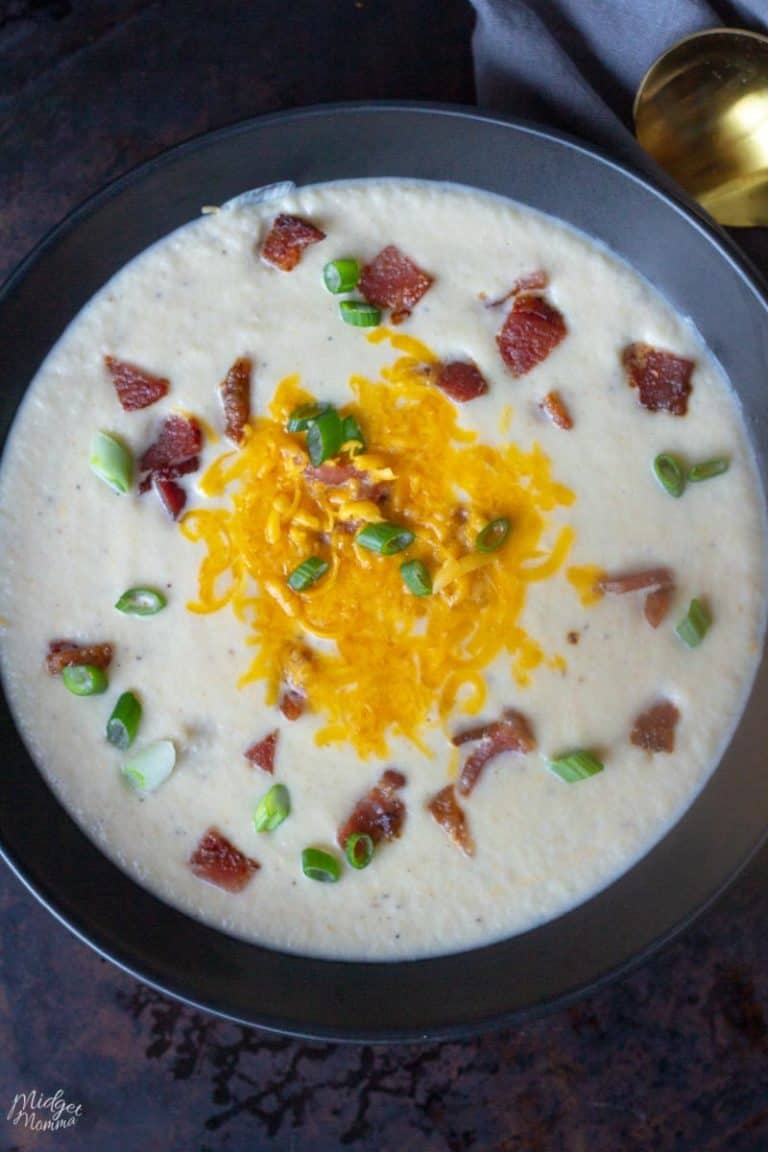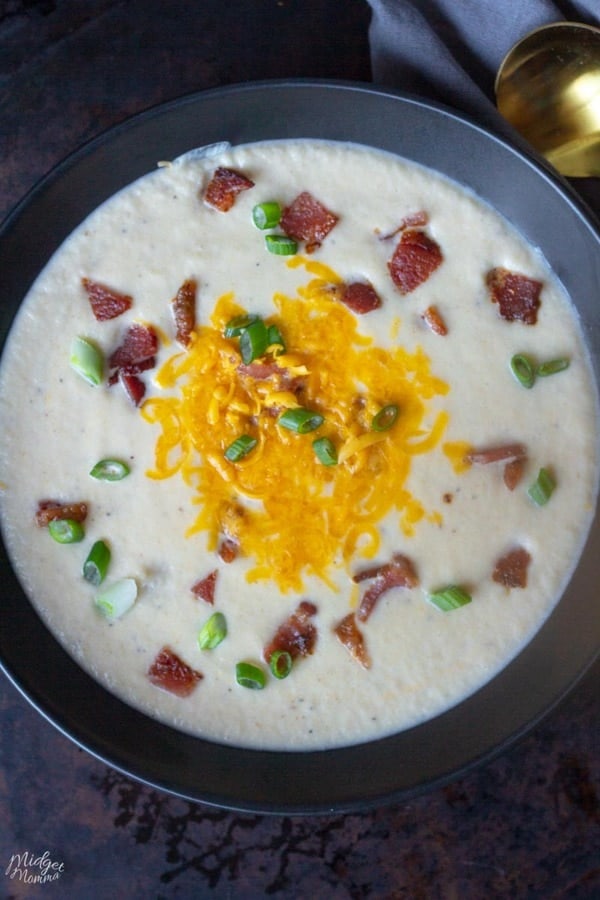 Italian Crockpot Chicken and Cauliflower