Are you wondering how to make an amazing homemade pizza? It is really quite simple, and this homemade pepperoni pizza is a family favorite! Made with homemade pizza dough, this makes not only for a tasty dinner but family fun while everyone gets involved making homemade pizza.
Homemade Pepperoni Pizza
This homemade pepperoni pizza is perfect for pizza night! We use the best homemade pizza crust, however there is a secret to making amazing pizza at home! That is how you cook it! Of course you also need to have an amazing pizza crust, which is why when we make pizza at home we make our crust from scratch. Sometimes though, we change it up and make cauliflower pizza crust or portobello mushroom pizzas, either way it is safe to say we are a pizza loving family!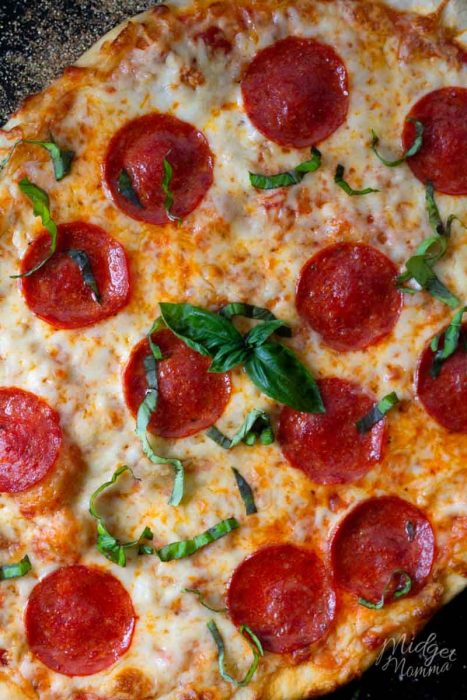 The best way to cook homemade pizza is on a pizza stone or on a Big Green Egg Grill. My husband loves to cook this pizza right on our big green egg grill so it gets a nice crispy crust.
If you don't have a grill with a pizza stone there are a lot of different ones, that will work on different grills on Amazon. You can also use a pan like this one as well and bake this homemade pizza in the oven. Both of these will give you a crispy crust, but we prefer to cook our pizza on the grill.
If you are looking for a super tasty dessert for pizza night, this smores cookie pizza is one of our favorites! We also like to make our cookie pizza with fruit.
The great thing about making pizza at home is that the whole family can get involved. My kids love to help make the pizzas so dinner becomes a nice family night activity that we all enjoy.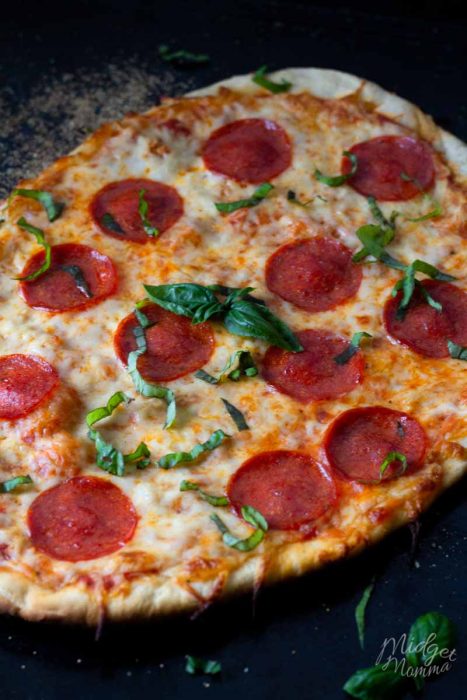 How to Cook Pizza on the Grill
To cook your pizza on the grill you are going to need a pizza stone. Turn on your grill and then close the lid and heat the grill until it reaches 425 degrees. Then bake pizza on the grill on top of the pizza stone until your pizza is done cooking.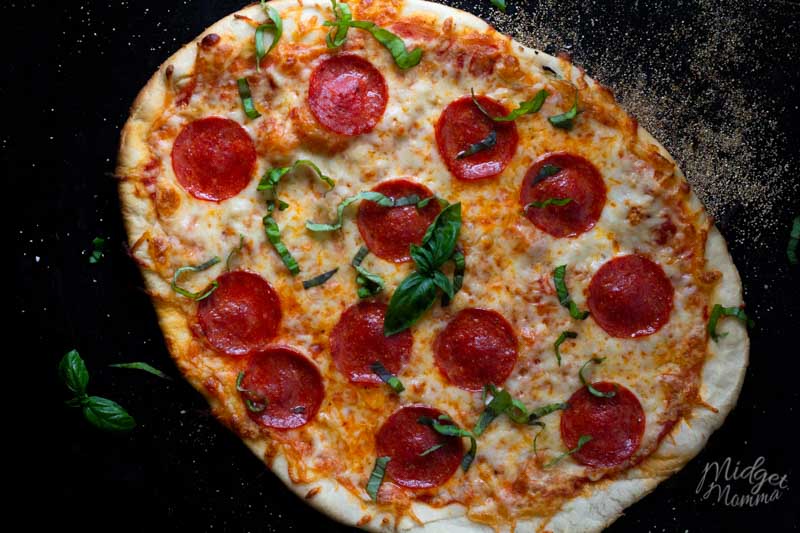 How to Make Homemade Pizza
This pepperoni Pizza recipe will make 2 homemade pizzas.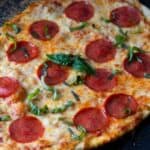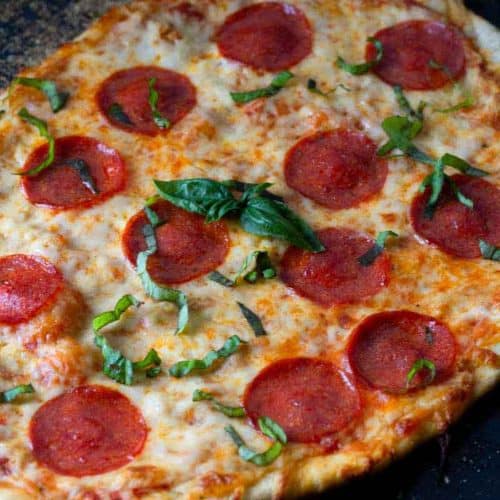 Homemade Mushroom Pepperoni Pizza
Pin Recipe
Print Recipe
Ingredients
Cornmeal

mozzarella cheese

shredded

pepperoni

portobello mushroom

sliced

fresh basil

julienned
Instructions
Dived the pizza dough in half.

Sprinkle your counter with cornmeal and roll your dough out to a roundish shape, make sure it's as thin as you can get it. Place your dough onto your pizza pan. Repeat this with the other half of the dough.

Spead a thin layer of sauce over the top of each pizza.

Sprinkle the pizza with cheese and top them with the portobello mushroom and pepperoni.

Place the pans into the preheated oven and bake for 8 - 12 minutes until cheese is melted and crust is golden.

Sprinkle each pizza with the basil.

Using a pizza wheel slice your pizza into 8-10 slices.
Approximately 6 Weight Watchers SmartPoints per serving on the Freestyle Program
Looking for more tasty dinner ideas? Check these out! 
Buffalo Chicken Spaghetti Squash
Join the newsletter
Subscribe to get our latest recipes right in your inbox every time we post a new one!
Join the newsletter
Subscribe to get our latest content by email.
This post may contain affiliate links. Please read my disclosure policy here