This Chickpea Pasta Salad Recipe is a flavorful, colorful, tasty cold pasta salad recipe that is perfect for anytime! Chickpea Pasta Salad is a great option for potlucks all year long or just to have with dinner. It has the classic pasta salad flavor, tasty veggies with the added protein of chickpeas. Keep the ingredients on hand for a fast and easy side dish that everyone will enjoy, that also makes for a great lunches too!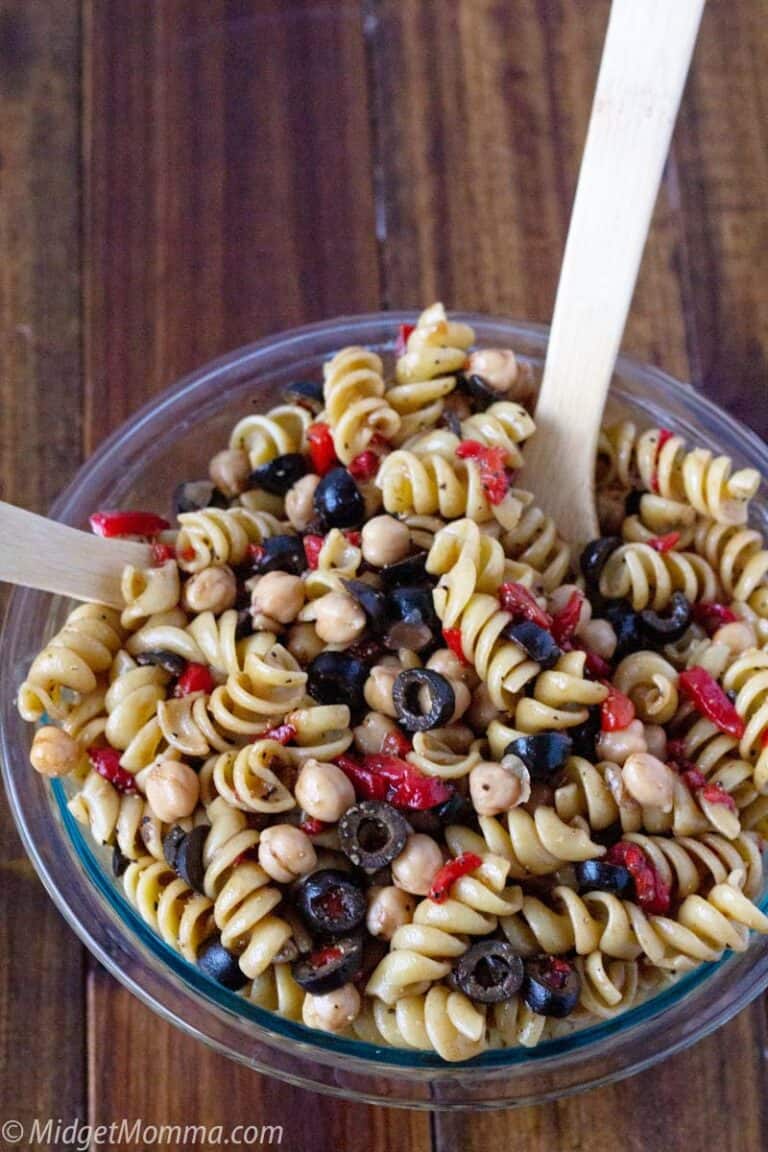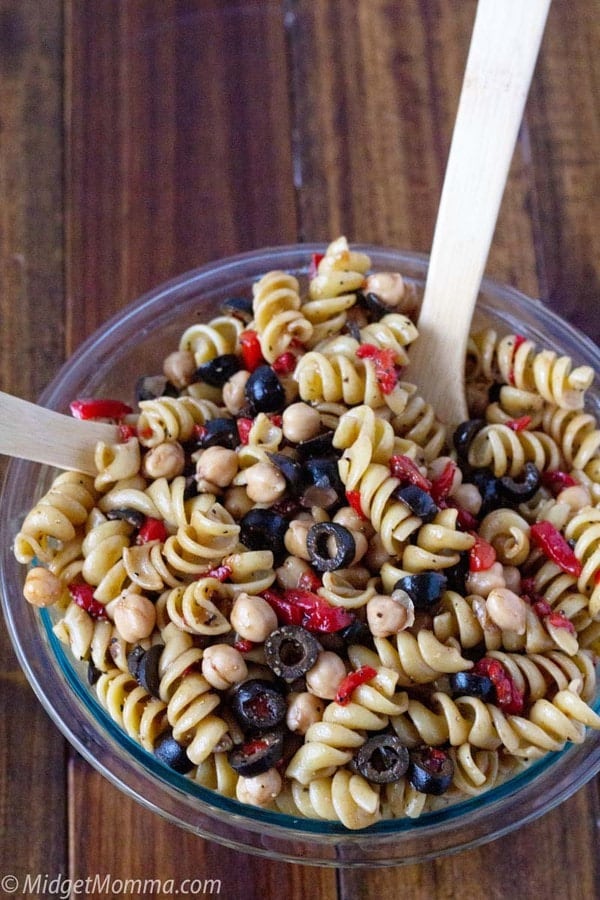 Chickpea Pasta Salad Recipe
This is such a delicious chickpea pasta salad recipe that will wow guests at your next dinner party. It's perfect alongside your favorite grilled proteins at a barbecue! I love the addition of the chickpeas to add extra protein, so it can be an easy all in one meal if you prefer!
The addition of roasted bell peppers and balsamic vinegar gives a traditional pasta salad tons of flavor without all of the calories. Skip the creamy dressings for this light and delicious option everyone will enjoy eating.
Easy Pasta Salad Recipes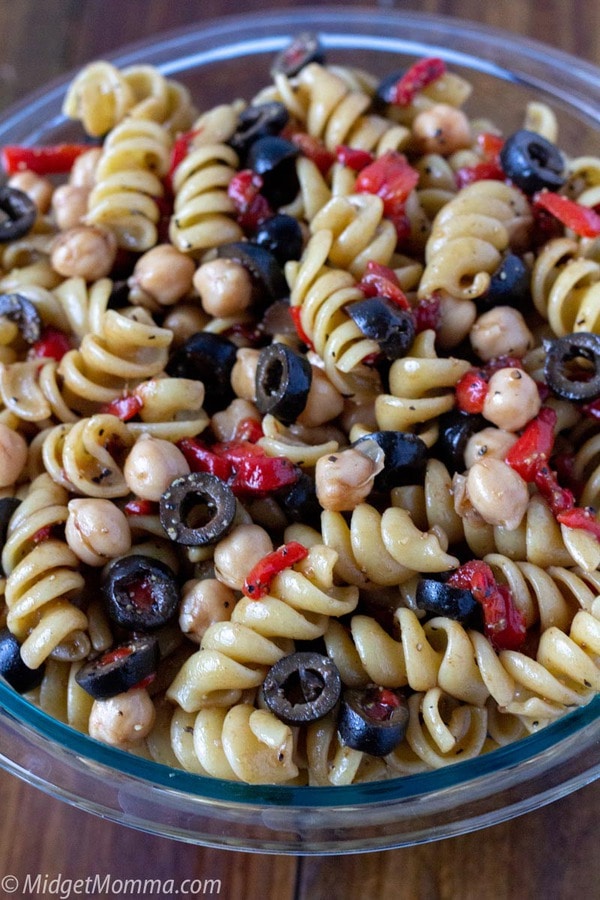 Perfect for Changing up as needed!
I love pasta salads because of how easy they are to change up. If I don't have the exact ingredients on hand I can easily change things out and still have an amazing pasta salad side dish.
At times I will add chopped cucumbers or cherry tomatoes. Other times I will skip roasting peppers and just use fresh peppers. I like to also change up what color peppers I am using when I don't use roasted red peppers because the colored peppers make such a beautiful pasta salad.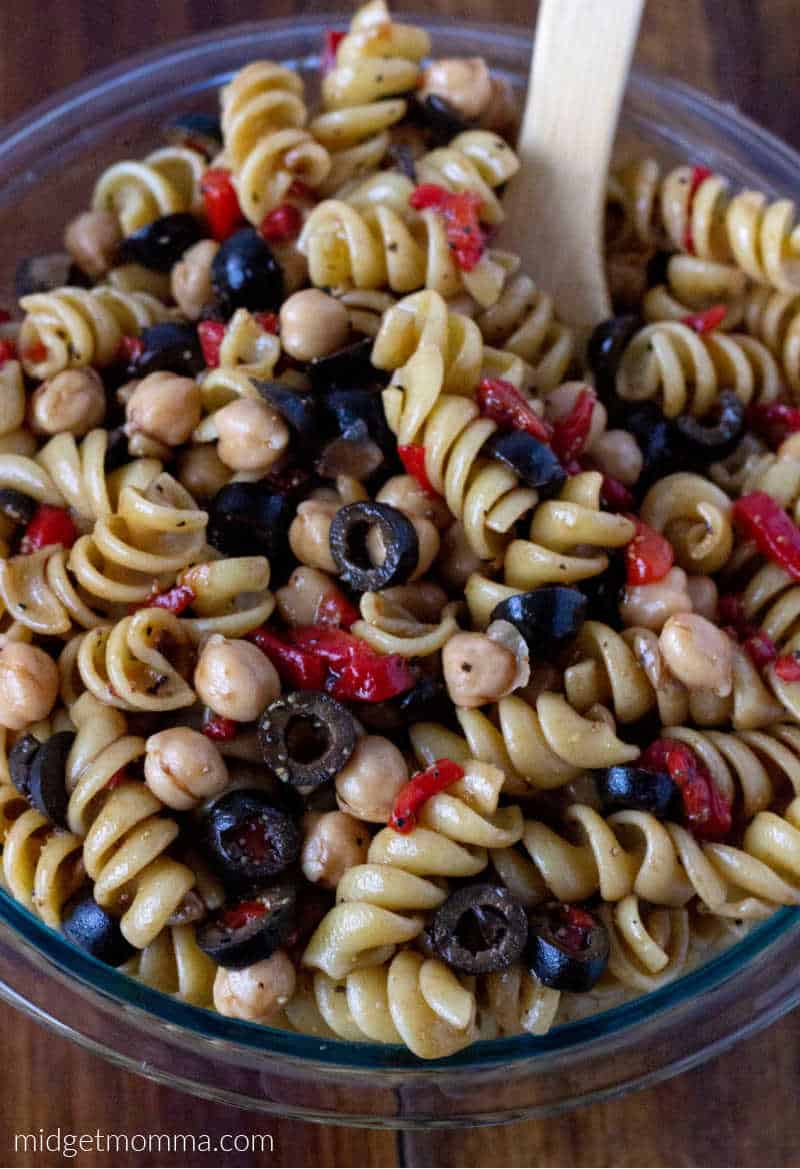 Can I make this ahead of time?
Things are always so busy in my house that having things done ahead of time makes my life so much easier. The great thing about this pasta salad is that I can make it ahead of time and have it for dinner a few nights in a row as a side dish.
If you are planning on going to a BBQ or a get together this chickpea pasta salad is a great one to make and bring with you.
I do suggest adding extra olive oil and balsamic vinegar if you are going to be storing it in the fridge for any amount of time past a day. The pasta and the veggies will soak up the dressing so I like to add extra when I am serving it.
How To Store Leftovers
Store any leftovers, if there are any, in an airtight container in the fridge. This pasta salad will keep for 5-7 days in the fridge as long as it is kept refrigerated.
If you plan on meal prepping this pasta salad ahead of time and using it for multiple meals or for meal planning lunches I do suggest adding extra dressing to the pasta salad before serving each time.
Leftovers of this recipe do not freeze well. This is a recipe you will want to enjoy either fresh being made or after being stored only in the fridge for a few days.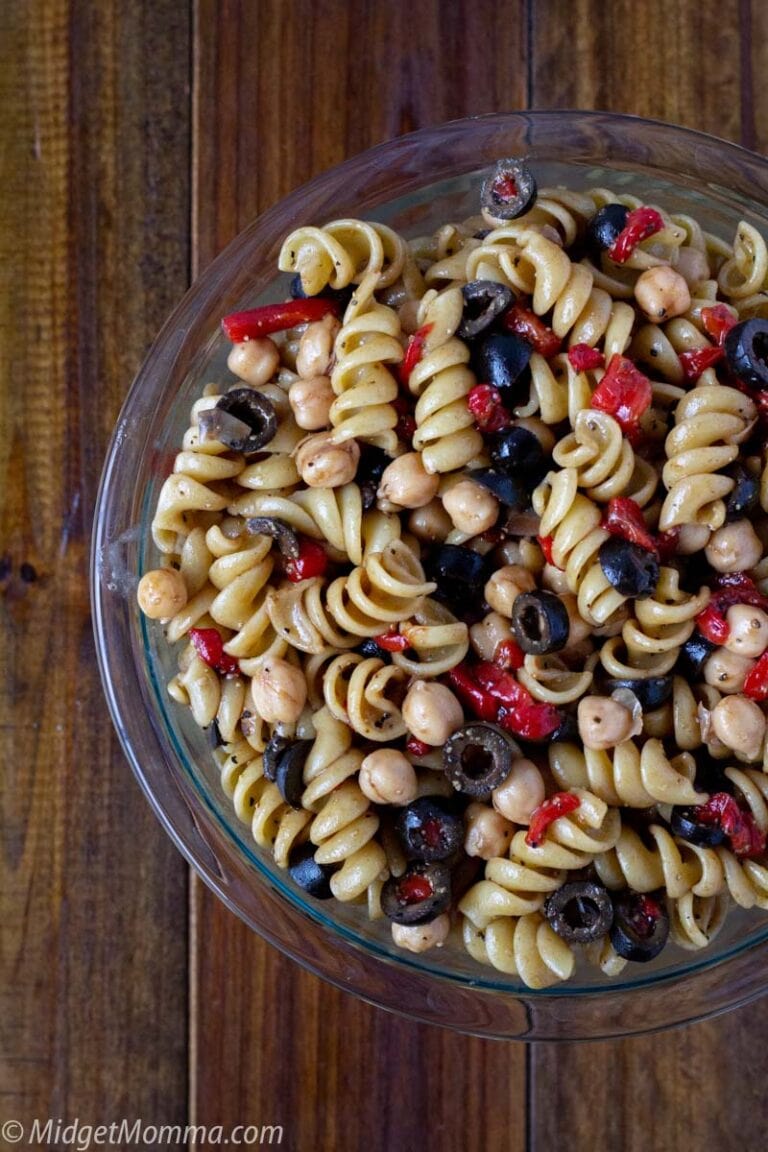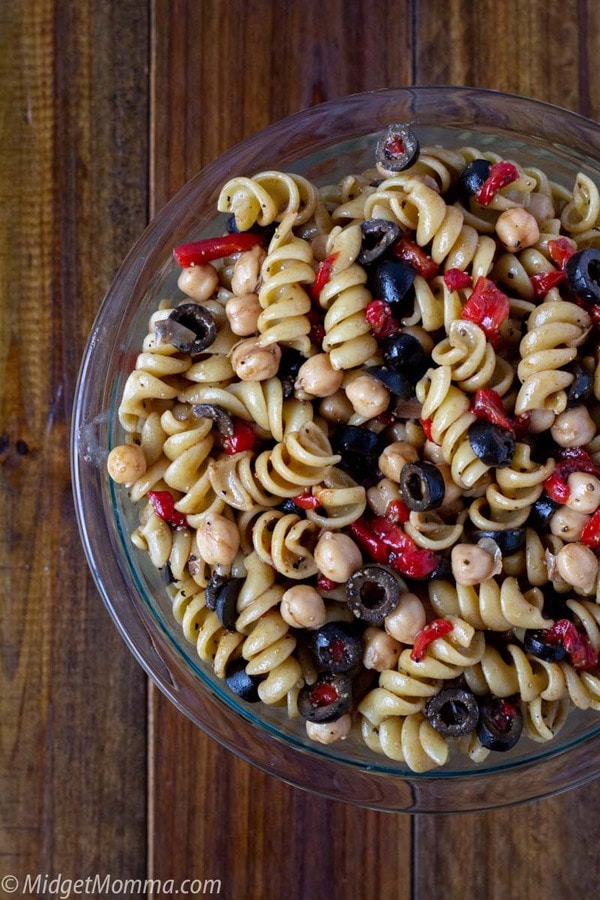 Chickpea Pasta Salad Ingredients
rotini pasta
chickpeas
roasted red bell peppers
black olives
olive oil
balsamic vinegar
salt
pepper
How to Make Chickpea Pasta Salad
Cook pasta according to package directions, drain and rinse with cold water. Then set aside.
Drain and rinse the chickpeas. Slice the roasted bell peppers and olives.
In a large bowl add all of the ingredients together and mix well! Add salt and pepper to taste.
Serve as a side dish to your favorite meal on the grill or store for eating later!
Easy Summer Recipes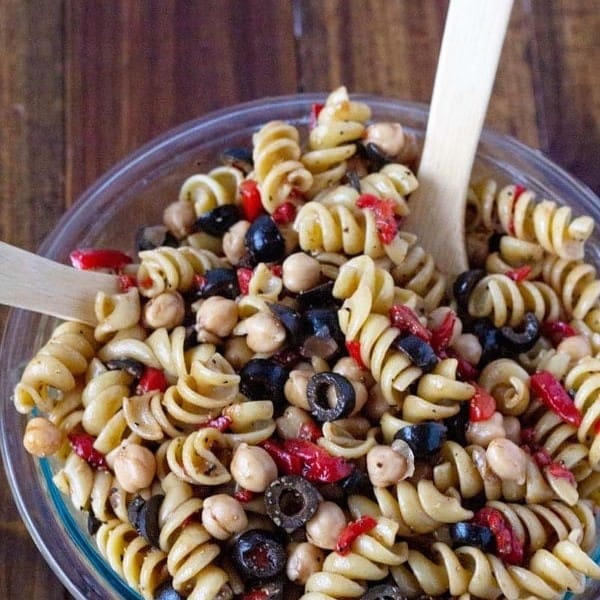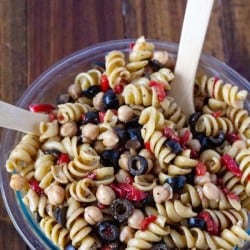 Chickpea Pasta Salad Recipe
Servings
This Chickpea Pasta Salad Recipe is a flavorful, colorful, tasty cold pasta salad recipe that is perfect for anytime! 
Instructions
Cook pasta according to package directions. Once done cooking drain and rinse in cold water. Once cool set the pasta aside.

Slice bell peppers and olives.

Rinse and drain the chickpeas.

In a large bowl add the pasta, chickpeas, olives, peppers, olive oil, balsamic vinegar, salt and pepper and mix everything together well.

Serve immediately or chill in the fridge until serving.
Calories: 320kcal | Carbohydrates: 54g | Protein: 11g | Fat: 7g | Saturated Fat: 1g | Sodium: 1071mg | Potassium: 285mg | Fiber: 5g | Sugar: 3g | Vitamin A: 313IU | Vitamin C: 20mg | Calcium: 62mg | Iron: 2mg
chickpea pasta salad
pasta salad, Side Dish
6 SmartPoints per serving on Weight Watchers FreeStyle Plan
More Recipes you will love!