Tuna pasta salad is a hit anytime I make it for my family or I bring it to a get together. Tuna pasta Salad is my most requested easy pasta salad recipe that I make. However I can not take credit for this amazing recipe because it is my Mother-In-Law's recipe that she has been making forever. It is loved so much, I knew that I had to share it with all of you!
Tuna Pasta Salad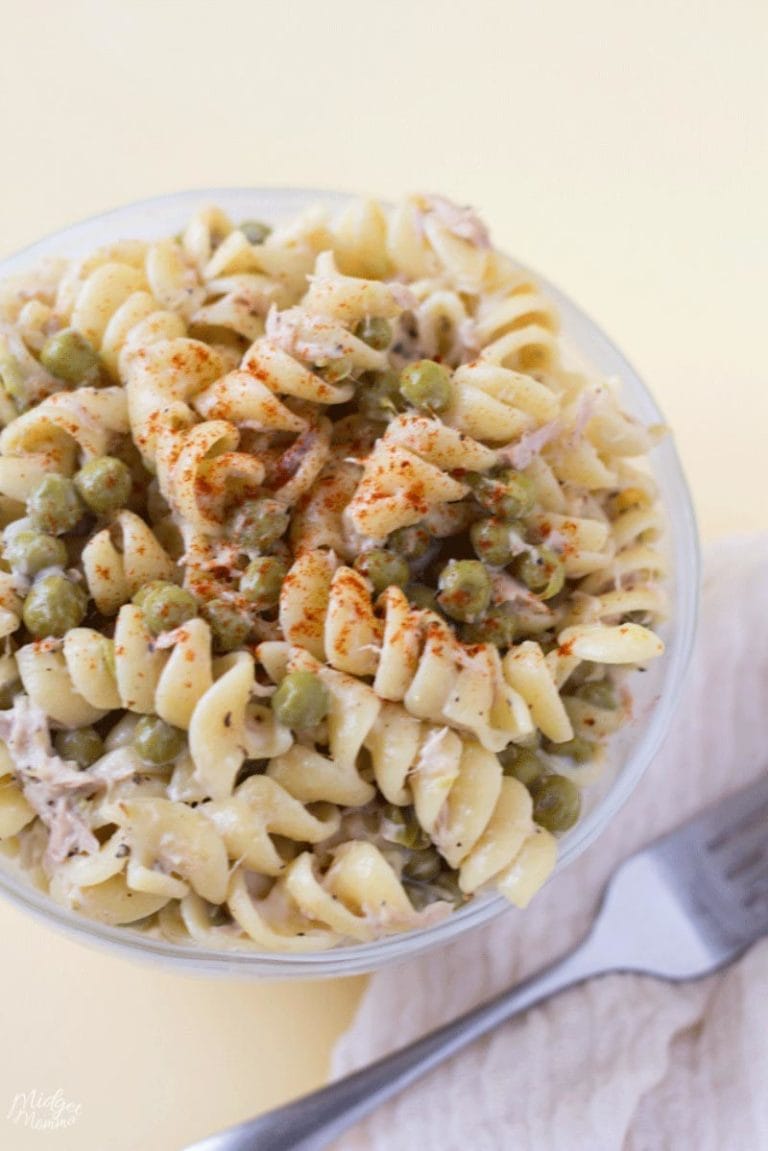 Pasta Salad is a classic side dish for during the hot summer months. There are many different ways to make tuna pasta salad, however this on is my FAVORITE! I have made many different pasta salad with tuna recipes, but this one is really the best tuna pasta salad recipe in the world! No I am not trying to win brownie points with my Mother-In-Law by saying that either. 😉
Tuna Pasta Salad or Tuna Macaroni Salad?
I know some of you call pasta salad, macaroni salad so this would be a tuna macaroni salad. However since pasta and macaroni are the same thing you can use either name you want to. I just grew up calling cold pasta dishes with tasty stuff thrown in them Pasta salads. 🙂
I mean I have to be totally honest here, seeing a big bowl filled with pasta and other tasty goodness mixed in, you really don't have to call it anything but tasty right!?! Of course there are always other amazing side dishes when you got to a BBQ or a potluck, but its the pasta dishes that tend to have the crowds around them! I know the cold salads are the first thing my kids put on their plates whenever we are having a meal with them.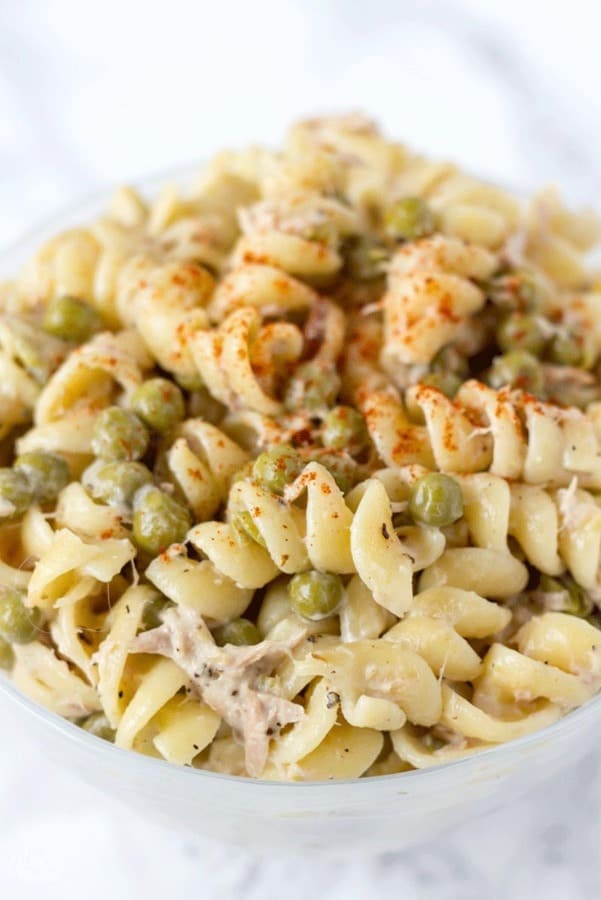 Can you make pasta salad ahead of time?
So this is one of my FAVORITE things about pasta salads, aside from the fact that my whole family loves them. I can make a pasta salad and double or triple the recipe and have it as a side dish for dinners for a few nights. My kids also love eating pasta salad for lunch, so I like to make pasta salad and keep it in the fridge for them to have an easy lunch.
If I know I am going to a potluck or a BBQ and I am making a few dishes to bring with us, I make this one the day before and store it in the fridge.
How Long will Tuna Pasta Salad Keep in the Fridge?
As long as you store it properly, tuna pasta salad will last for 3 to 5 days in the refrigerator. Be sure to store it in an airtight container, like the rubbermaid containers after you have served it for dinner or if you are making it ahead of time.
Sometimes when you are storing pasta salad with mayo in the fridge, the may will dry out a little bit. If this happens just add a bit more mayo when you are ready to serve it and the amazing creaminess that you love will be perfect again!
What to Serve with Pasta Salad
If you are eating macaroni salad for lunch then you don't have to make anything else to go along with it. If you are making pasta salad as a side dish, there are soooo many other amazing side dishes and main courses that go perfect with summer side dish!
Some of the main courses that go well with this recipe are:
If you are looking for other recipes to make as side dishes when you make this, here are a few of my favorites.
If you are going to a potluck, BBQ or just having a nice summer night dinner then dessert is also probably on your mind. Here are a few of our favorite summer time desserts to enjoy!
Tuna Pasta Salad Ingredients
Pasta. You can use any shaped pasta or macaroni when you are making this tuna pasta salad. Personally whenever I am making a cold pasta salad I prefer to use bowtie pasta or rotini pasta. If I am really wanting to make my pasta fancy looking, then I use the tri-colored rotini pasta. The colored pasta is great at making a salad that normally looks kinda boring because of lack of different colors look amazing.
Canned Tuna Fish. Some people prefer tuna in oil, I find that it makes pasta salad to oily and always use canned tuna in water. You can use any type of tuna, including albacore tuna. Normally I just go with whatever tuna is on sale that is in water.
Peas. You can use canned peas or frozen peas when you are making this tasty tuna pasta salad with peas recipe. Just make sure that you cook and cool your frozen peas before making your pasta salad if you are using frozen peas. If you are using canned peas then all you have to do is drain them before dumping the can in.
Mayonaise. In our house we use Hellmann's Mayo or Duke's mayo. Just use your favorite brand of mayo when you are making this creamy pasta salad with tuna recipe. The mayo is what gives this amazing dish its perfect creaminess.
Spices. To give this easy summertime recipe the perfect flavor, the only spices you need are salt, pepper and paprika!
How to Make Tuna Pasta Salad
I do want to note, that it is important to rinse your pasta with cold water after you have drained it. It cools the pasta down faster and makes the wait time less. Plus mixing mayo in with the warm pasta doesn't keep the salad as creamy when you store it in the fridge. It is ok to have the pasta at room temperature, it does not need to be freezing cold, but warm right from the pot after you have drained it doesn't give you the best results.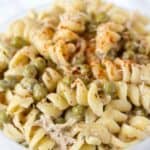 tuna pasta salad
Making this tuna pasta salad is soo easy! Seriously, even if you are not a whiz in the kitchen, you will be able to make this pasta salad and WOW anyone you are serving it to!
Pin Recipe
Print Recipe
Instructions
Cook the pasta according to package. Drain the pasta in a colander, then rinse the pasta with cold water to cool it down. Set pasta aside and let it finish cooling for about 10 minutes.

Open your can of tuna and drain the liquid out.

Open your can of peas if you are using canned peas and drain the liquid out. If you are using frozen peas, cook them according to the package and then using the colander rinse them with cold water to cool them down.

Get a large bowl to mix everything together in. When your pasta is cooled, mix together pasta, tuna and the peas. Be sure to break up the chunks of tuna while you are mixing it so it is evenly distributed through out the pasta salad.

Now add the mayo until it is as moist as you like. I normally start with half a cup and work my way up to about a cup. You can add more mayo if you would like it creamier, but do so slowly by adding 1/4 cup more mayo at a time until you reach your desired creaminess.

Add salt and pepper to taste. Normally about 1/8 a teaspoon is enough of each for me. You can do a little less or a little more depending on what you prefer. Mix everything together well.

On top of the pasta salad sprinkle paprika, I normally just shake the bottle until it has what I think is enough, but it ends up being roughly 1/2 tablespoon that I end up using.
Nutrition
Calories:
460
kcal
|
Carbohydrates:
50
g
|
Protein:
14
g
|
Fat:
22
g
|
Saturated Fat:
3
g
|
Cholesterol:
18
mg
|
Sodium:
227
mg
|
Potassium:
303
mg
|
Fiber:
4
g
|
Sugar:
5
g
|
Vitamin A:
650
IU
|
Vitamin C:
21.3
mg
|
Calcium:
30
mg
|
Iron:
2
mg
13 Weight Watchers SmartPoints per serving on the Freestyle Program
More Summertime Recipes you will love!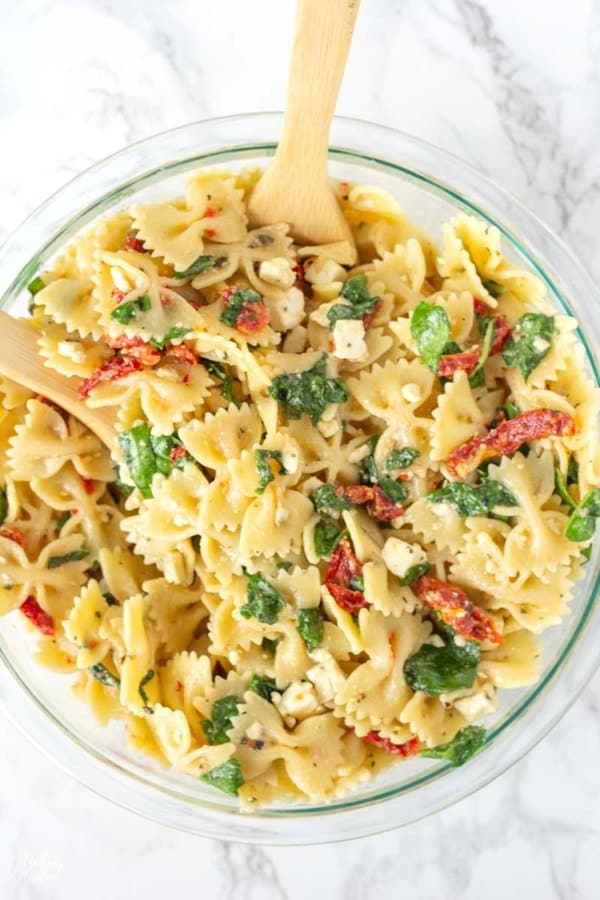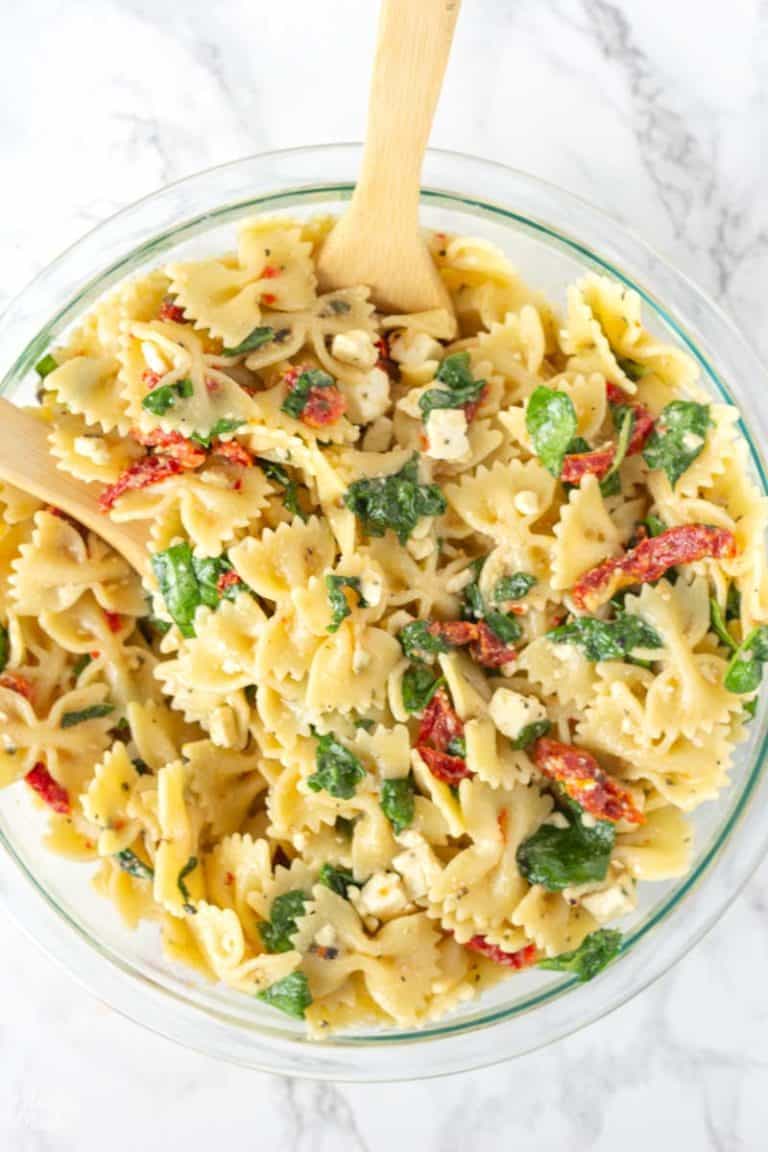 Pasta Salad with Italian Dressing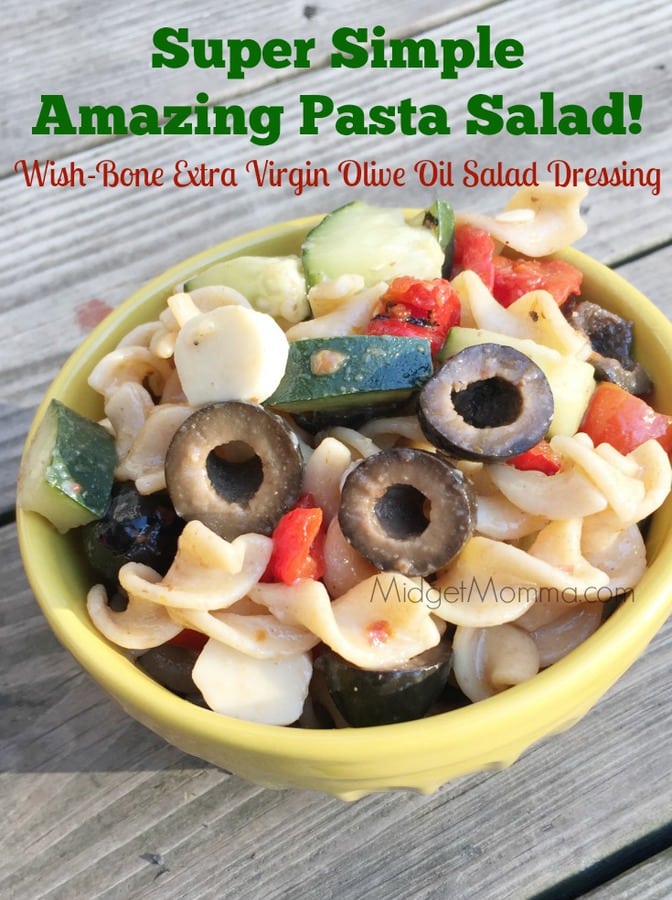 Roasted Red Pepper Pasta Salad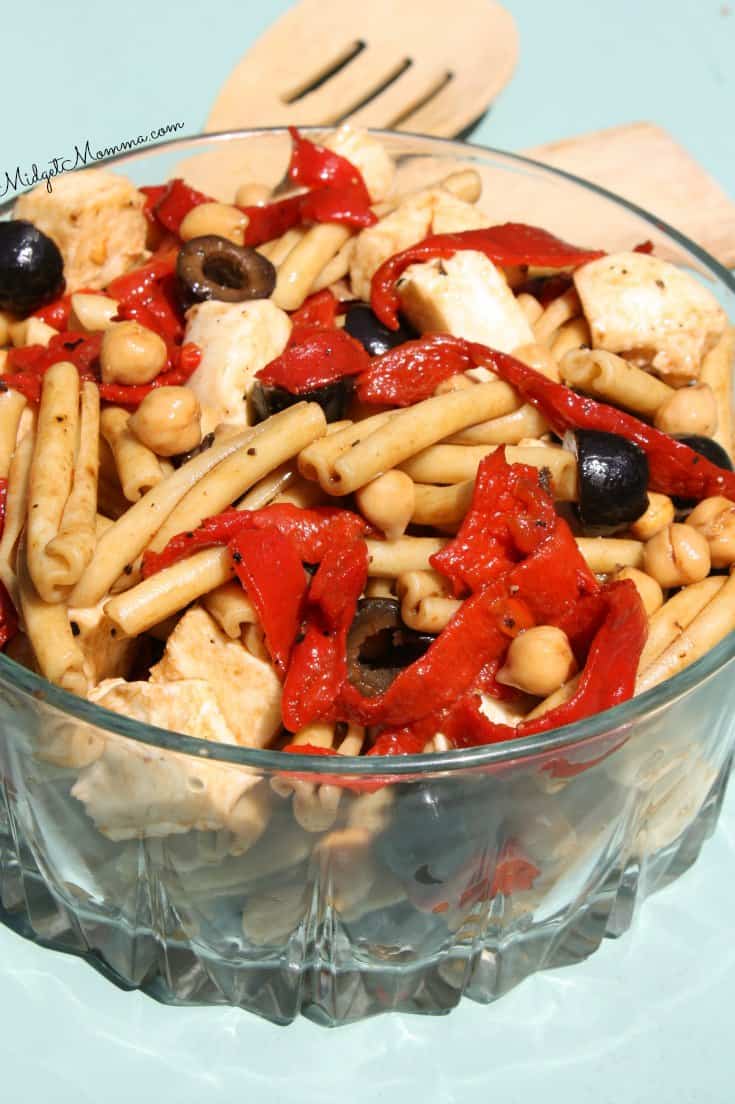 Do yourself a favor and print out the How Many Cups in a Gallon? and other liquid measurements printable to help you with your measurements in the kitchen! I have mine hanging on my fridge. It makes a super easy cheat sheet for whenever I am cooking and need to use liquid measurements.
Join the newsletter
Subscribe to get our latest content by email.
This post may contain affiliate links. Please read my disclosure policy here