Grilled Chili Lime Chicken is an easy grilled chicken recipe, that has a juicy chicken breast grilled on the grill after being marinated in an amazing homemade chili lime marinade. This easy grilled chicken recipe has a simple dry rub marinade that is full of flavor and then grilled to perfection for a juicy grilled chicken breast recipe the whole family will love.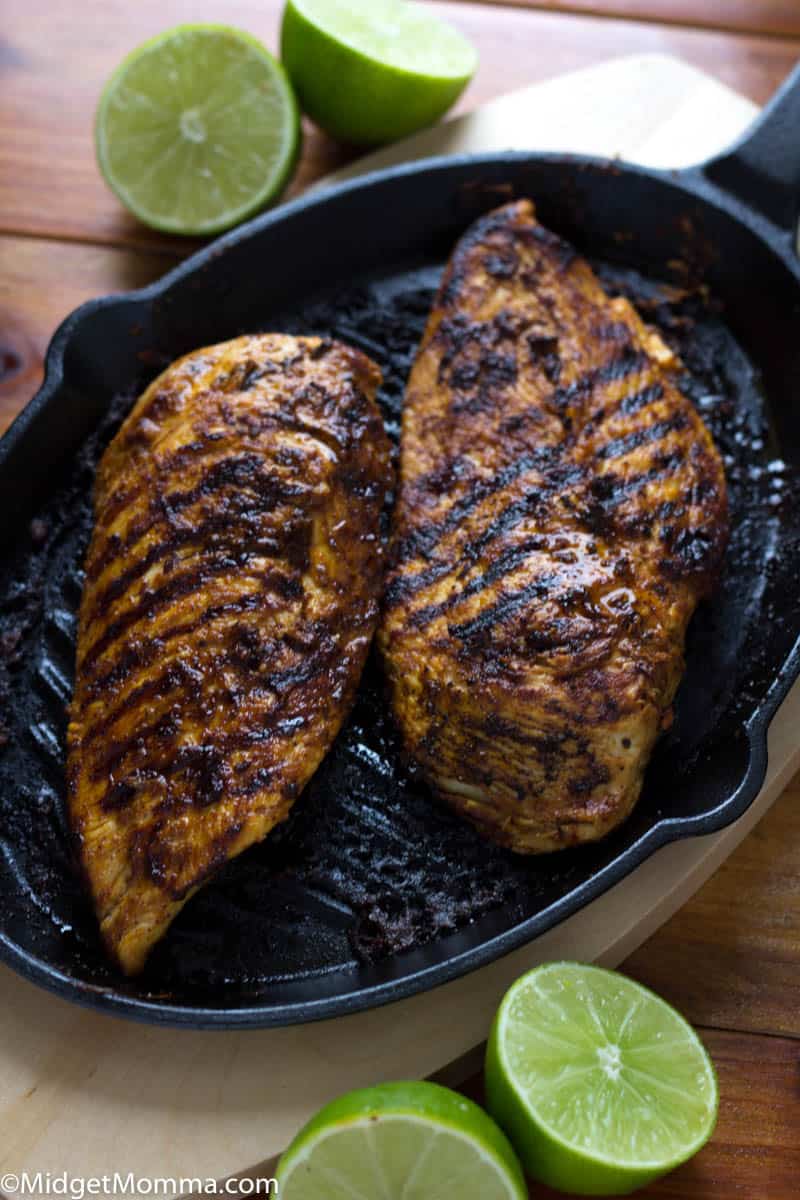 Grilled Chili Lime Chicken
If you are looking for an awesome grilled chicken breast recipe then this Chili Lime Chicken recipe will be a big hit in your house! Anytime the warm weather starts coming, my grill starts calling my name. Grilling chicken is one of the easiest ways to get a tasty chicken recipe with out heating up the house.
This easy grilled chicken recipe can be served on its own with your choice of sides, or you can this grilled chicken recipe it in wraps and on top of salads. I like to use this chicken on My Taco Chicken Salad.
Easy chicken recipes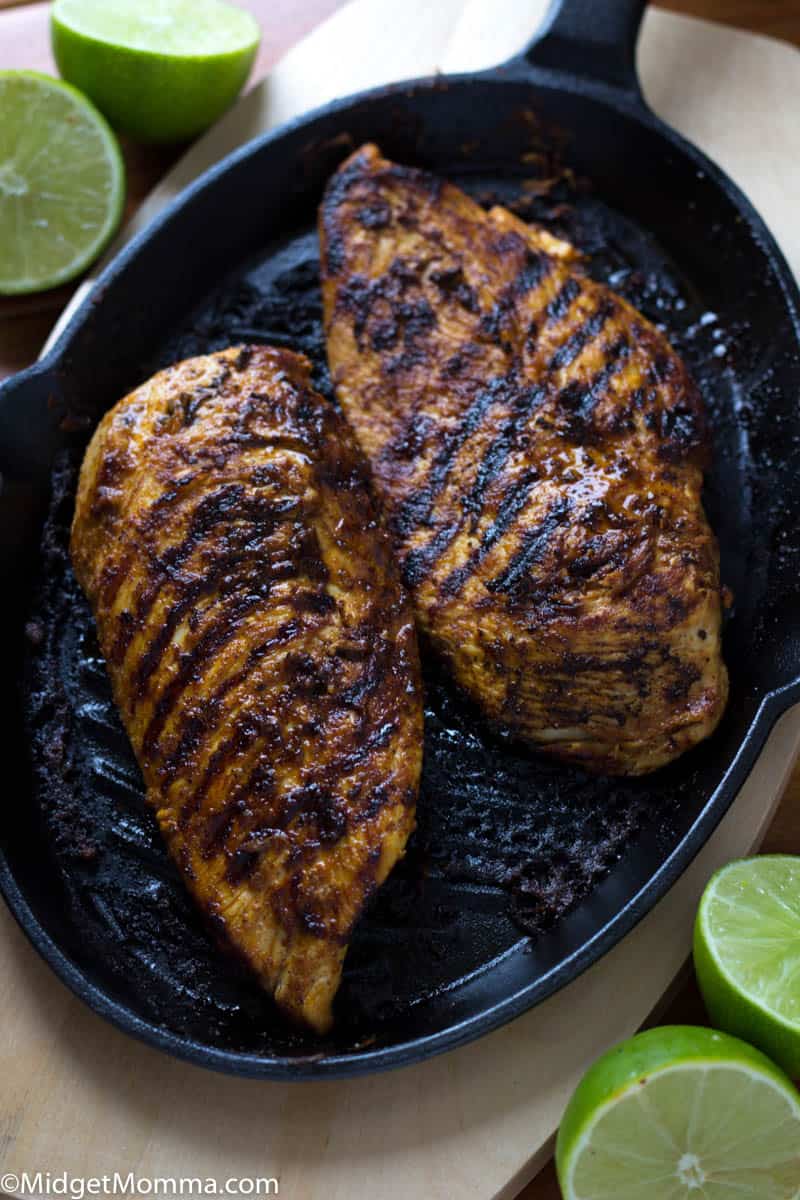 Tips for making this recipe
When you are making this chili lime chicken, it can be marinated for as little as 20 minutes to give you the amazing marinade flavor. However, if you are wanting to marinade it longer you can, you will just be enhancing the amazing flavor.
You can make this grilled chicken recipe on a grilling pan on the stove or on an outside grill.
Cook the chicken ahead of time and store in the fridge for easy meal prep.
How to Tell When baked Chicken is Done cooking
The best way to tell if chicken is done cooking is to use a food thermometer. The internal temperature of the chicken should be 165 degrees Fahrenheit.
Another way to tell if chicken is done cooking is to cut into the thickest part of the chicken and make sure that the juices are running clear. If the juices are still pink, the chicken is not done cooking.
How Long Does it Last?
Cooked chicken will last in the fridge for 3-4 days. You can also freeze cooked chicken for up to 2 months. When you are ready to eat the frozen chicken, thaw it in the fridge overnight or cook it directly from frozen.
How to Store
Make sure the chicken has cooled completely. Place it in an airtight container or wrap it tightly in plastic wrap and place in the refrigerator.
How to Freeze leftovers
Allow the chicken to cool completely and then place in a freezer bag or an airtight container and store in the freezer. If you are storing cooked chicken in the freezer, make sure to write the date on the container so you know how long it has been in there.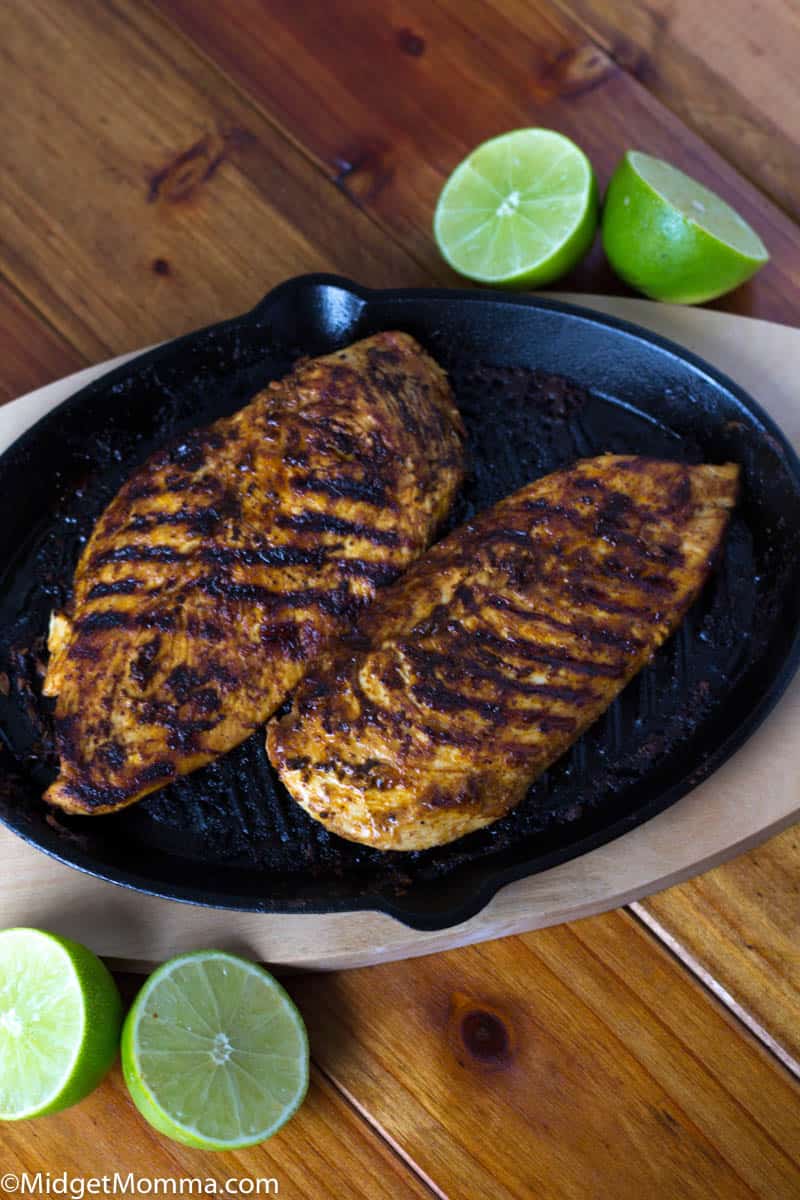 Meal Prep with Chili Lime Chicken
This is also a great way to prep chicken ahead of time, you can mix the marinade and put it and the chicken in a freezer bag and then freeze it. Then when you defrost it your chicken will be marinating and be ready to put on the grill easily!
If you want to prep this chicken in the morning so you have easier prep at dinner time, just mix the marinade in the morning and marinade your chicken and pop it on the grill when you are going to make dinner.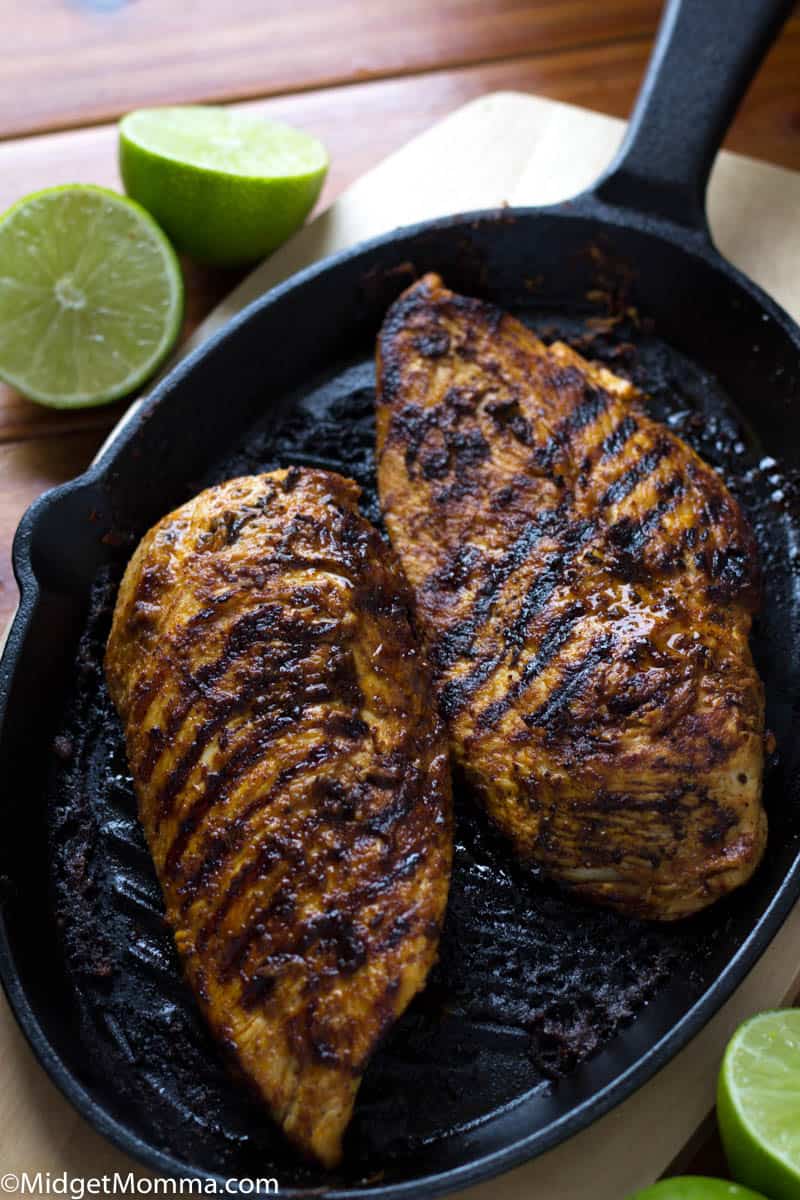 What to Serve with Chili Lime Chicken
Most of the time that I make chili lime chicken I make to for my Chicken Taco Salad. However grilled chicken makes a tasty main dish too!
Looking for side dishes to go with it? Check these out!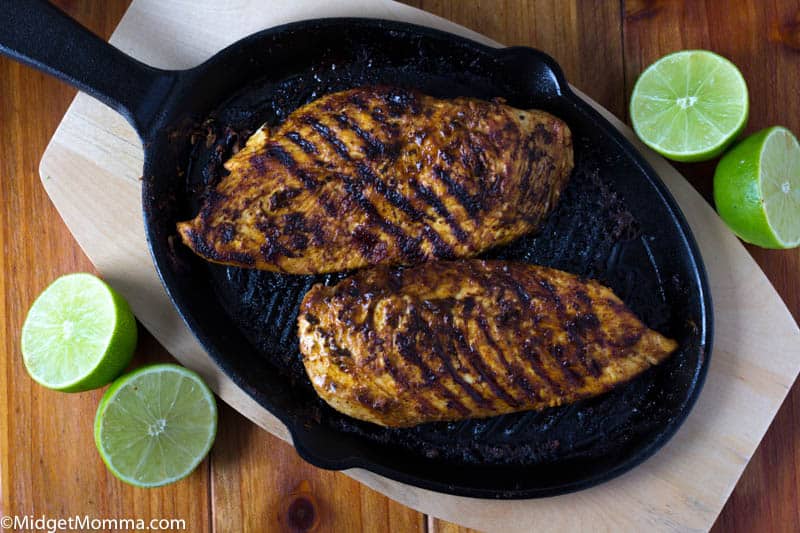 Chili Lime Chicken Ingredients
How to Make Chili Lime Chicken
Mix all spices, brown sugar, olive oil and lime together in a small bowl.
Slice your chicken breast into to thin slices so you end up with 4-6 thin but wide pieces of chicken breast.
Rub the chicken with the mixture and place in the fridge for at least 20 minutes.
Grill the chicken at 375 for 6 minutes on each side until the internal temperature reaches 160°.
Remove from the grill and let sit for 5 minutes before slicing.
Looking for more grilling recipes? Check these out!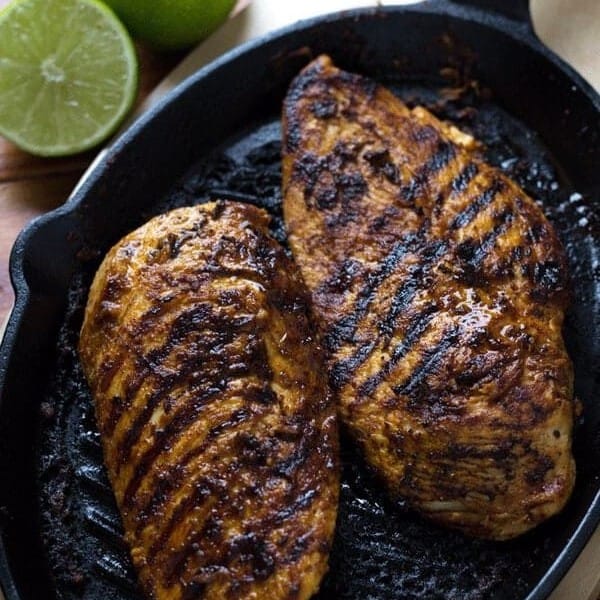 Chili Lime Chicken
Servings
Chili Lime Chicken is a tender and juicy chicken recipe with an amazing chili lime marinade that is then cooked on the grill.
Instructions
Mix all of the spices, brown sugar, olive oil and lime together in a small mixing bowl.

Cut your chicken breast in half so you end up with 6 thin pieces of chicken.

Rub the chicken with the spice mixture.

Let the mixture sit on the chicken for 20 minutes.

You can let it sit longer if you would like.

Grill the chicken at 375 degrees for 6 minutes on each side, until the chicken reaches 160 degrees.

Remove the chicken from the grill and let it sit for 5 minutes before slicing.
Calories: 442kcal | Carbohydrates: 3g | Protein: 64g | Fat: 17g | Saturated Fat: 3g | Cholesterol: 193mg | Sodium: 950mg | Potassium: 1143mg | Sugar: 1g | Vitamin A: 550IU | Vitamin C: 3.6mg | Calcium: 15mg | Iron: 1.5mg
chili lime chicken, grilled chili lime chicken
Dinner
1 SmartPoint on Weight Watchers FreeStyle Plan – On Weight Watchers? Check out these other great Weight Watchers Recipes.
More Chicken Recipes you will love!