I am always looking to turn my favorite take out dishes into a healthier version that I can make at home. Normal when you get firecracker chicken it is coated in heavy breading and it is fried. The sauce for this Baked Firecracker Chicken does have quite a bit of sugar in it for a main dish but I feel when I cut out the fried part it was OK to have the sweetness in the sauce. You can always amp up the heat in the sauce to meet the level of heat you like with more or less red pepper. I am a wimp for heat when you compare me to my husband, so I make the sauce to my taste buds. You are welcome to change out the franks red hot sauce for your favorite brand of hot sauce but I feel franks helps to give the Baked Firecracker Chicken its flavor the best.
Baked Firecracker Chicken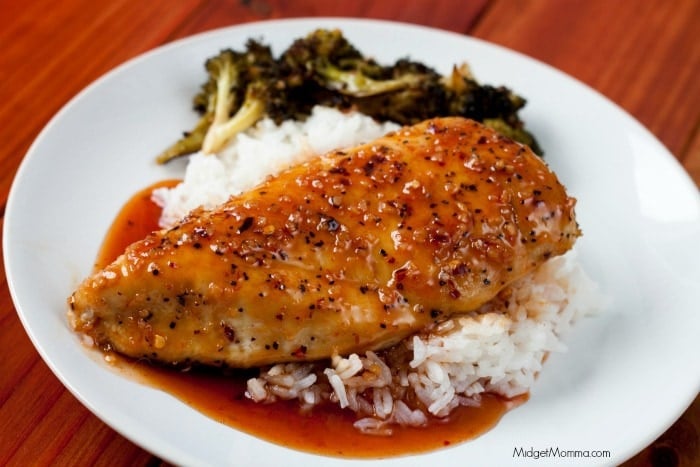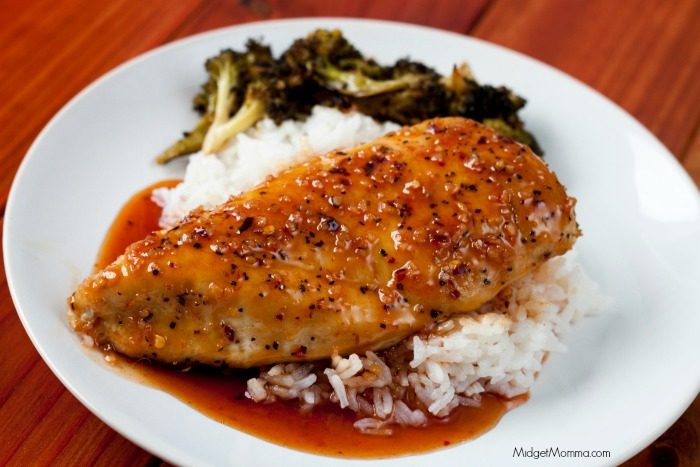 Baked Firecracker Chicken Ingredients
1/2 cup Franks Red Hot Sauce
1 cup dark brown sugar
2 tablespoons apple cider vinegar
1/4 teaspoon salt
1 tablespoon garlic
1/2 teaspoon red pepper flakes
4 chicken breast
1 tablespoon olive oil
salt and pepper to taste
Baked Firecracker Chicken Directions
Preheat the oven to 400 degrees. Line a sheet pan with parchment paper or foil.
In a medium sauce pan combine the hot sauce, sugar, vinegar, salt, garlic and red pepper flakes. Bring this mixture to a boil over medium high heat. Than reduce it to low and let it simmer for 10 minutes. Remove the sauce from the heat and let it cool.
Slice your chicken breast in half so you are left with six thin chicken breast. Place your oil in a saute pan and heat it up over medium heat. Season the chicken with salt and pepper than place it into the pan. Cook for two minutes on each side just to sear the outside.
Place your chicken on your sheet pan and bake it for 5 minutes. Remove them from the oven and pour two tablespoons of sauce onto each breast. You will be saving the rest of the sauce for later. Place the chicken back into the oven for 12 minutes or until it reaches 160 degrees.
Serve your chicken with the remainder of the sauce.
Makes 4 servings
9 SmartPoints on Weight Watchers FreeStyle Plan
Don't miss these awesome Weight Watchers Chicken Recipes. There are lots to pick from that are super tasty!
More Great Recipes: 
Rosemary Garlic Chicken Meatballs
Cracker Barrel Chicken and Dumplings
Slow Cooker Garlic Ginger Chicken
Chicken Enchilada Spaghetti Squash
Join the newsletter
Subscribe to get our latest recipes right in your inbox every time we post a new one!