Last night I was craving the Chicken Gnocchi soup from Olive Garden like crazy, I went looking thru the pantry to see what I had and found I was missing 3 ingredients that I normally use to make this soup. Tom thought I was crazy to ask him at 11pm to go to the store and I really didn't want to change out of my pjs and go to the store either so I figured I would come up with another variation of the soup on my own. The things pregnancy cravings will do to you 😉
While this Chicken Gnocchi soup is not exactly Olive Garden's it was sooooo good and it definitely hit the craving spot!
If you want to make olive garden at home you totally can, you can add this soup to your menu and make it along with my copy cat Olive Garden Alfredo. It is sooo good and now of course since I mentioned Alfredo I want some 😉 If alfredo is not your style for pasta then you might want to try my Olive Garden copy cat 4 cheese ziti recipe, that one is a family favorite too!
Looking for more amazing soup recipes? Don't miss these!
Chicken Gnocchi soup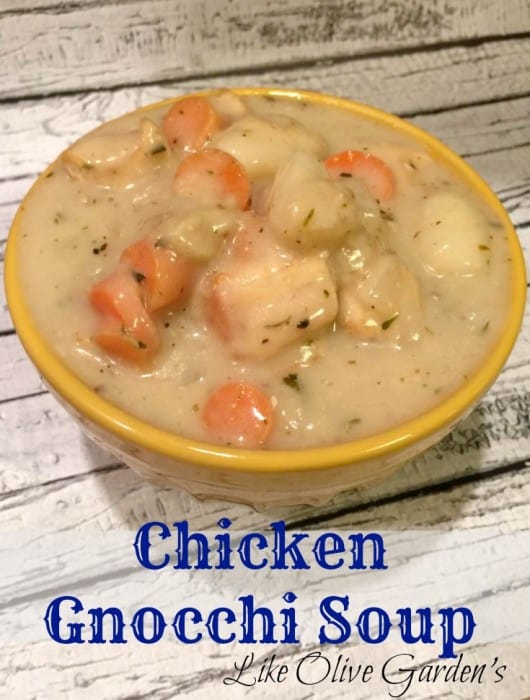 Chicken Gnocchi soup Ingredients:
2 chicken breasts
butter
flour
8 ounces baby carrots
1 small onion
1/2 cup milk
salt
pepper
italian seasoning
gnocchi
Chicken broth
Chicken Gnocchi soup Directions:
Start by dicing your small onion,  and then in a small pan melt 4 tablespoons butter. When butter is melted add onions and sauté until they are clear. Add in flour 1 tablespoon at a time until all the butter is soaked up and the onions are stuck in a "pile" of flour/butter/onion mixture (you want it to be thick).
Then remove the onion mixture and set aside in a bowl. Cut your chicken breasts into bite sized pieces, add another tablespoon of butter to the same pan and cook the chicken. Don't worry about the extra flour/butter mixture in the pan that will stick to the chicken and you want that to happen.
While cooking your chicken cut your baby carrots into bite sized pieces and then steam (I use a steamer in the microwave) until they are soft. Mine took about 5 minutes.
Remove the chicken from the pan when cooked and add it to the bowl with the onion mixture and set aside.
Get a large pot and pour in your chicken brooth, heat until a low boil on high. Once you have a slow boil add in the onion mixture, chicken, carrots and 1 teaspoon of italian seasoning and stir well. Make sure the flour from the onion mixture mixes into the broth and the onions are then floating by themselves.
Bring to a rapid boil and then add in your gnocchi and cook for 2 minutes until the gnocchi is soft.
Pour in 1/2 cup of milk and stir well. Then add salt and pepper to taste. Remove from heat.
Soup will thicken as you let it cool.