Over the weekend my running group had a large pot luck to enjoy the nice weather and I wanted to be able to make a dish from scratch and be filled with items you can change out if you needed too. I came up with this Loaded Chicken Potato Casserole. You can easily change out the type of potatoes or the type of cheese that you have on hand when making this Loaded Chicken Potato Casserole. It was a huge hit with everyone at the get together so I had to share this Loaded Chicken Potato Casserole with all of you 🙂 If you are a fan of Loaded potato dishes make sure you also check out the Loaded Bacon Ranch Potato Salad
Other Tasty Chicken recipes we suggest:
Copy Cat Outback Steakhouse Alice Spring Chicken Recipe
Sour Cream Chicken Enchiladas Recipe
Homemade Chicken Cordon Bleu Recipe
Chicken and Broccoli Alfredo Spaghetti Squash
Get tasty recipes daily when you join us on our facebook page here! 
Loaded Chicken Potato Casserole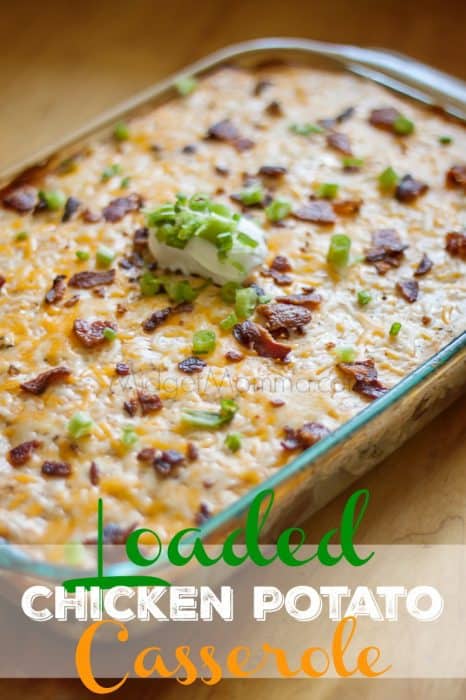 Loaded Chicken Potato Casserole Ingredients
1

Pound

bacon




12 oz B

roccoli 

3 Chicken breast

2

Pounds

 

red potatoes, large diced

1

Bunch

green onions, slic

ed


1/2

Cup

chicken broth

2

Cups

sour cream

1 1/

2

Cups

Shredded Cheddar Cheese

1

Teaspoon

Paprika

1/2

Teaspoon

Pepper

1/2

Teaspoon

salt

1/2 Cups

Shredded Cheddar Cheese

Loaded Chicken Potato Casserole Directions
Place your bacon on a broiler pan in the oven and turn the oven on to 400 degrees. Cook the bacon for 17 to 20 minutes or until golden brown.
Cut your broccoli into florets. Arrange the broccoli in a single layer on a baking sheet that has been rubbed with some olive oil. Bake for 16-20 minutes until crispy.
While broccoli is cooking bring a pot of water to boil. Cut the breasts into quarters and add them into the water. Let them cook for 15-20 minutes or until they reach 160 degrees. Drain.
While the chicken is cooking b

oil potatoes in a large pot in heavily salted water for 20 minutes or until cooked through. Drain.

 Shred your chicken into bite size pieces and crumble your bacon.
 Grease a 9 x 13 inch pan with some cooking spray. Add your potatoes to the bottom of the pan in a even layer. Top that with the chicken in an even layer.
In a medium bowl mix together bacon (

reserving 1 tablespoon

for the top), green onions (

reserving 1 tablespoon

for the top), chicken broth, sour cream (

reserving 1 tablespoon

for the top), 1 1/2 cup of cheese, p

aprika

, salt and pepper.
Spread your sour cream mixture over the top of the chicken.
Cover with alumni foil and bake at 375 for 20 minutes. Uncover, top with the cheese and bake for another 5 minutes.
Top with the remainder of the bacon, onions and sour cream.
More Great Recipes to try:
Chicken Pesto Spaghetti Squash
Slow Cooker Parmesan Garlic Chicken Bake
Rosemary Garlic Chicken Meatballs
Cracker Barrel Chicken and Dumplings Recipe
Join the newsletter
Subscribe to get our latest recipes right in your inbox every time we post a new one!
This post may contain affiliate links. Please read my disclosure policy here