If you are looking for an amazing baked spaghetti squash recipe then you are going to love these Chicken Pesto Spaghetti Squash Bowls! This chicken Pesto Spaghetti Squash recipe is one of my go to recipes when I want a light but filling meal. It is a baked spaghetti squash recipe that is always a hit when I make it.
I am sure you have also noticed that I love spaghetti squash recipes with chicken, it really is my favorite meat to use in a spaghetti squash recipe. Even my Spaghetti Squash Au Gratin recipe has chicken! Chicken and spaghetti squash go together so well, the flavors mix well together and you can change up the flavors you are having easily with these 2 ingredients.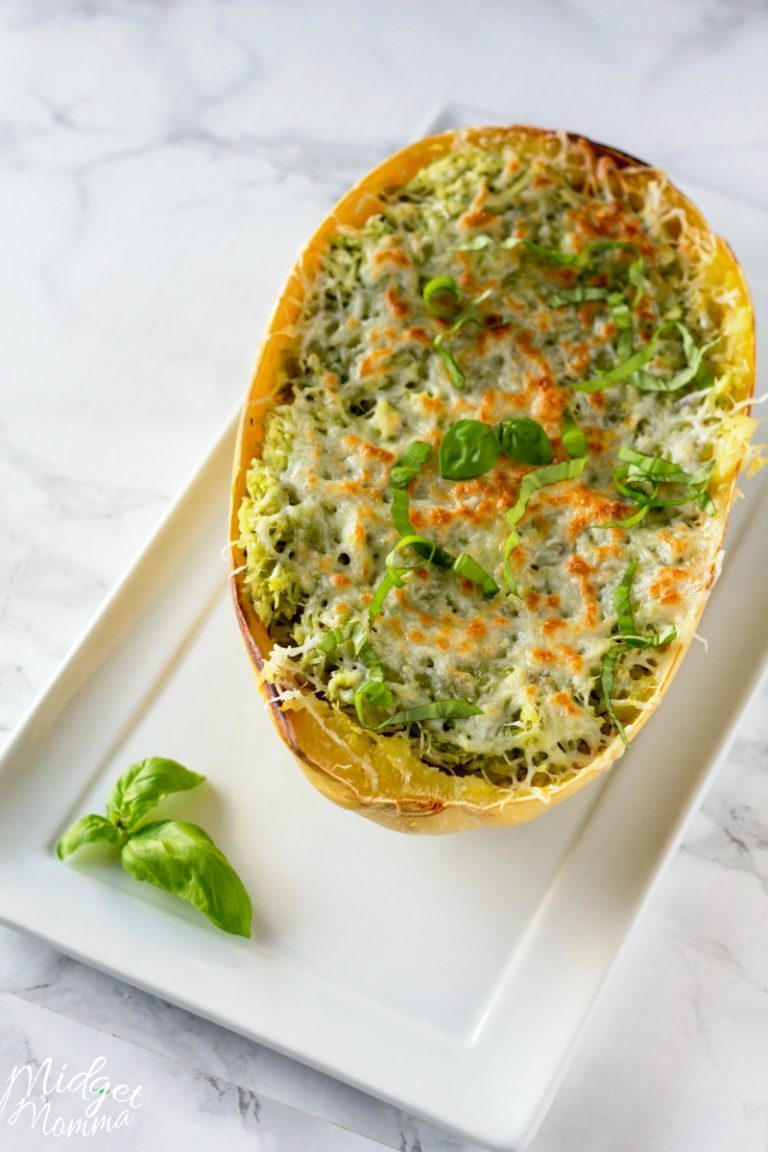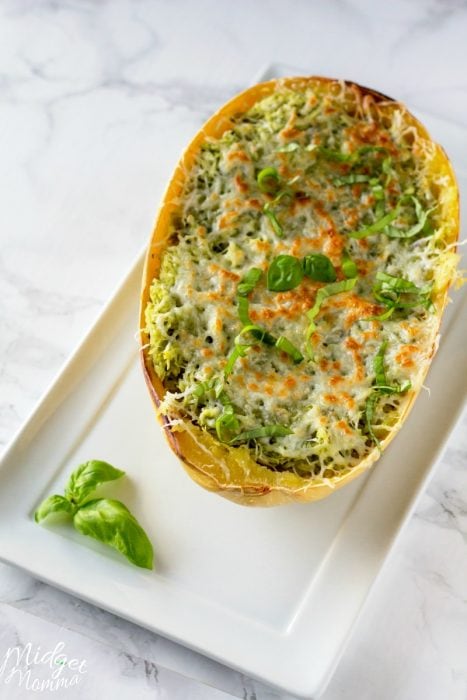 I have to admit that I am so in love with spaghetti squash! You are able to flavor spaghetti squash in so many ways it is the perfect veggie! There are so many healthy spaghetti squash recipes that I never have to be bored when enjoying it!
If you have never made spaghetti squash don't be nervous. It is easy to cook spaghetti squash! The hardest part is cutting it open! Just make sure you have a good sharp knife and cut carefully all the way around to cut it in half.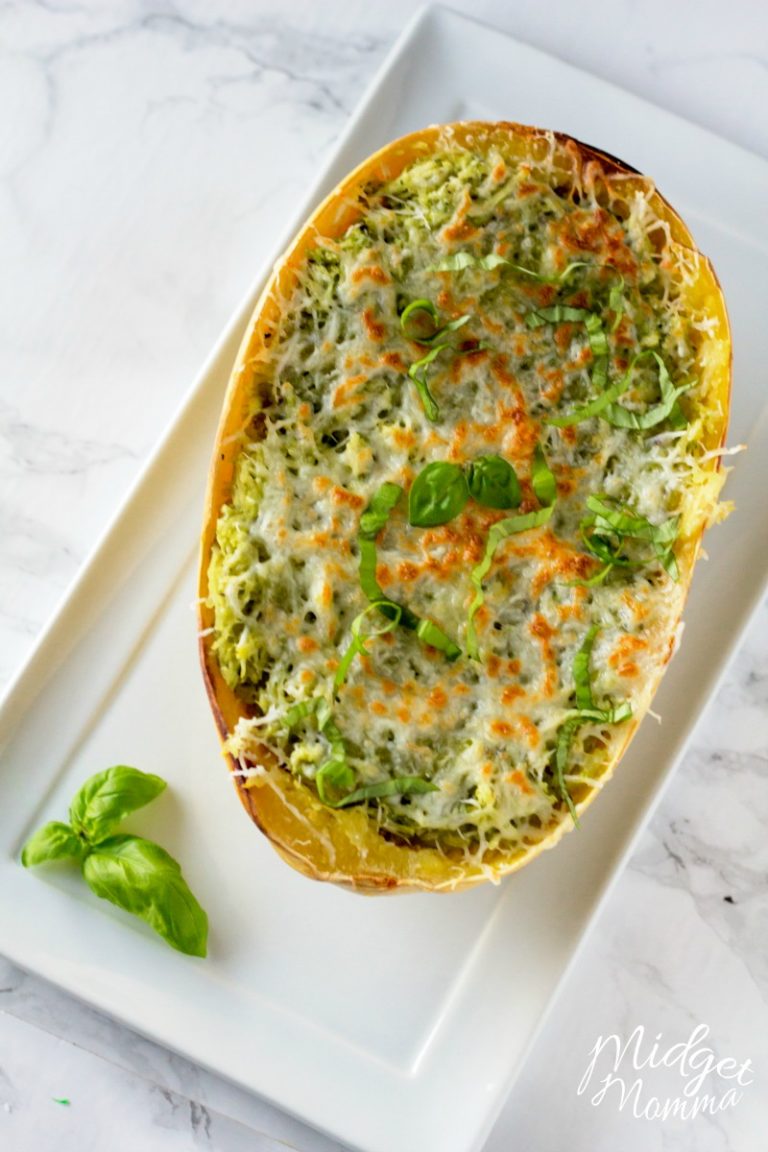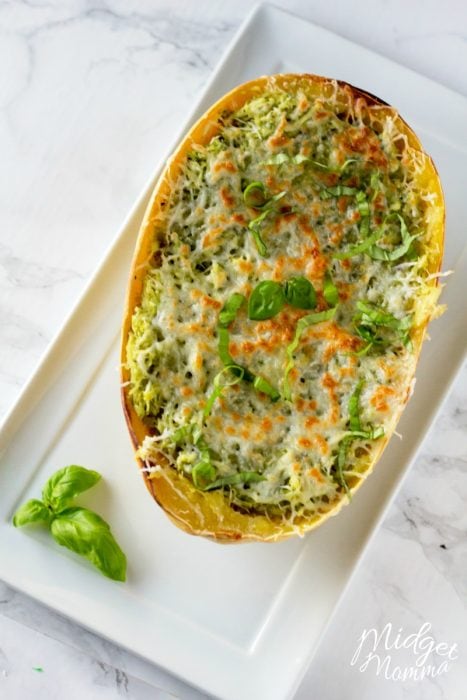 Chicken Pesto Spaghetti Squash Bowls
With all the fresh basil in the garden I wanted a way to show off my amazing pesto sauce that makes this Pesto Spaghetti Squash amazing!
If you are short on time or do not have homemade pesto already in the fridge, then the jarred pesto will work. However I personally prefer homemade pesto sauce, I think it tastes so much better!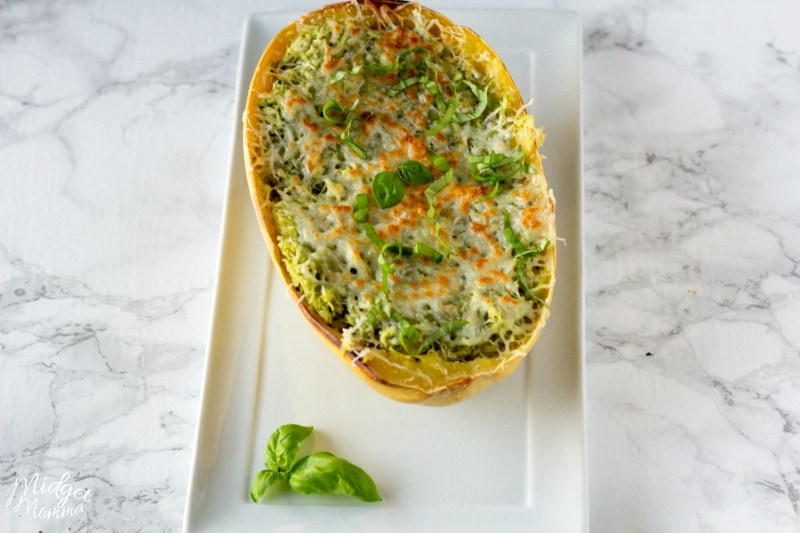 The one big reason I love baked spaghetti squash is because I love pasta. My waist line does not love pasta as much as I do so spaghetti squash is my way to get that amazing pasta flavor without the guilt. If you are looking for an amazing recipe for spaghetti squash this one is perfect!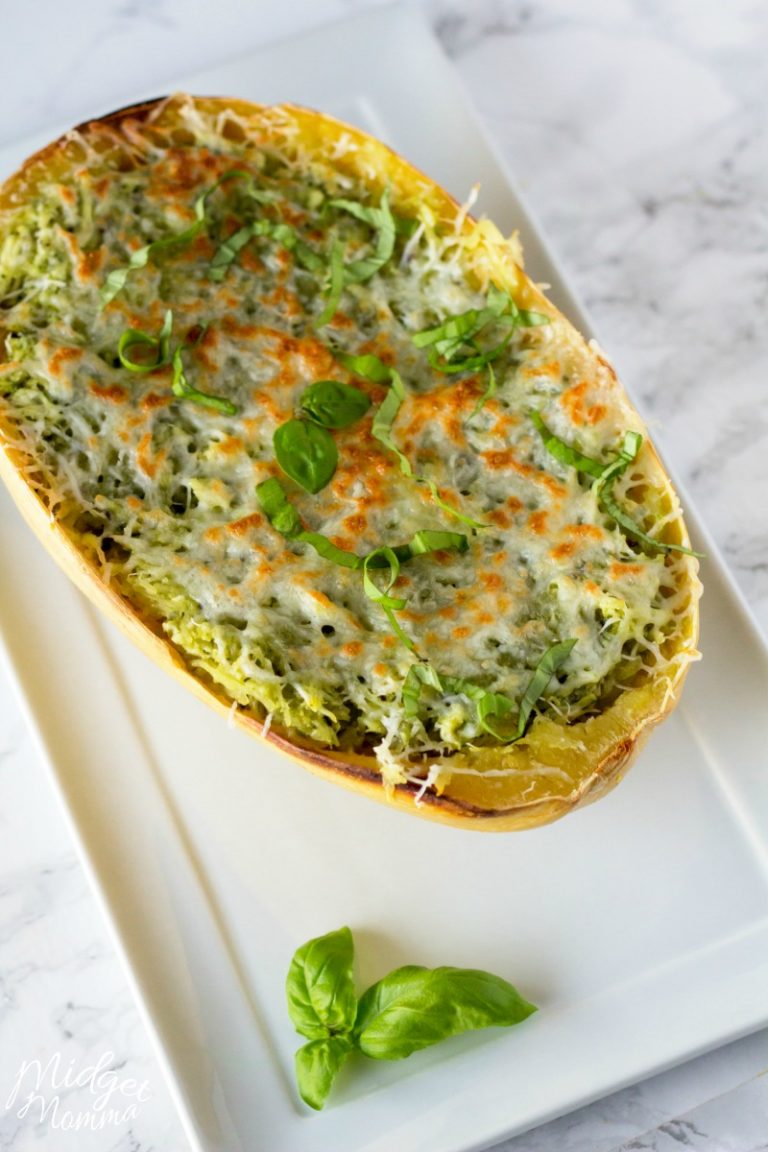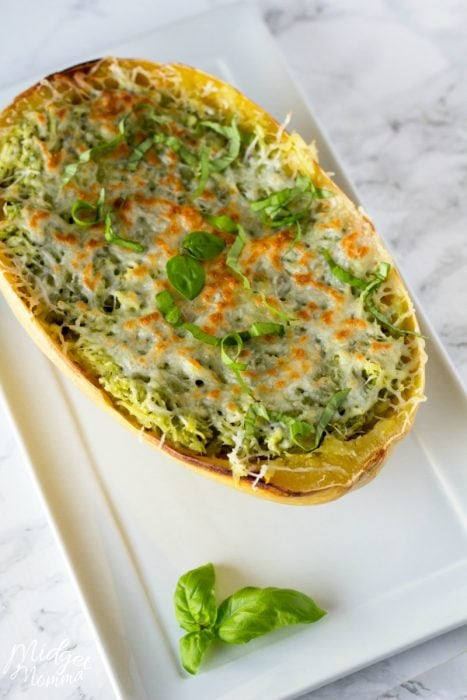 I really love the flavor combo in this chicken pesto spaghetti squash, where the chicken and pesto flavors combine to make for an amazing spaghetti squash dinner recipe. This stuffed spaghetti squash recipe is bursting with flavors! Oh it is so good! I am starting to get hungry just talking about it!

I think that is enough talking about how amazing this Pesto Chicken Spaghetti Squash is, now it is time to get ready to make it! Check out the video on How to Make Chicken Pesto Spaghetti Squash. You will see that it is really quite easy to make!
How to Make Oven Baked Spaghetti Squash with Pesto and Chicken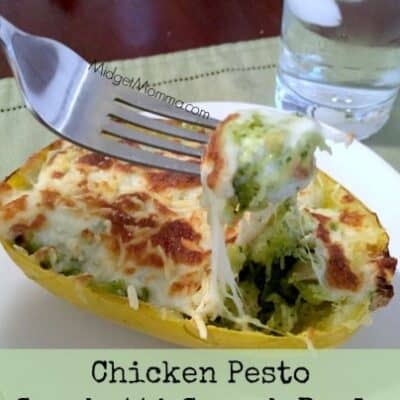 Chicken Pesto Spaghetti Squash Bowls
This Chicken Pesto Spaghetti Squash is a low carb spaghetti squash recipe that is full of flavor. Easy baked spaghetti squash recipe that makes a perfect dinner.
Print
Pin
Rate
Servings: 4
Instructions
Preheat oven to 375 degrees.

Cut squash in half and scoop out the seeds with a spoon.

Lay skin side down on a rimmed sheet pan, lined with aluminum foil.

Cut your chicken in half so you have for pieces of chicken. Place the chicken on the sheet pan, season with salt and pepper.

Bake for 45 mins or until cooked to a touch with a fork.

Scrape the flesh with a fork to create noodles. Dice the chicken into small pieces.

Combine the noodles, chicken and pesto together in a large bowl.

Place the mix back into the empty shells.

Top with the cheeses and place under the broiler until golden brown.
Nutrition
Calories: 522kcal | Carbohydrates: 5g | Protein: 35g | Fat: 41g | Saturated Fat: 6g | Cholesterol: 87mg | Sodium: 895mg | Potassium: 678mg | Fiber: 1g | Sugar: 8g | Vitamin A: 1670IU | Vitamin C: 6.4mg | Calcium: 270mg | Iron: 1.6mg
Share on Facebook
Pin Recipe
Tried this recipe?Mention @midgetmomma or tag #MidgetMommaRecipes
Serve with a side salad and your favorite dressing for a full tasty meal.
This chicken Spaghetti Squash Recipe is just 2 SmartPoints on Weight Watchers FreeStyle Plan.
Looking for more Spaghetti Squash Recipes? Check these out! 
More Tasty Chicken Recipes: