With just 6 ingredients and 5 minutes of prep, this Easy Homemade Pesto adds a blast of flavor to pasta, salads, sandwiches, and more. You'll never buy jarred pesto again! This pesto recipe will quickly become your go to when you see how easy it is to make pesto at home with fresh basil.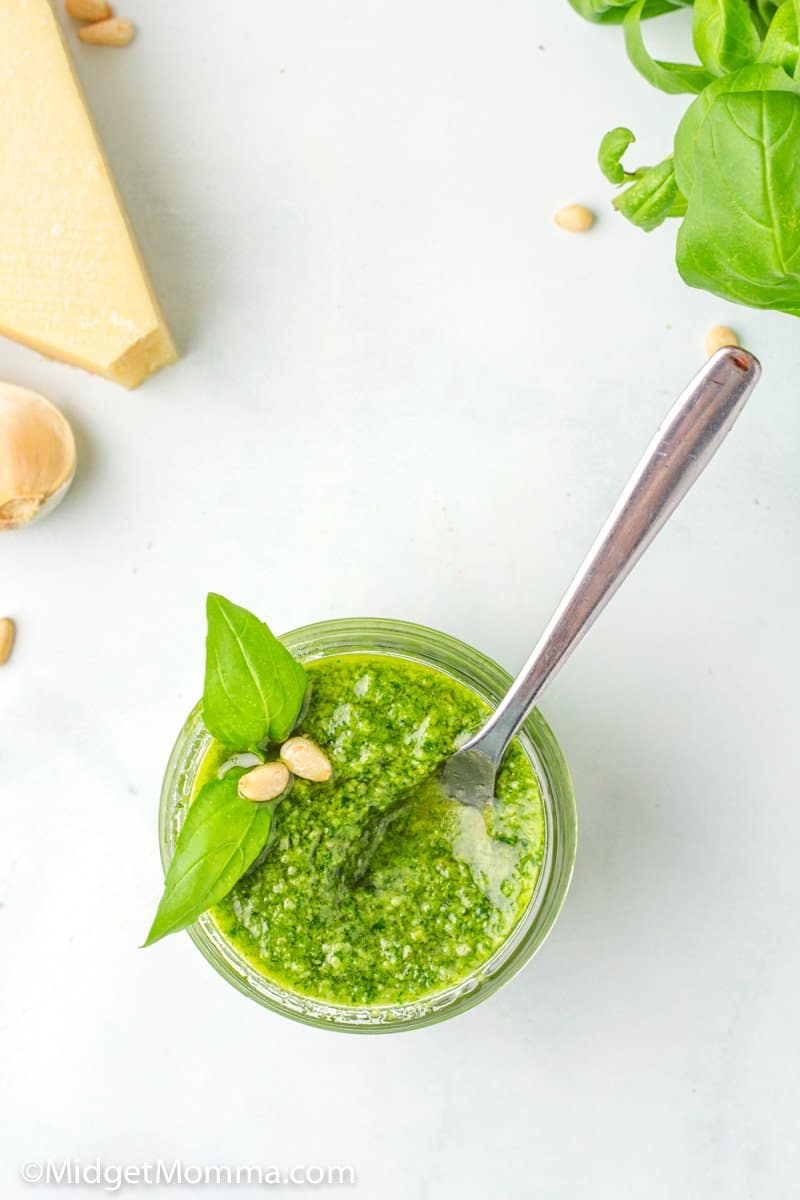 Pesto with Fresh Basil
It's no secret that easy recipes are one of my secrets to making things run smoothly in my house. With four kids in various activities, my own business, and everything else that comes with being a mom, I don't always have a lot of time to spend in the kitchen. Quick and easy dinners is where it's at in my house.
But, I'm not willing to sacrifice good food with fresh ingredients just because I'm running short on time! Figuring out how to make fresh, whole foods and recipes on a time crunch has been a goal of mine and thankfully, many things are surprisingly easy to make!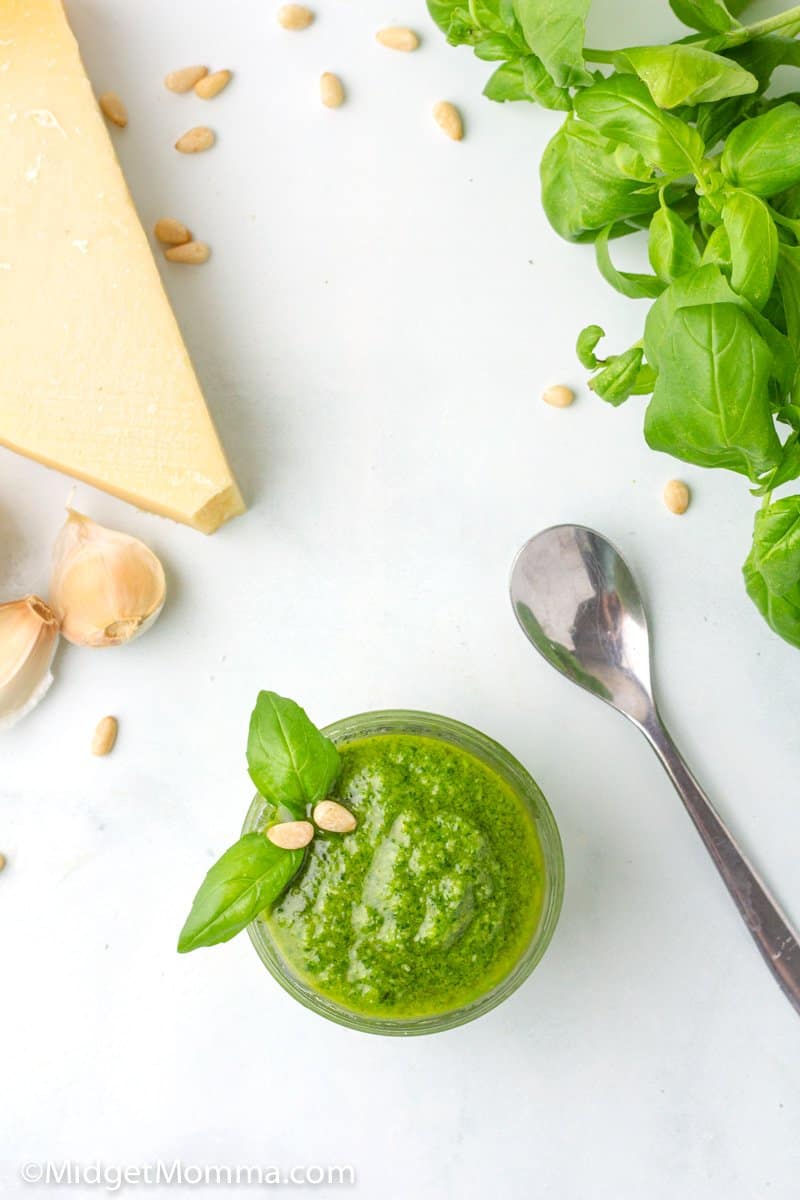 This Fresh Basil Pesto is one of them! Made with fresh basil, toasted pine nuts, olive oil, garlic and cheese, this basil comes together in literal minutes. Then you can add it to a variety of other dishes, for a pop of fresh flavor to your dinner!
Use this recipe to make pesto pasta, add it to your sandwiches as a spread, use as a marinade on chicken, or add a spoonful to your salads for a burst of flavor. With basil pesto, the possibilities are endless.
This is a great way to use up any leftover basil, especially if you have your own basil plant! Even if you don't need it for dinner tonight, you can store it in the fridge or freeze it for fresh pesto whenever you need it.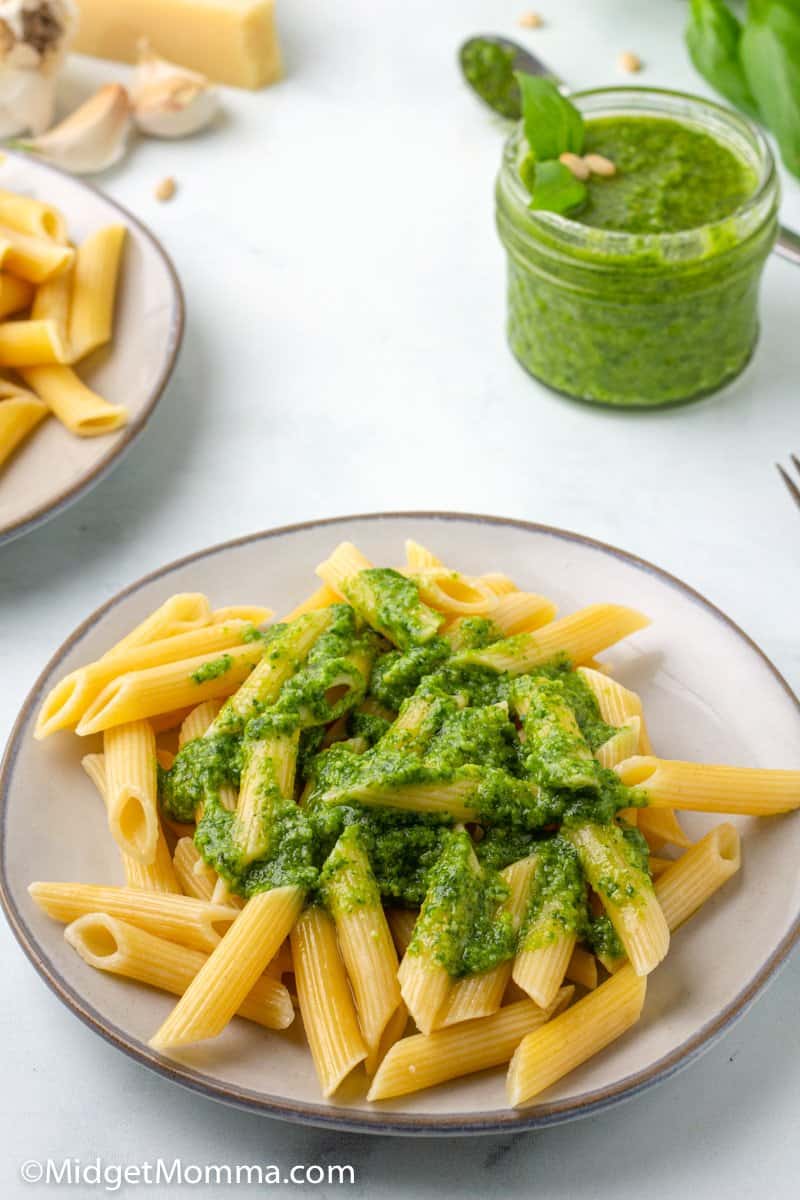 What to Make with Homemade Pesto
The great thing about homemade pesto is that there are SO many things you can use it on when you are cooking in the kitchen. Since pesto is filled with such a robust and fresh taste, you don't need a lot of it for any dish!
Adding homemade pesto to your dinner is a great way to add a huge burst of flavor without adding a ton of carbs or calories. It's a secret weapon for many following a low carb or keto diet!
Anytime you are making a recipe that calls for fresh made pesto, use this Fresh Basil Pesto recipe instead of the store bought pesto to take your recipe to the next level with ease!
Recipe Ideas
Pasta with pesto and sundried tomatoes
Add it to sandwiches as a spread
A dollop on salads for more flavor
As a marinade or topping to any chicken, steak or fish
On eggs in the morning
As pizza sauce
On top of steamed veggies
Whatever you're making, if a recipe calls for pesto, just use this fresh basil pesto instead of a jar. I promise you, the flavor will be noticeably better AND you'll know exactly what's in it.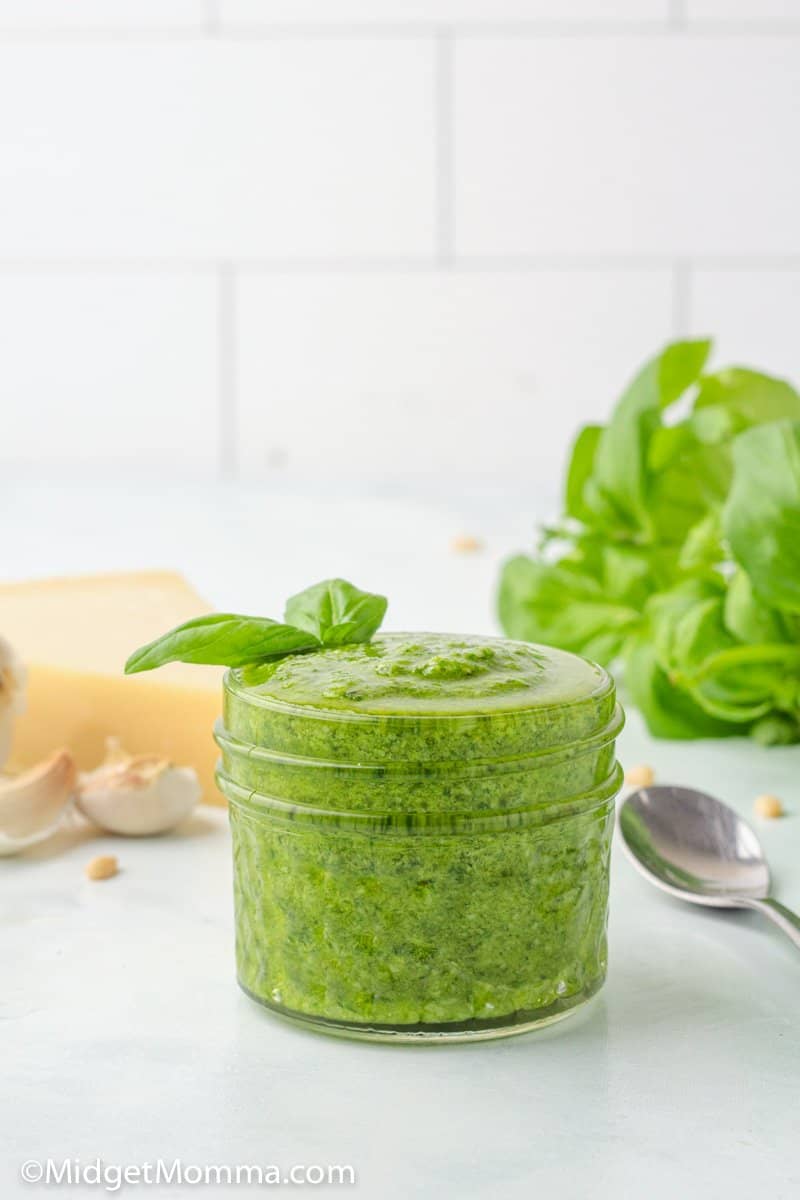 Can You Freeze Pesto?
Yes! Homemade pesto freezes incredibly well. Last year when I was harvesting all the basil from my garden, I had so much that I made 6 (!!) batches of this pesto recipe and froze almost all of it. That resulted in lots of tasty food over the winter months!
I like to freeze pesto in ice cube trays, which is an easy hack to always having the right amount of pesto ready to go. You don't need to worry about thawing a whole jar when all you need is a little bit!
Allow the pesto to freeze completely in the ice cube trays, then pop the out and transfer to a freezer bag.
Depending on how much you're using and what you're making, you can either take it directly from the freezer to the pan (like if you're making a pasta sauce) or allow it to thaw overnight in the fridge (if you want it as a spread). 
How long does pesto last?
Homemade pesto will last in the fridge for up to a week, which makes it perfect for adding in to several meals. Frozen pesto will last in the freezer for up to 3 months, and then a few additional days in the fridge once you thaw it.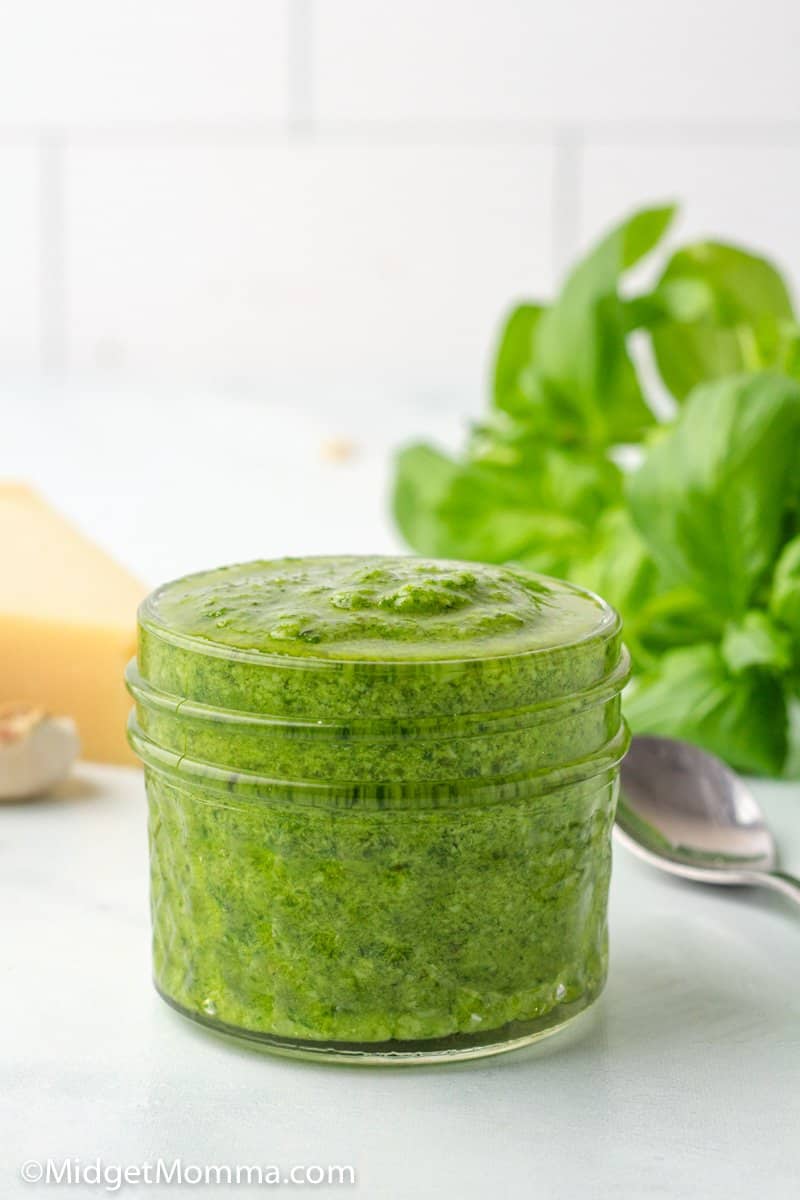 How to Toast Pine nuts
It's important to use toasted pine nuts to in your homemade pesto – NOT fresh pine nuts. I usually buy pre-toasted pine nuts to make life easier and this recipe come together quicker. However, if you have fresh pine nuts on hand, you can easily toast them yourself.
To toast fresh pine nuts, heat a skillet over medium heat. Add the pine nuts and toast them until they are golden. You'll just need to stir them a few times while cooking. Remove them from heat when they're done and you're all set!
Tips for Making this recipe
It is important to use a good quality food processor when you are making pesto with fresh basil. If you do not have one in your kitchen gadgets yet, I have this food processor and I LOVE it! I have had it for years and it has never failed me!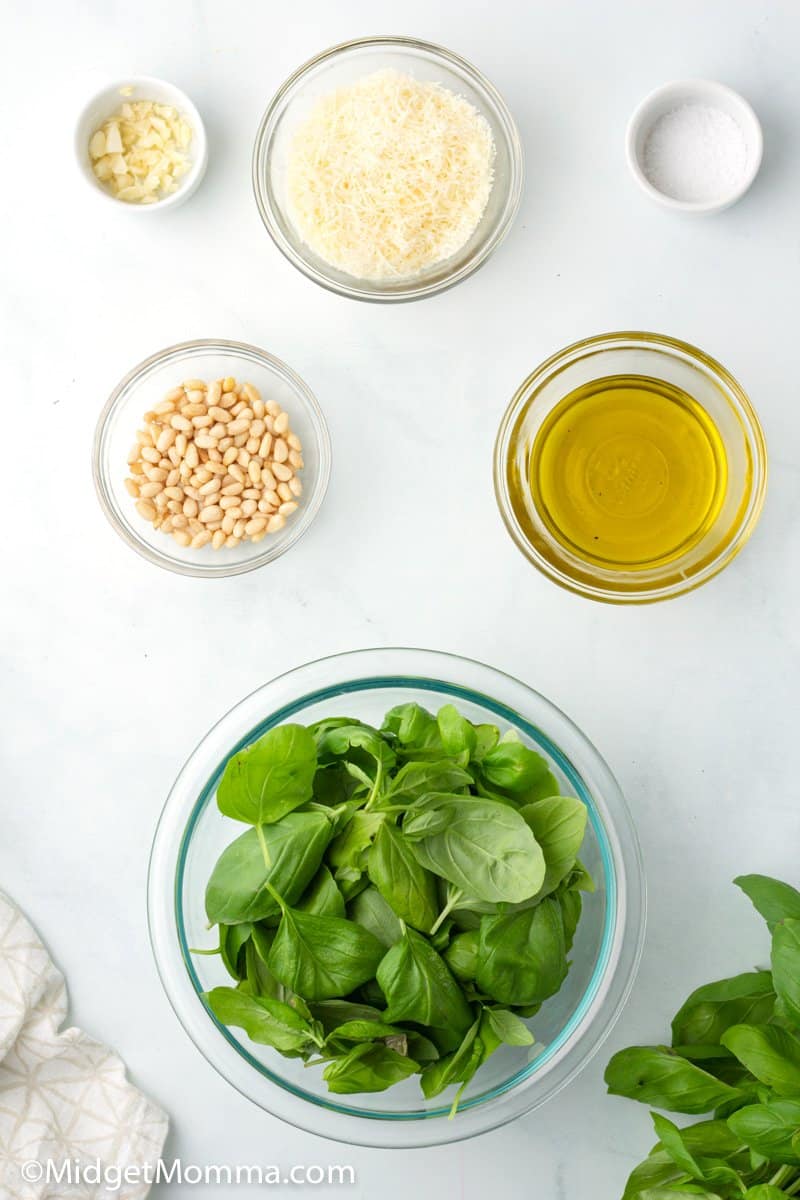 Pesto with Fresh Basil Ingredients
fresh basil leaves
Parmigiano cheese
toasted pinenuts
garlic
salt
olive oil
How to make Pesto with Fresh Basil
Wash and trim the fresh basil.
Add garlic, basil, Parmigiano cheese, pine nuts, and salt to the bowl of your food processor.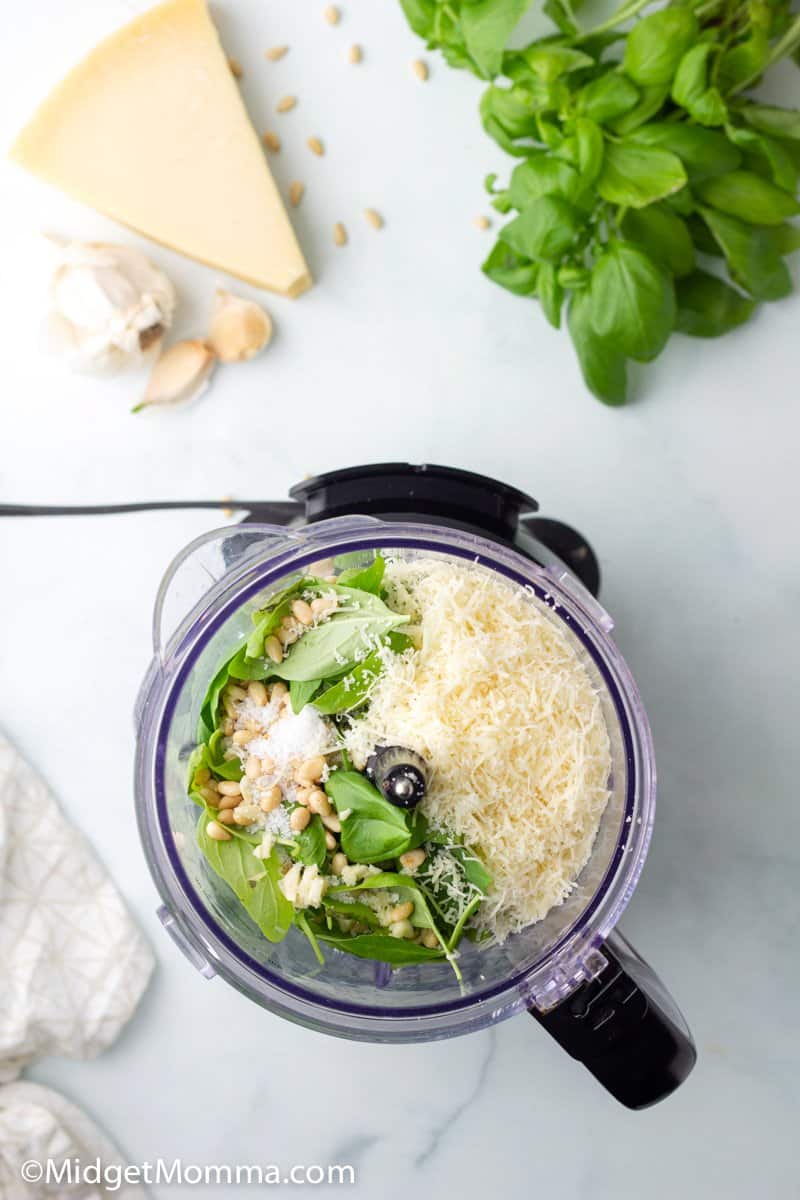 Place the food processor lid on top, leaving the pouring spout open.
Turn the food processor on to medium speed and while it is running, slowly add the olive oil into the food processor until everything is added in and well combined.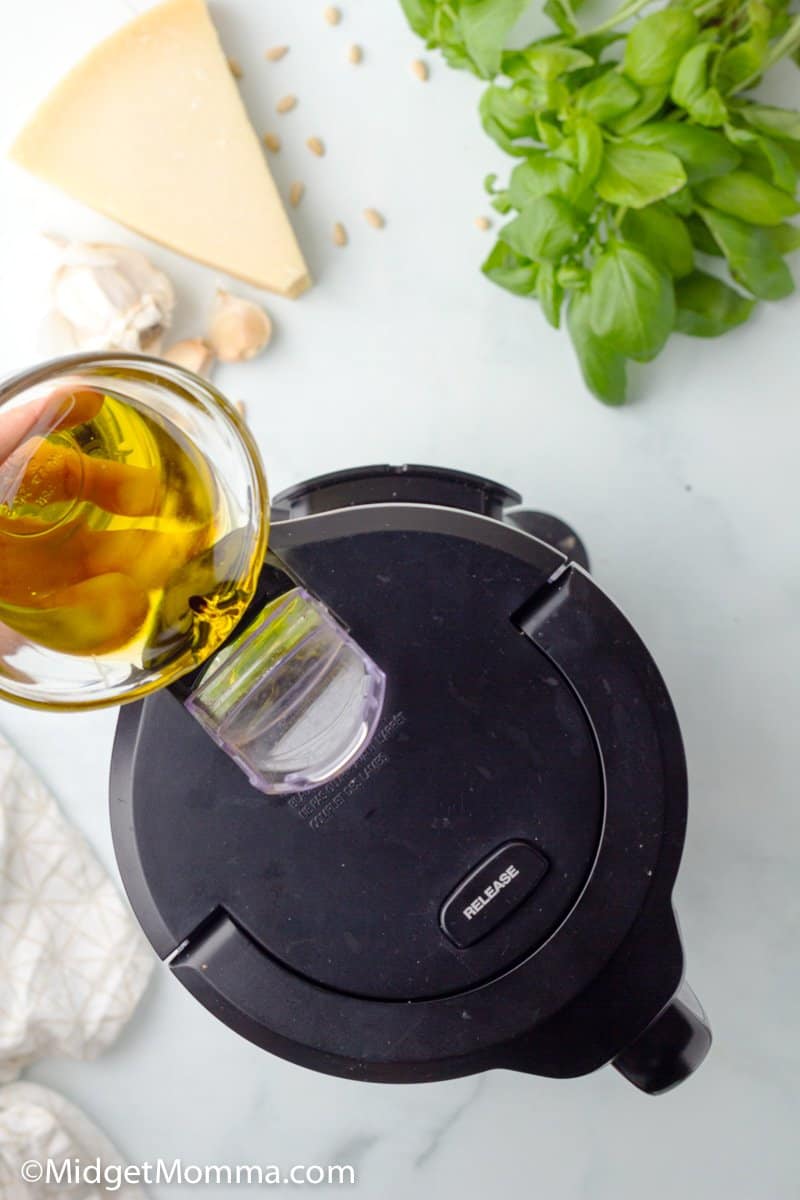 Scrape everything off the sides and then using the pulse button blend everything until it is smooth.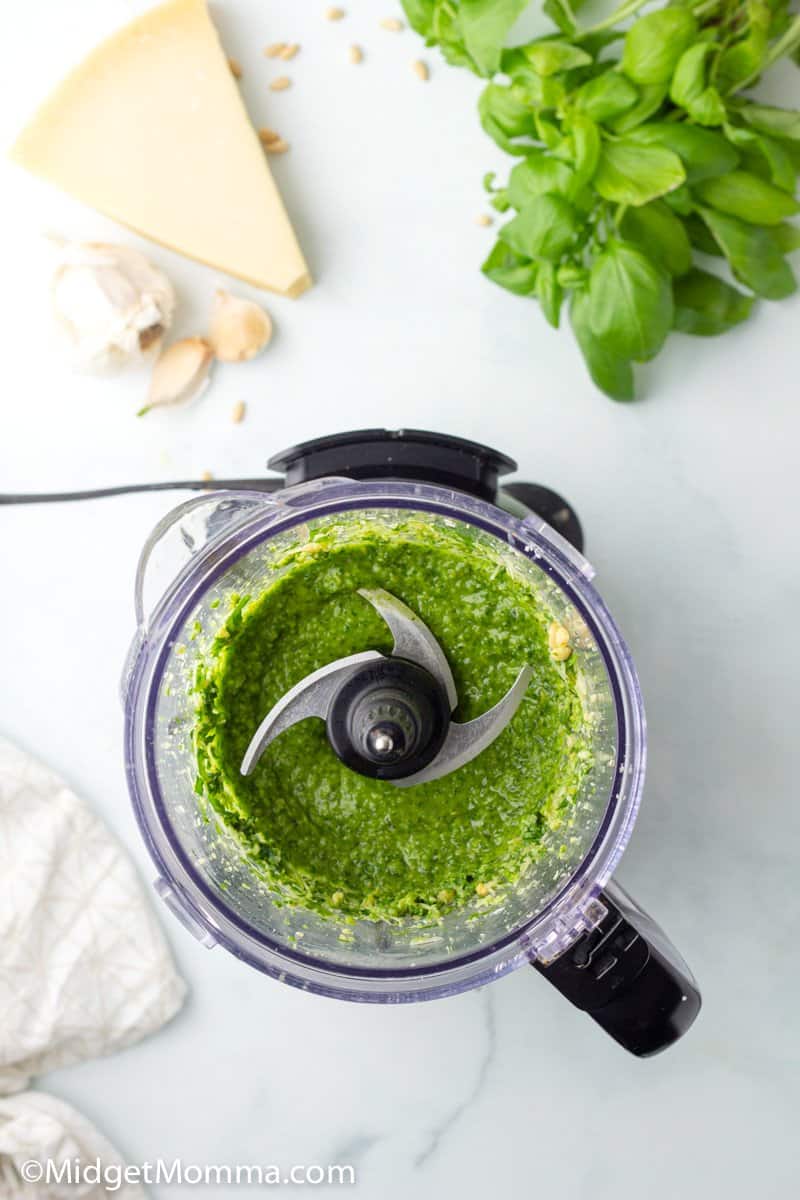 Looking for more easy recipes? Check these out!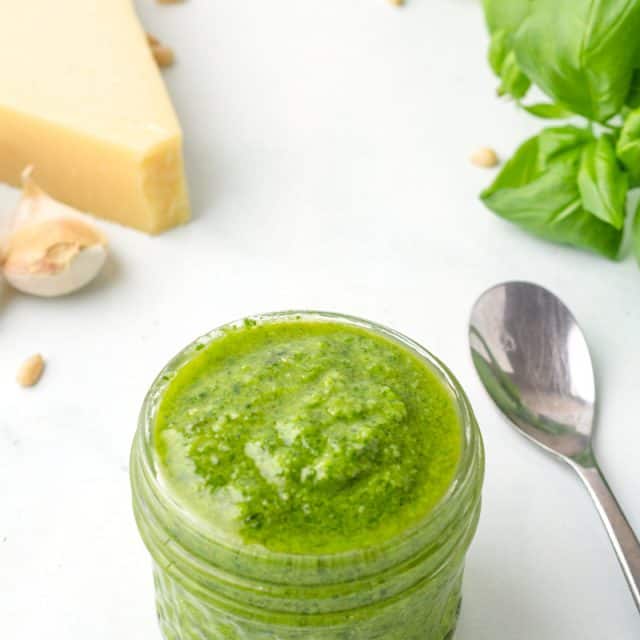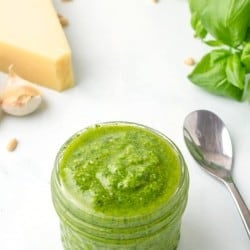 Pesto with fresh basil
Servings
With just 6 ingredients and 5 minutes of prep, this Easy Homemade Pesto adds a blast of flavor to pasta, salads, sandwiches, and more. You'll never buy jarred pesto again!
Instructions
Combine all of the ingredients except the oil in the bowl of a food processor.

With the motor running, add the oil in a slow, steady stream until evenly incorporated.

Stop and scrape down the sides of the bowl, then pulse to finish incorporating all of the ingredients until smooth.
Calories: 53kcal | Protein: 1g | Fat: 5g | Cholesterol: 1mg | Sodium: 127mg | Potassium: 25mg | Vitamin A: 275IU | Vitamin C: 0.9mg | Calcium: 38mg | Iron: 0.3mg
homemade pesto, how to make pesto, Pesto with fresh basil
Dinner, seasoning, spreads
2 Weight Watchers SmartPoints on the Freestyle Program