This Fresh Basil Pesto recipe is your standard pesto that goes great on anything from pasta salads to sandwiches to chicken. You will love just how easy it is to make pesto with fresh basil!
Pesto Made with Fresh Basil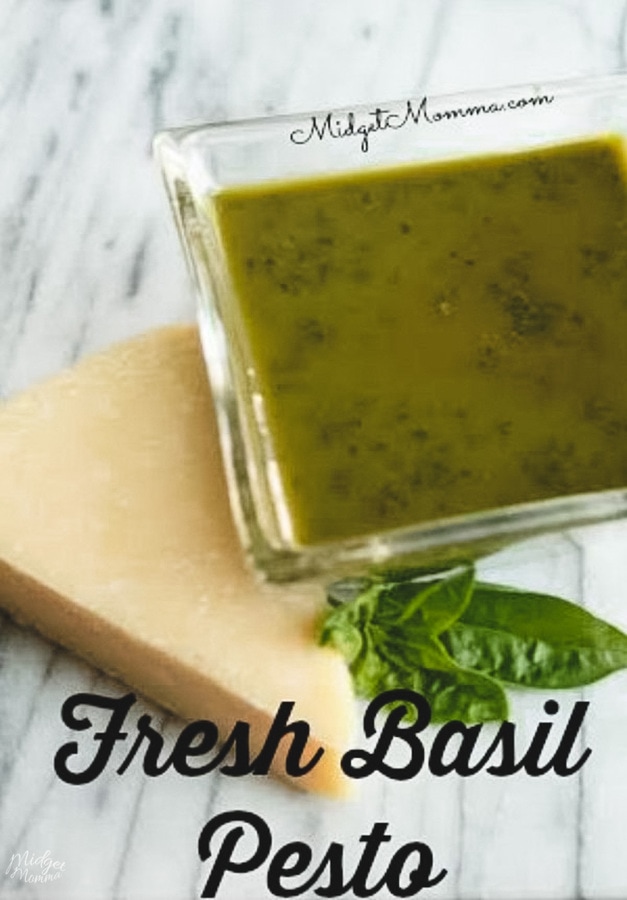 Easy Pesto Recipe
Easy recipes are the best way to make things run smoothly in my house. However I am not willing to sacrifice good food with fresh ingredients just because I am running short on time. Thankfully many things including homemade pesto are super easy to make!
If you find yourself with a ton of left over basil and you are wondering what to make with it, the best answer is Pesto made with Fresh Basil! It is so easy to make pesto with fresh basil and the flavor is amazing!
This pesto recipe is so easy to make and you can have it totally done in under 10 minutes! Store any left overs in the fridge to use it as needed.
What to Make with Pesto
There are so many things that you can use pesto on when you are cooking in the kitchen. Pesto is filled with amazing flavor, and you do not need a lot of it to flavor your dishes.
If you are sticking to a low carb, keto diet, or any other diet homemade pesto is a great way to give a huge burst of flavor without adding a ton of carbs or calories.
Some of our favorite dishes that use Pesto are:
Anytime you are making a recipe that calls for pesto, use this Fresh Basil Pesto recipe instead of the store bought pesto to take your recipe to the next level with ease!
Can you freeze Pesto?
The great thing is pesto freezes so well, you just need to take it out of the freezer the night before and place it in the refrigerate.
Now that it is getting cold I have to harvest all the basil from my garden. I had so much basil I was able to make six batches off this recipe.
You can freeze pesto in ice cube trays and measuring them out in amounts that you will use. Then once they are frozen pop them out of the ice cube trays and store them in a freezer bag.
How to Toast Pine nuts
To make my life easier I normally just use pretoasted pine nuts however if you do not have them on hand you can use fresh pine nuts, you will just need to toast them before using them.
If you are using fresh pine nuts it is really easy to toast them. Heat a skillet over medium heat, add the pine nuts and toast them until they are golden. Stir them a few times while they are cooking and remove from the heat when they are done.
Recipe Tip!
It is important to use a good quality food processor when you are making pesto with fresh basil. If you do not have one in your kitchen gadgets yet, I have this food processor and I LOVE it! I have had it for years and it has never failed me!
Pesto with Fresh Basil Ingredients
fresh basil leaves
Parmigiano cheese
toasted pinenuts
garlic
salt
olive oil
How to make Pesto with Fresh Basil
It is super easy to make! Wash and trim the fresh basil.
Add garlic, basil, Parmigiano cheese, pine nuts, and salt to the bowl of your food processor.
Place the food processor lid on top, leaving the pouring spout open. Turn the food processor on to medium speed and while it is running, slowly add the olive oil into the food processor until everything is added in and well combined.
Scrape everything off the sides and then using the pulse button pule everything until it is smooth.
Looking for more easy recipes? Check these out!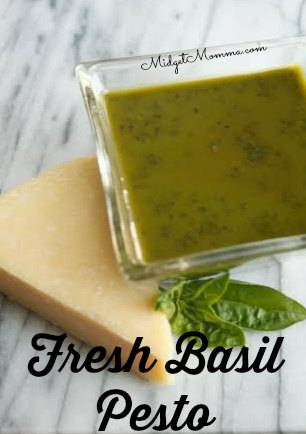 Pesto with fresh basil
It is so easy to make pesto with fresh basil and the flavor is amazing! It is the perfect add on to many dishes!
Print
Pin
Rate
Servings: 20
Instructions
Combine all of the ingredients except the oil in the bowl of a food processor.

With the motor running, add the oil in a slow, steady stream until evenly incorporated.

Stop and scrape down the sides of the bowl, then pulse to finish incorporating all of the ingredients until smooth.
Nutrition
Calories: 53kcal | Protein: 1g | Fat: 5g | Cholesterol: 1mg | Sodium: 127mg | Potassium: 25mg | Vitamin A: 275IU | Vitamin C: 0.9mg | Calcium: 38mg | Iron: 0.3mg
Share on Facebook
Pin Recipe
Tried this recipe?Mention @midgetmomma or tag #MidgetMommaRecipes
2 Weight Watchers SmartPoints on the Freestyle Program
More recipes you will love!