Homemade lemonade is super easy to make! With only 3 ingredients you can make homemade lemonade that the whole family will love! This homemade lemonade is made with fresh lemons and is the perfect lemonade recipe!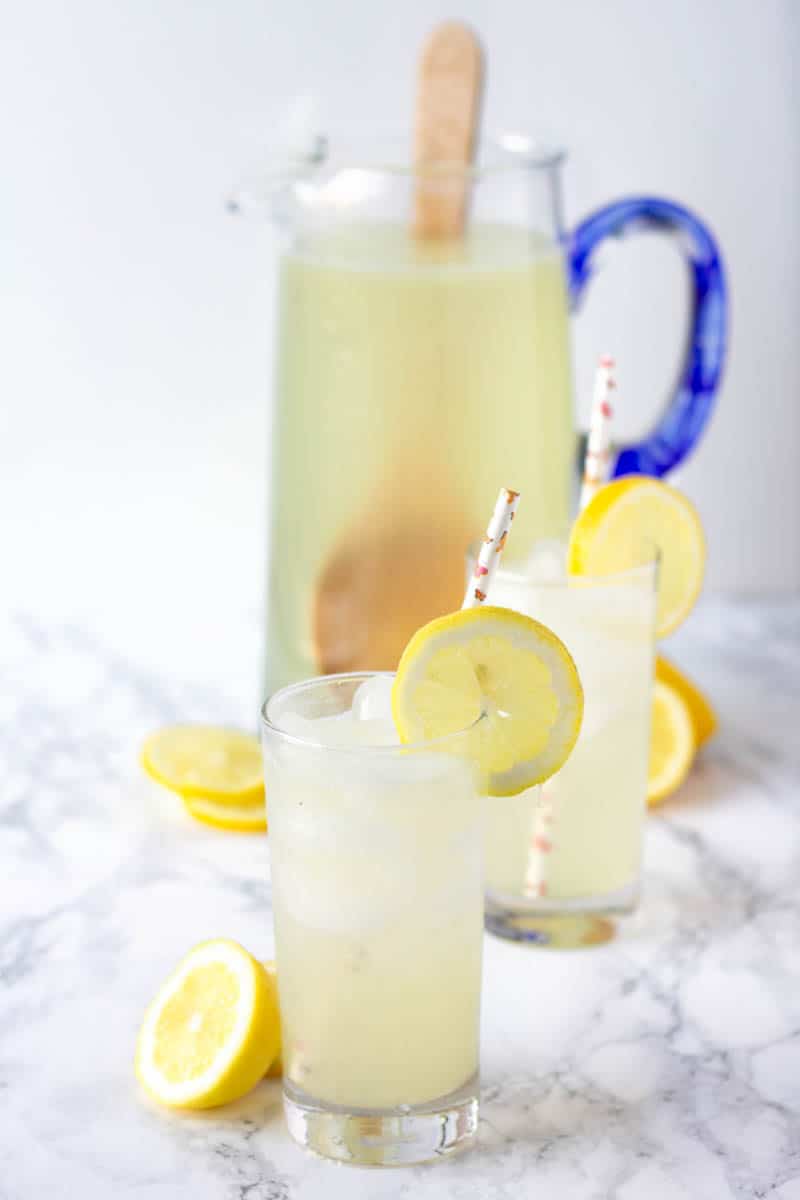 Homemade Lemonade Recipe
If you are looking for the best homemade lemonade recipe then you are in luck! This fresh lemonade recipe is a family favorite. My kids are always asking to make lemonade once the warm weather hits. I have to agree with them because warm weather puts me in the mood for a cold glass of lemonade.
I like this Homemade Lemonade recipe because it brings out the sour in the lemons while not being to sour to enjoy. This is seriously the best lemonade recipe ever and you will be making it all the time once you make it the first time!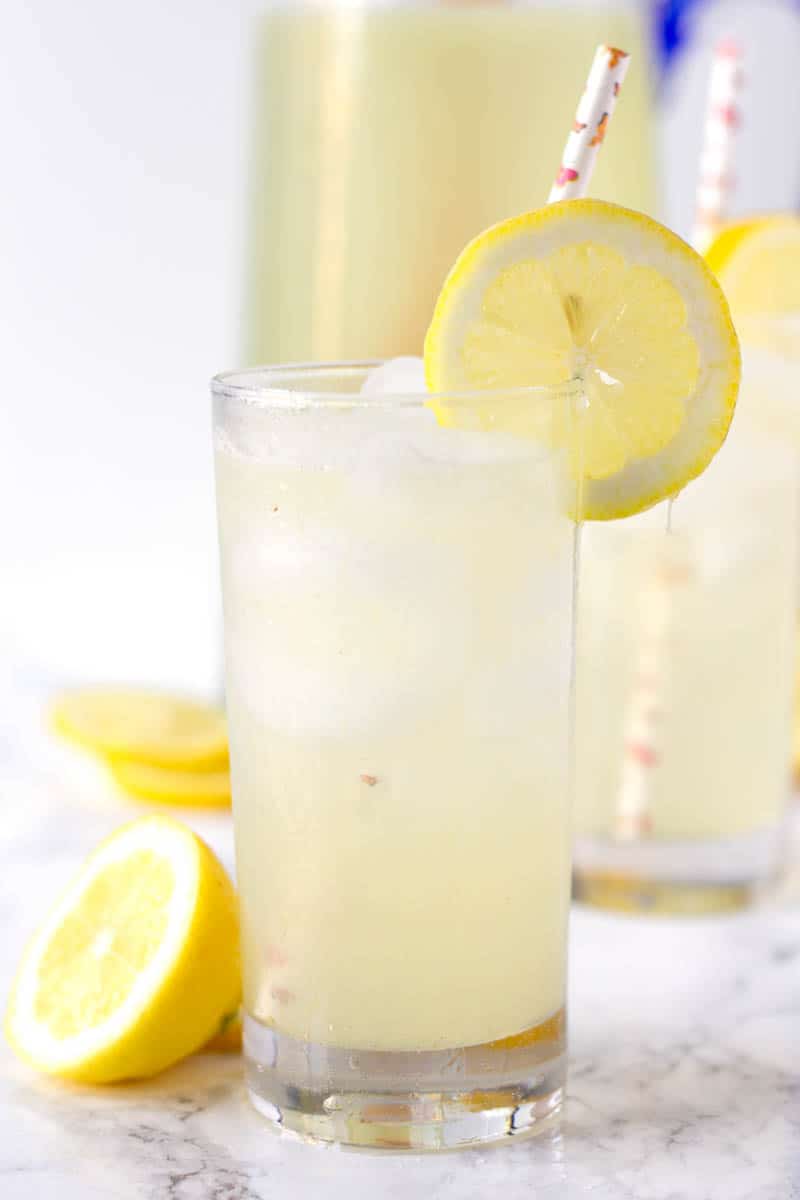 One of our favorite summer time dessert treats is brownies and lemonade. We make homemade brownies, a batch of fresh lemonade and sit on the deck enjoying the weather and talking to each other.
This fresh Squeezed Lemonade is so easy to make and it is so refreshing when you drink it on a hot summer day. My kids ask me to make this so often, that I normally make a double or triple batch of this lemonade. Not that it actually lasts much longer because the more I make the more they drink.! LOL, but will I figure its worth the try for getting ahead with their lemonade consumption.
It is also great to use in this fresh fruit layered slushie recipe and Unicorn Lemonade. This watermelon lemonade is also another one of my favorite summer drinks.
If you love lemonade in general then you also need to try these Lemonade Frosting Cupcakes, they are AMAZING!
Check out these other great Lemonade Recipes!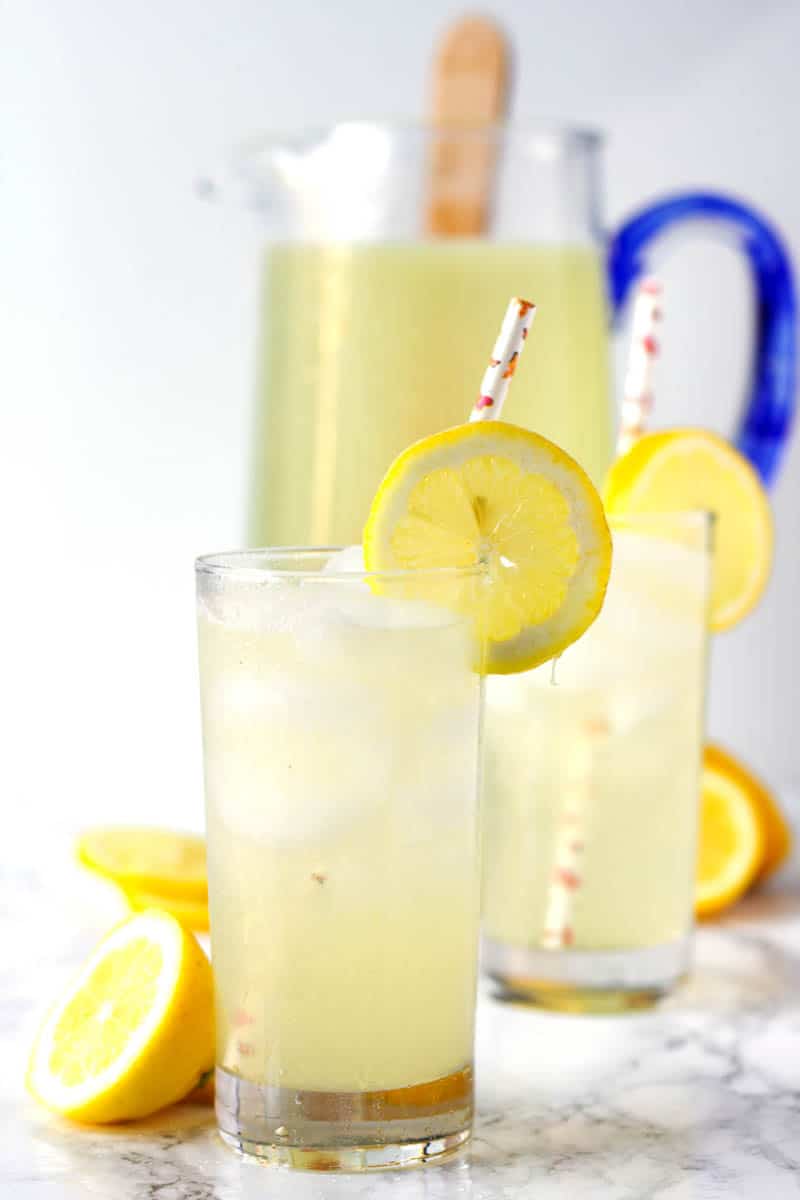 I'm not a fan of the powdered lemonade mixes, it is just to sweet for me and let's be honest, nothing is better then fresh lemonade on a hot day.
To sweeten this easy lemonade recipe I use a simple syrup so the sugar will completely dissolve. A simple syrup is when you boil equal parts of sugar to water.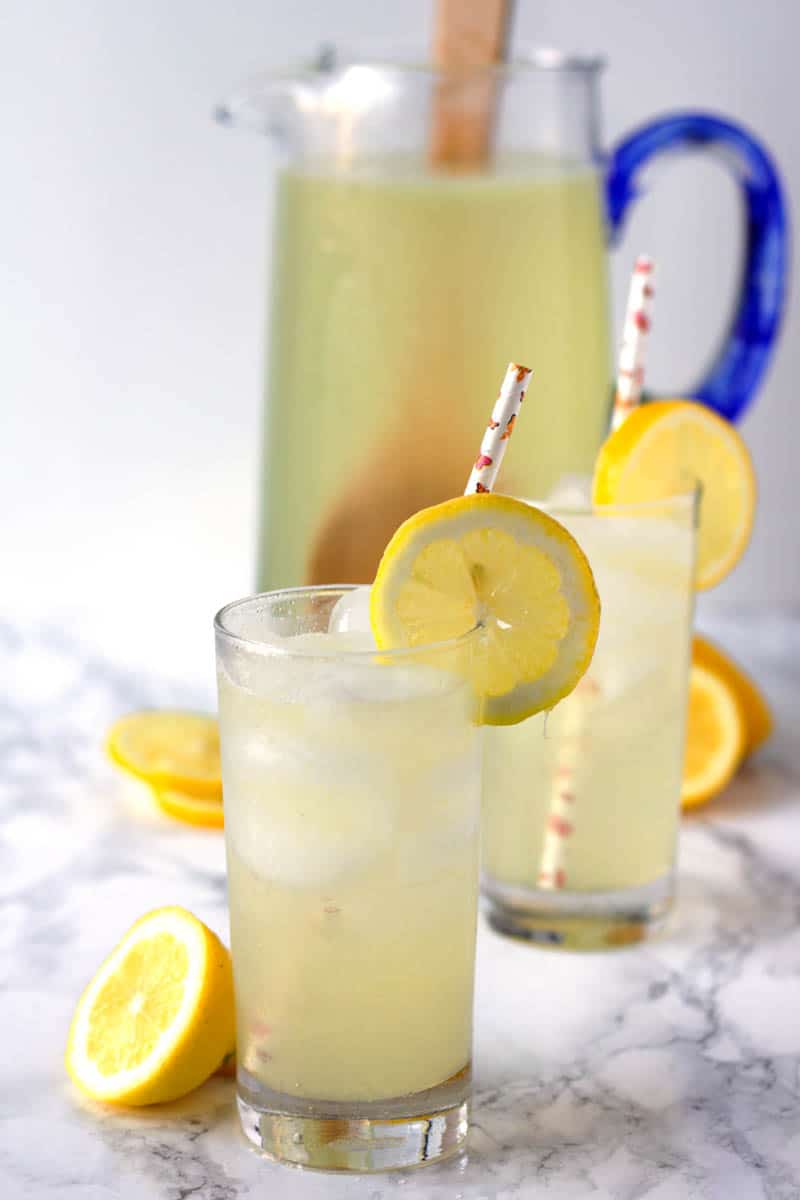 How to Squeeze Lemons Easily
I have said in the past that I am in LOVE with my KitchenAid Mixer and use it all the time, what you might not know is that there is an amazing KitchenAid Juicer attachment that is perfect for making lemonade! Using this attachment is an easy way to squeeze lemons, it makes it so much easier to squeeze all of those lemons then doing it by hand!
If you didn't want to make your own lemon juice you can always make this just substituting the refrigerated section's lemonade since that is the closest thing to a freshman at the store.
You can easily turn this into a vodka lemonade by adding a splash of vodka, to make it an adult treat.
How do you make lemonade less bitter?
If you fin your lemonade bitter you can sweeten it with additional sugar or honey. It is important when squeezing the lemons that you do not get any of the white part of the lemon in it, that part is very bitter and will make the lemonade bitter.
How to Store Homemade Lemonade
After making the homemade lemonade store it in the fridge in a pitcher without ice. Homemade lemonade will keep in the fridge for 5-7 days.
Can you freeze lemonade?
You can freeze homemade lemonade. In fact I like to use homemade lemonade to make ice cubes so when I add them to my homemade lemonade i don't dilute the flavor.
To make lemonade ice cubes pour the lemonade into an ice cube tray. Put the tray in the freezer and freeze for 3-4 hours until they are frozen.
If you want to freeze a lemonade concentrate to thaw and make lemonade later make the simple syrup and pour the simple syrup and the lemon juice together and mix well. Then pour the lemonade concentrate into an airtight conainer or a freezer safe zip close bag and store in the freezer. Lemonade concentrate will keep for up to 6 months in the freezer.
When it is time to make lemonade thaw the lemonade concentrate and mix with 3.5 cups of water and the fruit of choice if desired.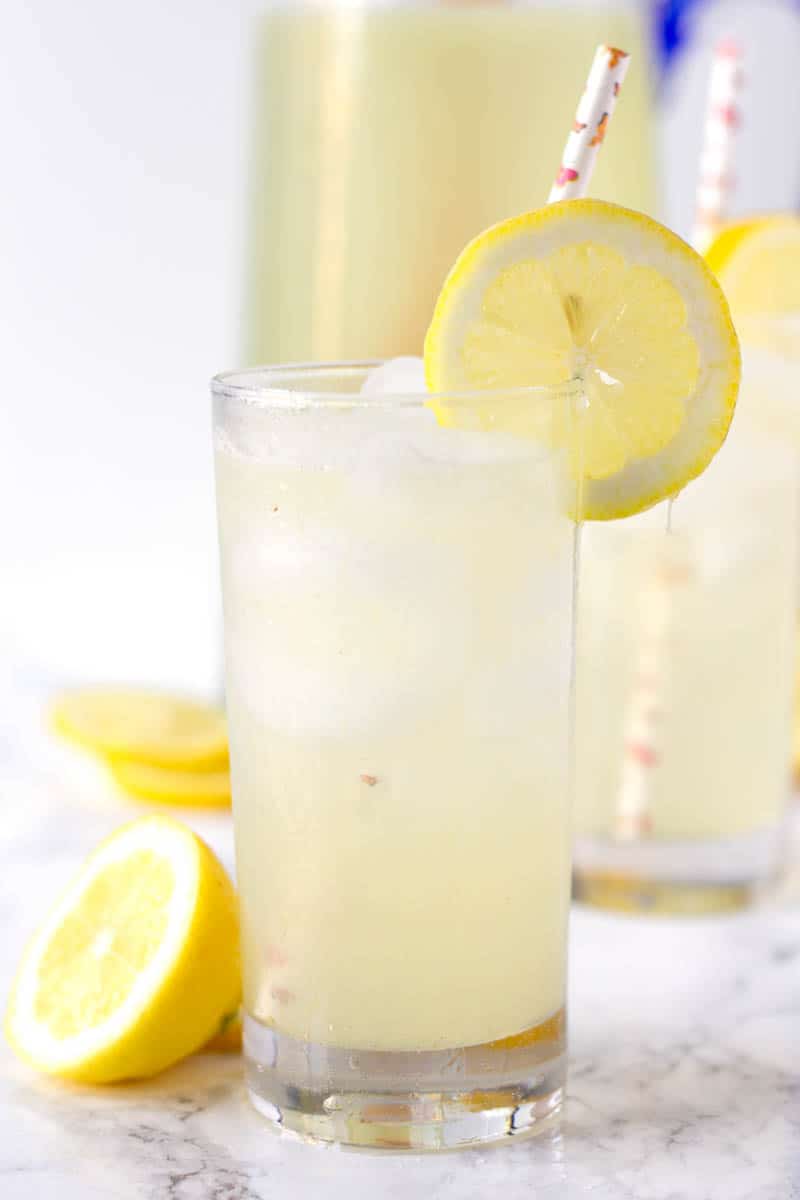 Homemade Lemonade Ingredients
granulated white sugar
water
fresh squeezed lemon juice (20-24 lemons)
How to Make Homemade Lemonade
When making this lemonade I find it easies to use a a lemon squeezer instead of my hands, however you can squeeze the lemons whichever way makes your heart happy.
Heat a medium pot on the stove on medium hear and add the sugar and the water.
Bring the sugar and 1.5 cups water to a boil
Set aside and let it cool.
Squeeze your lemons into a bowl.
In a large pitcher combine the rest of the water, the sugar/water mixture and the lemon juice and mix well.
Serve over ice.
Looking for more summer time drinks? Check these out!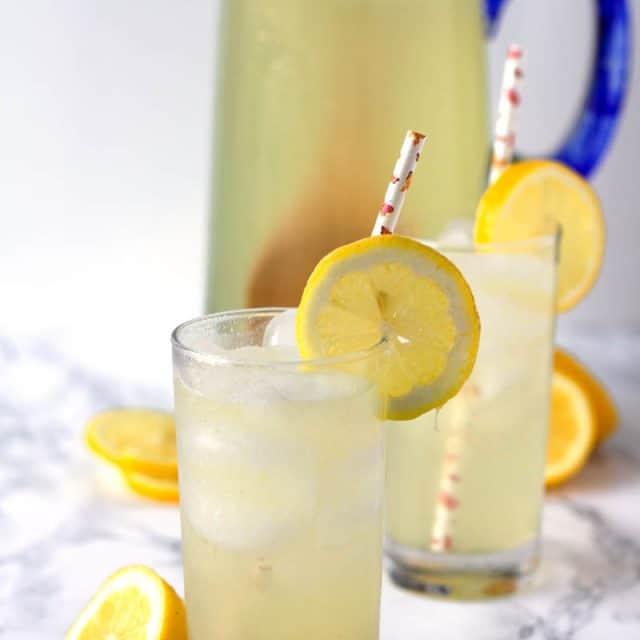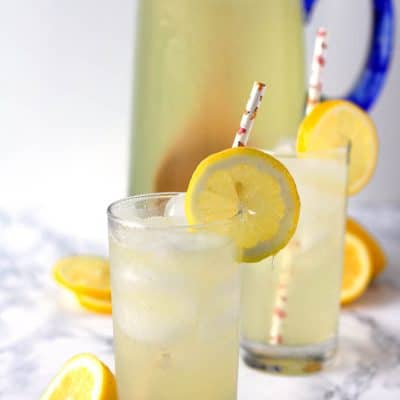 Homemade Lemonade Recipe
If you are looking for an amazing recipe for lemonade then this is the one you want to make! Perfectly sweet and sour, this homemade lemonade is perfect for warm summer weather.
Print
Pin
Rate
Servings: 6 servings
Ingredients
1 1/2 cup of sugar
9 cups of water
1 1/2 cup of lemon
Instructions
Heat your stove on medium heat and get a medium sized pot. In the pot add the sugar and the water.

Bring sugar and 1 1/2 cups water to a boil.

Set aside and let it cool.

Squeeze your lemons.

Get a large pitcher and combine the rest of the water, simple syrup and lemon juice.

Grab a glass and serve over ice.
Nutrition
Calories: 207kcal | Carbohydrates: 54g | Protein: 1g | Fat: 1g | Saturated Fat: 1g | Sodium: 19mg | Potassium: 64mg | Fiber: 1g | Sugar: 51g | Vitamin A: 4IU | Vitamin C: 24mg | Calcium: 15mg | Iron: 1mg
Share on Facebook
Pin Recipe
Tried this recipe?Mention @midgetmomma or tag #MidgetMommaRecipes
12 Weight Watchers SmartPoints on the Freestyle Program