Here in Louisiana things are already starting to feel like summer. To my kids, there is nothing better than sitting outside with a big glass of pink lemonade and getting to play with their chalk. I enjoy it too because I sit on the bench with my glass of pink lemonade and just enjoy watching them enjoying their youth. I decided to be fun to get my daughter in the kitchen with me and her and her favorite drink into a fun yummy cupcake.
I brought these cupcakes to one of my friend's house for our outdoor summer day. They were such a hit my friend's husband was having her send a message seeing if I happen to have any more left hiding at my house.
The key to this frosting is making sure you let it sit overnight so the powder will start to absorb into the frosting. If not it has almost a grainy texture to it. I was able to get these cute butterfly paper straws at the dollar tree. They had other patterns like stripes and Chevron. Now if you don't have a dollar tree near you or you just don't feel like going to the dollar tree you can pick up paper straws here.
If you have always wanted to make an icing swirl so you have pretty cupcakes, check out this step by step guide on how to make an icing swirl. It really changes the look of your cupcakes! If you are using different flavored frostings and want them both on top of your cupcake swirled together, check out how to swirl two icing flavors. If you want to layer your frosting flavors, check out the layered frosting swirl!
Pink Lemonade Cupcakes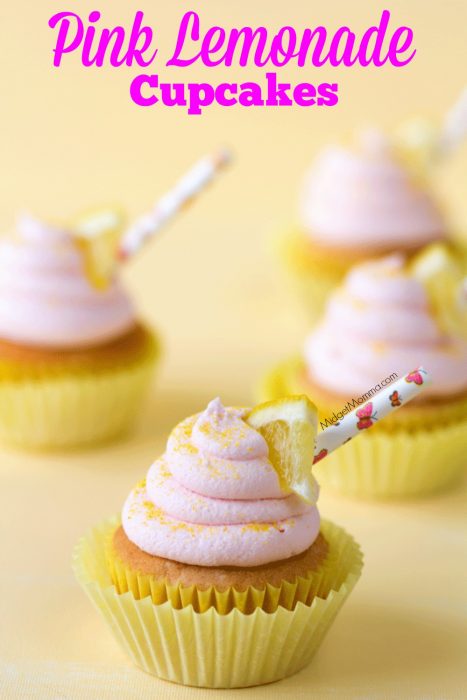 Supplies
Pink Lemonade Cupcake Ingredients
pink lemonade buttercream (Directions Below)
8 paper straws
1 lemon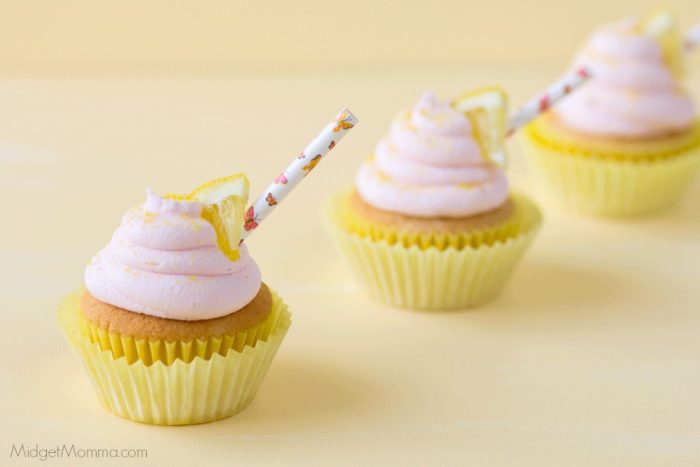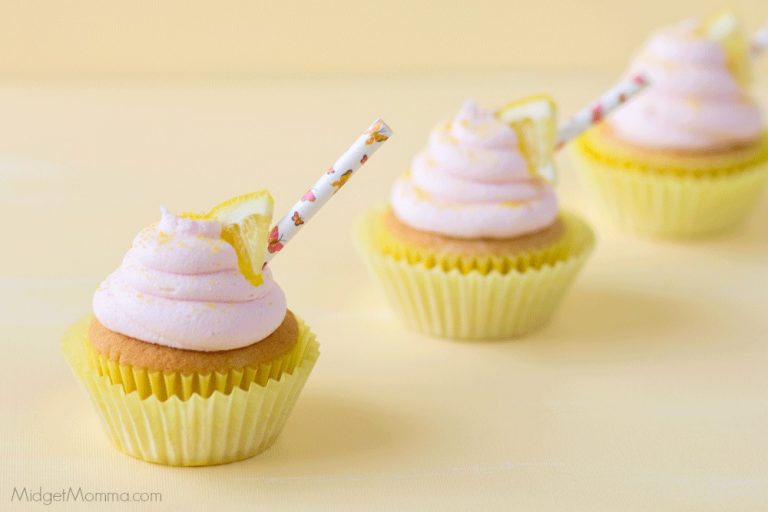 Pink Lemonade Frosting Ingredients 
1 cup butter, room temperature
1 cup of shortening 
2 pounds confectioners sugar
1 1/2 tablespoons hot water
3/4 cup pink lemonade powder
2 teaspoons vanilla extract
Pink Lemonade Frosting Directions
Place your butter and shortening together in the bowl of your mixer. Mix them together on medium speed until they are nice and creamy.
Turn the mixer down to the lowest setting and slowly incorporate the powdered sugar into the shortening mixture. Once you have added all the sugar to the mix pour in the hot water, pink lemonade powder, and the vanilla.
Turn the mixer up to medium-high speed and continue mixing for 10 minutes until light and fluffy.
The buttercream can be stored at room temperature for up to three days or in the refrigerator for up to two weeks. When you bring it out of the refrigerator let it sit at room temperature for two hours. Then re-whip it for ten minutes to bring it back to life.
How to decorate your Pink Lemonade Cupcakes
Place your piping tip into your pastry bag and then fill the bag with your pink lemonade buttercream.
Swirl the buttercream onto each cupcake.
Cup your lemon into slices then cut the slices into eight wedges.
Cut your straws into thirds.
Top each cupcake with one straw and lemon slice.
Sprinkle the sugar on the top of each cupcake.
Love cupcakes? Check these out! 
Looking for more frosting recipes? Check these out and don't miss this awesome list of cupcake frosting recipes including:
Join the newsletter
Subscribe to get our latest recipes right in your inbox every time we post a new one!
This post may contain affiliate links. Please read my disclosure policy here