Strawberry Lemonade Cupcakes with Pink Lemonade Buttercream Frosting are the perfect summertime cupcake. A fluffy homemade cupcake that screams summertime!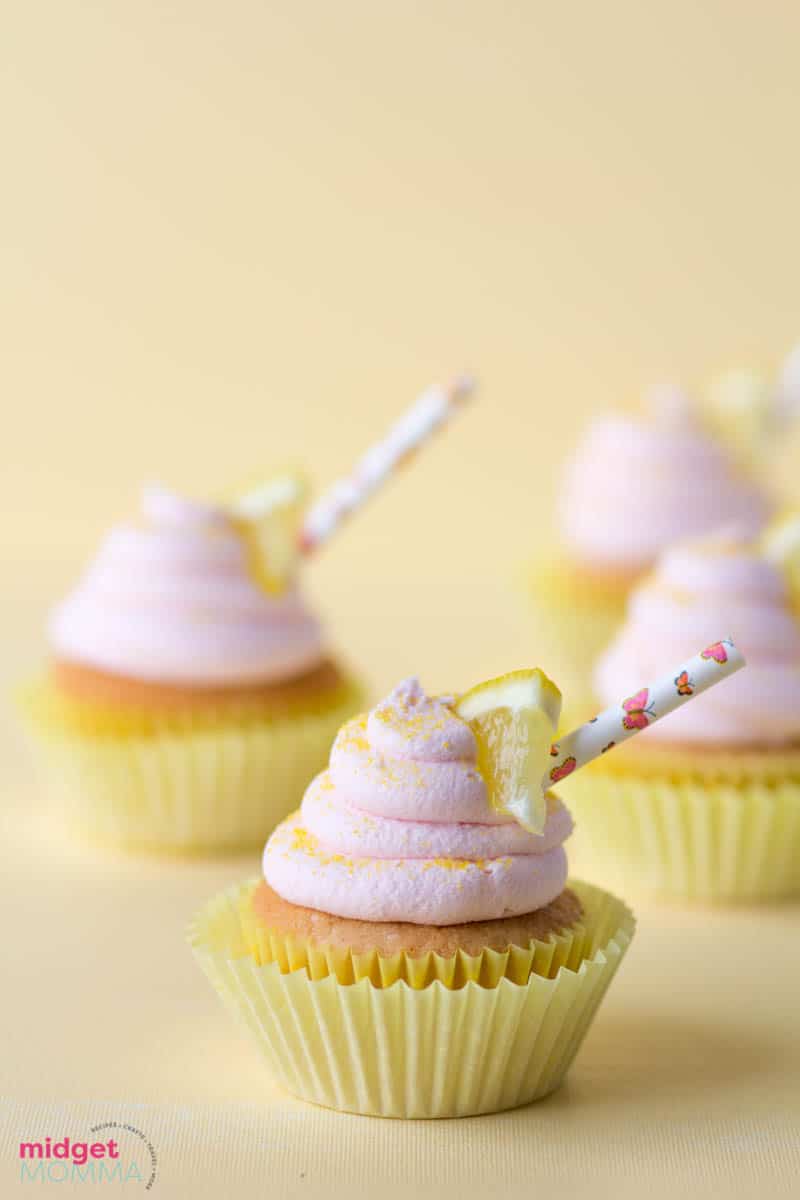 Strawberry Lemonade Cupcakes
Here in Louisiana things are already starting to feel like summer. To my kids, there is nothing better than sitting outside with a big glass of pink lemonade and getting to play with their puffy chalk paint.
For me, I love to sit on the bench with my glass of pink lemonade and just enjoy watching them enjoying being kids.
Pink Lemonade buttercream frosting is the perfect summertime homemade buttercream frosting. Pair pink lemonade buttercream with a homemade strawberry cupcake and you have an amazing cupcake! My kids call these tasty cupcakes, Strawberry Lemonade Cupcakes with Pink Lemonade Buttercream Frosting.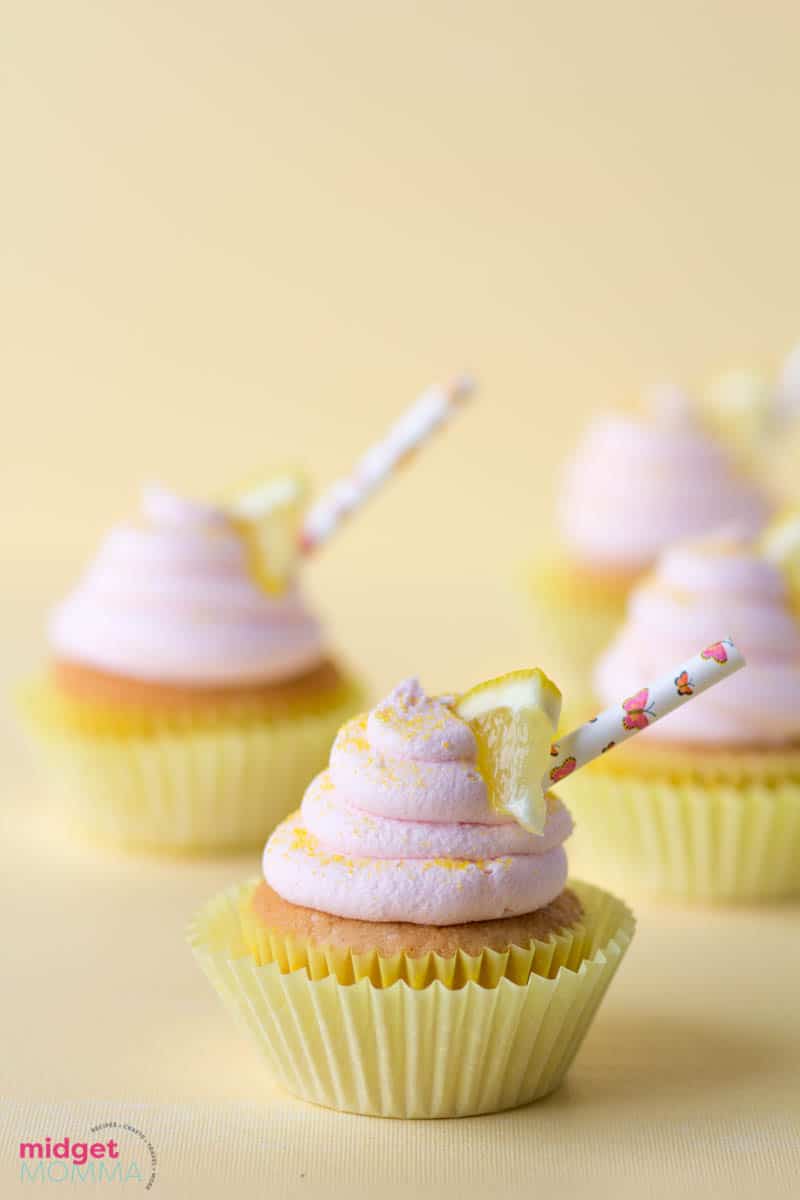 If you have been hanging out here around the blog for a while, you know that making fun and tasty cupcakes is one of my favorite things. I find a lot of cupcake inspiration from the things that I already love. Pink lemonade was my inspiration for these super fun, Strawberry Lemonade Cupcakes with Pink Lemonade Buttercream! If you want to go with what my daughter calls them, just call them Strawberry Pink Lemonade cupcakes.
I brought these pink lemonade cupcakes to a friend's house for our outdoor summer day and they were a HUGE hit. In fact, they were such a hit my friend's husband had her send me a message to see if I was hiding anymore at my house!
Easy Summer Desserts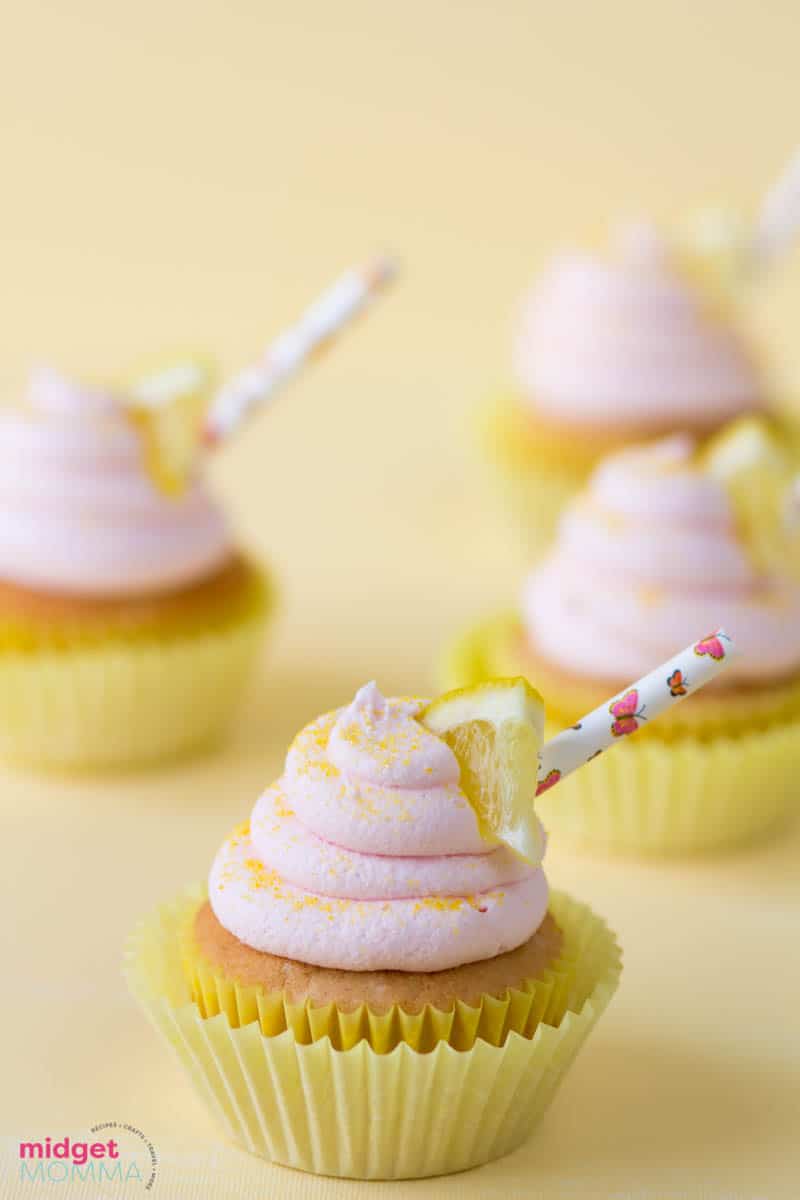 Tips for Baking Cupcakes
Follow the recipe. Each cupcake recipe is different. It is important to follow the recipe as directed. all of our cupcake recipes have been tested multiple times to make sure they are perfect.
Bring ingredients to room temperature. Cupcakes will bake best when the ingredients are brought to room temperature before mixing the cupcake batter.
Allow cupcakes to cool completely. Before frosting the cupcakes let them cool completely. If you frost cupcakes while they are still warm then the frosting will melt.
Do not over mix. Over mixing the batter will lead to having tough and flat cupcakes. When making cupcakes you have to be careful that you don't over mix the batter when you are folding in the flour mixture. If you over-mix your cupcake batter your cupcakes will turn out flat. You want to mix everything just until mixed, over mixing will cause you to have rough and tough cupcakes. We all know that the best cupcake are light and fluffy.
Fill the cupcake liners appropriately. You do not want to over fill the cupcake liners. Follow the directions for the specific cupcake recipe, if the recipe doesn't tell you how full stick to the 2/3 full rule. Which is roughly 3 tablespoons of cupcake batter per cupcake liner.
Use the best kitchen tool for filling liners. If you are working with a thick cupcake batter then you want to use a spoon or a cookie scoop to fill the cupcake liners. If it is a thin cupcake batter then use a bowl with a spout or a glass measuring cup to pour in the batter.
Use quality cupcake liners. While you might not think it matters a cupcake liner but having a quality cupcake liner will make it so your cupcakes don't stick to the wrapper and peel off nicely so you can see the perfect cupcake in it.
Bake one tray at a time. Using the center of the oven rack and bake one tray of cupcakes at a time. This will give you the best cupcake results.
Allow cupcakes to cool completely before frosting. If you frost cupcakes while they are still warm then the frosting will melt.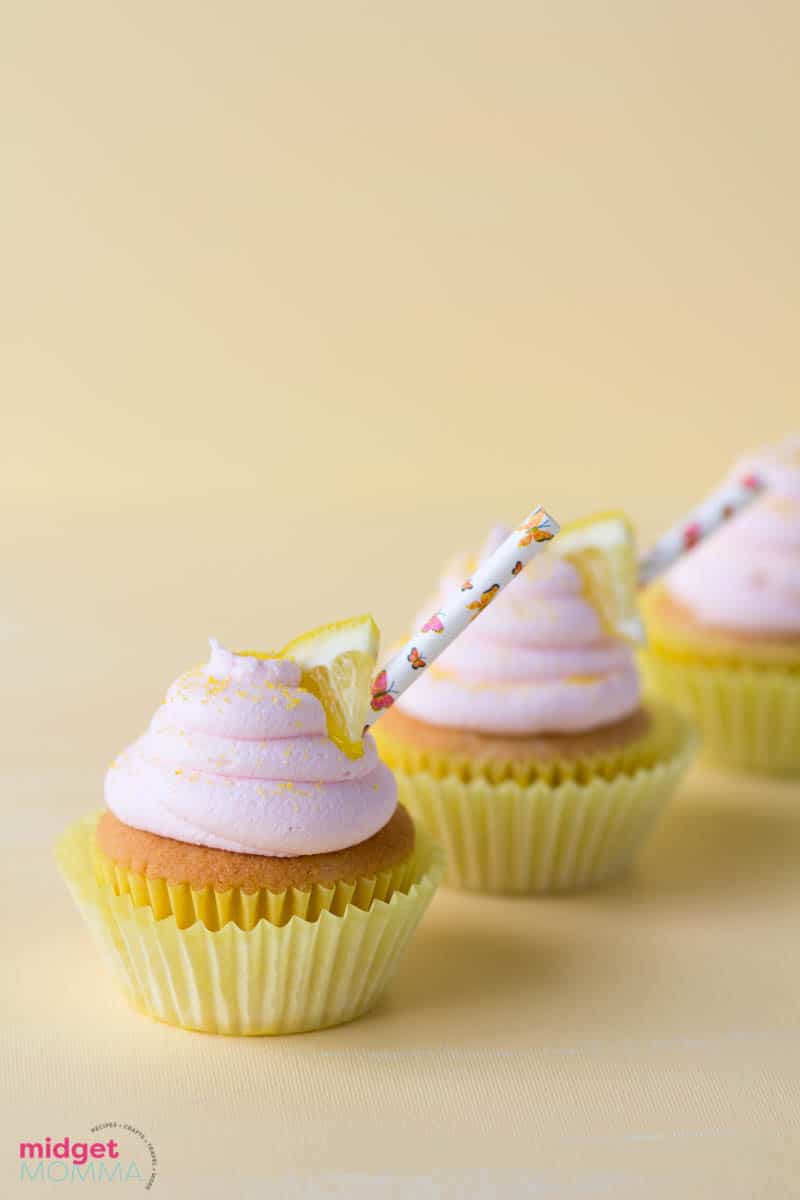 How to tell when cupcakes are done baking
I like to use the toothpick test when I am making cupcakes with the kids because it is easier for them to see and learn. But if you have been making cupcakes for a while you may not want to use that method.
If you are wanting an even easier method, the cupcake bounce done method as we call it is even easier. Pull the tray of cupcakes out from the oven and lightly press on a cupcake in the middle of the baking pan. If if bounces right back and no finger print is left behind then your cupcakes are done. If there is a finger print you need to bake them for a few more minutes.
How to Store Cupcakes
It is best to store cupcakes in an airtight container on the counter. Cupcakes are best to be enjoyed with in 48 hours of making them. They won't be bad to eat after 40 hours but they will start to dry out and not be as fresh.
After frosting cupcakes you are ok to store them on the counter for a day or 2 but after that they should be stored in the fridge.
If you are storing them unfrosted you can store them in an airtight container or a plastic bag. If you are storing them with frosting on top I suggest using a cupcake storage container.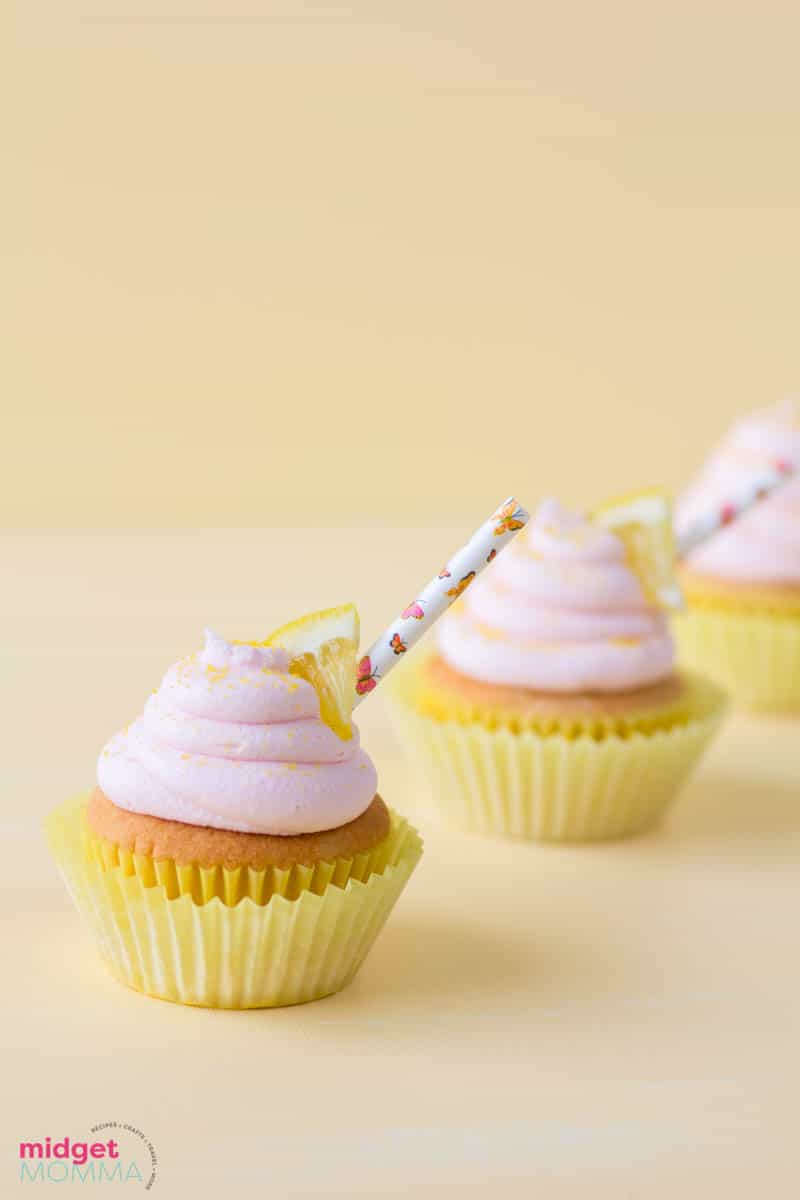 Cupcake Supplies
Strawberry Lemonade Cupcakes Ingredients
How to Make Strawberry Lemonade Cupcakes with Pink Lemonade Buttercream
To make strawberry lemonade cupcakes you will need a batch of strawberry cupcakes and a batch of lemonade buttercream frosting. Use the recipe below to find out how to make the amazing Lemonade buttercream frosting.
Make your lemonade frosting the day before you are planning to make these cupcakes. After baking your cupcakes and letting them cool.
Place your piping tip into your pastry bag and then fill the bag with your pink lemonade buttercream. Swirl the buttercream onto each cupcake.
Cup your lemon into slices then cut the slices into eight wedges. Cut your straws into thirds. Top each cupcake with one straw and lemon slice. Sprinkle the sugar on the top of each cupcake.
Easy Cupcake Recipes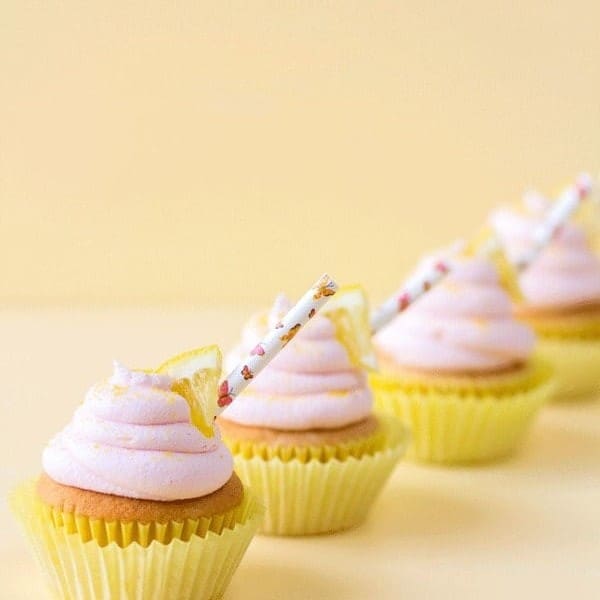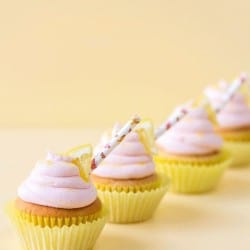 Strawberry Lemonade Cupcakes
Strawberry Lemonade Cupcakes. The perfect homemade strawberry cupcake with homemade lemonade buttercream frosting.
Tools
Pink Lemonade Buttercream Ingredients
Strawberry Cupcake Ingredients
Instructions
Strawberry lemonade Buttercream directions
Mix butter and shortening on medium speed until they are nice and creamy.

Turn the mixer down to the lowest setting and slowly incorporate the powdered sugar into the shortening mixture.

Once you have added all the sugar to the mix pour in the hot water, pink lemonade powder, and the vanilla.

Turn the mixer up to medium-high speed and continue mixing for 10 minutes until light and fluffy.
Strawberry Cupcake Directions
Preheat the oven to 350 degrees. Line your cupcake pans with your choose of cupcake wrappers.

Remove the stems from the strawberries and place them into a blender or food processor. Pulse them until all of the strawberry pieces have been pureed. Measure out 1/3 cup of the strawberry puree for the cupcakes and you may save any extra puree for another recipe.

Place your self-rising flour, cake flour, and sugar in the bowl of your mixer. Mix them together for a minute or two until they are well combined.

Cut your butter into tablespoon pieces. Slowly add your butter into the flour mixture one piece at a time continue mixing until you have reached the texture of sand.

Pour half of your milk into the flour mixture and mix just until the milk is incorporated. Use your rubber spatula to scrape down the sides of your bowl. Add your remaining milk strawberry puree and the vanilla to your batter and mix until combined.

Slowly add in one egg at a time to the cake batter, making sure each egg is incorporated before adding the next egg.

Scoop the batter into the prepared cupcake pan, filling them 3/4 of the way full.

Bake for 10 minutes then rotate the cake pans so the pan that was on the top rack is now on the bottom and the pan that was on the bottom is now on the top rack. Continue to bake for another 10-13 minute until a toothpick comes out clean from the center of the cupcake.

Transfer the cupcakes to a cooling rack until they have reached room temperature.
How to Make Strawberry Lemonade cupcakes
Once cupcakes are cool, fill your frosting piping bag with frosting, and frost each cupcake.
17 WeightWatchers SmartPoints on the Freestyle Program
Looking for more frosting recipes? Check these out and don't miss this awesome list of cupcake frosting recipes including: