These Chocolate Covered Strawberry Cupcakes taste just like a Chocolate Covered Strawberry! Made with Strawberry cake mix and amazing chocolate frosting. Finished off with a delicious chocolate covered strawberry!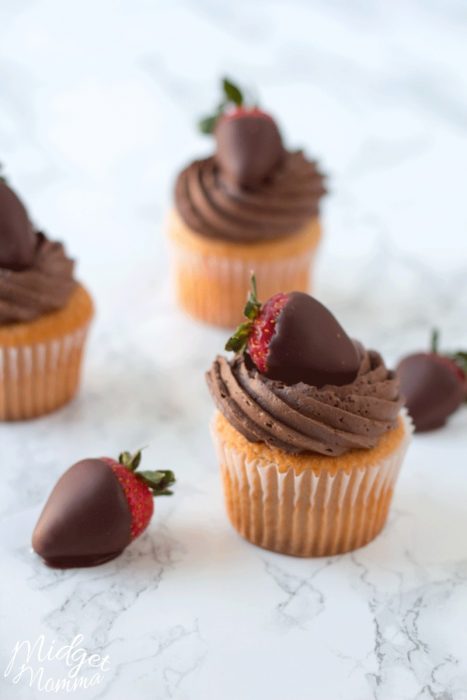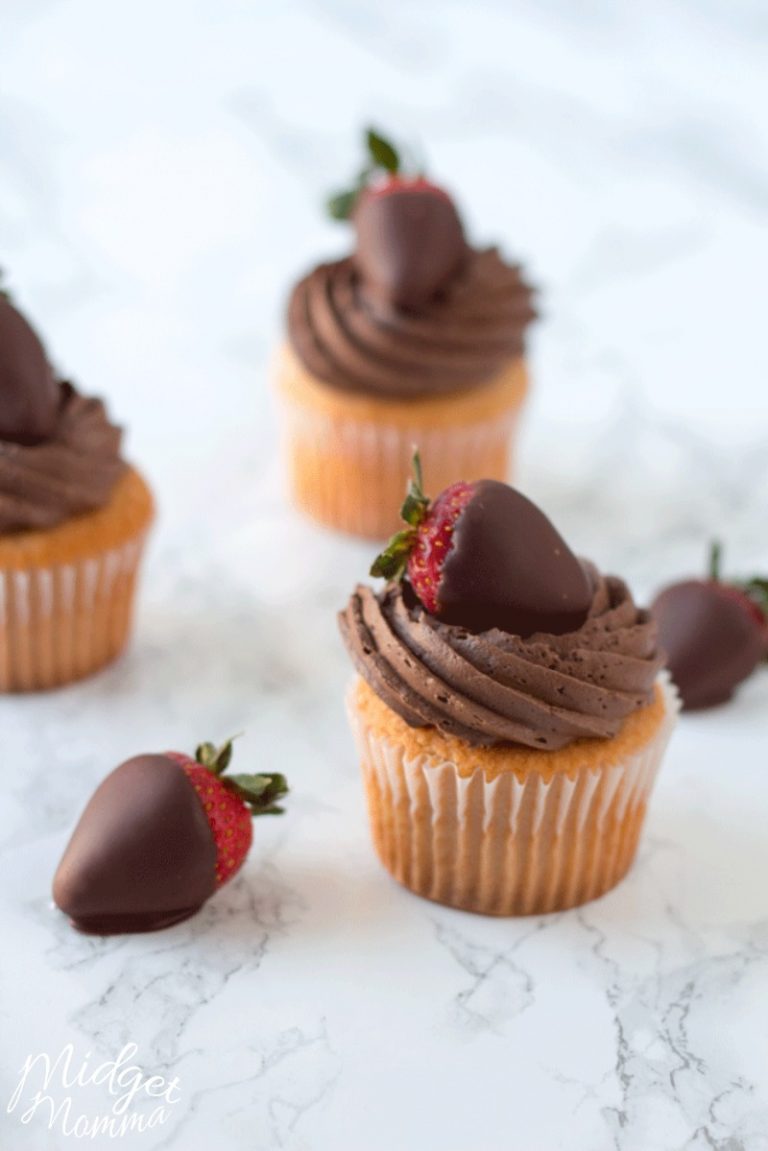 All of my friends tease that my daughter is just too fancy for words. She's the type a girl who has to have her hair done and her nails done. Now by the sound of that, you might think she's a typical teenager but in reality, she's four going on fourteen. She'll even go out in her Christmas dress in the middle of summer. The joke is on me because I always said I wanted to have a girly girl just like me. I had no clue what I was getting myself into. So when it was time for her to pick out what cupcake she want to make it, of course, had to be fancy and it had to be pink.
It makes sense that's what she wanted in a cupcake seeing how her two favorite books are Fancy Nancy and Pinkalicious. So it was decided we were going to do a strawberry cupcake.
I knew just basic strawberry cupcake was not going to be fancy enough for my little girl. So then it dawned on me that I can make a chocolate covered strawberry cupcake.
Now for these cupcakes, I used my homemade strawberry cupcakes. You have the option of adding some red food coloring to the batter to make them pinker than just the strawberry puree makes them. To me, they were pink enough but to my daughter, they should've been a more vibrant shade of pink.
When applying the buttercream you really want to make sure you are using a large star piping tip. This is what really helps transform your cupcake into something more like what you would find at a bakery.
If you have always wanted to make an icing swirl so you have pretty cupcakes, check out this step by step guide on how to make an icing swirl. It really changes the look of your cupcakes! If you are using different flavored frostings and want them both on top of your cupcake swirled together, check out how to swirl two icing flavors. If you want to layer your frosting flavors, check out the layered frosting swirl!
Chocolate Covered Strawberry Cupcakes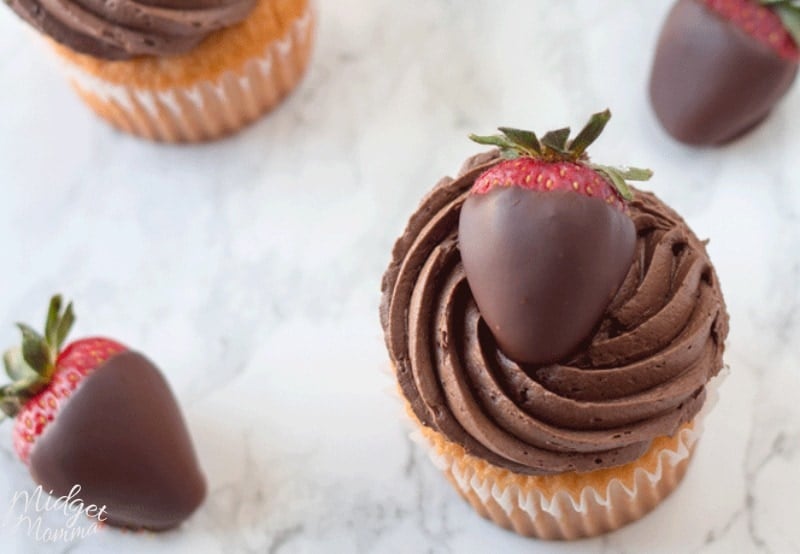 Chocolate Covered Strawberry Cupcakes Supplies
Chocolate Covered Strawberry Cupcakes Ingredients
1 cup dark or milk chocolate
1 teaspoon vegetable shorting
24 small strawberries
Chocolate Covered Strawberry Cupcakes Directions
Melt your chocolate and shortening over your double boiler until almost all the chocolate has melted. Remove the bowl from the heat and stir until the chocolate is smooth.
Line a sheet pan with parchment paper or a silicon baking mat.
Dip each strawberry into the chocolate and place onto the sheet pan. Place the strawberries into the fridge to set up.
If you are using a disposable pastry bag start off by cutting the tip off you bag wide enough to fit your piping tip in the hole.
Place your piping tip into your pastry bag.
Fill the pastry bag with your chocolate buttercream, making sure you do not overfill the bag.
Swirl the buttercream onto each chocolate cupcake by starting in the middle then swirling the tip around the whole top cupcake.
Top each cupcake with a chocolate covered strawberry.
17 Weight Watchers SmartPoints per serving on the Freestyle  Program
Love cupcakes? Check these out and don't miss this awesome list of cupcake frosting recipes
Join the newsletter
Subscribe to get our latest recipes right in your inbox every time we post a new one!
Join the newsletter
Subscribe to get our latest content by email.
This post may contain affiliate links. Please read my disclosure policy here