A super tasty treat for when you need a sweet treat. These Strawberry White Chocolate Cheesecake Bars are made with oreos, white chocolate, cream cheese and strawberry jelly to combine making a treat that will make you happy along with your tastebuds 🙂 With simple ingredients combining to make a great treat you can make these easily to surprise someone too!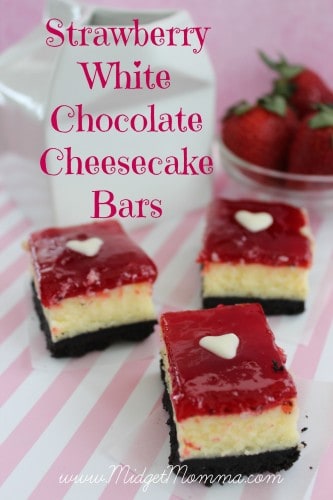 Strawberry White Chocolate Cheesecake Bars Ingredients
24 Oreo Cookies
1 Stick of Butter Melted
9 oz White Chocolate (I used chips)
2-8 oz Packages of Cream Cheese
1/2 Cup Sugar
2-Eggs
1 Tsp. Vanilla
1/2-3/4 cup Strawberry Preserves OR Jam (I used a Smuckers Seedless)
Strawberry White Chocolate Cheesecake Bars Directions
Preheat oven to 350
Line a 8×8 baking pan with aluminum foil, leaving overhang on all sides.
Add Oreo Cookies to a Food Processor or place in a ziplock bag to crush.
Add melted butter and mix well.
Add to prepared pan.
Press firmly to line bottom completely.
Add Cream Cheese, Sugar and Vanilla to a medium sized bowl or stand mixer and mix until smooth.
Melt your chocolate in microwave heating in 30 second intervals and then stirring.
Add all but 1/8 of a cup of your melted chcolate to cream cheese mixture and blend.
Add eggs one at a time making sure to blend well.
Pour mixture over crust.
Bake for 30-45 minutes or until the centerof your cheesecake is almost set.
Let cool for 15 minutes,
Spread your preserves/jam over the top of your cheesecake.
Drizzle remaining chocolate over your cheesecake (I used a ziplock bag to pipe).
Place in refrigerator for 4 hours.