Creamy Tahini Pasta Salad is the perfect summer side dish recipe. This easy pasta salad recipe is Jam-packed with all the healthy stuff keeping it nice and fresh while creamy and delicious thanks to the tahini dressing. This homemade pasta salad is best served cold and perfect for summer dinner picnics.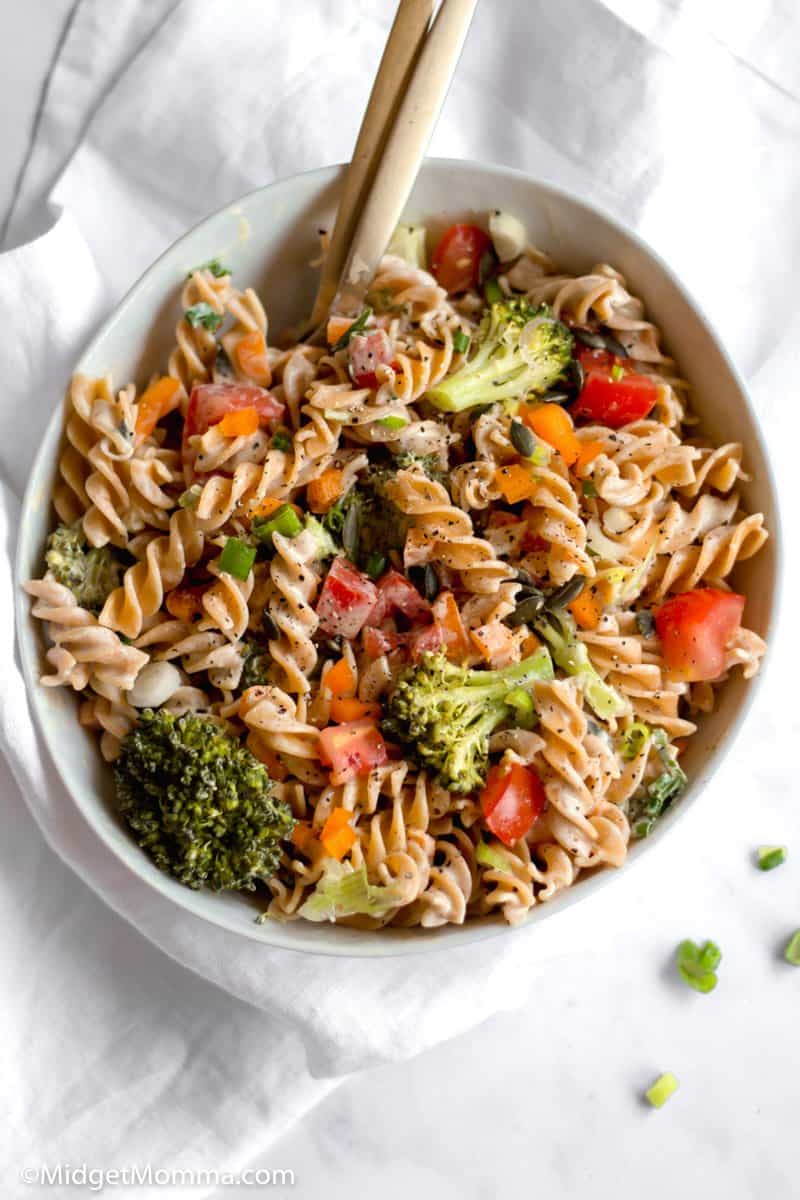 Creamy Tahini Pasta Salad
During the summer months, pasta salad and potato salad are side dish staples in our house. I make large batches of different cold side dishes on Sundays and then we enjoy them all week long to our grilled dinners. It makes dinner time quick, easy and I don't heat up the house!
For this pasta salad, I wanted it to be super healthy and packed with the good stuff. So I changed things up and instead of the normal pasta, I used chickpea pasta. Chickpea pasta is a healthy pasta that is packed with plant-based protein. Just like our other cold pasta salads you can change out the pasta to one that you like best. If you are not a fan of chickpea pasta salad you can use any pasta you like and it will still come out amazing!
This easy vegan pasta salad recipe is loaded up with veggies, tomatoes, bell peppers, broccoli, and spring onions, and then toasted pumpkin seeds. To finish it off we have a creamy no mayo tahini dressing which brings all the aromas of the fresh ingredients together in this indulgent (BUT super healthy) pasta dish. While it is a vegan pasta salad recipe the flavor is amazing that everyone is going to love it!
Easy Pasta Salad Recipes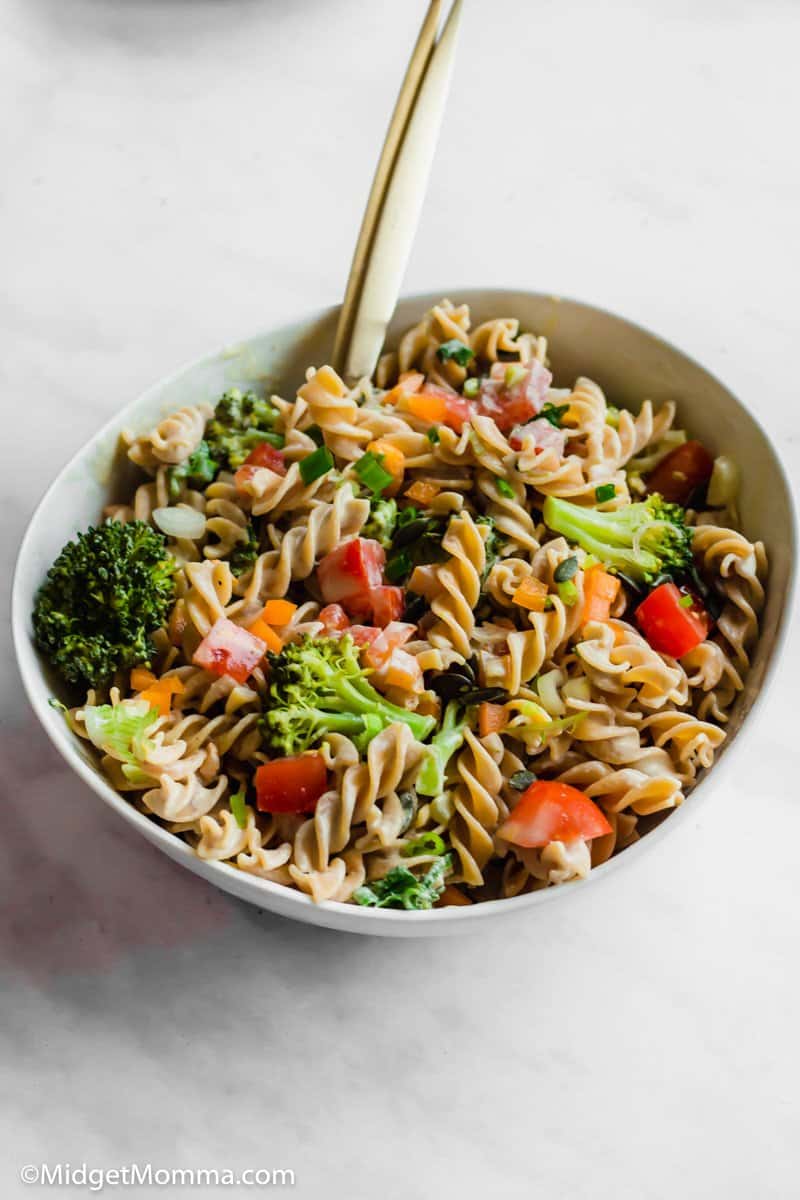 Tahini pasta salad Ingredients
What I love the most about this salad is that you don't need many things to make it work. It's just pasta + veggies + tahini dressing = a delicious pasta salad is ready in no time. This pasta salad has simple ingredients and very little prep work needed.
There are no crazy ingredients in this simple cold pasta salad recipe and that is one of the things I love about it. If you want to add other ingredients like seeds, olives, legumes, and so on, feel free to! It is easy to customize this pasta salad recipe to include your favorite healthy ingredients.
Pasta. The most important ingredient for this recipe is pasta and a shortcut of pasta like fusilli, penne, or farfalle works best. You can use any type of pasta and when I made this recipe I used chickpea pasta but any legume-based pasta will work too. If you are wanting to make it gluten-free, that is easy to do too, just use gluten-free pasta!
Broccoli. I love steamed broccoli in this dish, however, if you prefer raw broccoli you can use that instead.
Bell pepper. Red, orange, yellow, or green bell peppers will work and they give the tahini pasta salad a splash of color.
Tomatoes. You can really use any tomatoes you have on hand, beefsteak tomatoes, plum tomatoes, cherry tomatoes all work well. For this, I chopped some normal tomatoes in cubes to make things easy because that is what I had on hand.
Green onion. If you are not a fan of green onions you can also use red onion.
Pumpkin seeds. I love a good crunch in my salad and the pumpkin seeds are perfect! You can use raw or roasted pumpkin seeds.
Creamy tahini dressing. The homemade tahini dressing is so easy to make. A mixture of creamy tahini, tangy lemon juice, dijon mustard, and just a pinch of salt & pepper. No need for mayo at all, this dressing is so creamy and flavorful, you'll just keep coming back for more!
How to make the best creamy tahini salad?
This Tahini pasta salad couldn't be easier to make. A mix of veggies and the perfect creamy dressing this pasta salad is so easy to make.
First, you need to prepare all your ingredients: steam the broccoli, boil the pasta according to packaging instructions, chop your tomatoes, green onions, bell pepper, and make the tahini dressing.
For the tahini dressing, blend together tahini, lemon juice, dijon mustard, salt & pepper, and a little bit of hot water until creamy but not too thick not too thin. Feel free to add one tablespoon of maple syrup for extra sweetness.
Tips & variations
I love this salad as it is but it's fully customizable too! You don't like broccoli? You can skip it, have some cucumber on hand that is about to go bad? – then use it! Some other ideas you can try:
Use Natural Tahini. The brand of tahini that you are using is very important, when you are buying it look for just sesame seeds, nothing else as the ingredients. I suggest this one that you can grab on Amazon.
Add some herbs! Dill, parsley, and basil are great options and when adding them, add lots of them, fresh herbs are amazing!
Make it Greek Tahini Pasta Salad. Add some olives, dill, chickpeas, and feta cheese for a delicious Greek-inspired pasta salad.
Add Extra veggies. If you want even more greens in this pasta salad green beans, artichoke hearts, cucumbers, and spinach are great additions.
Sweeten it up. You can add a little bit of maple syrup when making the homemade tahini dressing if you want to, this makes it sweeter & even tastier.
Change up the nuts and seeds. While I like pumpkin seeds the best you can change things up and use sunflower seeds or pine nuts instead.
Change up the pasta. You can use plant-based pasta, whole wheat pasta, regular pasta, or bean pasta.
Can I make this ahead of time?
Things are always so busy in my house that having things done ahead of time makes my life so much easier. Tthat is why I meal plan and prep ahead of time often. The great thing about this pasta salad is that I can make it ahead of time and have it for dinner a few nights in a row as a side dish. It also makes a great lunch too!
If you do not want to mix everything together ahead of time you can prep the ingredients and then mix them up later. Just prep all your ingredients at the beginning of the week, store them separately in airtight glass containers, and when you're ready mix everything together in a bowl.
The homemade tahini dressing also stores well, I like to make a double batch of it and keep it in the fridge for dipping veggies in as a snack.
How to store Pasta salad?
Pasta salad needs to be stored in the fridge and is best stored in an air-tight container. You can use a bowl and plastic wrap but I find an air-tight container like these is best. If the pasta salad is dryer than you like after storing it in the fridge for a few days you can pour a little more dressing on top when you are ready to serve it. This pasta salad will keep in the fridge for up to 4 days.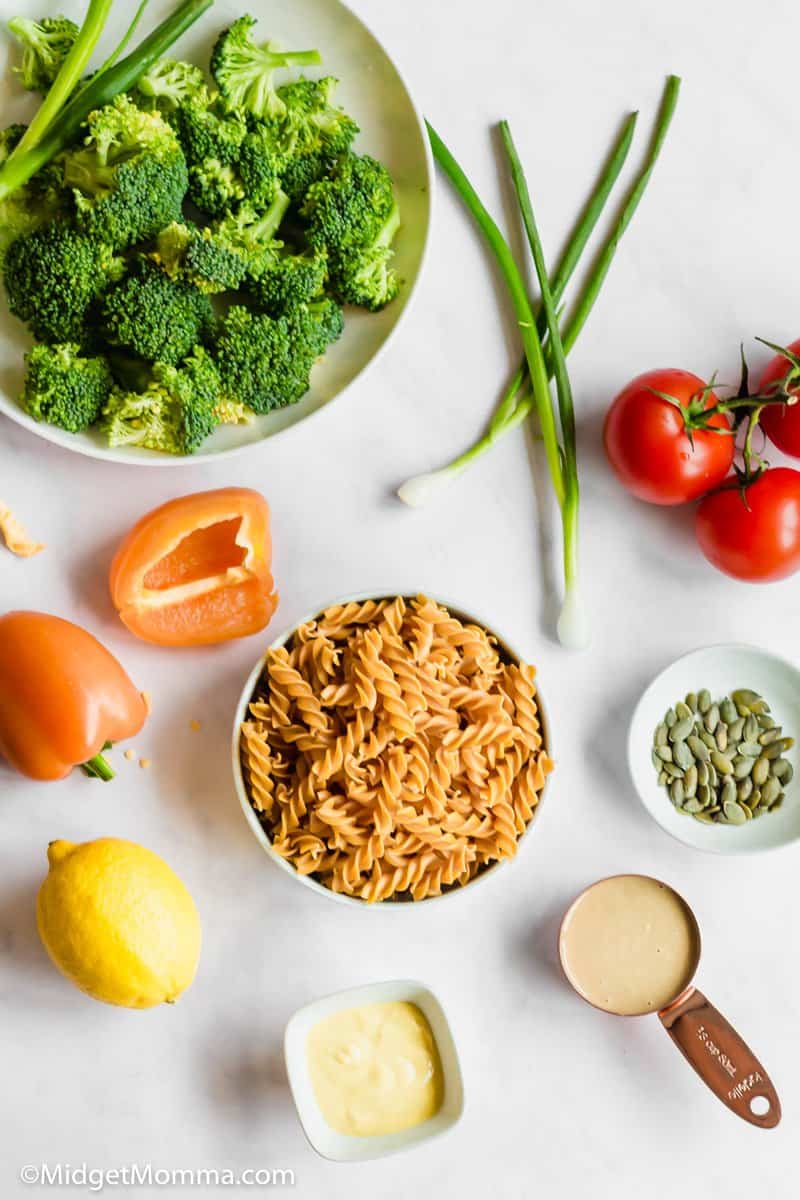 Creamy Tahini Pasta Salad Ingredients
Pasta of choice
Broccoli florets, slightly steamed or raw
tomatoes
bell pepper, any color
Green onions
Pumpkin seeds, raw or roasted
Tahini dressing Ingredients
tahini
dijon mustard
lemon, juiced
salt & pepper, to taste
hot water
maple syrup, optional
How to Make tahini Pasta Salad
Cook pasta until al dente, drain and rinse with cold water.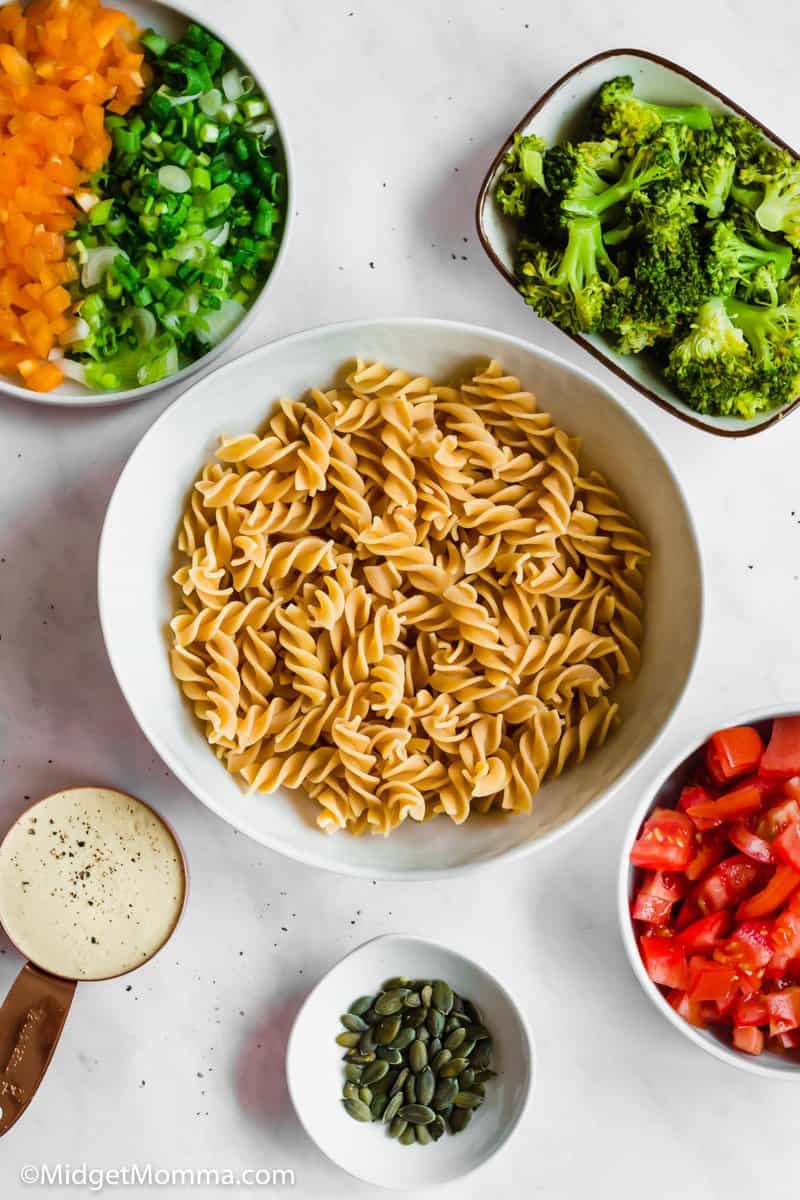 While pasta is cooking chop the veggies and make the Tahini sauce. Steam the broccoli if you want to.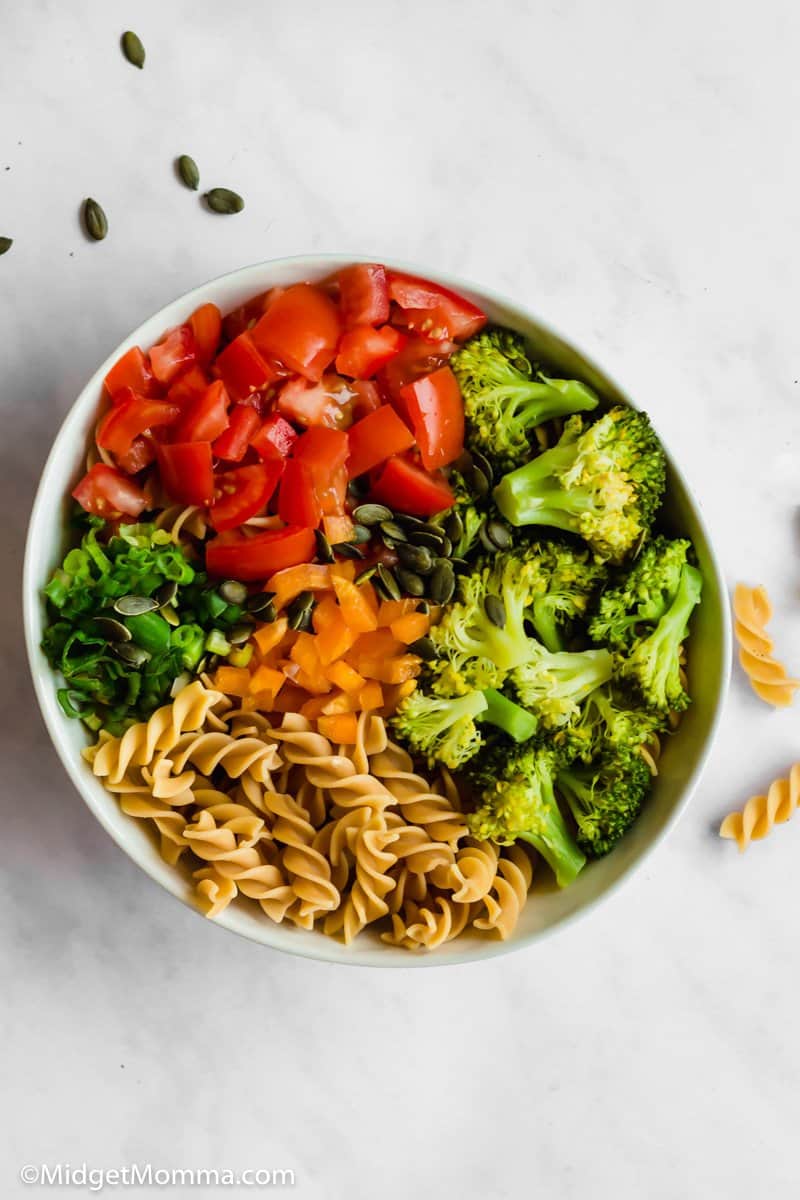 Once the pasta is done cooking, rinse with cold water to cool.
In a large bowl add the cooled pasta.
Add the veggies and pumpkin seeds and tahini dressing to the pasta and mix well to coat.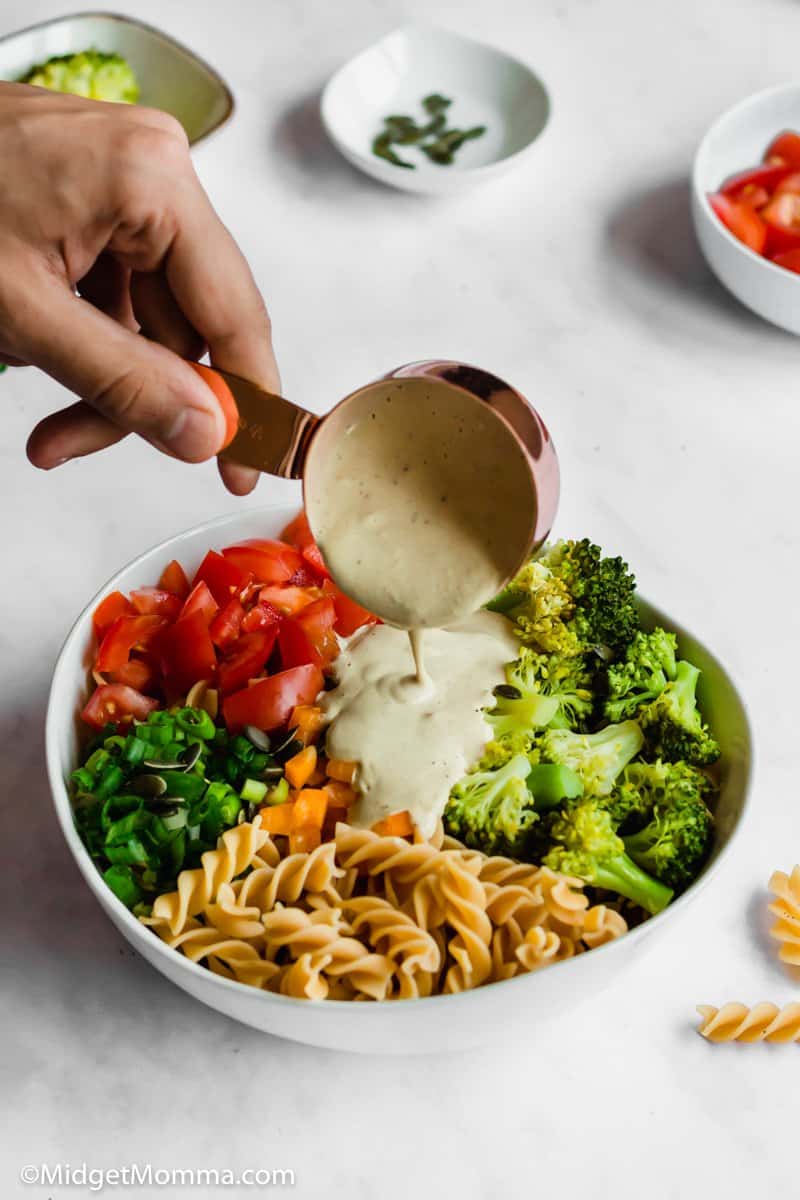 Easy Summer Recipes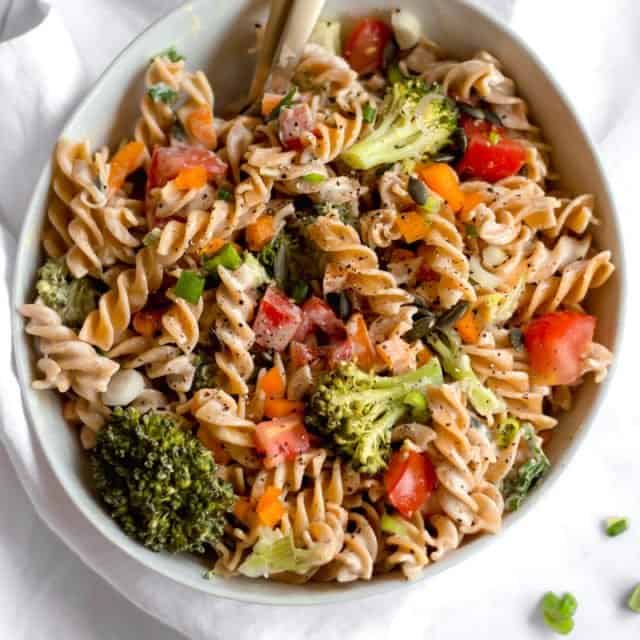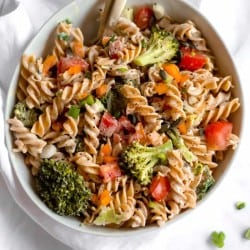 Tahini Pasta Salad
Servings
Pasta salad loaded with healthy veggies and a creamy easy to make homemade Tahini Sauce making the perfect summer pasta salad.
Ingredients
Tahini Pasta Salad Ingredients
1 pound pasta of choice
2 cups broccoli florets slightly steamed or raw
3 to matoes diced, or cherry tomatoes – halved
1 bell pepper any color
3 spring onions chopped
2 tablespoons pumpkin seeds raw or roasted
Tahini dressing Ingredients
1/3 cup tahini
2 tablespoons dijon mustard
1 lemon juiced
1/4 cup hot water
1 tablespoon maple syrup optional
salt to taste
pepper to taste
Instructions
Creamy tahini dressing
Add all the tahini dressing ingredients in a blender or bowl.

Blend or whisk until the ingredients are well incorporated and the dressing is smooth.

Set aside.
tahini Pasta salad
Boil the pasta according to packaging instructions. While the pasta is cooking wash and chop the tomatoes, green onions, bell pepper, and broccoli.

Once the pasta is cooked drain and rinse under cold water to cool the pasta.

Add in the tomatoes, green onions, bell pepper, pumpkin seeds, and broccoli and give it a good mix.

Drizzle the tahini dressing and mix until well combined and the salad is all coated in the creamy dressing.

Serve as it is or place in the refrigerator for two hours and serve chilled.
Calories: 319kcal | Carbohydrates: 52g | Protein: 11g | Fat: 8g | Saturated Fat: 1g | Trans Fat: 1g | Sodium: 62mg | Potassium: 447mg | Fiber: 5g | Sugar: 6g | Vitamin A: 1049IU | Vitamin C: 54mg | Calcium: 55mg | Iron: 2mg
tahini pasta salad
pasta salad, Side Dish