Looking for a nice fruity treat for after dinner? Then this Easy Baked Pineapple Dessert is one you are going to want to try! It is quick to make and oh so tasty! The perfect sweet treat you are looking for! You do not want to use canned pineapple for this Easy Baked Pineapple Dessert, you NEED the fresh pineapple. Also with the butter you want to use real butter, the fake stuff will make this a huge mess and not something you want to eat!
Now with this Easy Baked Pineapple Dessert you can eat it right out of the oven or you can top it with some of your favorite vanilla ice cream. I have a sweet tooth and I always top it with ice cream. Tom on the other hand prefers to eat it by itself. Either way its a total win for a dessert!
Easy Baked Pineapple Dessert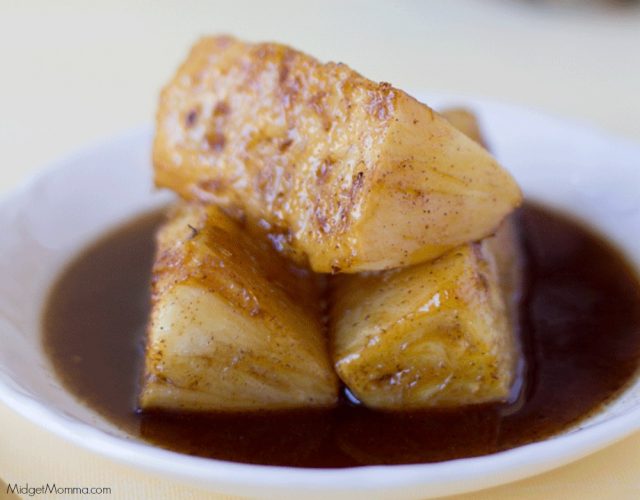 Easy Baked Pineapple Dessert Ingredients
1 fresh pineapple cut into chucks or rings
1/2 – 1 cup of packed brown sugar (dark or light)
2 tablespoons of melted butter
Few dashes of cinnamon
Dash of Nutmeg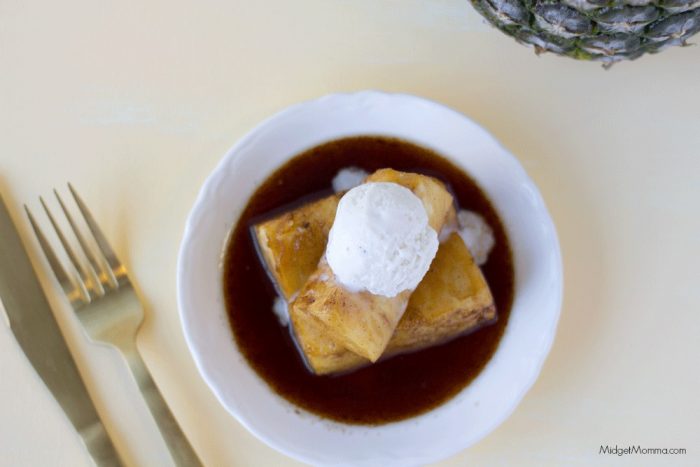 Easy Baked Pineapple Dessert Directions
Preheat oven to 375 F
Spray a 9×13 pan with cooking spray or grease with butter
Place pineapple chunks or rings in the bottom of pan and sprinkle with lots of brown sugar, cinnamon and nutmeg,
Pour melted butter over top.
Bake in oven uncovered for 20-35 minutes. Cook time will vary depending on how thick you cut your pineapple.
You will notice its done with the sugar has melted and started to caramelize and the edges of the pineapple have started to brown slightly.
Take out of the oven and let it cool for 5 minutes.
More Desserts to try!
This post may contain affiliate links. Please read my disclosure policy here