This Apple Nachos recipe is such a fun twist on the classic nachos. Instead of chip you have thinly slice apple. The cheese sauce is replaced with caramel sauce and hot fudge. The rest of the topping are replaced with chocolate chips, marshmallows and coconut. My kids were so excited get to have nachos are their desert they thought I was being funny. I did have to tell my youngest that he could not just lick the toppings off the apples. I mean why would you want to get full off the only healthy part of these nachos. Now If you want you can always use store bought hot fudge and caramel sauce but its so simple to make your own why would you. Check out my homemade hot fudge and caramel sauce.
Apple Nachos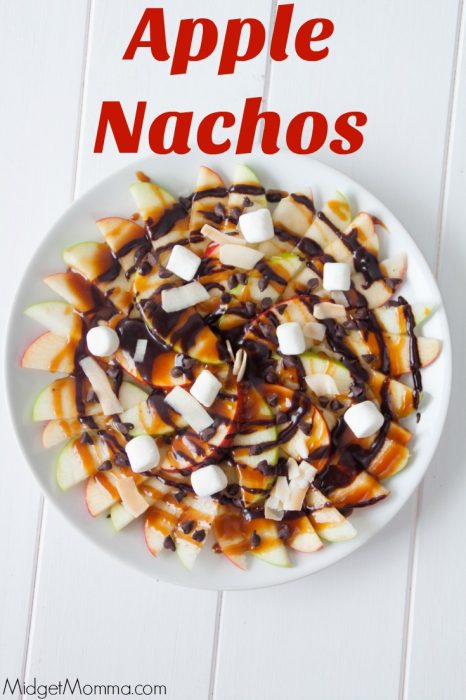 Apple Nachos Ingredients
1 granny smith apple
1 gala apple
2 table spoons hot fudge
2 tablespoons caramel sauce
handful of coconut
handful of mini chocolate chips
handful of mini marshmallows
Apple Nachos Directions
Warm up the caramel sauce and hot fudge in the microwave until they are warm.
Cut the apples into quarters than cut the core off by cutting the centers in an angle. Thinly slice all the apples. Arrange the apples on a plate alternating the red and green apples in a circle.
Drizzle the caramel sauce and hot fudge on the apples.
Sprinkle the coconut, chocolate chips and marshmallows over the top of the apples.
Make 2 Servings
If you are doing Weight Watchers use sugar free caramel and hot fudge and omit the chocolate chips and the coconut and you will have a 4 Smartpoints dessert that is super tasty!
Don't miss these other tasty Weight Watchers Recipes
Join the newsletter
Subscribe to get our latest content by email.