Nutella and Banana Rollups are the perfect easy snack or lunch recipe! With just 3 ingredients, banana, nutella and tortillas, and 5 minutes of time you can be enjoying this tasty tortilla roll up recipe.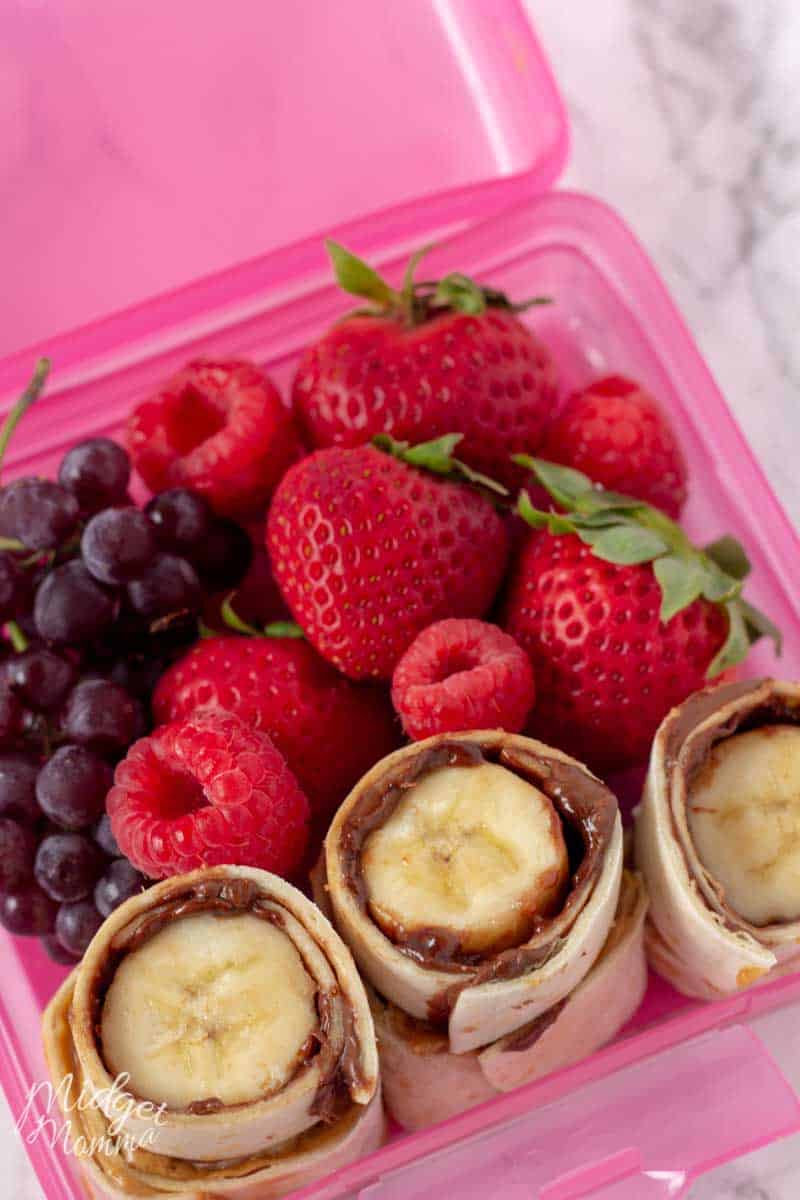 Nutella and Banana Rollups
This Nutella and Banana Rollups recipe is one of my kids favorite easy lunch ideas. This banana sushi roll is perfect for lunches or snacks! I love making the kids banana sushi rolls because it is so easy to make! They love Nutella And Banana rollups because they are so tasty!
With all of the craziness going on in our house all the time, quick and easy is the name of my game. I want healthy lunches for the kids that are not going to take me a lot of time to make. These Nutella and Banana Rollups are perfect!
These easy roll ups are also perfect for when I need the kids to make their own lunches. With only 3 ingredients and a few minutes of time lunch can be on the table in no time! All of the kids know how to spread things and wrap them that these are perfect for when I need them to have an easy kid friendly lunch.
Easy Lunch Ideas for Kids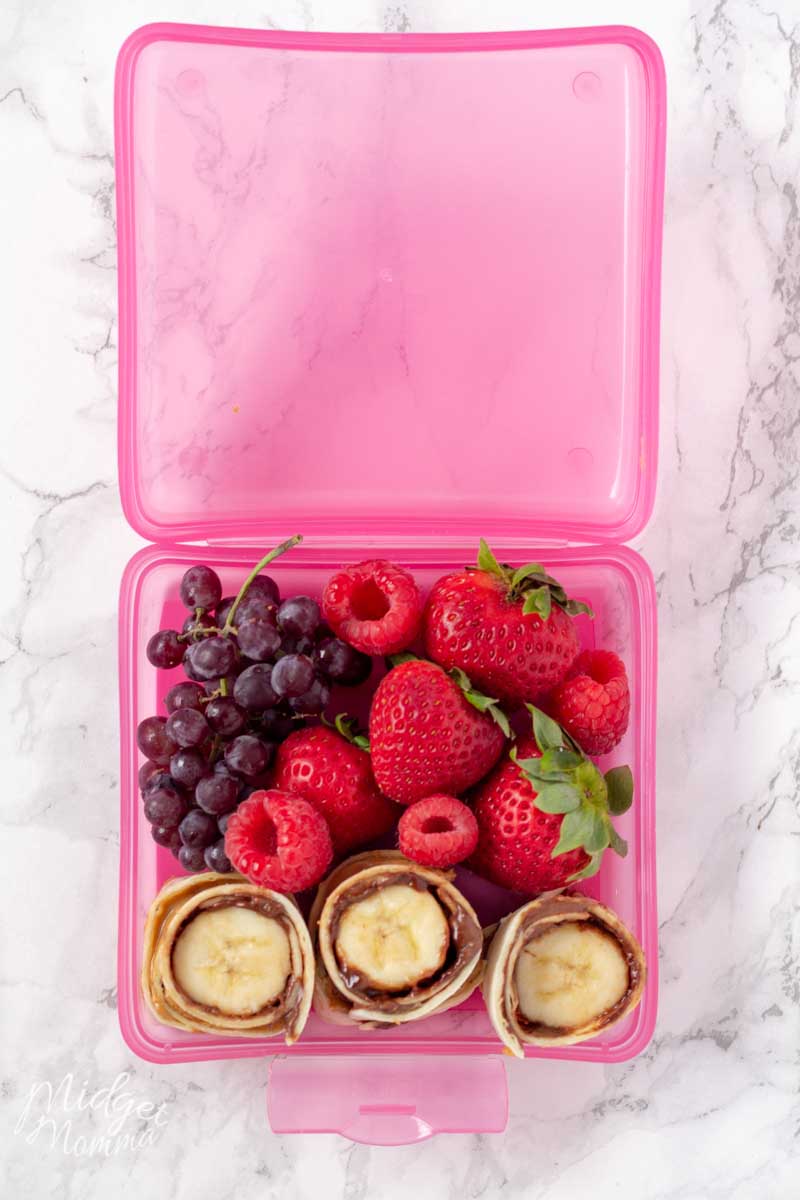 What to Pair with Banana Rollups
When making my kids lunch it is important for me to give them a healthy lunch. I like to make them as tasty and healthy as possible. I like to include things they love that are also healthy which these tortilla rolls up are the perfect combination of a fun and healthy lunch idea for kids.
These Banana rollups are great for having lunch at home or if you are packing a lunch. If you are packing them in a lunchbox I suggest using a bento box or lunch box containers. It is best to include ice packs in the lunchbox when you pack a lunch too.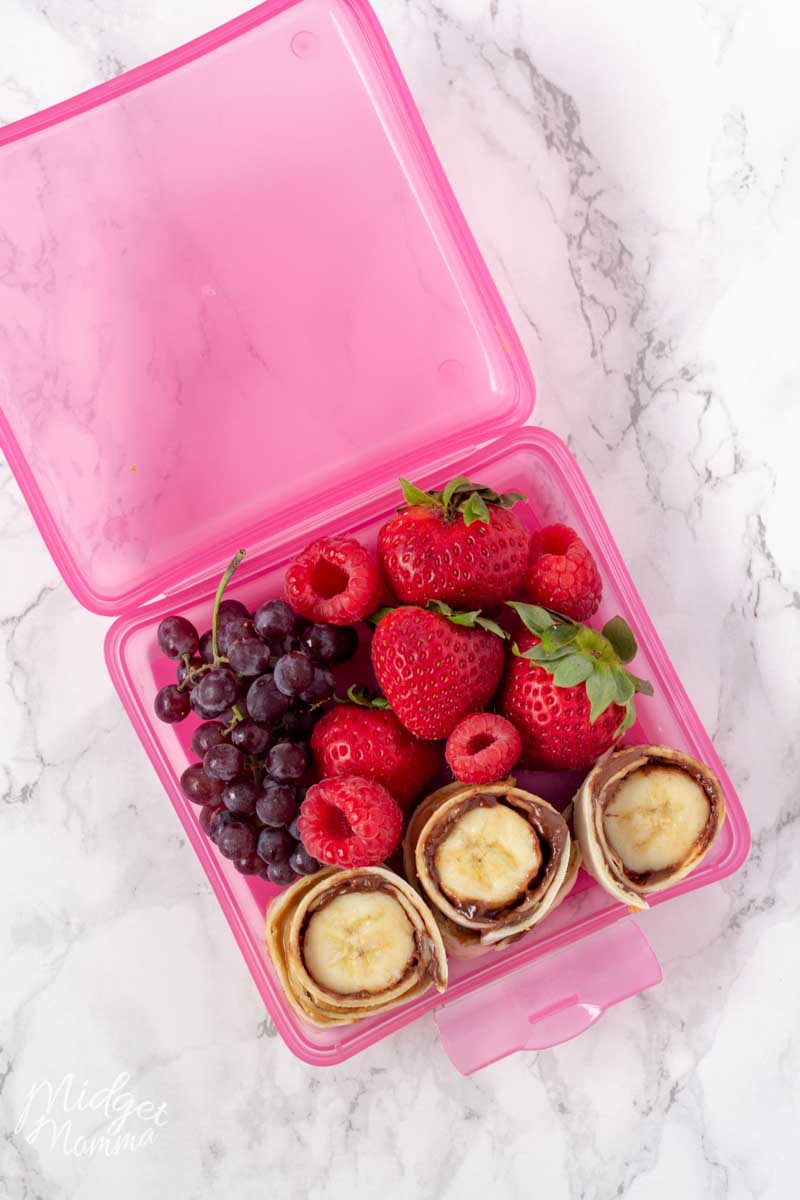 Nutella and Banana Rollup Ingredients
How to make Nutella and Banana Rollups
Spread Nutella on tortilla.
Place banana on top and roll up.
Slice into rolled pieces.
Easy Rollups Recipes
My kids love all of the rollup recipes that I have come up with so far, and there are lots of different varieties that are perfect for making the kids for lunches.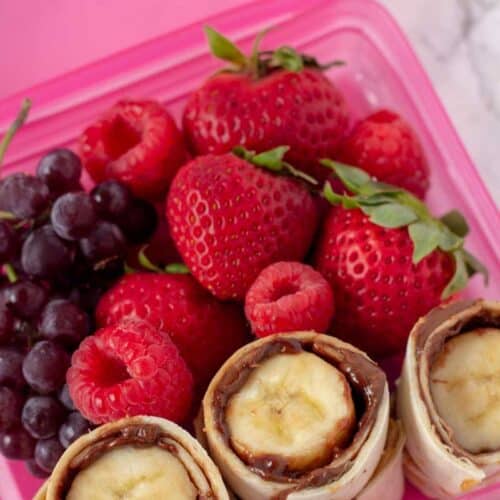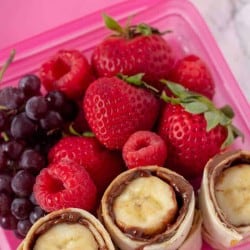 Nutella and Banana Tortilla Rollups
Servings
This easy Nutella and Banana Tortilla Rollups is such a tasty easy recipe! My kids love it when I make them!
Ingredients
2 tablespoons Nutella
1 8 inch tortilla
1 medium banana
Instructions
Spread Nutella on the tortilla.

Place a banana in the center of the tortilla and roll up.

Slice the Nutella Banana Sushi Rolls into individual pieces.
Calories: 405kcal | Carbohydrates: 69g | Protein: 6g | Fat: 13g | Saturated Fat: 11g | Sodium: 16mg | Potassium: 573mg | Fiber: 8g | Sugar: 34g | Vitamin A: 76IU | Vitamin C: 10mg | Calcium: 40mg | Iron: 2mg
Banana Sushi Roll, nutella and banana rollups
Lunch, lunch box recipe, Snack
14 Weight Watchers SmartPoints on the Freestyle Program