These Chicken Quinoa Burrito Bowls are a quick and easy meal to make for dinner. Juicy chicken breasts, Quinoa, black beans, jalapeno peppers, tomatoes and salsa combine to be an easy burrito bowls.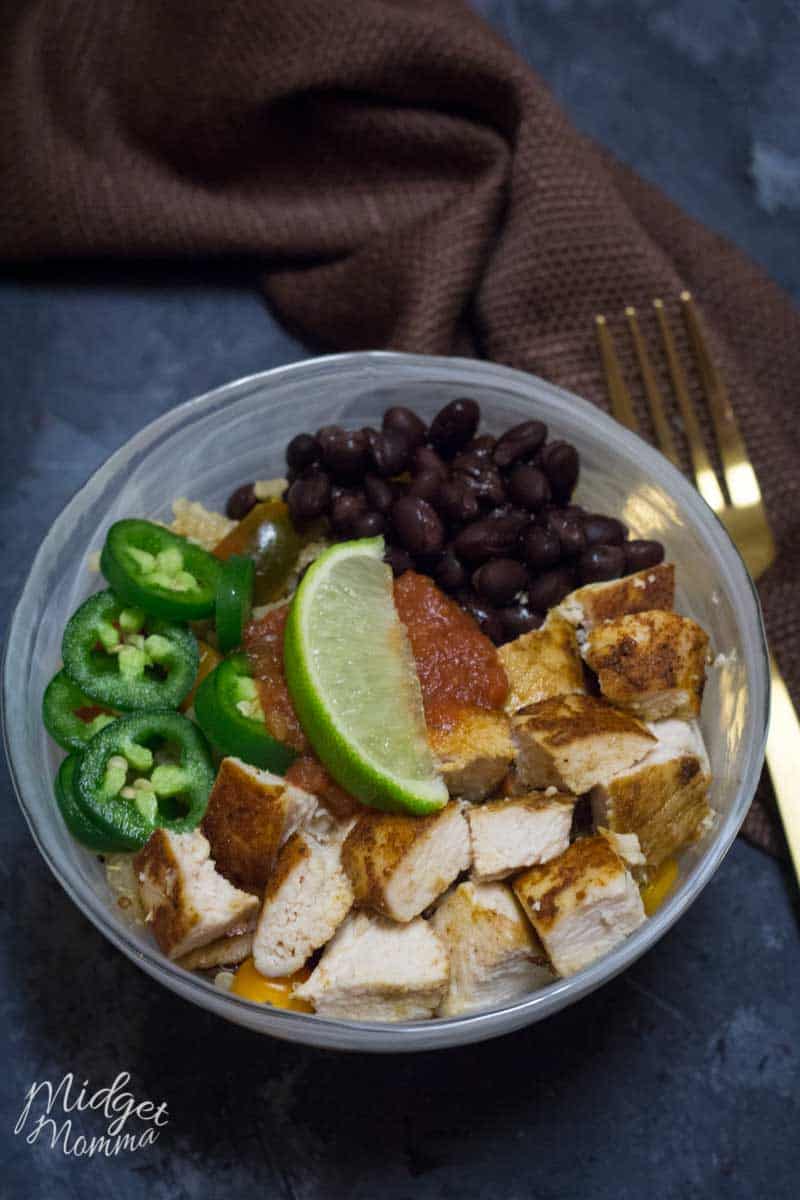 Chicken Quinoa Burrito Bowls
It is no secret that I love my crockpot meals, they make life so much easier with a crazy busy schedule. However there are times where our mornings are so crazy that I forget to put dinner in the crockpot. When that happens I need a quick and easy healthy dinner that everyone will love. That is when I whip out these amazing chicken burrito bowls.
If I actually get to meal planning like I prefer to on Sundays and I know I will have a busy week, there are times I make the chicken and Quinoa ahead of time and store it in the fridge. Then I just reheat it when it is time for dinner.
Bursting with amazing flavor, these Chicken Burrito Bowls are always a hit when I make them for dinner.
Easy Dinner Recipes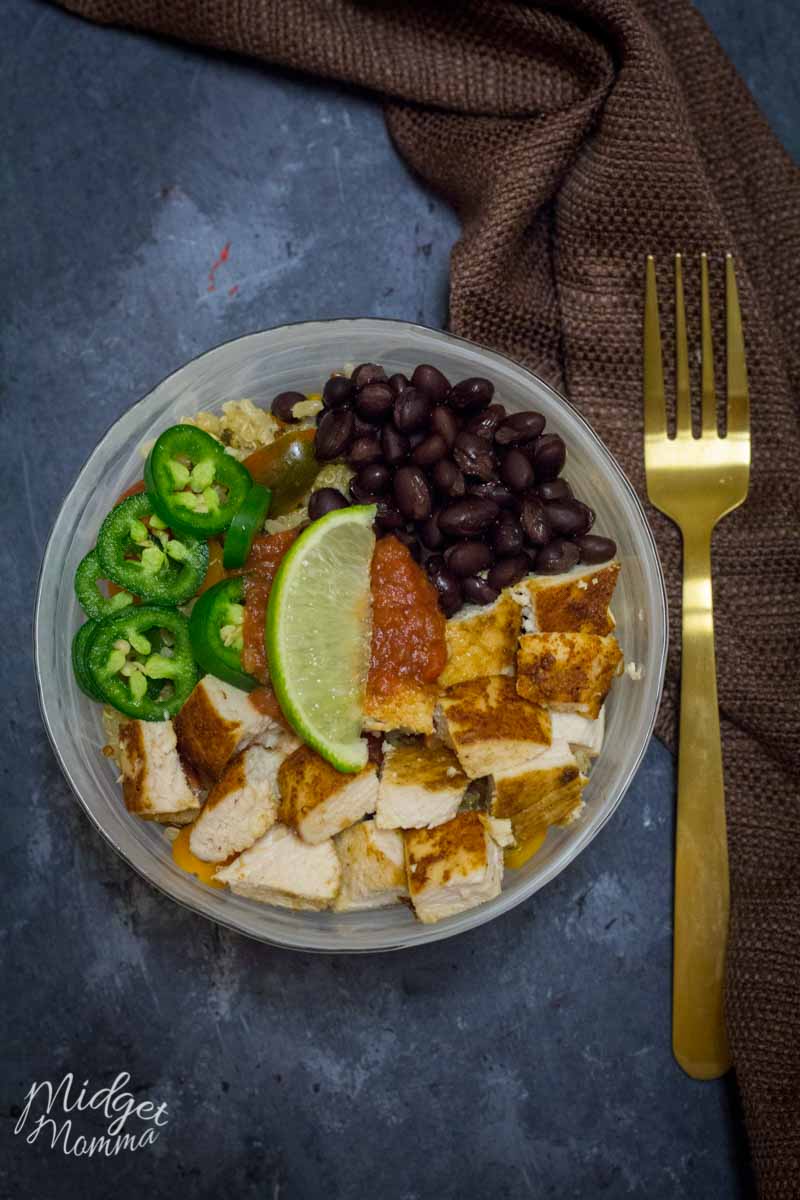 Tips for Making this Recipe
When making these easy chicken burrito bowls I like to use my homemade taco seasoning. You can use the package stuff, but I prefer not to. I like how much fresher homemade taco seasoning tastes then the packages.
While the chicken and Quinoa is cooking prep all of your toppings.
Prep ahead of time. This is one of those recipes that you can make everything ahead of time and then come dinner just reheat it all and dinner is ready.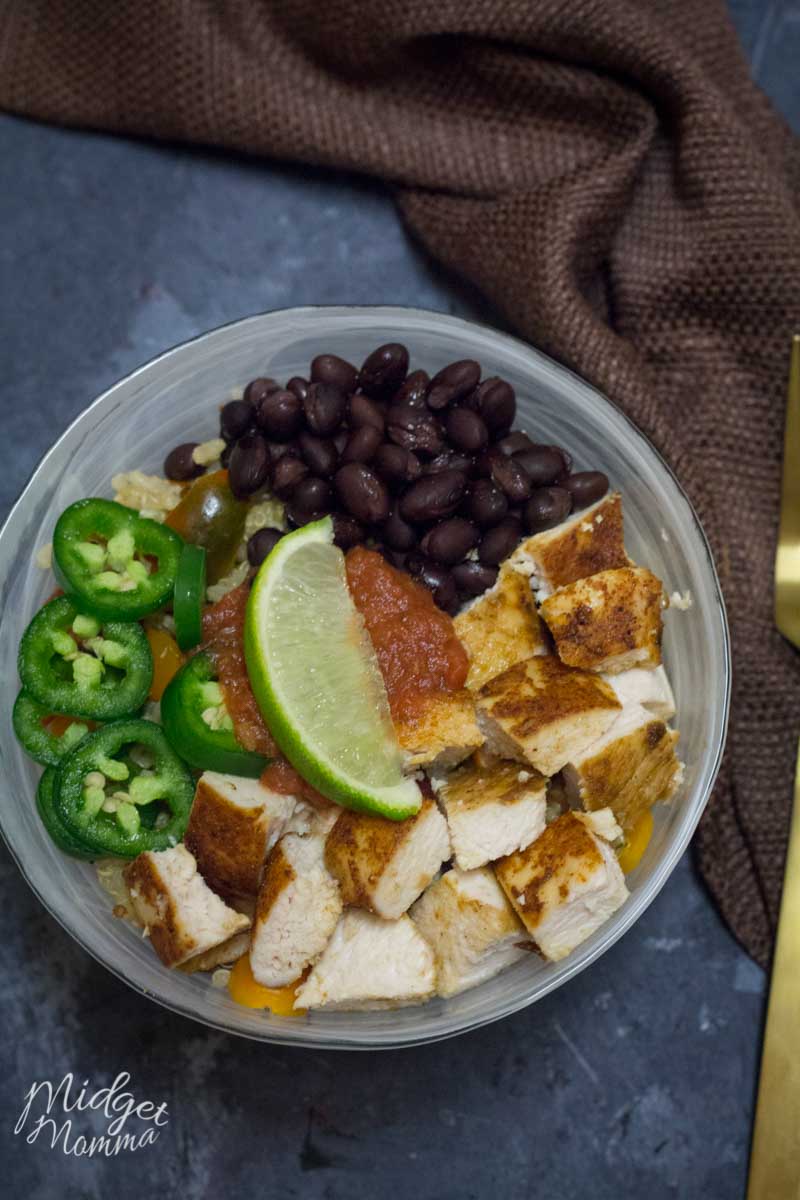 Variations of this recipe
Chicken burrito bowls are perfect because everyone can change them up to how they want them if they would like to.
To make my life easier I put all of the toppings on the table, everyone starts with a bowl of Quinoa (that is mixed with the seasonings and tomatoes) and the chicken. From there they get to have at it with whatever they want to put on top of theirQuinoa burrito bowl!
Some of my family members like to top the chicken burrito bowls with Homemade Guacamole, others stick to just adding some Creamy Chipotle Sauce.
I always have homemade salsa in the fridge, but if you do not then jarred salsa will work just fine too.
I always have black beans, to put on top. But if you want to add more veggies things like sliced avocado, corn and sour cream also make great toppings too.
My youngest is also a cheese addict so she adds a bunch of shredded mexican style cheese on top of hers.
For those who do not like spicy, just omit the jalapeno peppers, or if you are going for a mild spice only add a few jalapenos to the bowl.
Use Chili Lime Chicken. If you are wanting to skip using the taco seasoning chicken then a great alternative is the chili lime chicken.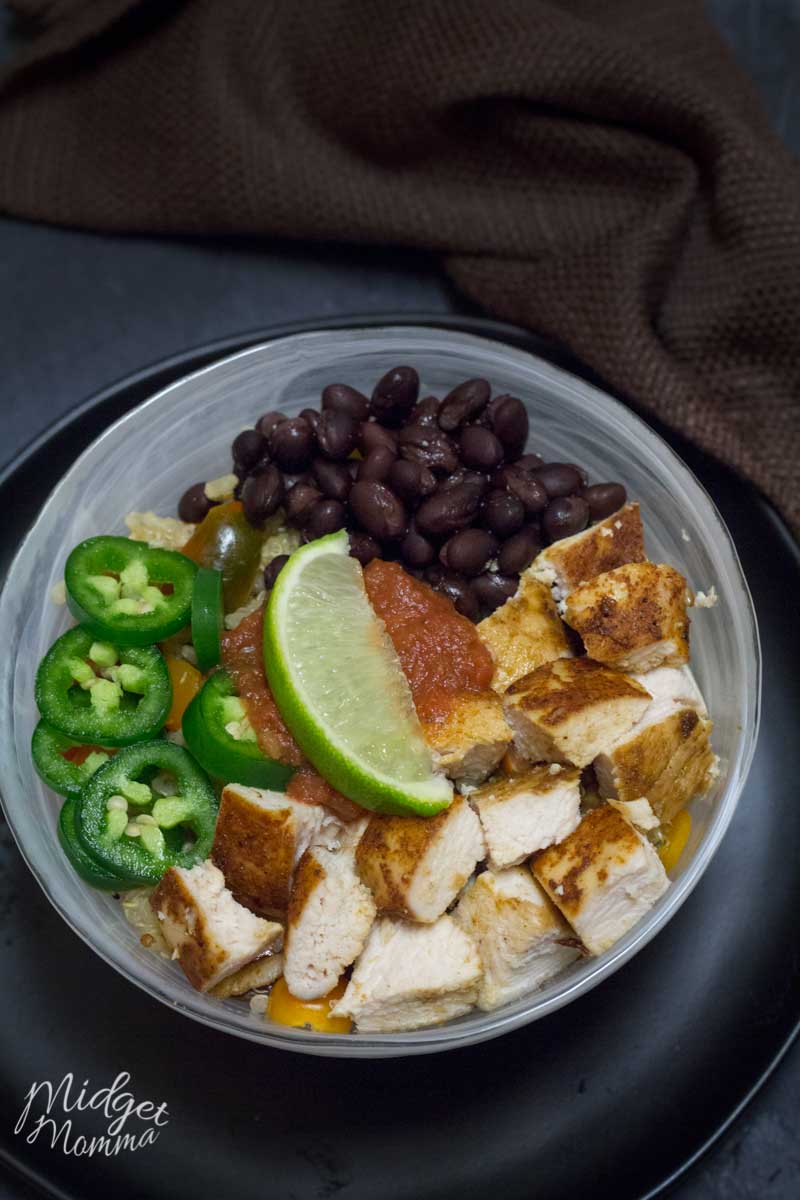 Chicken Quinoa Burrito Bowl Ingredients
Quinoa
chicken breasts
tomatoes
black beans
sliced Jalapeños
lime
How to Make Chicken Quinoa Burrito Bowls
Cook quinoa, cook the chicken breasts and prep the tomatoes, black beans and jalapeno peppers. Make the homemade chipotle sauce.
Once everything is cooked and prepped, mix tomatoes with quinoa, then place in a bowl. Top with the chicken, black beans, salsa and jalapeno peppers. Drizzle the Creamy Chipotle Sauce on top.
Chicken Dinner Recipes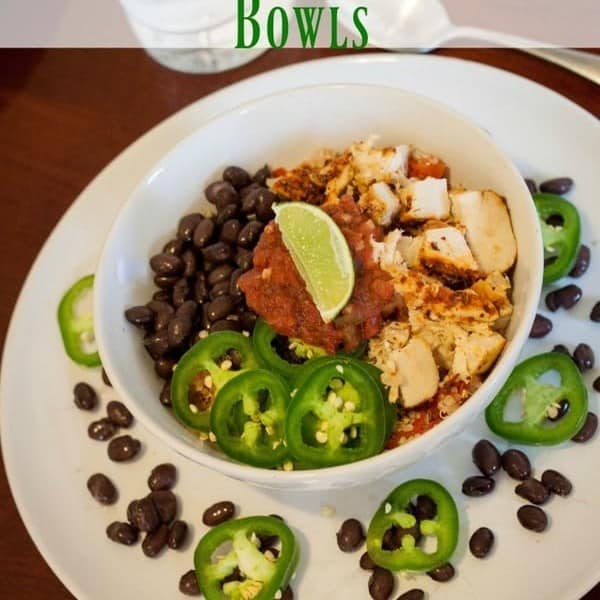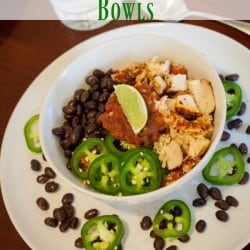 Chicken Quinoa Burrito Bowl
Servings
Chicken Quinoa Burrito Bowls are a perfect quick and easy dinner. Easily customize these burrito bowls with your favorite burrito toppings.
Ingredients
Quinoa Chicken Burrito Bowls Ingredients
1 cup dry Quinoa
2 cups water
2 pounds chicken breasts
3 tablespoons taco seasoning
1 cup diced tomatoes
1 cup black beans
1/2 cup sliced Jalapeños
1 lime
1/2 cup salsa
Creamy Chipotle Sauce
Instructions
Quinoa Chicken Burrito Bowls
Preheat oven to 450 degrees.

Over medium high heat in a sauce pan add 1 cup of quinoa and 2 cups of water. Bring to a boil and then once boiling lower the heat to a simmer and put the lid on the pan.

Continue to cook with the lid on until the water is absorbed from the pan. About 15 minutes. Once done, use a fork to fluff the Quinoa.

While the quinoa is cooking, cook the chicken breasts.

Pound chicken breasts lightly so they are of even thickness. Rub the chicken with the taco seasoning. Place the chicken in a baking pan.

Bake for 15-20 minutes or until the chicken reaches an internal temperature of 160 degrees. Let the chicken rest for 5- 10 minutes. Dice chicken into bite-size pieces.

While the chicken is cooking, wash and slice the tomatoes.

Wash and slice the jalapeños.

Slice the lime.

Since the black beans and then heat for 2-3 minutes in the microwave.

Make the Creamy Chipotle Sauce.
How to Make Skinny Creamy Chipotle Sauce
Combine all the ingredients into a blender.

Blend until well combined.
How to assemble Chicken Quinoa burrito bowls
Add the diced tomatoes to the cooked Quinoa.

In each bowl add cooked Quinoa and then top with chicken, black beans, jalapenos, scoop of salsa, and lime slice.

Drizzle the Creamy Chipotle Sauce on top of each bowl.

Before eating the burrito bowl squeeze the lime juice on top of the bowl.
Calories: 418kcal | Carbohydrates: 38g | Protein: 49g | Fat: 7g | Saturated Fat: 1g | Cholesterol: 117mg | Sodium: 620mg | Potassium: 1213mg | Fiber: 7g | Sugar: 4g | Vitamin A: 473IU | Vitamin C: 24mg | Calcium: 88mg | Iron: 4mg
Chicken Quinoa Burrito Bowls
chicken, Dinner
3 Weight Watchers SmartPoints on the Freestyle Program without the Chipotle Sauce.
To make your kitchen life easier make sure you grab the how many cups is 4 quarts and all other liquid measurements printable chart!