I am resharing this post on things forgotten when making a budget for the 31 Ways to Save $100 Per year series. Having a budget and making sure you have everything accounted for will help you keep money in your pocket. If you know of every penny you are spending then you will save more then $100 a year because you will be in the know of where your money is.
Every month you pay your bills and are following your budget that you have made but somehow every month it seems as if you are spending more money then the budget you have says you are going to. The issue may not be the money but more so that you have not included everything you needed to in your budget, many people have Things forgotten when making a budget . Here is a list of 20 Things forgotten when making a budget Also remember that just because you put the money in the budget for it does not mean you have to spend it, it is in the budget for incase you need to but not spending it and then letting that money for that expense accumulate is ok too.
One thing you can do to make your life easier after you make your budget and include the things typically forgotten is to get a (if you use THIS LINK you will get a FREE $30) to help you manage your budget with the prepaid Rush Card. Put the money you know you are going to spend on the card. Sticking to your budget is easier when you have access to all of your funds with the online account center, text alerts and mobile app.
If you are looking for a Savings account, you can sign up for a FREE Savings account here from Capital one (they are who i use for my kids savings accounts and one of ours). I like that I don't have a local branch so it is not so easy to get the money out of it. I can if we needed to but its not super simple, which I like!
I find it easier to keep track of my budget and stay with in my budget when I use a Budget Tracker -I love this Erin Codren one (plus its budget friendly). It helps me to visually see things. I have tried a notebook and that ends up being lost, so having a book just for budgeting helps me a lot!
Things forgotten when making a budget
Make sure you also check out Tough financial times doesn't mean it is over, just because you are falling short on cash or you mess up your budget doesn't mean that life is over.
Follow me On Facebook here, Follow Me on Pinterest here, Follow me on Instagram here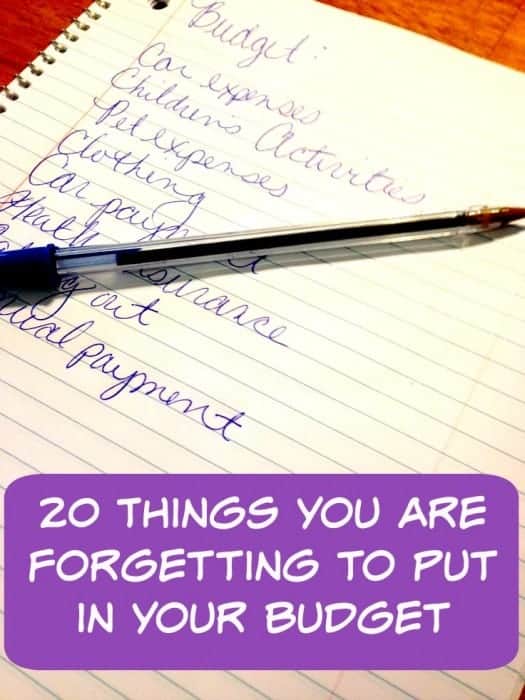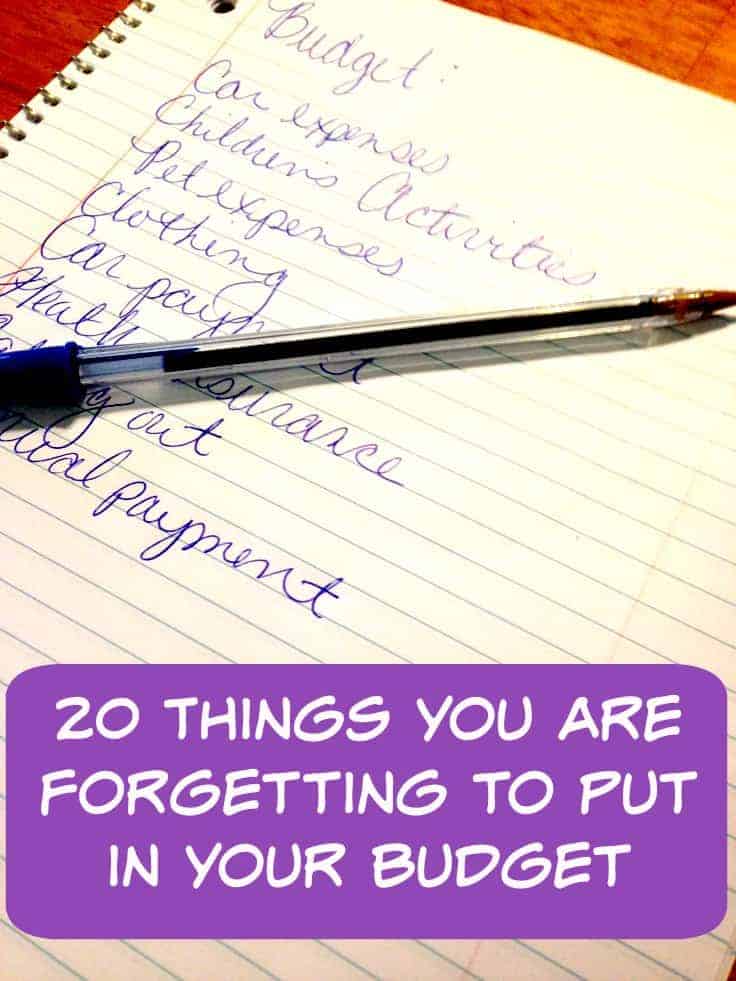 Things forgotten when making a budget
Car expenses – you have the car payment in the budget but things like the registration, money for repairs needs to be included as well
Children's activities– you pay the monthly bill but what about the things they need. For karate does your kid need a replacement mouth piece every few months, do they need new cleats for soccer practice? Those things should all be included in your budget.
Pet expenses– their food, new leashes, cat litter ect.
Clothing – Clothing is one the of the things forgotten when making a budget, and it can can be costly especially with growing kids you are going to be needing new clothing for when they out grow a size.
Shoes – same thing with clothing.
Gifts for birthday parties. If you have kids you know that birthday parties pop up all the time. Having a budget for them is important or go the way I do and make your own gift closet with gift items I buy on clearance (but still put money in the budget for that so when you see something on sale you can grab it with out hurting your budget)
Eating out you put groceries on the list but did you put a separate amount for how much you spend on dining out?
The difference in heating/cooling costs. In April-June we do not need to put on the heat or the AC but come June our electric bill rises because of the AC and then from August – October again we don't need heat or AC but once the end of October hits its time to turn on the heat again. Making sure you are budgeting enough for the changes of these expenses is important. The same if you are having to buy oil to heat your house, is that in the budget even if you are not needing it each month.
Annual payments–  This is a big one when it comes to Things forgotten when making a budget. Things that you pay once a year that are not recurring each month are sometimes items that are forgotten when doing a budget and then when they come out of the bank account throw you off.
Household maintenance– Things like getting the snowblower fixed before winter or getting the fireplace cleaned out. They don't happen each month but they still need to be budgeted for.
Donations– Do you donate money to local groups or to your church? Make sure those expenses are in your budget.
Haircuts– If you have a son who likes his hair kept short then you will be going to the barber about once every 6 weeks, if you get your hair highlighted then that is about every 4-8 weeks depending on how often you go.
Work clothing – I put this separate from clothing because it is one that can be forgotten even easier then clothing. How often do you need to buy new work shoes, or new pants for work?
Subscriptions: Things like your monthly beauty box, or your magazine subscriptions.
Travel expenses– If you go on a trip are you making sure that in your budget you are planning for those extra expenses?
Guests visiting– While for most of us this is not a monthly thing but more so around the holidays having people stay at your house for a few days ads up. There are extra costs for things like food, laundry being done, more electric being used ect. Many people don't think about this one and it can be costly, especially if you have company often so make sure you are adding this to your budget while you are reading about the Things forgotten when making a budget.
Medical bills– When you go to the doctor even if you have insurance things like your deductible and your prescriptions you have to get still have an out of pocket cost on top of the health insurance bill you pay each month
Birthday's – Things like cake, a party for the kids, gifts ect.
Holiday gifts– this is especially true for November and December when most people are doing their holiday shopping
Entertainment – A trip to the movies, a trip to the store to rent a movie and getting snacks all adds up. It sounds silly to budget for something that is supposed to be fun and random but you don't want to spend money you don't have to do so.
School supplies – if you have kids you buy them in the beginning of the year but what about the rest of the year. A backpack breaks, they need new pencils or pens ect.
Hopefully this list of Things forgotten when making a budget will help you not miss anything when you are working on setting up your own budget. Note not all of the 20 Things forgotten when making a budget are monthly items, but some are paid every year and when you are doing your budget you need to include them as well or your budget will be off.
Looking for more posts like Things forgotten when making a budget? check out these other Helpful Budgeting tips to go along with things you are forgetting to put in your budget :
Also check out More Ways to Help you in your financial journey:
Everyday for the month of October we are sharing a different way to save money. Each of these ways can help you save over $100 each per year! See the rest of the 31 Ways to Save $100 or More Per Year posts here. Using these ways to, you can save $100 in 31 different ways and you have a savings of $3100.00 in a year (if not more!)!
Join the newsletter
Subscribe to get our latest content by email.
This post may contain affiliate links. Please read my disclosure policy here